Goat Cheese Spinach Pesto Egg Sandwiches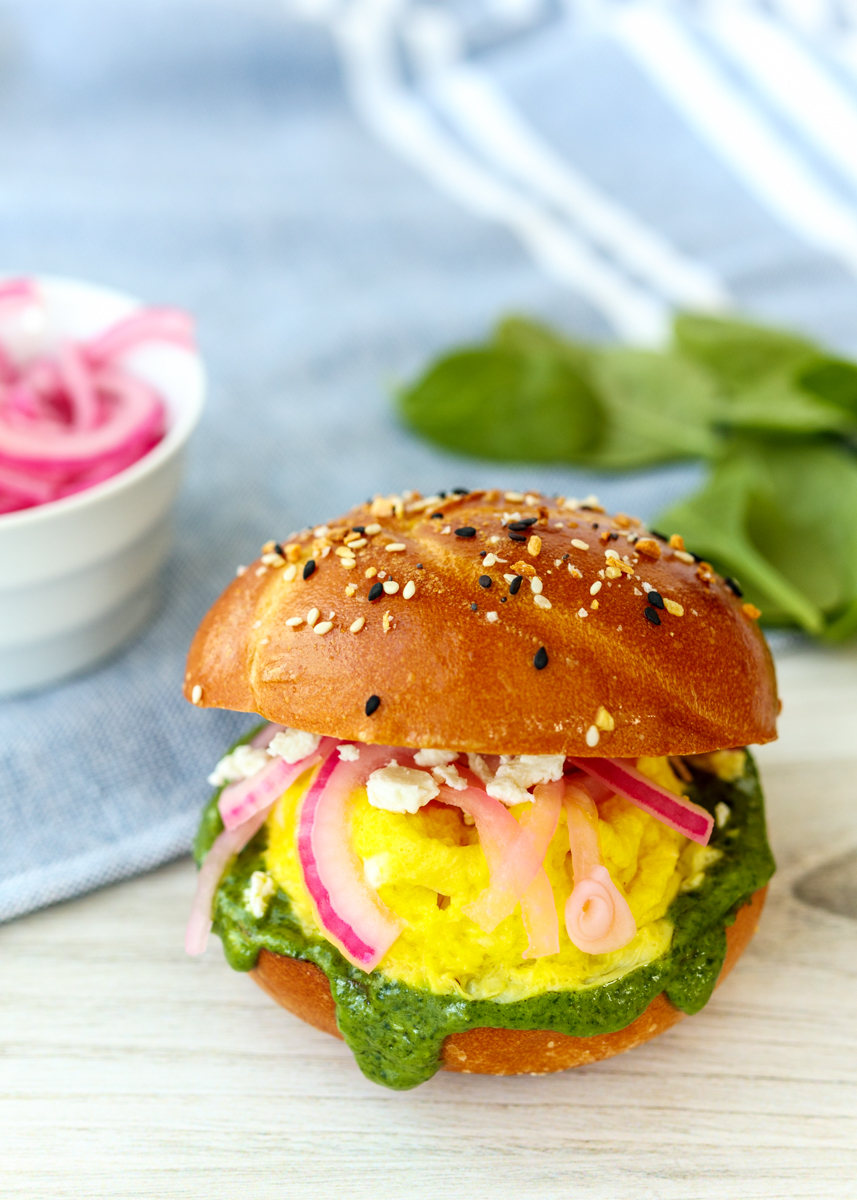 Friends, we have another epic sandwich on our hands and I'm having trouble containing myself yet again. This little breakfast sandwich is savory, creamy, tangy and a whole lot of deliciousness.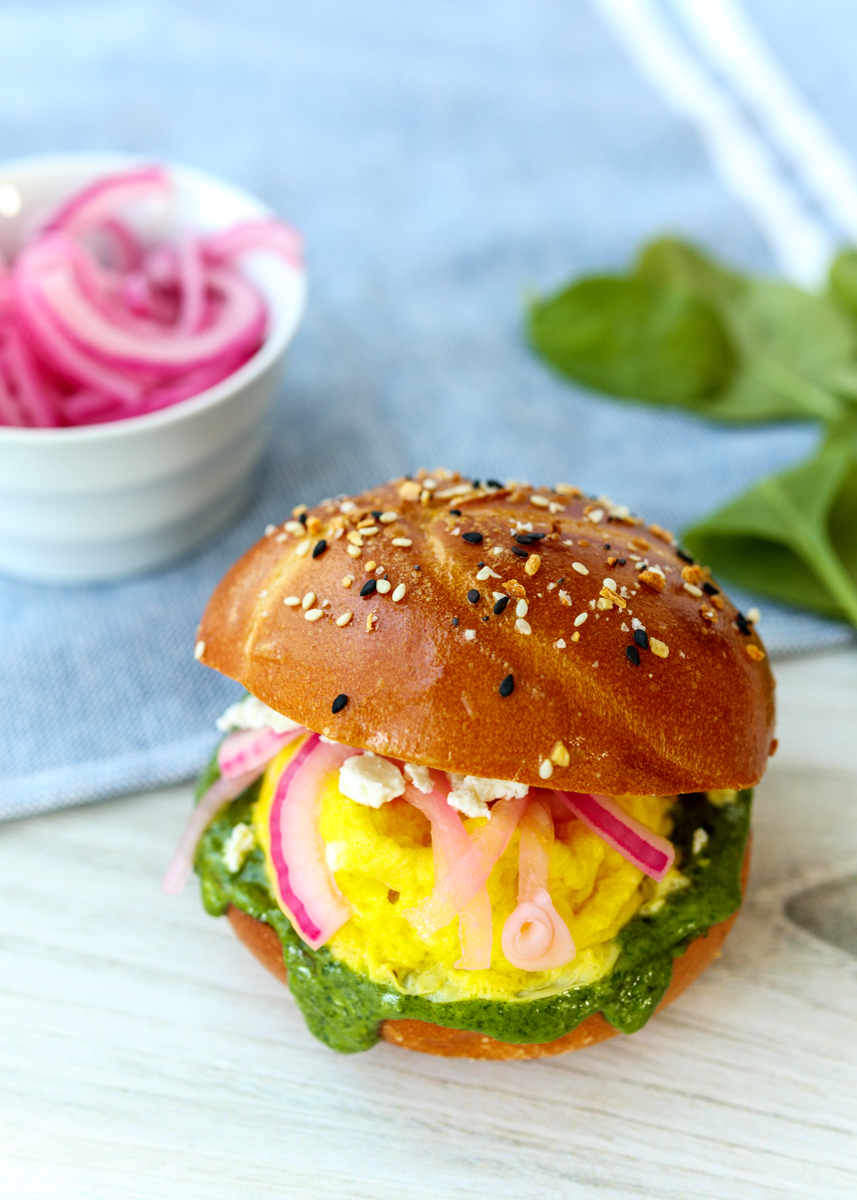 My inspiration for this sandwich came from a little weekday date Matt and I had. There is a cafe near Matt's office and a couple months ago we had lunch there together. I got this crazy delicious egg sandwich with spinach, pesto, goat cheese and pickled red onions on a buttery roll. I've been craving it ever since so I decided to re-create my own.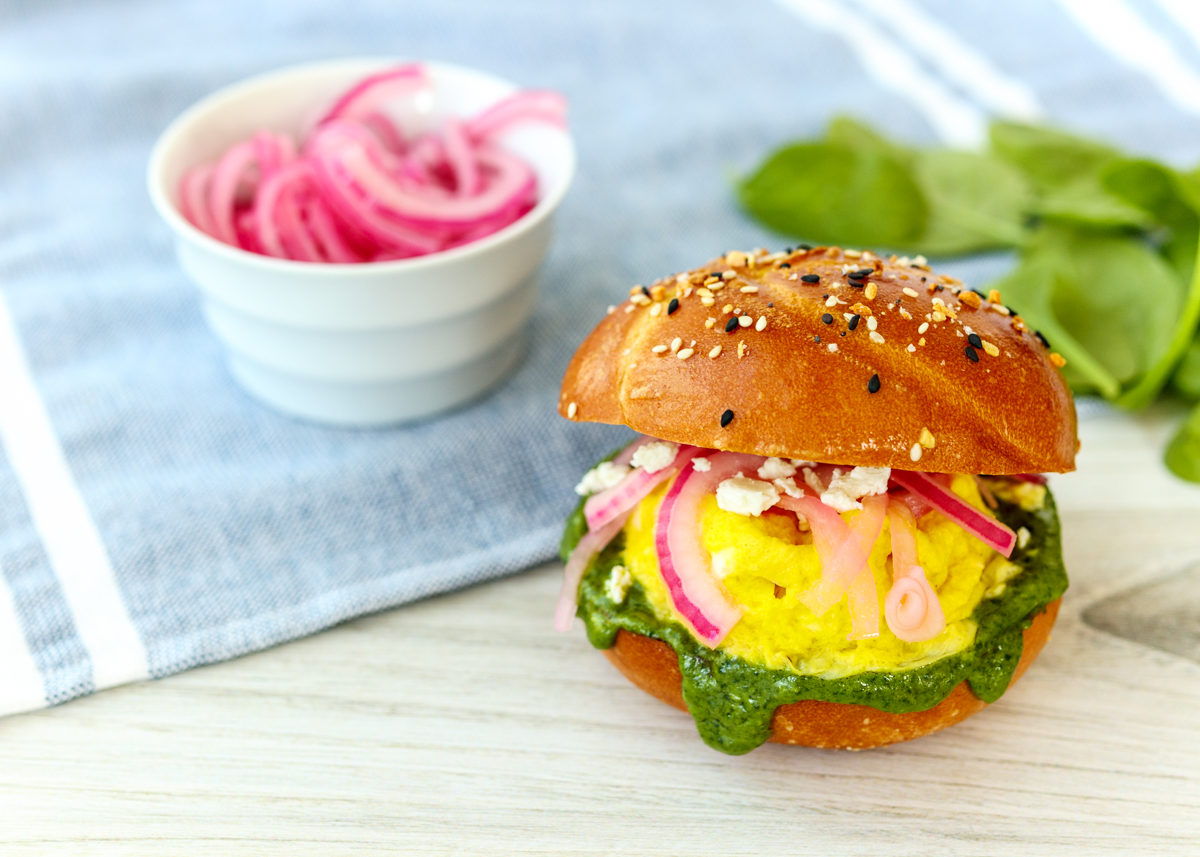 Instead of keeping all the components separate I made the pesto with spinach and goat cheese. I've made spinach pesto before, but I've never used goat cheese in my pesto. Oh my goat cheese heavens! It made the pesto so creamy and gave it the consistency of almost a pesto spread. Which could not be more perfect since it gets spread right onto these toasted kaiser rolls. These are the same rolls from the Barbecue Meatloaf Sandwiches with Caramelized Onions and I used the same egg wash method with everything but the bagel seasoning since I'm channeling breakfast. You really could eat this sandwich for any meal, but I wanted to include some of those breakfast flavors since we're working with eggs.
Next, we have the scrambled egg patty. You could scramble your eggs in a pan, but if you cook the egg in a ramekin in the microwave then it will be the perfect shape for egg sandwiches. Finally, after being slathered with goat cheese spinach pesto, it gets topped with some tangy Quick Pickled Red Onions and some additional creamy goat cheese. Yum!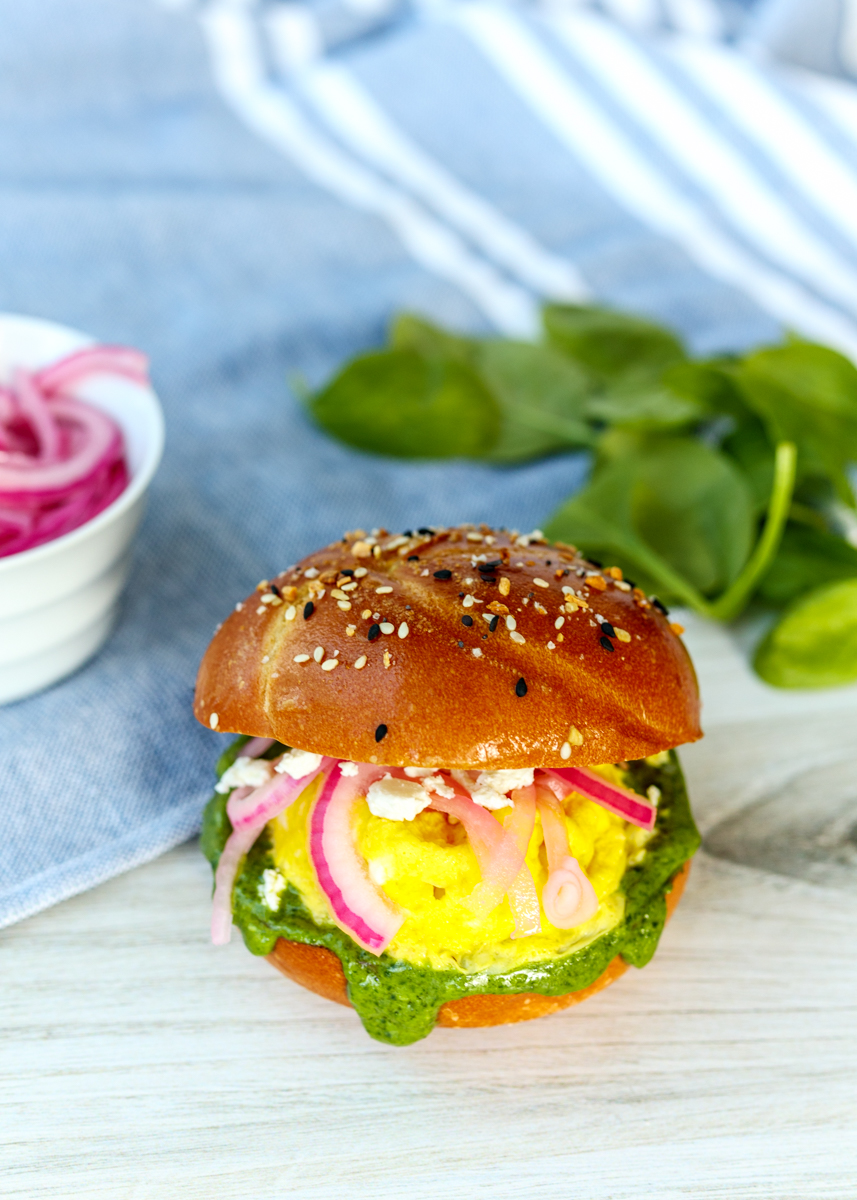 Okay, back to the goat cheese spinach pesto because I'm still not done talking about it. The recipe below makes more pesto than you will need for the sandwiches, which is amazing because then you can either a) make even more sandwiches with it or b) use it on everything for the next few days. I had the pesto on chicken, mixed in with rice, on turkey sandwiches and stirred into pasta with shrimp. I couldn't get enough of it and was very sad when we used it all up. I guess that just means I have to make it again soon!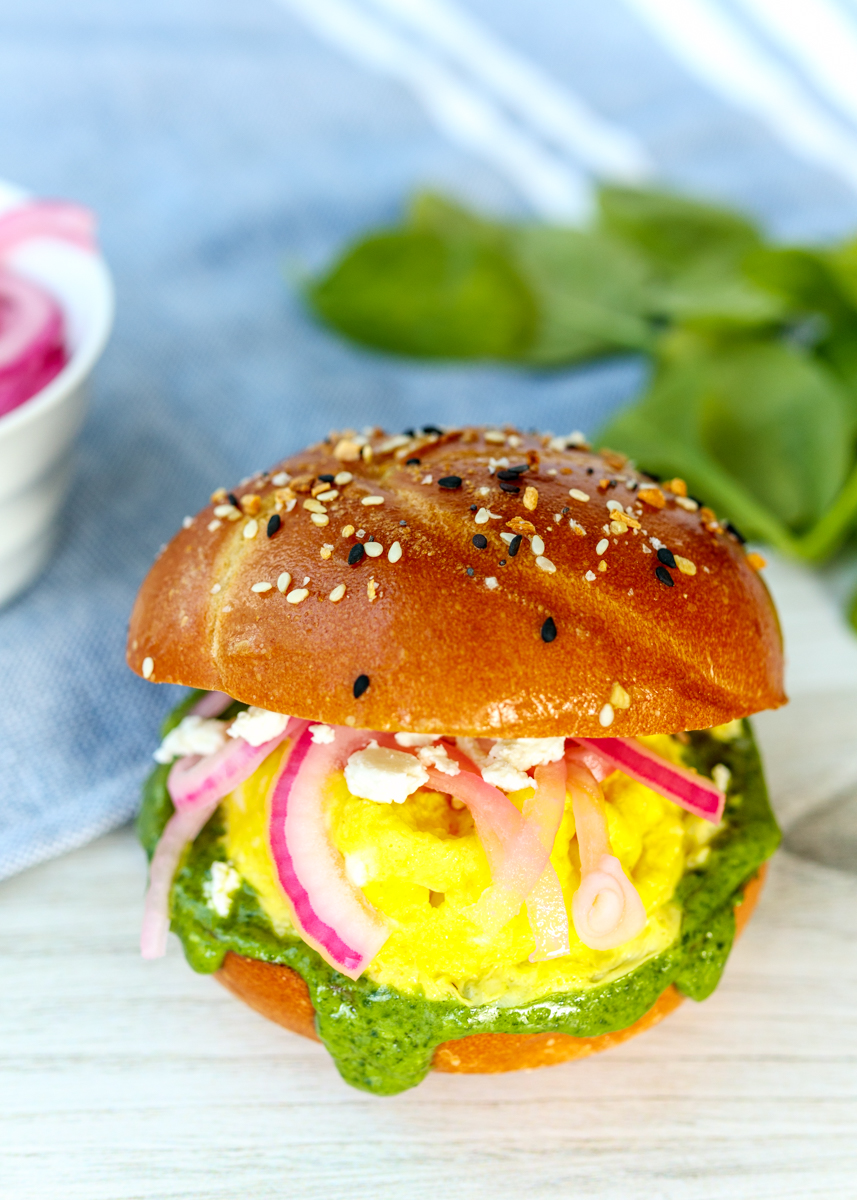 Goat Cheese Spinach Pesto Egg Sandwiches
Ingredients
4 cups spinach leaves
⅓ cup nuts, see note
1 clove garlic
½ teaspoon salt
½ cup olive oil
1 ounce goat cheese, plus more for topping
2 kaiser rolls
3 eggs
Everything but the bagel seasoning
Pickled red onions, for topping
Cooking spray
Directions
Puree the spinach, nuts, garlic and salt in a food processor. Add the olive oil and continue to pulse until smooth. Add the goat cheese and pulse until smooth. Set aside.
Beat 1 of the eggs in a small bowl then add 1 tablespoon water. Brush the tops of the buns then top with everything but the bagel seasoning. Toast in your toaster oven or oven.
Spray 2 small ramekins or microwave-safe bowls with cooking spray. Beat each of the remaining 2 eggs in their own ramekin and season with salt and pepper. I usually add a splash of milk. Lightly cover and microwave for 1 minute.
To make the sandwiches, spread the bottom of each bun with some of the goat cheese spinach pesto. Carefully remove the egg from the ramekin and place on top along with the pickled red onions and additional goat cheese, if desired.
Notes
You can use whichever type of nut you prefer in pesto; I would recommend toasted pine nuts, almonds or walnuts. Alternatively, you could use 3 tablespoons of pumpkin seed butter instead as that is what I used for this recipe.