Tuna Melt Egg Rolls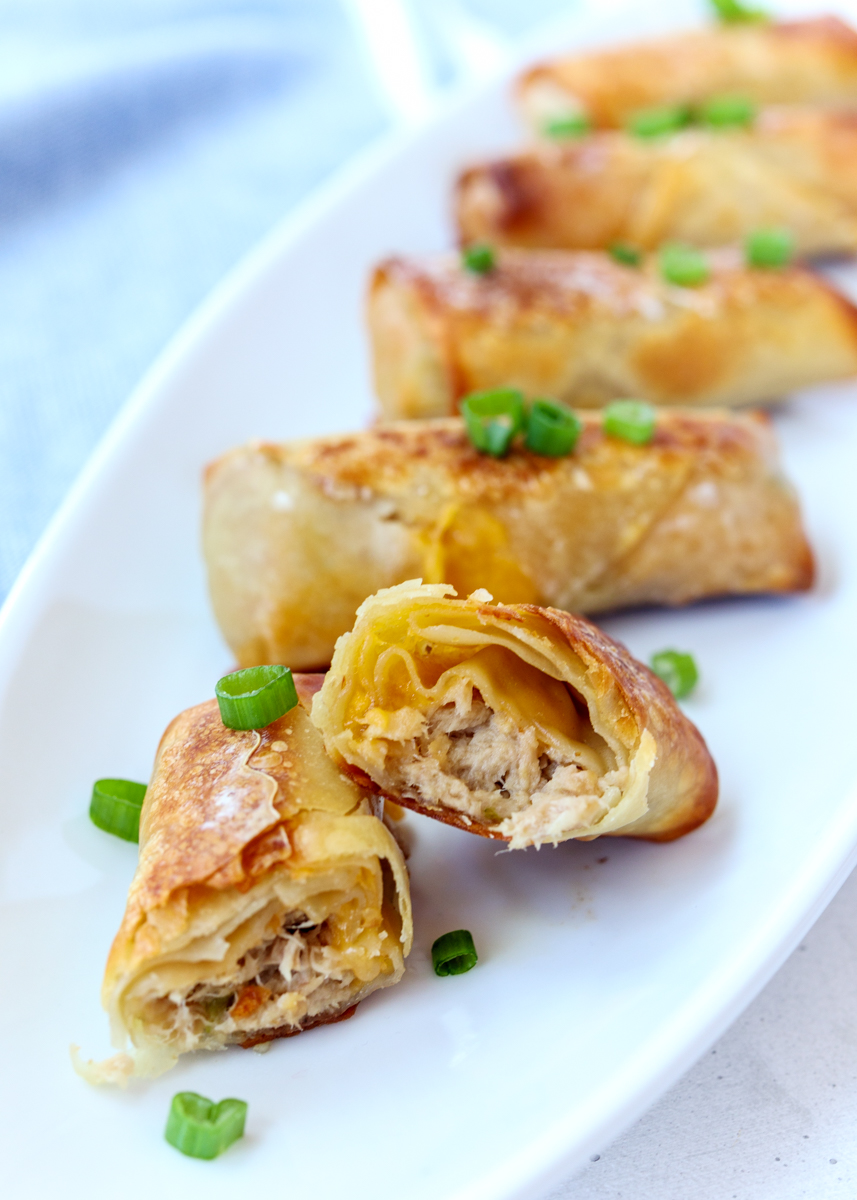 My go-to diner order is a tuna melt. I love tuna fish and when it's sandwiched between two toasty slices of bread along with some gooey melted cheese I'm in heaven. I had some leftover egg roll wrappers from the Baked Barbecue Chicken Egg Rolls and when I was brainstorming what I could make with them I thought of my favorite diner food. Skinnytaste turned me on to baked egg rolls with the Southwest Turkey Baked Egg Rolls from her cookbook and I'm constantly thinking of new variations.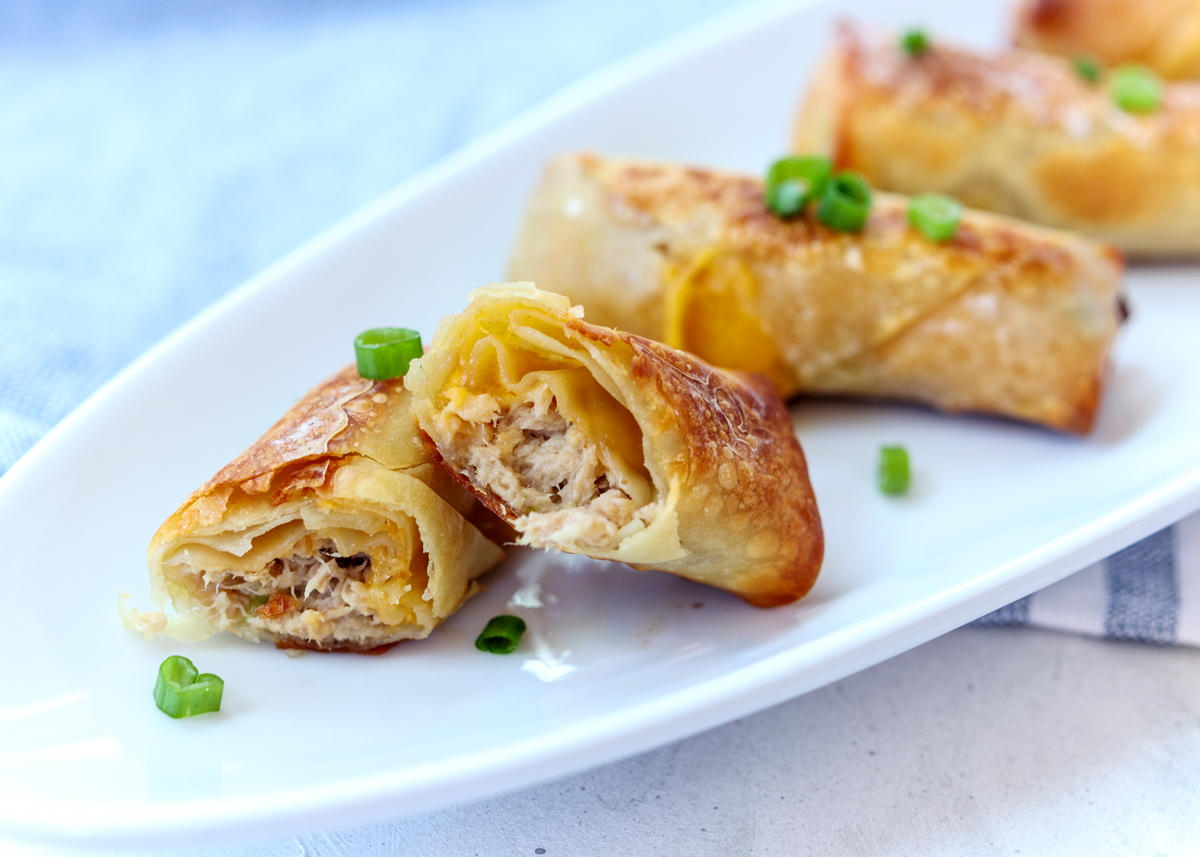 I stuffed the egg roll wrappers with cheddar cheese and a quick tuna salad I made with canned tuna, mayonnaise, scallions and fresh ground black pepper. Then I baked them until they were crispy and crunchy on the outside and had the perfect melted cheese in the middle.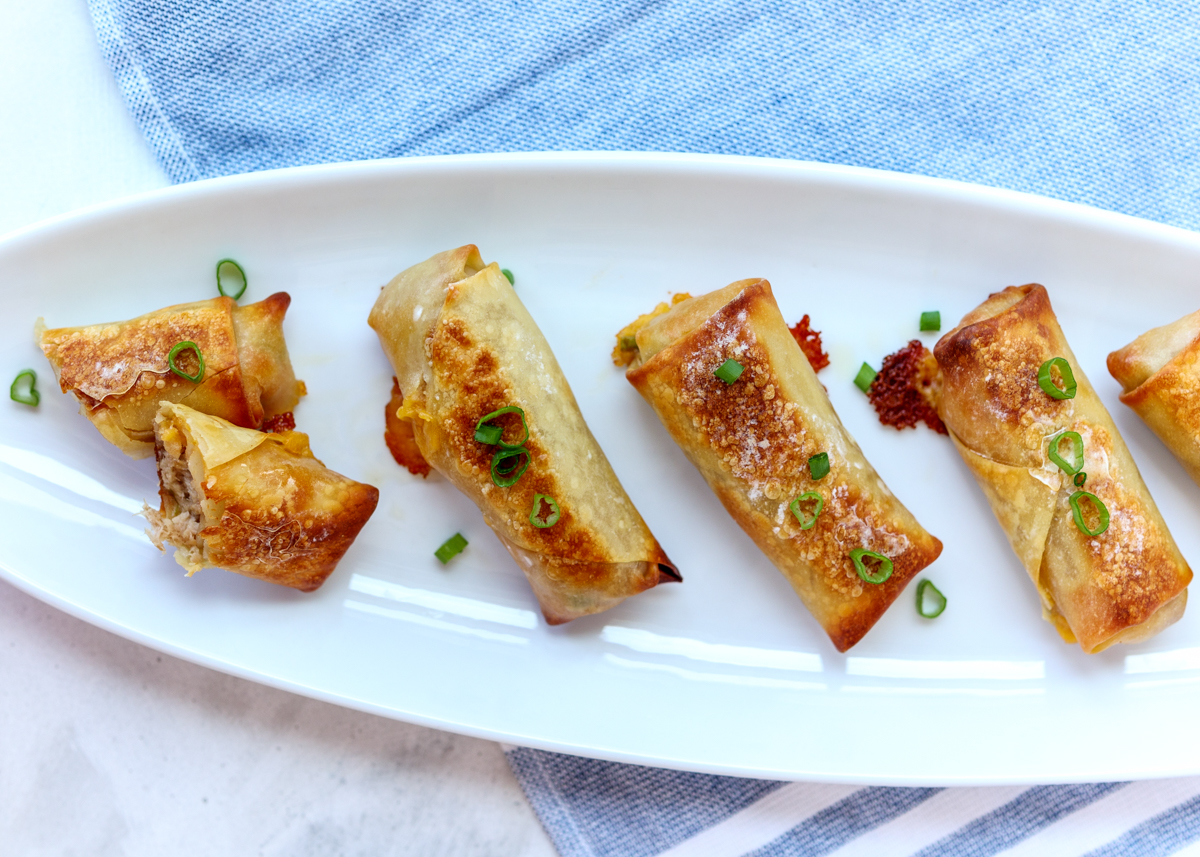 As I mentioned in my Pasta Tuna Salad post (if you love tuna fish then you will go nuts for that dish!), Matt does not like tuna fish so I made these for myself for lunch. This is a small batch recipe as it only uses one can of tuna fish to make two servings. You could certainly make more if you are making it for more people, but I would not recommend saving them for leftovers as they taste best fresh from the oven.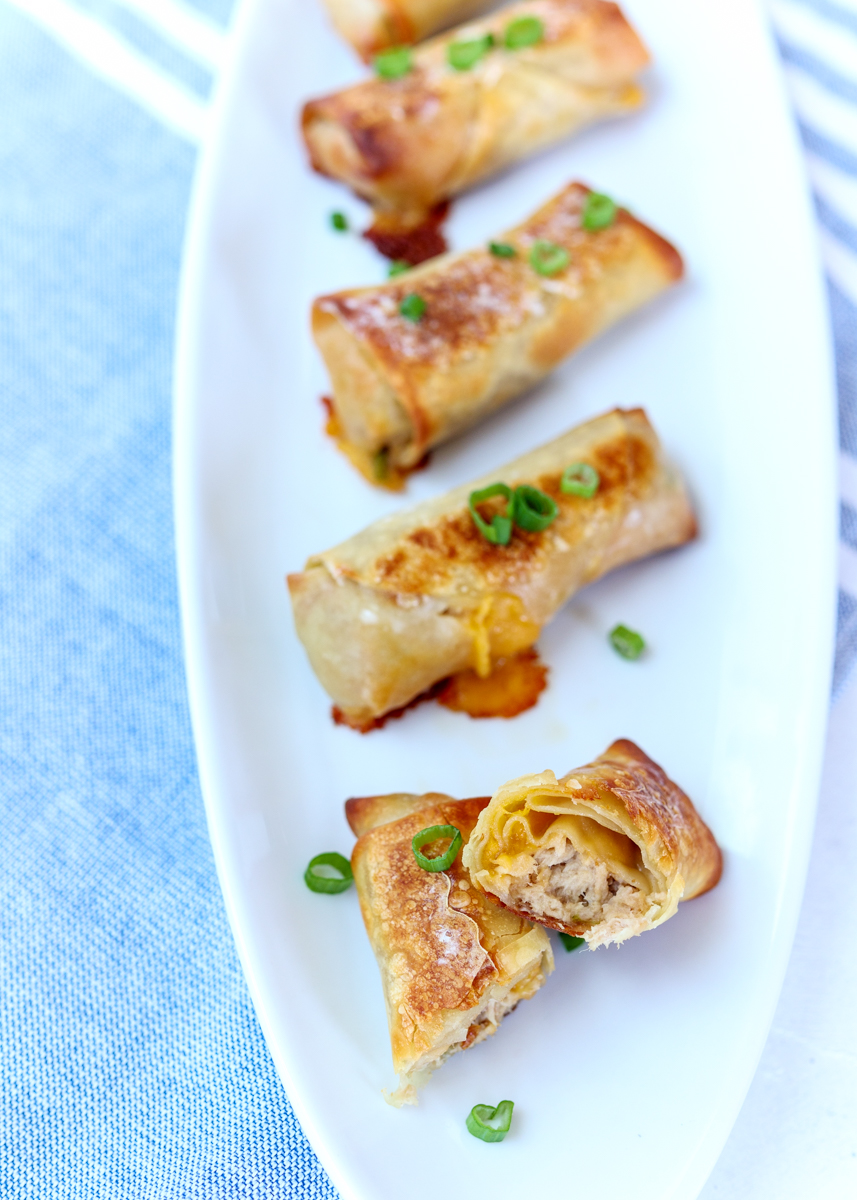 Now that I have those Goat Cheese Spinach Pesto Egg Sandwiches on my mind from Wednesday I'm thinking I missed an opportunity to put some everything but the bagel seasoning on the top of the egg roll wrappers just for some added flavor. I'm not sure if you've ever had tuna fish on an everything bagel, but it is so good. There's this place I used to order from at work that would make a tuna melt on an everything bagel with some of the bagel scooped out so it would get nice and crispy. Like these egg rolls! Minus the everything but the bagel seasoning, but maybe next time!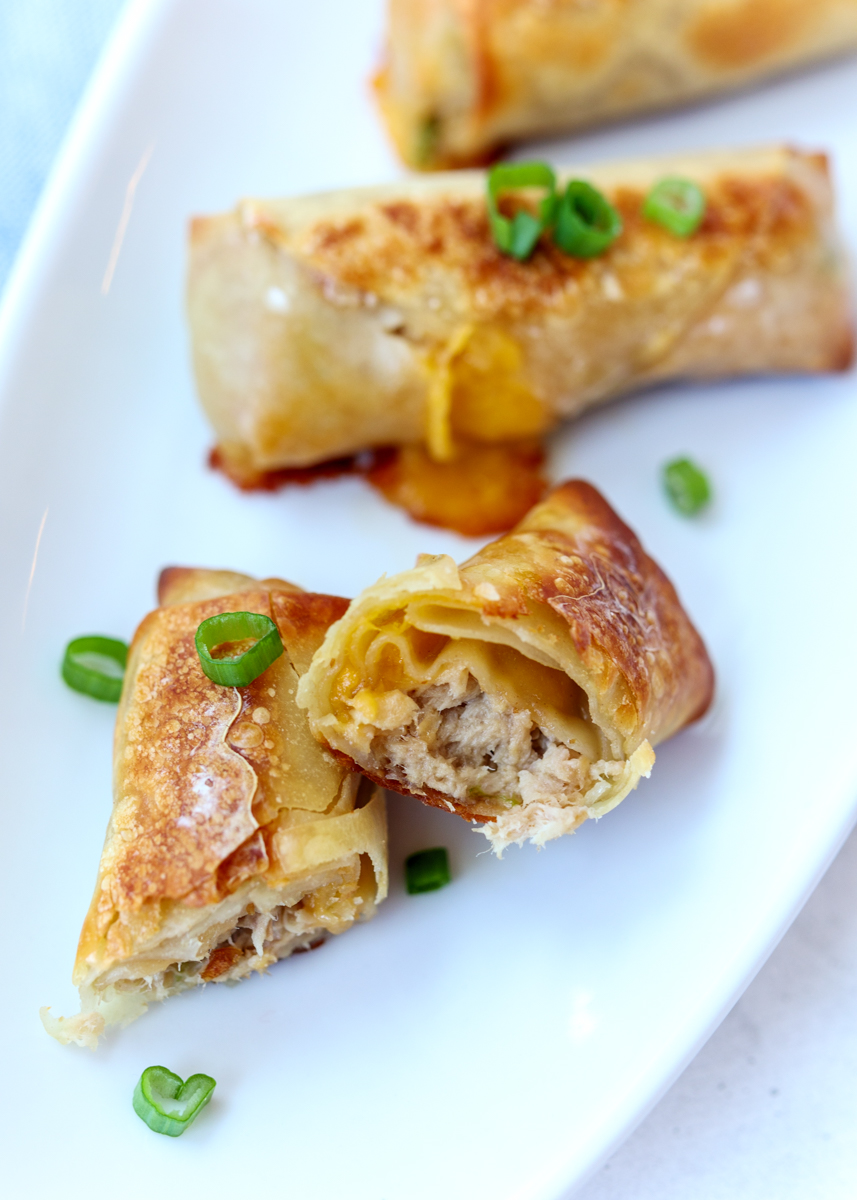 Tuna Melt Egg Rolls
Ingredients
1 5-ounce can of tuna fish, drained
3 tablespoons mayonnaise
1 scallion, end removed and chopped
Fresh ground black pepper
6 egg roll wrappers
6 tablespoons shredded cheddar cheese
Cooking spray
Everything but the bagel seasoning, optional
Directions
Preheat oven to 400 degrees F. Line a small baking sheet with nonstick aluminum foil or parchment paper and set aside.
Combine the tuna fish, mayonnaise and chopped scallion in a bowl. Season with the black pepper.
Before filling the egg roll wrappers, make sure you have a little bowl or cup of warm water and a clean work surface. Place the egg roll wrapper down so that a corner is facing you. Scoop ⅙ of the tuna mixture and place it near the bottom corner of the wrapper. I like to adjust the mixture so it's more of a log shape then a big mound. Place a tablespoon of the shredded cheese on top. Take the bottom corner of the wrapper and fold it up and over the mixture so it's completely covering it then continue to roll it one more time. Fold in the left and right corners so they create a little envelope then continue to roll it until it's 1 roll away from the top corner. Wet your finger with the water and use it to moisten the whole exposed top corner. Fold the corner down to close up and seal the roll. Place it on the baking sheet. Repeat for the remaining rolls then coat all the rolls with cooking spray. Sprinkle with everything but the bagel seasoning if desired.
Bake the rolls for 8 minutes, then flip them over and bake for another 8 minutes. They should be crispy and golden brown. Serve warm.
Some of the links above are affiliate links, which means I may receive a small commission for my referral if you purchase something. This does not affect the retail cost of the item. Thank you for supporting Lemon & Mocha!