Chocolate Ganache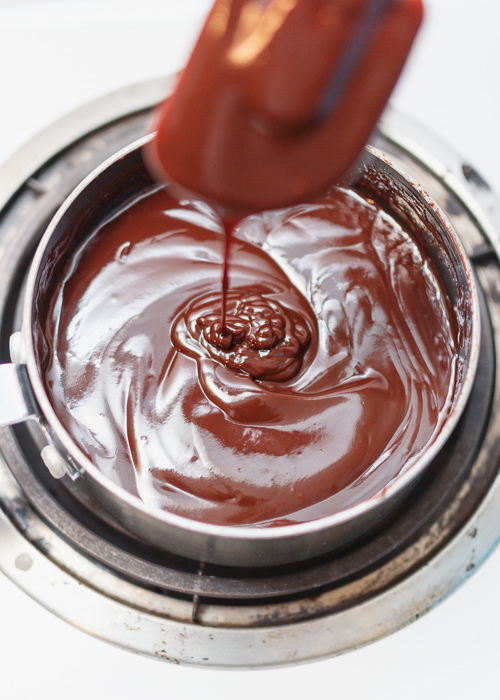 This recipe is life changing. Now I know I have been throwing a lot of bold words around on Lemon & Mocha lately, but there are so many recipes out there that I can't afford to be meek. If I let you live your life even just one more day without tasting this chocolate ganache I could never forgive myself. And if I withheld this deliciousness from you for months before suddenly sharing, well, I shudder to think about the angry mobs.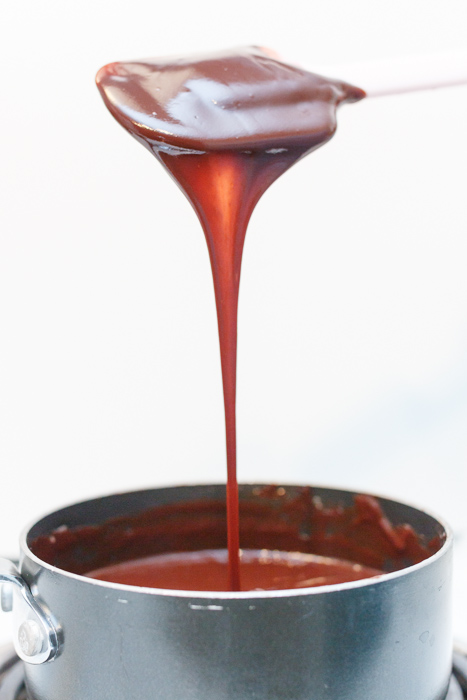 Chocolate ganache is just a fancy way of saying a sauce of chocolate and heavy cream, or a fancy way of saying "mmm." You heat heavy cream until it's steaming, add in the chocolate then voila- the ganache is complete. This ganache has been known to bring people to their breaking point. I have even heard someone utter that they were ready to smack a ganache-topped cupcake out of child's hand because they thought it was the last one! Don't worry, I won't name names ;-).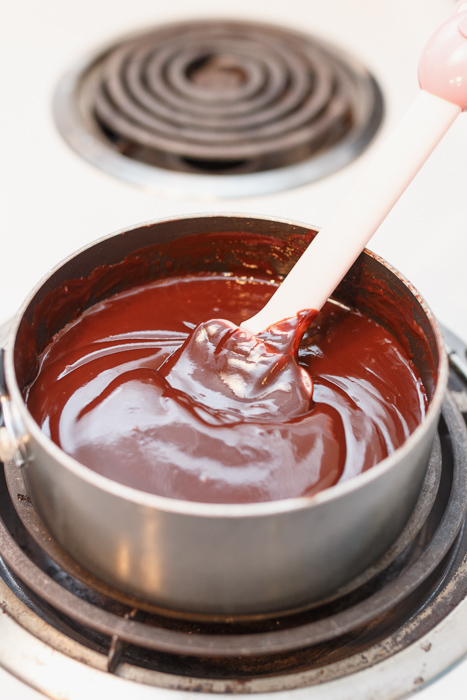 Now this photo is deceiving because once you have poured, dipped or drizzled the ganache it hardens into a glistening chocolate shell and develops a fudge-like quality. The beauty of this recipe other than the rich chocolate taste and smooth velvety texture is its versatility. Originally used to make faux Hostess cupcakes, I have since used the ganache for a wide variety of chocolate sinfulness. Topping chocolate cupcakes? Check. Coating brownies? Check. Eating with a spoon? Check. Matt likes to heat leftover ganache in the microwave then drizzle over ice cream. Now is that a boy after my own heart or what? You better make sure your computer screen is clean because when you see what I make with the ganache on Friday you might find yourself licking your monitor. It's ok, I won't judge.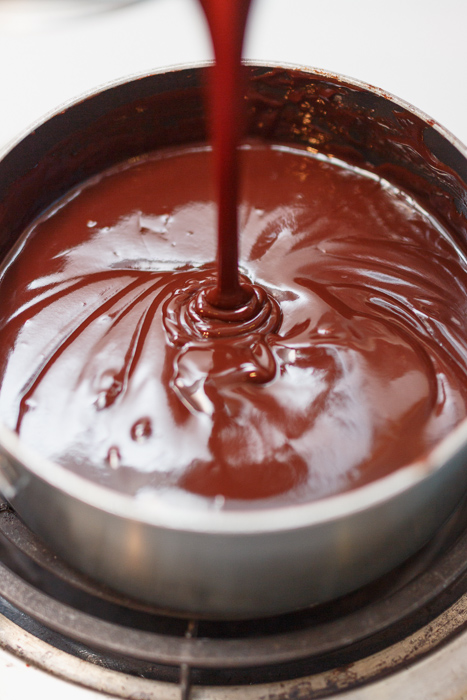 Chocolate Ganache
Ingredients
¾ cup heavy cream
1- 12 ounce bag of bittersweet chocolate chips
3 tablespoons unsalted butter, softened
Directions
Heat the cream over medium heat until steaming, stirring constantly.
Once steaming, remove the cream from the heat. Add the chocolate and stir then let sit for 5 minutes.
Add the butter to the chocolate mixture then stir until smooth.
Dip, pour or drizzle as directed in your recipe.
Notes
Any leftover ganache will keep in an airtight container in the fridge for up to 4 weeks.
Recipe from

The Curvy Carrot

.