Strawberry Kale Salad with Goat Cheese & Pecans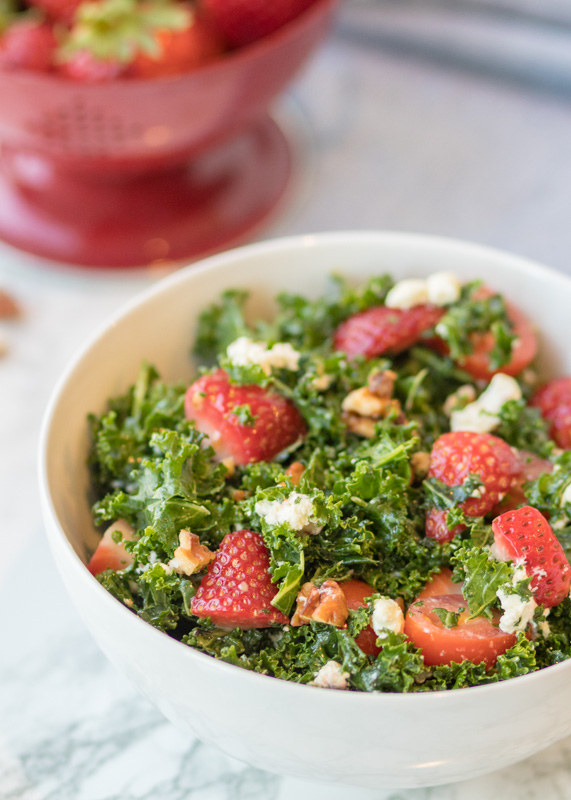 ½ cup chopped pecans
8 ounces kale
8 ounces fresh strawberries, washed and stems removed
1 cup grape tomatoes
2 ounces goat cheese
3 tablespoons olive oil
1½ tablespoons apple cider vinegar
1 tablespoon Dijon mustard
1½ teaspoons honey
Salt and pepper, to taste
Preheat the oven to 350 degrees F. Spread the pecans on a small baking sheet then toast in the oven for 5-10 minutes. Toss the pecans once during cooking and be sure to watch carefully so they do not burn. Set aside to cool.
If your kale wasn't pre-washed, wash and dry it. Remove all thick ribs and stems; roughly chop. Place in a large mixing bowl. Continue to tear and massage the kale for 5 minutes. To massage the kale scrunch it up with both your hands, release, and scrunch up some more, tossing and tearing as you go. This helps tenderize the kale and reduce its bitterness by breaking down the cellulose structure.
Quarter the strawberries. Slice the grape tomatoes in half. Add to the kale along with the toasted pecans and goat cheese. Gently toss to combine. Add the dressing and gently toss to coat. Let sit in the fridge for at least 30 minutes, or even better if overnight.
Whisk together the olive oil, apple cider vinegar, Dijon mustard and honey until combined. Season with salt and pepper to taste.
Recipe by
Lemon & Mocha
at http://www.lemonandmocha.com/2018/04/23/strawberry-kale-salad-with-goat-cheese-pecans/