Strawberry Dutch Baby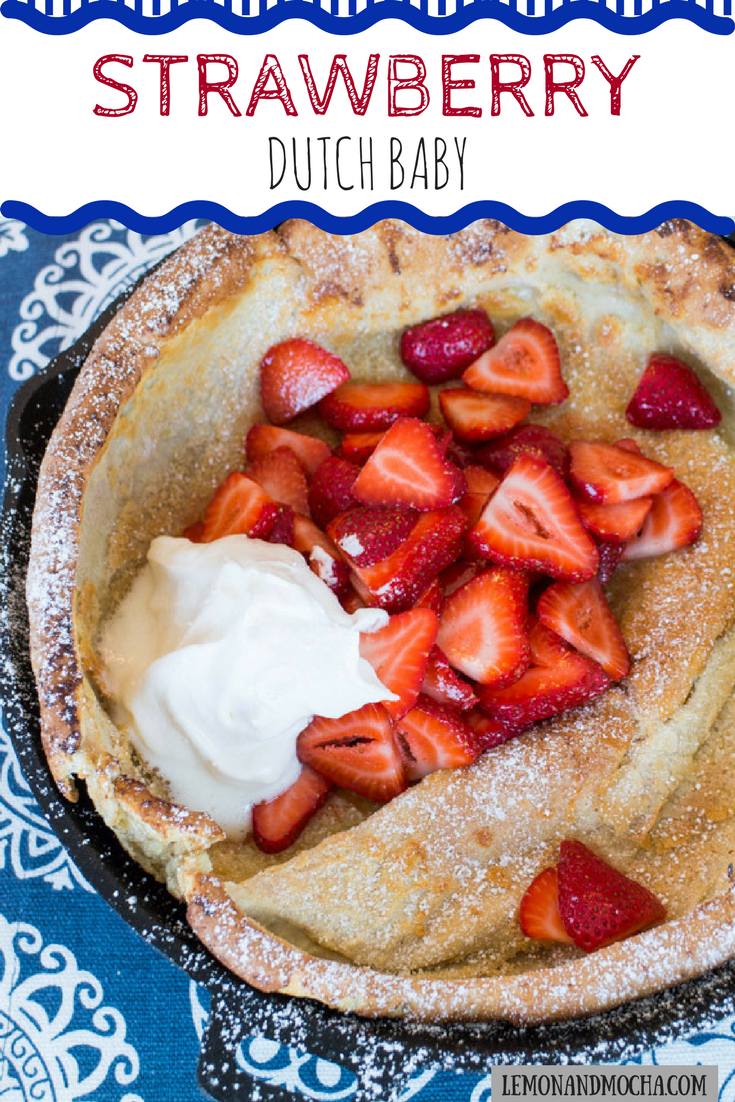 Yes, this recipe has a funny name, but I will get to that in a minute. For now, let's focus on how absolutely delicious and stunning it looks. Beautiful! The enormous pancake is light and bursting with vanilla and cinnamon-sugar flavors. Crispy puffed pockets and softened doughy pillows cradle the syrupy strawberries and the whipped cream. Are you dreaming in your bed or did you actually just make this in no time at all with a blender and cast iron skillet? Since I just posted it you probably are dreaming, but you could be the later and be the hero of brunch this weekend.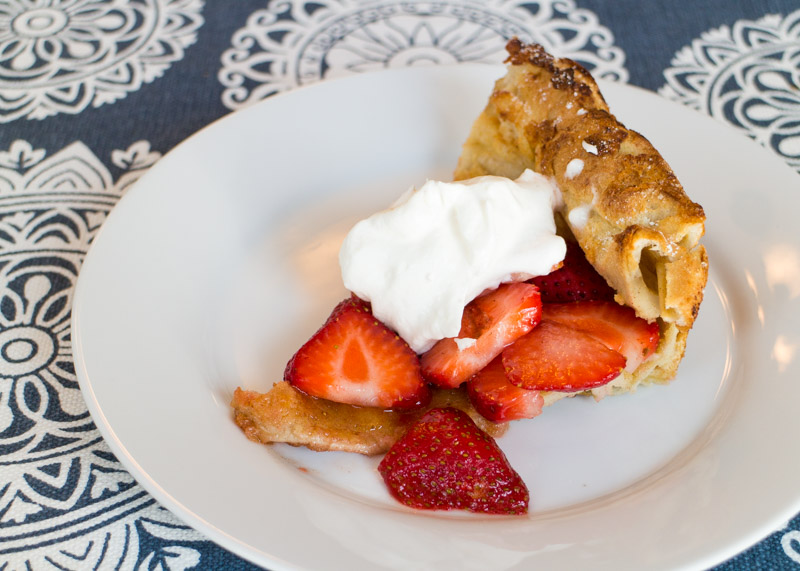 I had seen these Dutch babies on Instagram and cooking shows for a while now, but I never actually read through a recipe. I assumed to look so impressive that they must be complicated. I apologize to the last five years of my life for never reading a recipe because it is the opposite of complicated. Complicated doesn't even exist on the same continent! The eggs are beaten until frothy then the rest of the ingredients are dumped in for some more mixing. I used a blender to do this to make it even easier. The mixture is poured into a cast iron skillet that's been getting hot on the stove-top with melted butter. If you don't have a cast iron skillet any oven safe skillet will work. Into the oven it goes! When it is done in the oven it gets sprinkled with cinnamon-sugar, loaded with syrupy strawberries, and dolloped with whipped cream. In come the brunch eaters with their forks to savor the puffiness until the puff deflates, but the Dutch baby stays just as delicious.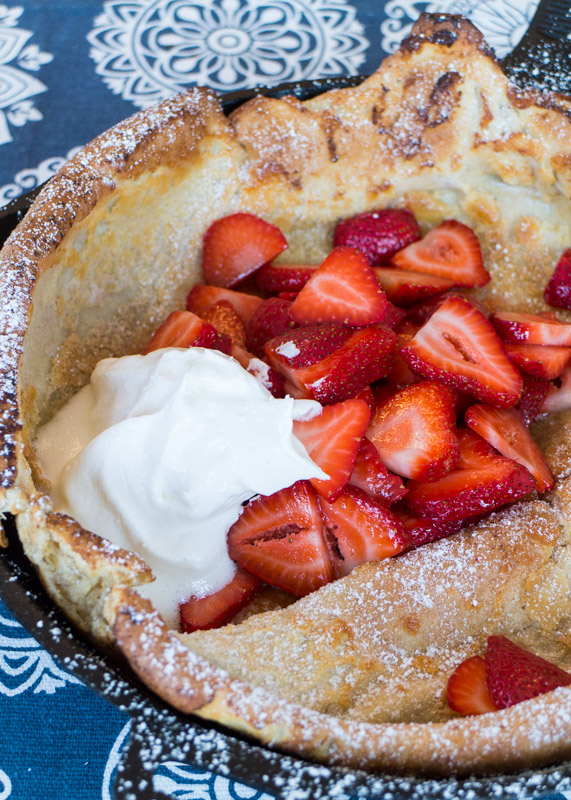 I came across this recipe when I was brainstorming for Christmas morning. I wanted something that would be minimally hands-on while also looking impressive. That's hard to come by in the realm of brunch food. Thank the breakfast heavens for these oddly-named Dutch baby things. I did a bit of research, aka read Wikipedia, about the name and it turns out that this cross between a pancake and a popover isn't Dutch at all. It is an American food and name said to be coined by a family cafe in Seattle, Washington in 1942. It seems to be their version of the German-style pancakes known as pfannkuchen, which look like slightly thicker crepes and are topped with fruit and sweet toppings. They speculate the Dutch part of the name came from the German word deutsch, which means German, but no word on where the baby part came in. My guess is that it is so delicious when you eat it that your speech becomes incoherent like a baby's.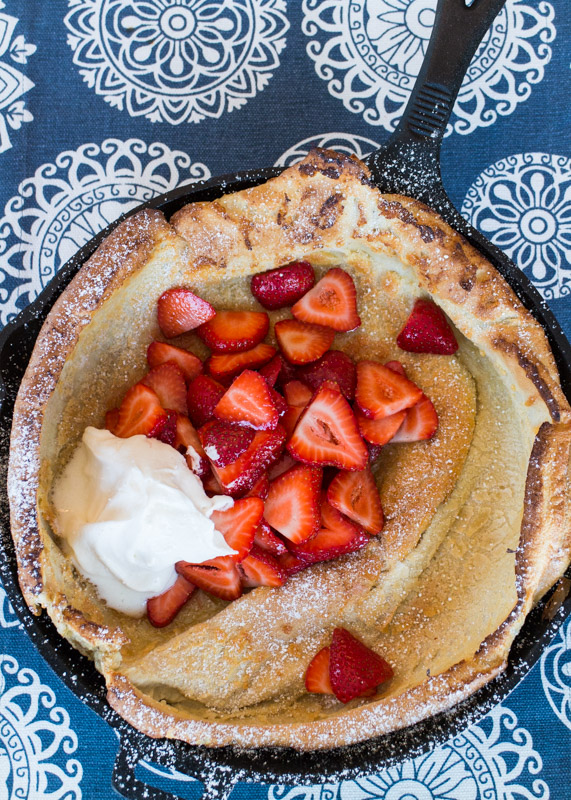 Part of the Strawberry Dutch Baby's deliciousness is that it has the perfect amount of sweetness. Even though the actual Dutch baby has no sugar in it, all the sweetness is coming from the cinnamon-sugar sprinkled on top and the syrupy strawberries. So stop dreaming and start planning when you're going to make this impressively easy popover pancake!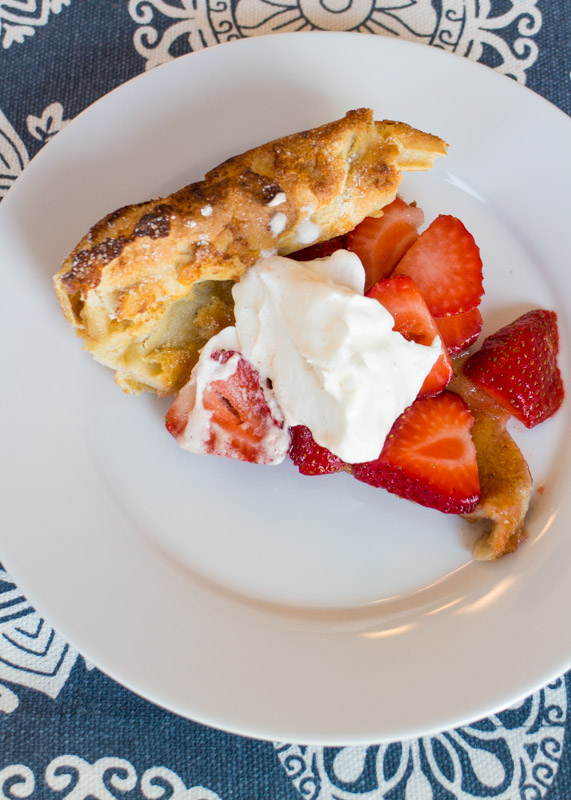 Strawberry Dutch Baby
Ingredients
3 large eggs, room temperature
⅔ cup whole milk, room temperature
⅔ cup all-purpose flour
¼ teaspoon ground cinnamon
⅛ teaspoon salt
4 tablespoons unsalted butter
2 cups fresh strawberries, tops removed and thinly sliced
¼ cup sugar
¾ teaspoon ground cinnamon
Whipped cream, for serving
Directions
Preheat the oven to 425 degrees F.
Blend the eggs until frothy and pale in a high-speed blender, about 1 minute. Add the milk, flour, cinnamon, and salt then continue to blend until combined.
Over medium-high heat, melt the butter in a 10-inch cast iron skillet, or an oven safe skillet. Once melted, remove from the heat and quickly pour in the prepared batter. Place right into the oven and bake until the top is golden brown and the pancake has puffed, about 18-22 minutes.
While the Dutch baby is baking, combine the sugar and cinnamon in a small bowl. Sprinkle a few spoonfuls of the cinnamon-sugar (reserving some for the Dutch baby) over the sliced strawberries then stir to coat and let sit until the Dutch Baby is ready.
When the Dutch Baby is done, remove from the oven and immediately sprinkle it with the cinnamon-sugar. Don't be shy about it! Add the strawberries and whipped cream. Serve sliced with the extra strawberries and whipped cream.
Notes
If you do not have a blender, you can use a stand mixer or hand mixer.
Recipe slightly adapted from

Joy the Baker

.