Cheesy Pesto Bread with Crispy Prosciutto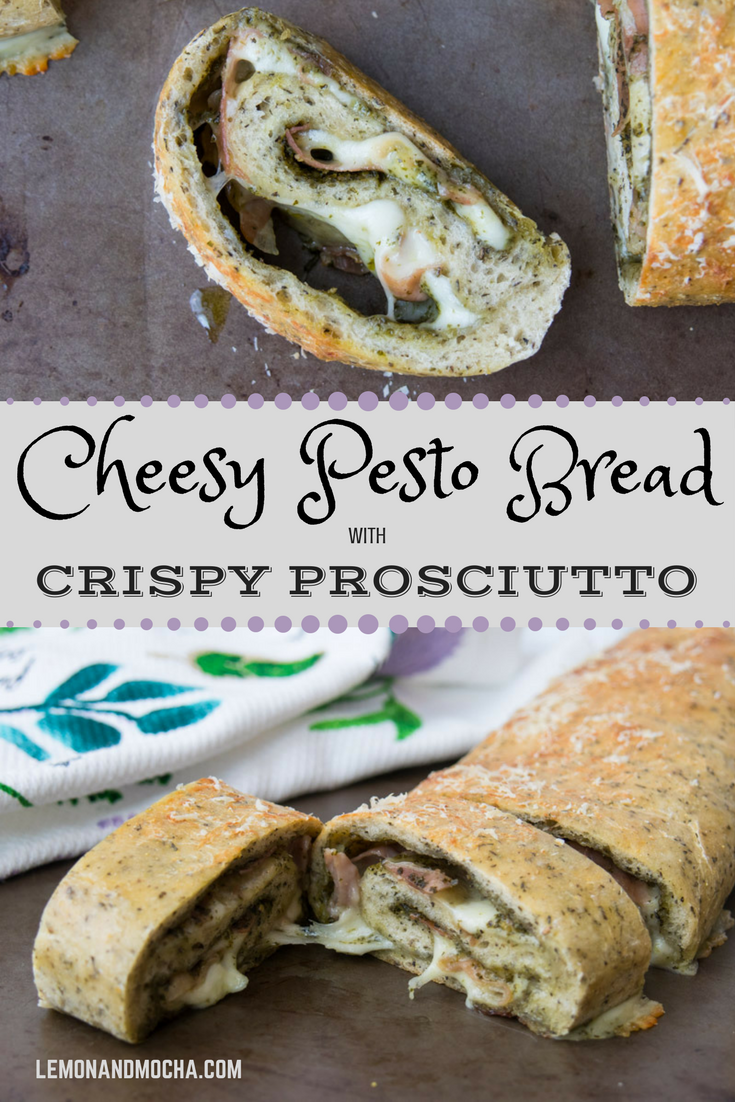 Could there be any more delicious words in one recipe name? Oozing with melted mozzarella, this bread is begging to be made and shared. But maybe shared with a small group of people so there's more for you. Unless you bake two, then the more the merrier!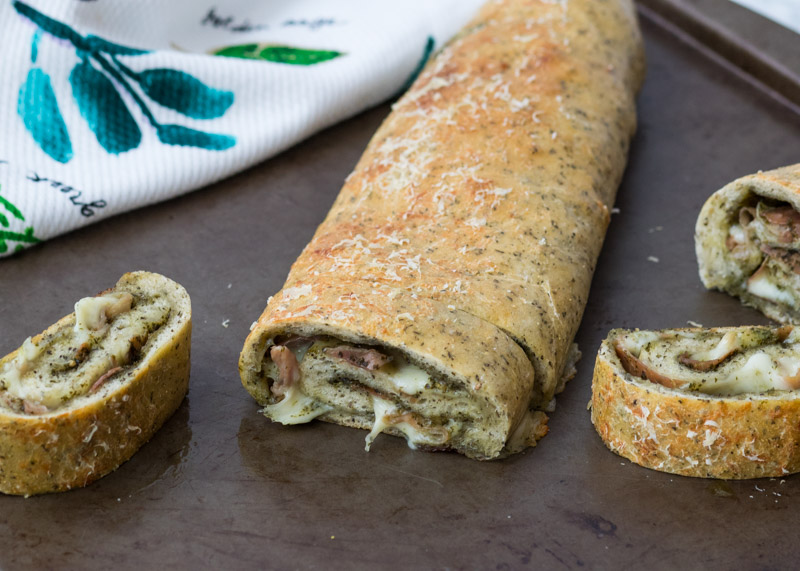 In all seriousness, this recipe comes to you from a very special place. It was inspired by my Aunt Karen's pepperoni bread, which is a definite top three staple at all extended family gatherings. When it comes out of the oven quiet whispers of its presence get spread throughout the party. Everyone fulfills their duty of not being selfish by letting at least one other person know it's ready without alerting too many people so you have time to go snag some yourself before it's gone in approximately eight minutes. And eight is probably being generous.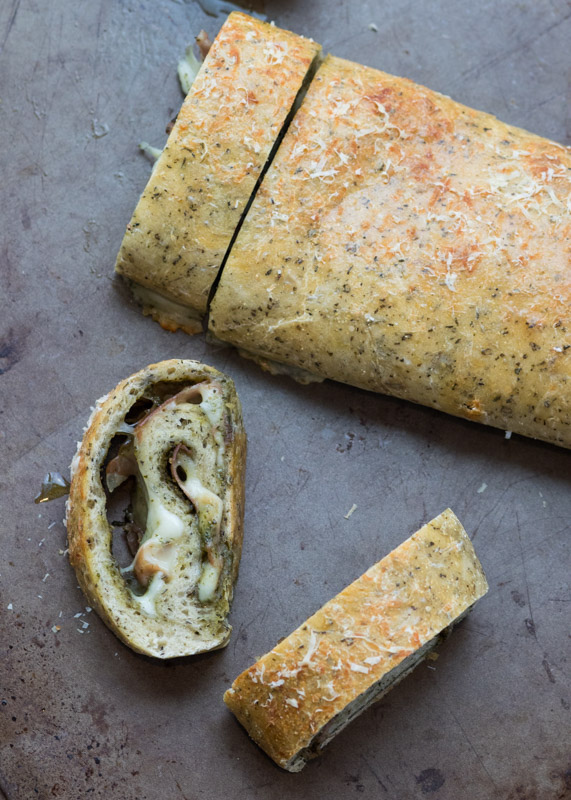 When I think of a recipe that is easy, family-friendly, and perfect for large-groups I immediately think of Aunt Karen's pepperoni bread, however, it doesn't really make me think of springtime or Easter. So I set out to "springify" the recipe and came up with the Cheesy Pesto Bread with Crispy Prosciutto you are currently drooling over on your screen. The pesto brightens up the bread and pairs well with the lighter prosciutto, which still brings the same mouthwatering deliciousness as the pepperonis.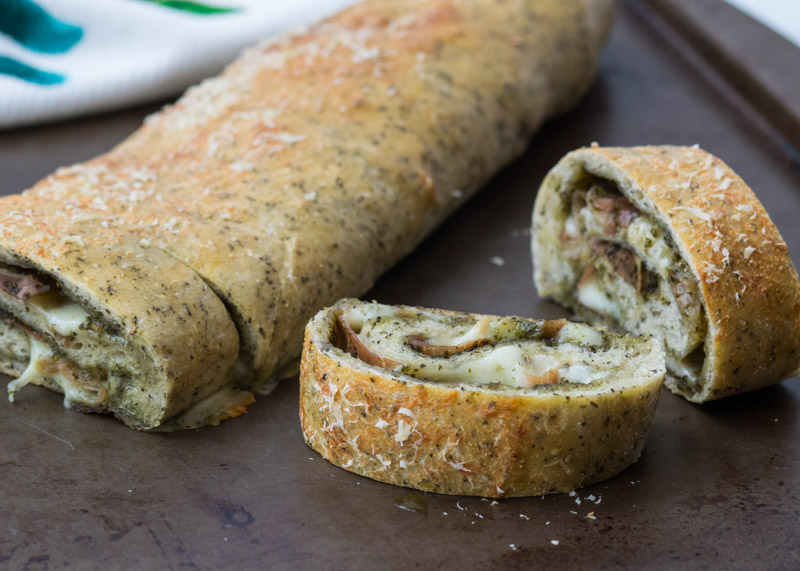 In addition to being completely whisper-worthy delicious, this Cheesy Pesto Bread with Crispy Prosciutto is a necessary recipe in your repertoire for two other reasons. The first is that even though it looks fancy with its hypnotizing spirals of cheese, pesto, and prosciutto, making it is very simple. I use Trader Joe's garlic and herb pizza dough (hard to beat $0.99 fresh dough that tastes like you got it at a pizza shop), but you can use any pre-made or homemade pizza dough you wish.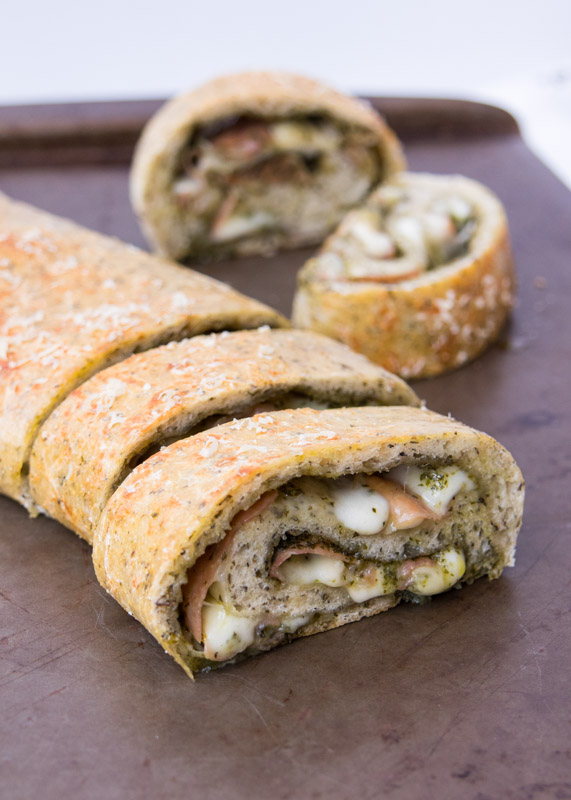 The pizza dough is rolled out then topped with pesto, fresh Parmesan, and crispy prosciutto. I quickly crisped the prosciutto in a pan over medium-high heat, but you can skip the crisping if you are in even more of a time-crunch. Then comes the shredded mozzarella. After a quick egg wash to seal the edges, the dough gets rolled up, topped with more egg wash and Parmesan, then baked until the top has a gorgeous browned crust and the inside is bursting with gooey cheese. Done!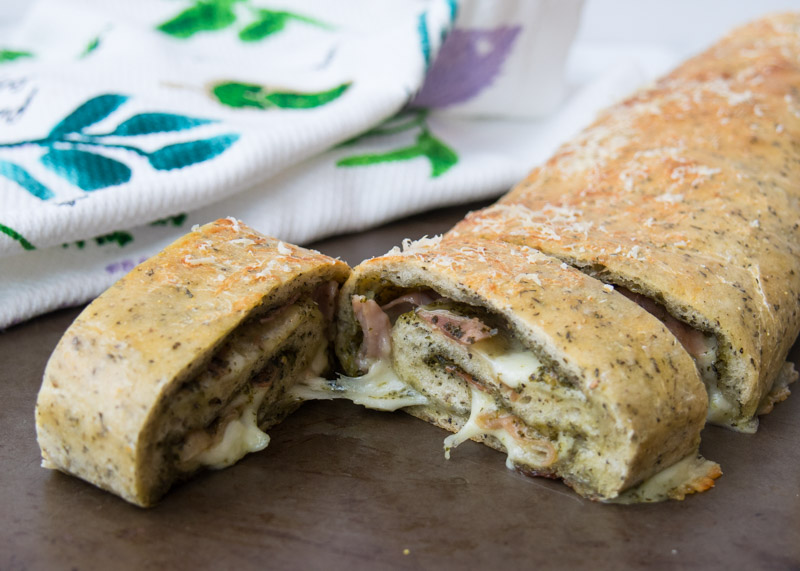 The second reason you need this recipe in your life is that it is a great make-ahead dish. Whether it's for a weeknight dinner or a dinner party I love make-ahead recipes. Make and bake the Cheesy Pesto Bread with Crispy Prosciutto ahead of time then when you're ready to eat it simply reheat wrapped in foil in a warm oven for about 20 minutes. If you want clean and even slices you can cut the bread after it has cooled before wrapping it up like a loaf in the foil. This way after it is warmed in the oven it will already be sliced and ready to be eaten.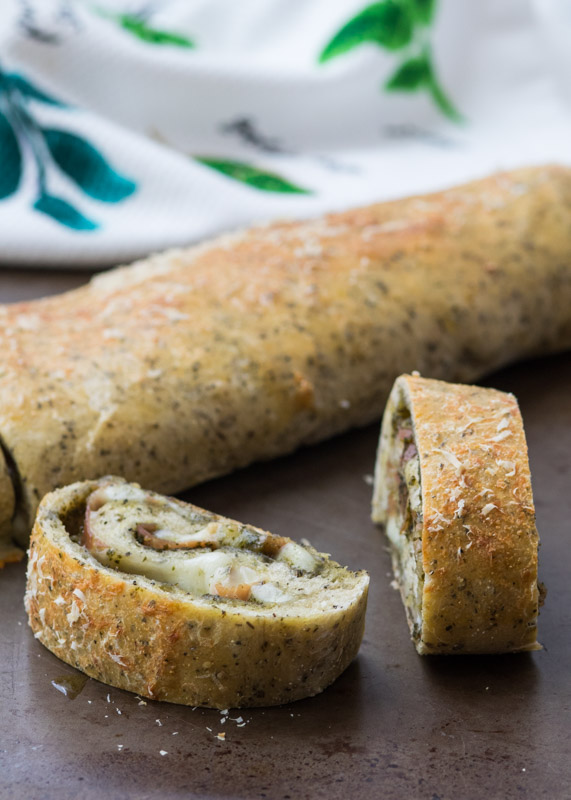 If you decide to make your own pesto, I highly recommend this kale pesto. I make a batch of it and then freeze it in separate small freezer bags. I lay the sealed bags flat in my freezer to freeze so once they are solid they take up barely any room. Freezing them like that also makes it easy to break off a chunk when you need only a little bit of pesto instead of defrosting the entire bag. Since they are frozen in a thin layer instead of a block they also defrost very quickly.
I hope you and your family, friends, and lucky taste-testers enjoy this Cheesy Pesto Bread with Crispy Prosciutto!

Cheesy Pesto Bread with Crispy Prosciutto
Ingredients
16 ounces pizza dough
3 ounces sliced prosciutto
3 tablespoons pesto
2 tablespoons freshly grated Parmesan
4 ounces shredded mozzarella
1 egg
Directions
Set the dough out to come to room temperature. Preheat the oven to 350 degrees F. Line a baking sheet with nonstick foil and set aside. Meanwhile, crisp the prosciutto in a nonstick skillet over medium-high heat. Flip the prosciutto once it becomes slightly browned then continue to cook until the other side is slightly browned as well. Once done, turn off the pan and lay the crispy prosciutto on a paper towel to soak up any grease.
Using cornmeal or flour so it doesn't stick, roll out the dough on a clean surface until it is roughly the shape of an 11" x 14" rectangle. I usually hold it then let gravity stretch the dough to get it started. Leaving a 1" border, evenly spread the pesto on the dough. Sprinkle the pesto with 1 tablespoon of the Parmesan. Next, evenly lay the crispy prosciutto. Top with the shredded mozzarella.
Beat the egg in a small bowl. Lightly brush the egg on the border you left. Gently fold the short edges in then, working carefully, tightly roll the dough up lengthwise. You want to be rolling from long edge to the other long edge, being sure to tuck in the short edge sides as needed. When you're done rolling, pinch the dough at the seam to seal it. I like to pinch it twice to make sure it's really tight. Carefully place the bread roll seam side down on the prepared baking sheet. Lightly brush the egg on all exposed top and sides of the roll then sprinkle with the remaining tablespoon of Parmesan.
Bake for 22-25 minutes, or until the top is golden brown. Let cool slightly then cut into slices and serve.