Chicken Schnitzel & Pesto Spaetzle with a Cauliflower Sun-dried Tomato Sauce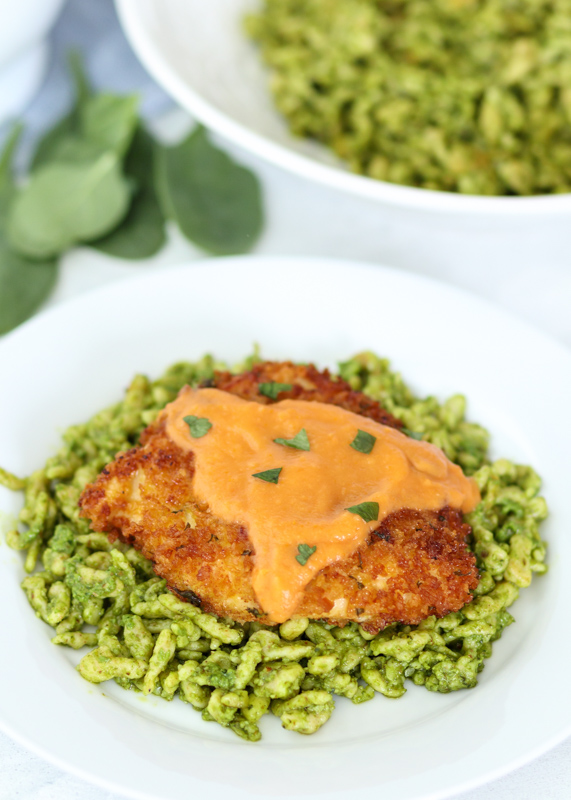 I am obsessed with the recipes I've been posting so far in October! I'm normally super excited about all the food I'm sharing, but I feel especially extra excited for all of these. This Chicken Schnitzel and Pesto Spaetzle with a Cauliflower Sun-dried Tomato Sauce is no exception. In fact, it's heavily contributing to that extra excitement. This dish has a lot of components, but when they come together in the same bite it is pure magic.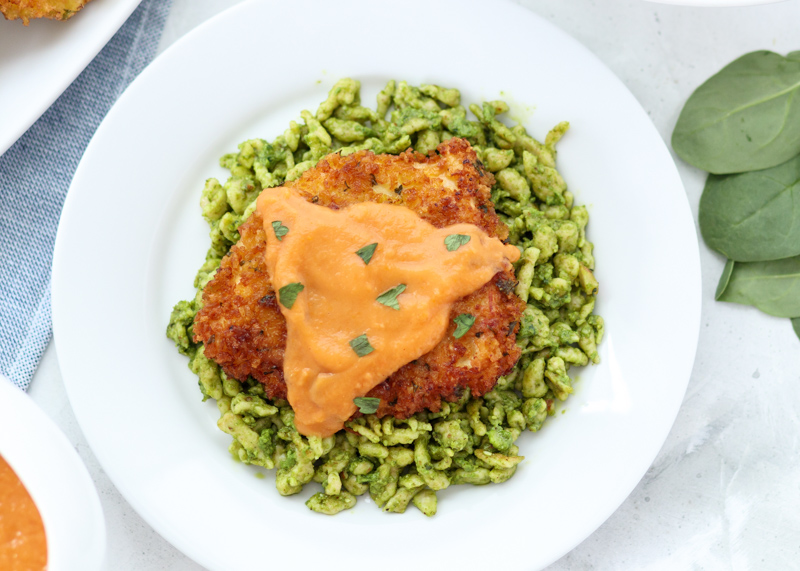 On the bottom we have our homemade spaetzle dumplings. They are technically a dumpling, but I think of them as noodles. If you love pasta then you will love spaetzle since they are like egg noodles with a bit of chewiness to them. A classic German dish, spaetzle is typically served with lots of butter and parsley. We are taking a slightly healthier approach and topping them with a quick homemade almond and spinach pesto. The pesto is nutty and makes the spaetzle a beautiful green color. However, before adding the pesto we cannot get away without pan-frying the spaetzle.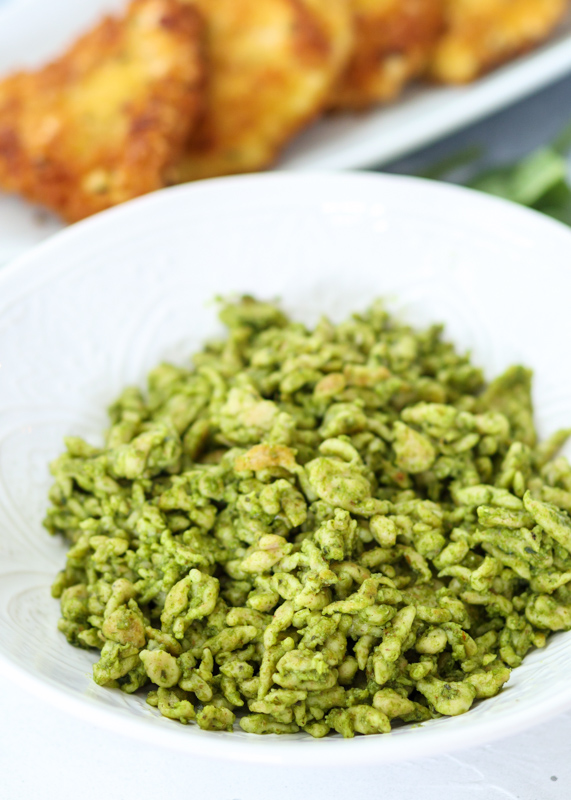 I seared them in a pan with just a little bit of coconut oil cooking spray; they just need to get very lightly browned, which adds a crispy textural element to the little dumplings. On top of the incredible pesto spaetzle is crispy chicken schnitzel. It's basically a fancy German way of saying a breaded cutlet. Usually I make schnitzel with veal or pork cutlets, but I wanted to keep the dish a little lighter so we are using chicken cutlets. The cutlets are thin so you can shallow fry them in just a little bit of olive oil.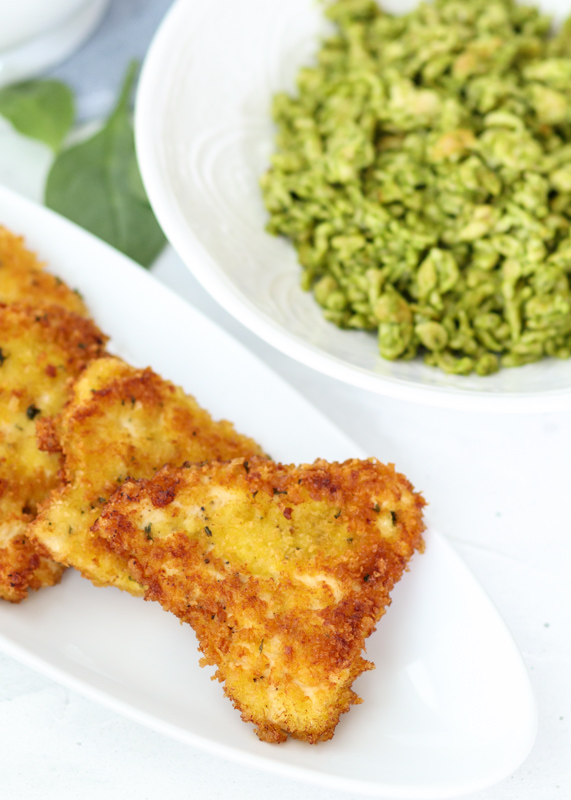 Although the crispy chicken schnitzel and cozy pesto spaetzle would be amazing on their own, I felt like the dish needed one more flavor to pull it all together. Enter this out-of-this-world creamy cauliflower sun-dried tomato sauce. I officially want to put this sauce on every pasta, pizza and chicken dish I make from now on. I might even eat it as a soup. You will know what I mean once you make it. Chicken broth, cauliflower, garlic and seasonings are simmered together before being blended with some sun-dried tomatoes and olive oil. Pure magic! I got the recipe from Caitlin @starinfinitefood – you need to follow her Instagram if you don't already! She posts beautiful food and clean recipes. When you get a bite with the spaetzle, pesto, chicken schnitzel and sun-dried tomato sauce together it is one of those bites where you just have to shout out, "Damn!" after lots of mmming and other inappropriate noises.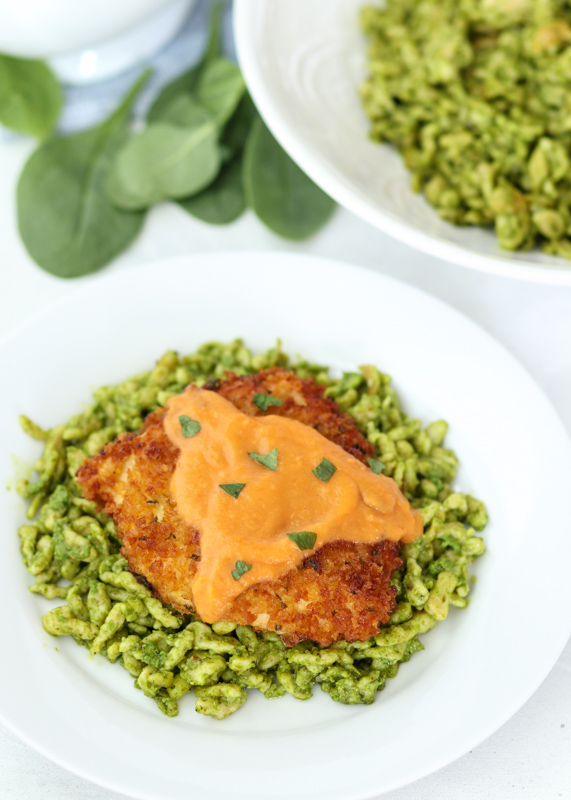 The pesto, sun-dried tomato sauce and chicken schnitzel are all incredibly quick recipes to whip together. However, although mixing the spaetzle dough takes barely any time at all, pushing the batter through a spaetzle maker, colander, slotted spoon or whatever you are using into a pot of boiling water is time consuming. Now, I've never used a spaetzle maker so maybe that would make it infinitely quicker, but every time I've done it I always forget quite how long it takes to push the dough through. The reason you are pushing it through is to make it into those odd little squiggly shapes that you then boil until they float before scooping them out and letting them drain. The good news is you can make spaetzle ahead of time and simply run them under cold water and strain them before storing them in the fridge until you're ready to brown them up. I hope you try this dish soon, and make sure you invite me over when you do!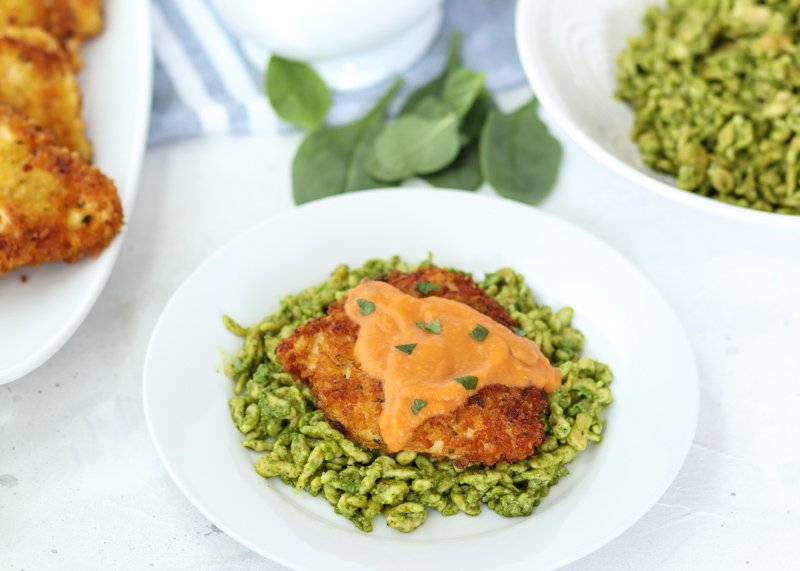 Chicken Schnitzel & Pesto Spaetzle with a Cauliflower Sun-dried Tomato Sauce
Ingredients
for the spaetzle
⅔ cup all-purpose flour
⅓ cup whole wheat flour
¼ teaspoon salt
¼ teaspoon nutmeg
⅛ teaspoon ground black pepper
¼ cup nonfat milk, or water
2 eggs, beaten
for the pesto
2 cups packed spinach leaves
⅓ cup whole almonds
2 cloves garlic
¼ cup olive oil
1 tablespoon lemon juice
½ teaspoon salt
for the sun-dried tomato sauce
2 cups cauliflower florets
2 cups vegetable broth
2 cloves garlic
½ teaspoon dried parsley
¼ teaspoon salt
¼ cup julienned sun-dried tomatoes, about 5 whole ones
1 tablespoon olive oil
for the chicken schnitzel
1 pound chicken cutlets, pounded to ¼" thick
¼ cup flour
1 egg
1 teaspoon Dijon mustard
¾ cup panko bread crumbs
1 teaspoon dried parsley
Vegetable oil, for shallow frying
Directions
for the spaetzle
Bring a medium to medium-large pot of water to a boil.
In a medium mixing bowl, stir together both flours, the salt, nutmeg and black pepper. Add the milk and beaten eggs then stir to combine.
Using a spaetzle press, colander or slotted spoon with round holes, press the batter through with a wooden spoon so it falls/drips into the boiling water. Once you've pressed a bunch through, use a slotted spoon to skim the spaetzle noodles out when they've floated to the surface. Put them in a colander to drain while you finish making the rest.
Once you've made all the spaetzle, spray a large frying pan with cooking spray. Heat the pan over medium-high heat and add the spaetzle. Cook, stirring as needed, until lightly browned.
for the pesto
Blend all the ingredients together in a food processor until smooth, scraping down the sides as needed. Toss with the spaetzle to coat.
for the sun-dried tomato sauce
Bring the cauliflower, vegetable broth, garlic, dried parsley and salt to a boil in a medium saucepan. Cover, reduce heat to low and let simmer for 20 minutes. Carefully blend the contents of the saucepan in a high-speed blender. Add the sun-dried tomatoes and olive oil then blend again until smooth.
for the chicken schnitzel
If the chicken cutlets are really big, cut them in half. Set up your breading station with three shallow bowls. Put the flour in one, whisk together the egg and Dijon in the other, and mix together the panko and dried parsley in the third. Season the chicken cutlets with salt and pepper. Dip the chicken cutlet into the flour mixture and make sure it's completely coated, shaking off any excess. Then dip it into the egg mixture and make sure it's completely coated, letting any excess drip off. Then dip the cutlet into the panko and make sure it's completely coated. Repeat until you've breaded all the chicken cutlets.
Over medium heat, heat enough olive oil in a high-sided skillet so that it will come halfway up the side of the chicken. Test that your oil is ready by tossing in a couple panko breadcrumbs. If your oil isn't hot enough, the panko will sink. If your oil is too hot, in which case you should turn the temperature down, the panko will burn. If it bubbles then your oil is ready for frying the cutlets. I cooked mine in two batches; you don't want to overcrowd the pan. Cook the chicken for 3 minutes on each side. Make sure it registers 165 degrees F when you remove it, otherwise cook it a little longer. Remove the cutlets to a paper towel lined plate then move them to a wire cooling rack so they stay crispy. Refresh the olive oil as needed and repeat for any remaining chicken cutlets.
Serve hot over the spaetzle tossed with pesto. Pour the warmed up sun-dried tomato sauce over top.
Notes
For the spaetzle, you can use all all-purpose flour if you would prefer.
I highly recommend using this pesto since it's fresh, nutty and really easy to whip up. If you would rather use your own, you will need about ½ cup to toss with the spaetzle.
Sun-dried Tomato Sauce from

Starinfinitefood

.
Some of the links above are affiliate links, which means I may receive a small commission for my referral. This does not affect the retail cost of the item. Thank you for supporting Lemon & Mocha!