Red, White & Blue Spinach Salad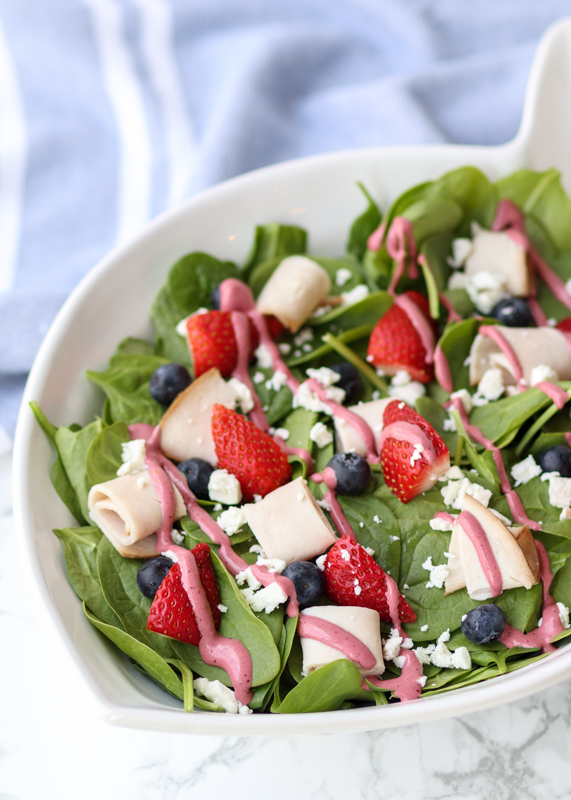 Happy Wednesday everyone! I just had the best week with my Aunt Elaine, Uncle Pete and goddaughter, Mikaila. They came to visit Matt and I for a few days last week and we spent two packed days exploring Boston. I've lived here my whole life and learned all kinds of things I never knew about our city. I also discovered a store on Newbury Street with the cutest patterned dresses and tops – priorities!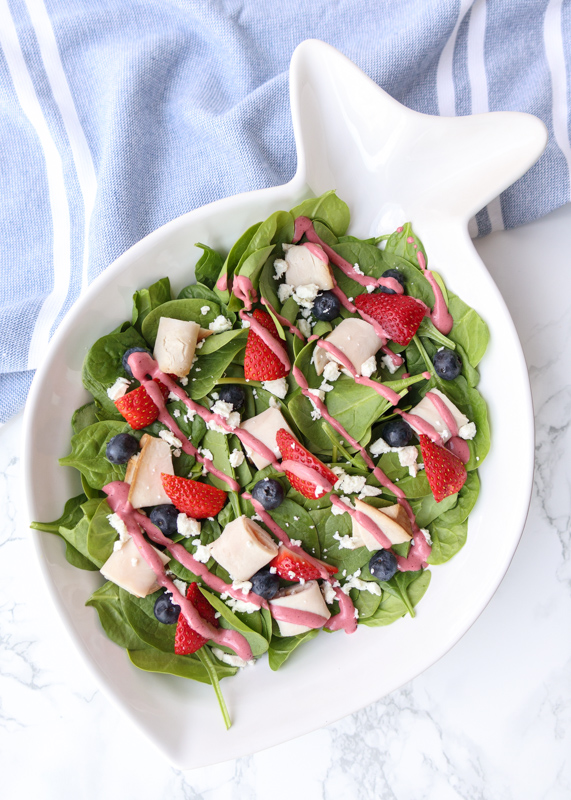 Their visit got me even more excited for my family's annual beach week; if that's even possible. For those of you that don't know, every year my extended family has a beach week down at the Delaware shore. Last year my Aunt Dottie made a salad for lunch to bring to the beach and it was so pretty I had to take a photo and post it on Instagram. When I was trying to think of something healthy and refreshing to post for 4th of July next week I immediately remembered my aunt's salad.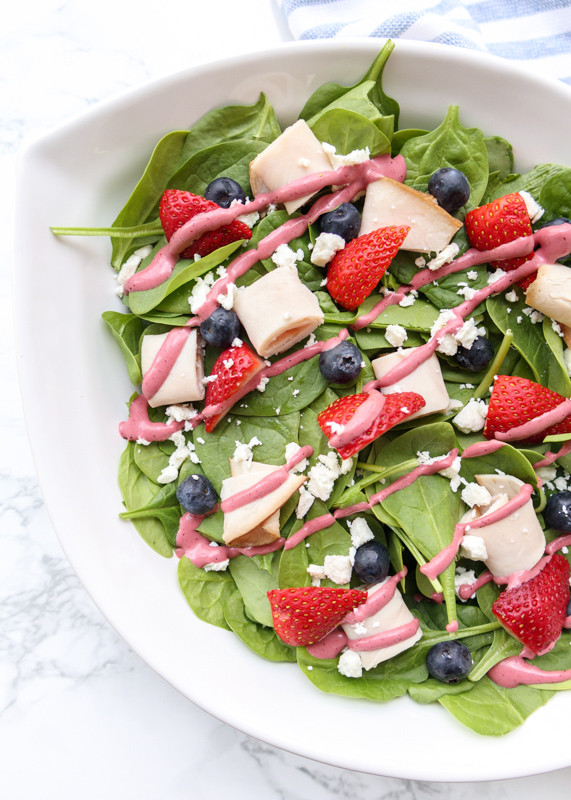 This is a Red, White and Blue Spinach Salad loaded with sliced turkey, strawberries, blueberries and feta cheese. You can easily customize it to your own preferences by swapping grilled chicken for the turkey – or even leaving it meatless. Same with the berries and cheese. Not a feta fan? Use goat cheese or mini mozzarella balls. Swap raspberries for the strawberries and blackberries for the blueberries! It's totally up to you.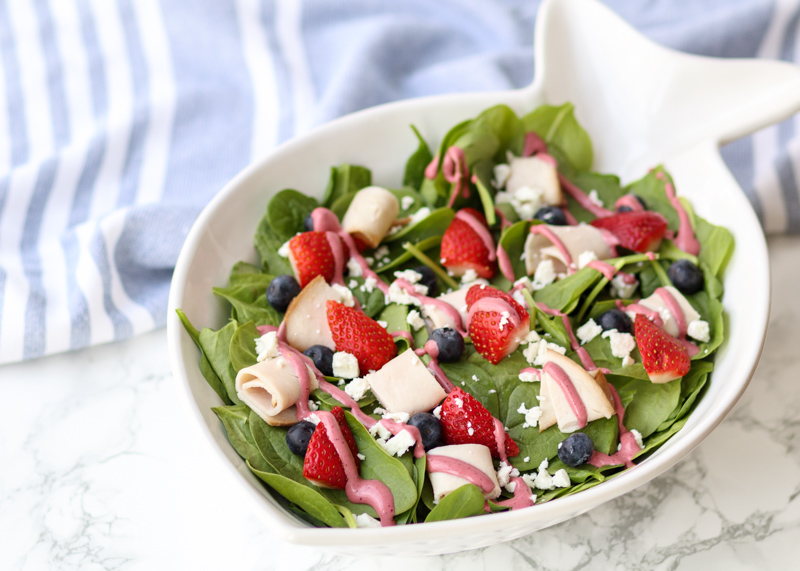 The best part about this salad, both for how it makes it look and how it makes it taste, is the berry balsamic vinaigrette. I love the rich color the dressing gets from the berries. I especially love that you can really taste the berry flavor in the dressing and it pairs so well with the balsamic vinegar. If your berries are really ripe and sweet you might not even need the agave or honey as an additional sweetener.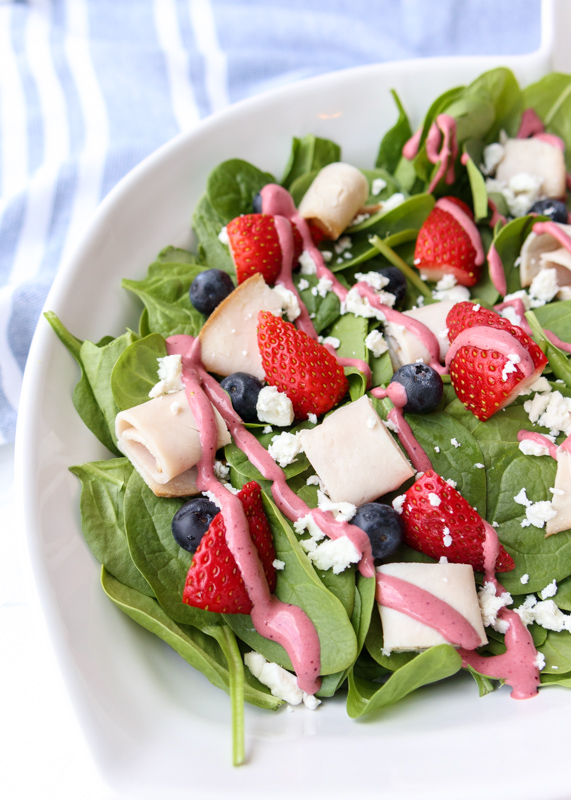 The dressing has only five ingredients and could not be any easier – or more delicious! Toss it with the spinach salad and you'll have some berry happy 4th of July guests. Sorry, I couldn't resist! So go ahead and use all the berries to enjoy this salad all summer long!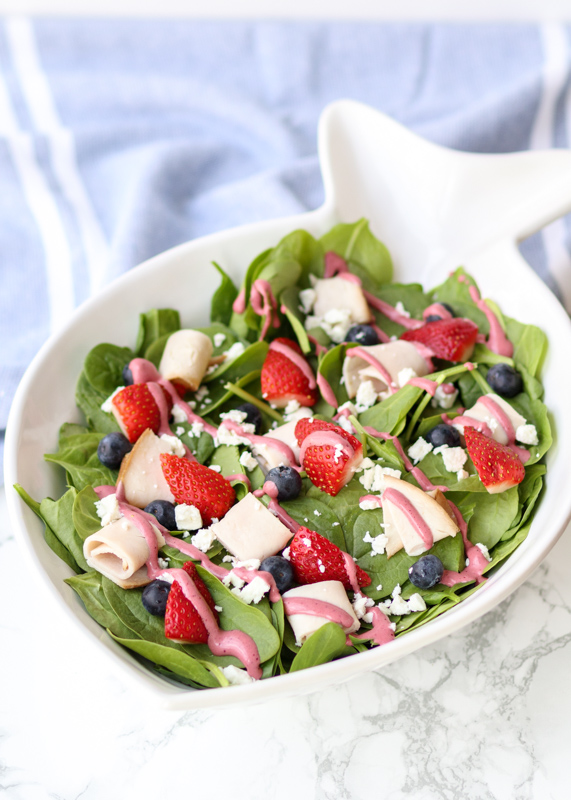 Red, White & Blue Spinach Salad
Ingredients
for the salad
10 ounces spinach
12 slices deli turkey meat (about 12 ounces)
1 cup quartered strawberries
¾ cup blueberries
¾ cup feta cheese
for the dressing
¼ cup plus 1 tablespoon olive oil
2 tablespoons balsamic vinegar
½ cup quartered strawberries
¼ cup blueberries
1 teaspoon agave or honey, if needed
Salt and pepper to taste
Directions
for the salad
Place the spinach in a serving bowl. Rip or cut the deli turkey into pieces. Top with the strawberries, blueberries, feta cheese and turkey.
for the dressing
Place all the ingredients in a high speed blender and blend until combined, about 40 seconds. If your fruit is very ripe and sweet you may not even need the agave or honey - give it a taste without it first if you would like then add if you feel it's needed. If you want to strain out the blueberry and strawberry seeds you can using a fine mesh strainer, but they didn't bother Matt or I. Season with salt or pepper to taste. Feel free to thin out the dressing more with some olive oil if desired. Drizzle over the salad or serve alongside the salad when ready to eat.
Notes
If not serving right away, wait to put on the quartered strawberries and turkey. The dressing is best the day it is made.