Red, White & Blue Spinach Salad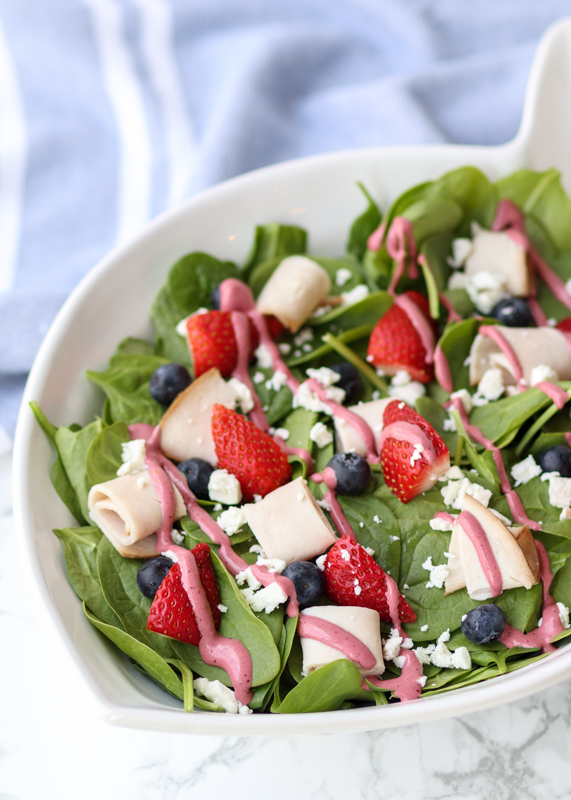 10 ounces spinach
12 slices deli turkey meat (about 12 ounces)
1 cup quartered strawberries
¾ cup blueberries
¾ cup feta cheese
¼ cup plus 1 tablespoon olive oil
2 tablespoons balsamic vinegar
½ cup quartered strawberries
¼ cup blueberries
1 teaspoon agave or honey, if needed
Salt and pepper to taste
Place the spinach in a serving bowl. Rip or cut the deli turkey into pieces. Top with the strawberries, blueberries, feta cheese and turkey.
Place all the ingredients in a high speed blender and blend until combined, about 40 seconds. If your fruit is very ripe and sweet you may not even need the agave or honey - give it a taste without it first if you would like then add if you feel it's needed. If you want to strain out the blueberry and strawberry seeds you can using a fine mesh strainer, but they didn't bother Matt or I. Season with salt or pepper to taste. Feel free to thin out the dressing more with some olive oil if desired. Drizzle over the salad or serve alongside the salad when ready to eat.
If not serving right away, wait to put on the quartered strawberries and turkey. The dressing is best the day it is made.
Recipe by
Lemon & Mocha
at http://www.lemonandmocha.com/2018/06/27/red-white-blue-spinach-salad/