Pineapple Barbecue Chicken Foil Packets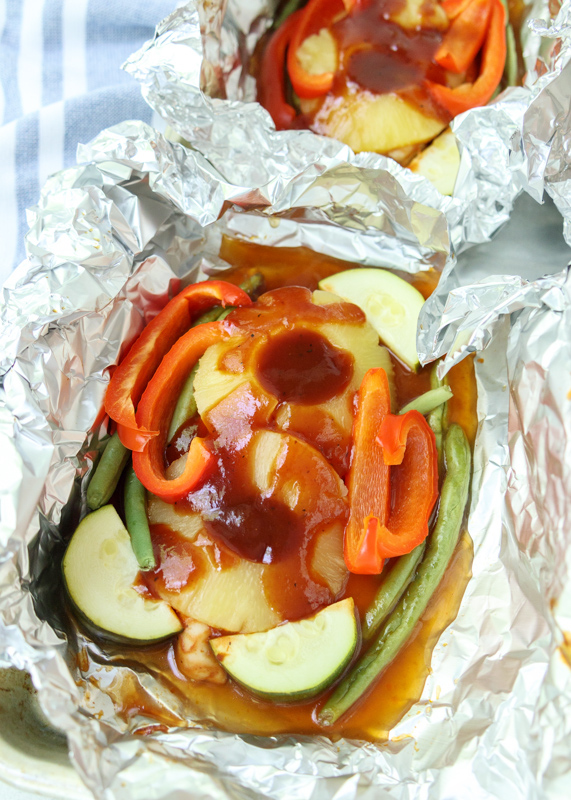 It's finally Friday! To celebrate I'm sharing these Pineapple Barbecue Chicken Foil Packet. Yes, I know it seems weird to celebrate with a chicken dish, but this dish is worth celebrating. Remember when I posted the Barbecue Chicken Stuffed Sweet Potatoes and I said the healthy homemade barbecue sauce was so good you would be seeking out recipes to put it on? Well, that's what I've been doing! Have you tried my barbecue sauce yet? No?? Make it this week! I promise it's so delicious you will be shocked you've never made homemade barbecue sauce before. You will also be very, very happy to eat it without any guilt since there's no refined sugar or preservatives.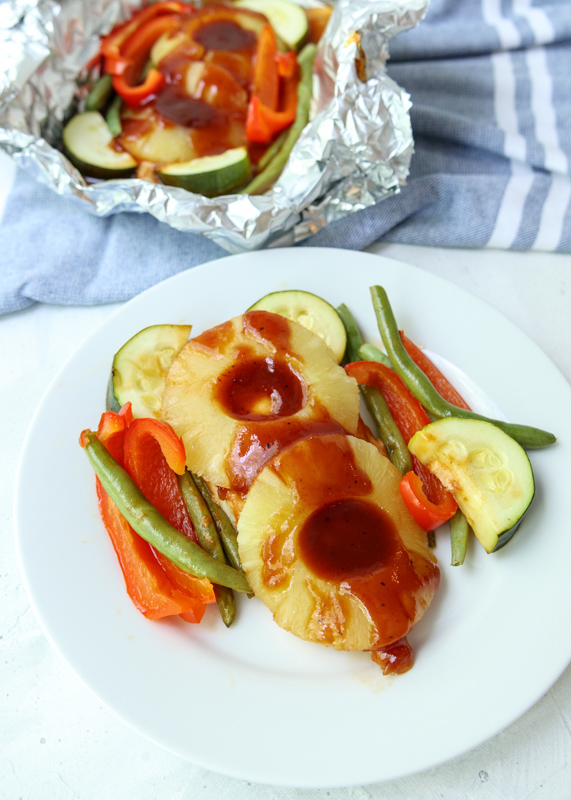 Barbecue and pineapple is such a classic pairing that I had to stick the two together for these foil packets. I also loaded them with veggies so you could have a quick and easy all-in-one meal. Cooking in a foil packet is a great way to keep everything inside moist as it cooks. All the sauces and juices get trapped in the packet, which helps concentrate the flavor and make everything tender.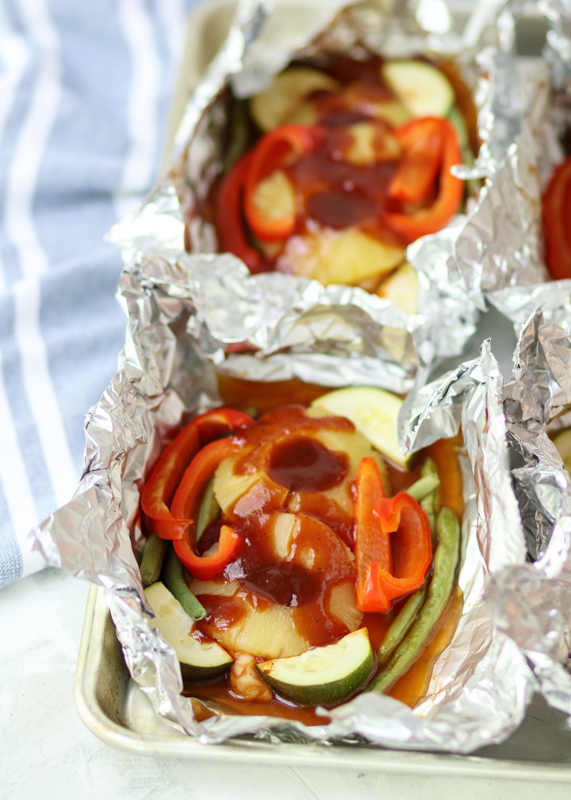 I used green beans, red bell pepper and zucchini for some variety, but you can swap with your favorite seasonal vegetables. Just make sure they aren't so big that they might not steam through, like big florets of broccoli, or too small that they will turn to mush, like really thin asparagus.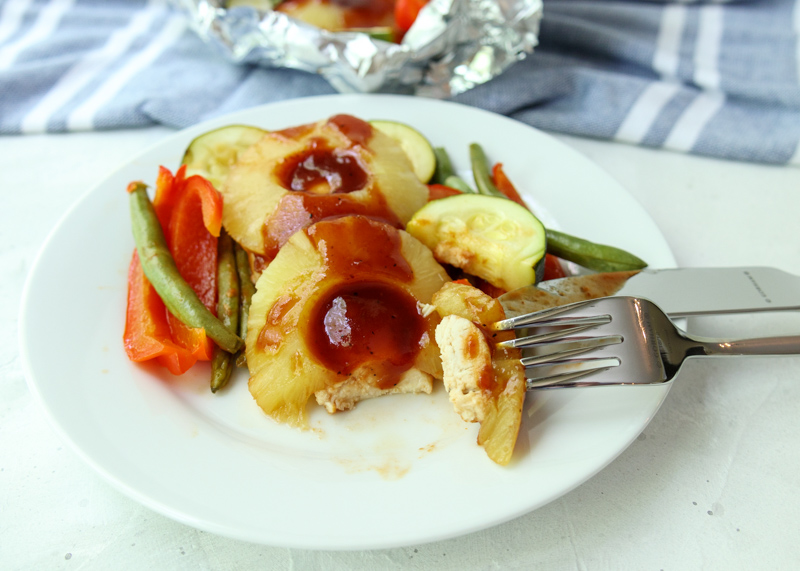 Another advantage to cooking in a foil packet is that clean up couldn't be easier! On a side note, I've been wondering about the impact my aluminum foil usage in the kitchen is having on the environment so I did some research. This article from The Kitchn explains that a lot of towns will accept aluminum foil in the recycling bin if it's been rinsed and they have a link to check to see if your town or city allows you to toss rinsed foil in with your single stream recycling. So awesome! Unfortunately my town excludes aluminum foil from recycling, but many of the towns I checked do so hopefully mine will soon as I would happily rinse and recycle my foil, which is still a super easy cleanup! In the meantime, I'm going to start rinsing and reusing my foil to cut back on my waste. Any bit helps!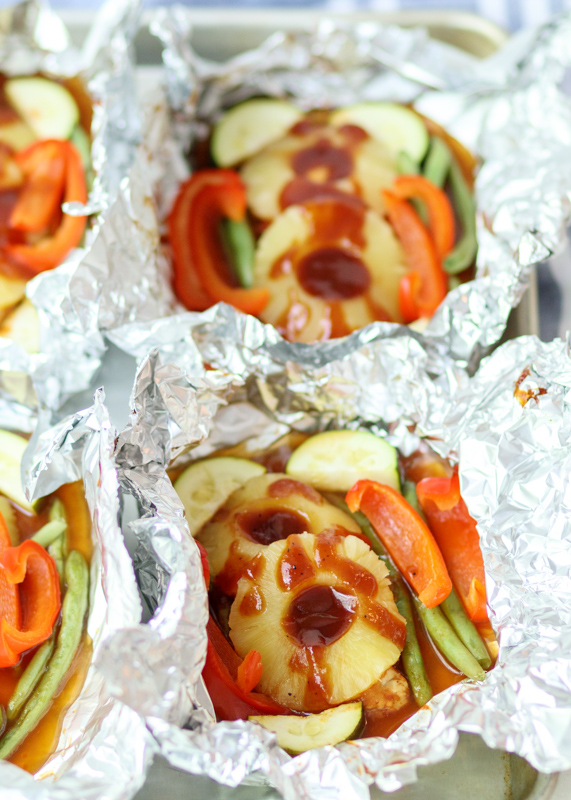 Okay, back to this sweet and juicy chicken dish! You can eat it as a meal in-itself like Matt and I did, or it would also be fantastic with some rice. If you don't have too much leftover liquid in your packets (see the recipe – the zucchinis and chicken release some water and juices) then you could serve the rice family style and just let everyone scoop some into their packets. This is a great way to serve a healthy chicken dish for a crowd because you can prep all the packets ahead of time and just throw them in the oven when everyone arrives. I hope you all have a fabulous weekend – and don't forget to try this barbecue sauce!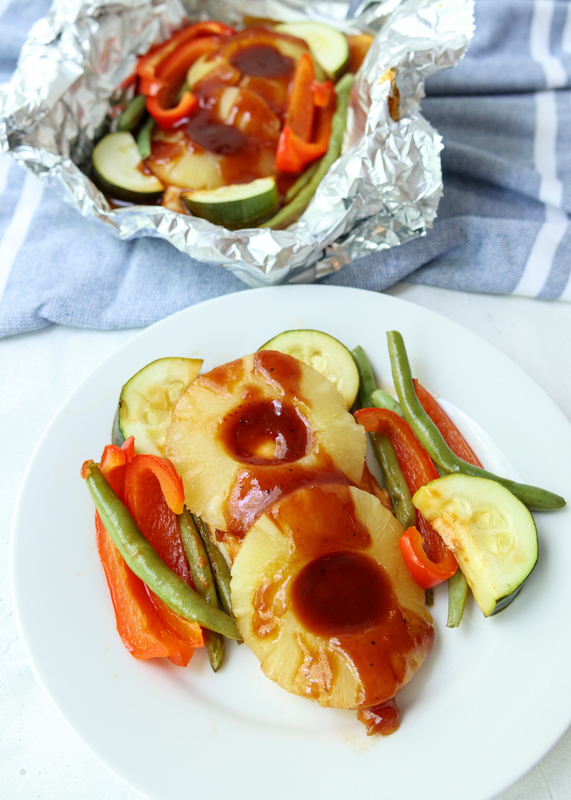 Pineapple Barbecue Chicken Foil Packets
Ingredients
for the chicken
1 pound boneless skinless chicken breasts, cut into 4 thin portions
⅔ pound green beans
1 red bell pepper
½ zucchini
8 sliced rings of pineapple
for the barbecue sauce
1 small can tomato paste, about 6 ounces
1 cup water
2 tablespoons apple cider vinegar
4 teaspoons molasses
4 teaspoons Worcestershire sauce
4 teaspoons maple syrup
2 teaspoons dijon mustard
1 teaspoon onion powder
1 teaspoon garlic powder
½ teaspoon paprika
¼ teaspoon salt
¼ teaspoon ground black pepper
Directions
for the chicken
Preheat the oven to 350 degrees F. Lay out 4 pieces of aluminum foil that are big enough to completely seal in the chicken, set aside.
Prep the veggies. Trim the green beans. Cut the bell pepper into slices about ½" to ¾" thick. Cut the zucchini into thick rounds then halve.
Season the chicken with salt and pepper. Put 1 breast on each piece of aluminum foil and slightly fold up the sides so nothing with spill out. Divide the green beans, red pepper slices and zucchini wedges between the 4 packets, nestled the vegetables on either side of the chicken. Top the chicken with some barbecue sauce, making sure to save some for serving. Then place 2 pineapple rings on each chicken breast. Fold up the foil packets to tightly seal, place the packets on a baking sheet and bake for 20-25 minutes, or until the chicken reaches an internal temperature of 165 degrees F.
When opening the packets, be very careful because of the steam and the hot liquid in the packets. There will be liquid from the chicken and the zucchini. Remove the contents of each packet to a plate, top with additional barbecue sauce and serve.
for the barbecue sauce
Combine all the ingredients in a small saucepan. Bring to a boil then reduce to low heat, cover and simmer for 15 minutes, stirring occasionally. Remove from the heat.
Notes
For the chicken, I halved 2 chicken breasts lengthwise to get 4 thin breasts.
You can grill these foil packets instead of baking them if you would prefer. I have not tried grilling them so I'm not sure on the exact timing it would take, but make sure to flip it halfway through - and that your foil packet is sealed extra tight!