Skinny Chicken Fusilli Alla Vodka with Basil, Spinach and Parmesan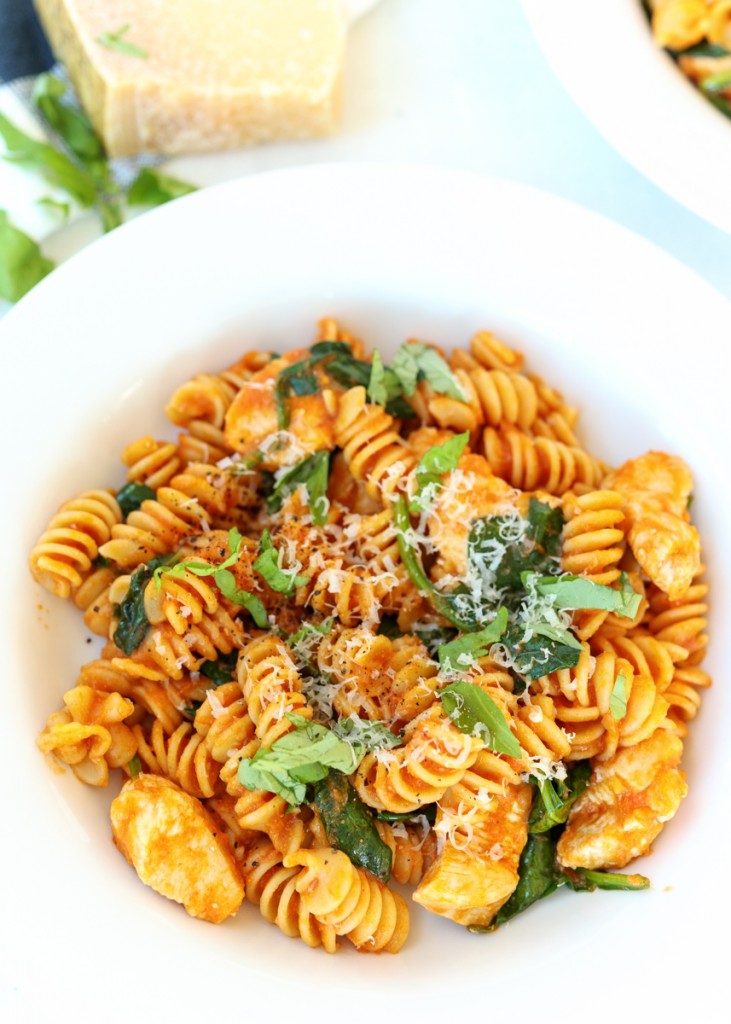 Two years ago, Matt and I went to California for our one year wedding anniversary. Our first stop was Los Angeles to visit Hollywood, tour movie studios, and, most importantly, eat all the food. On our last night in LA, we went to this Italian restaurant near our hotel called Jon & Vinny's. Thankfully I had called ahead because when we got to the restaurant there was huge line, but they sat us right at the counter where we could watch all the chefs make the homemade pastas and pizzas. Watching the food be made had us drooling and we ate our way through fresh burrata, incredible pastas and a warm baked bread pudding. We also had our only celebrity sighting of the trip eating dinner there – Gillian Jacobs!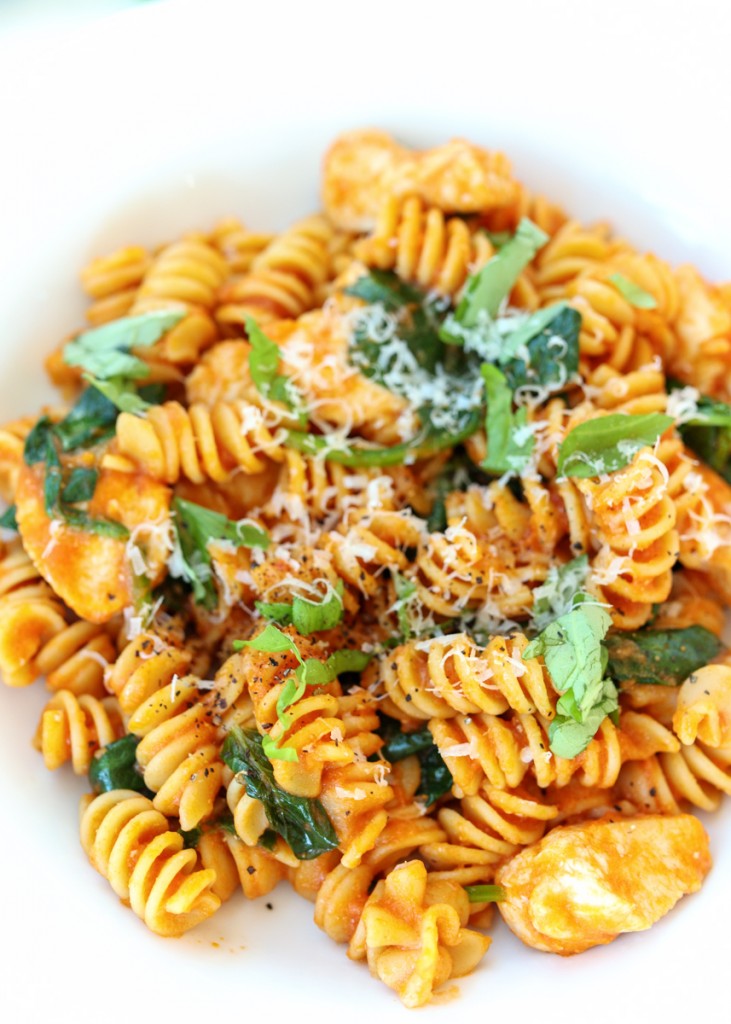 The next morning we both woke up thinking about Jon & Vinny's. We couldn't stop thinking about firstly, how delicious it was, and secondly, how much we regretted not ordering a pizza since they looked so good the night before. I finally went to their website and saw that not only were they open for brunch (on a weekday – that's LA for you), but they also had pizza on their brunch menu! Matt and I headed straight to Jon & Vinny's and gorged ourselves on bomboloni (Italian filled doughnuts), Nutella and olive oil toast and of course, homemade pizza. Ever since our back-to-back meals, Matt and I joke about heading to LA for the weekend just to eat at Jon & Vinny's and we probably will do it one of these days.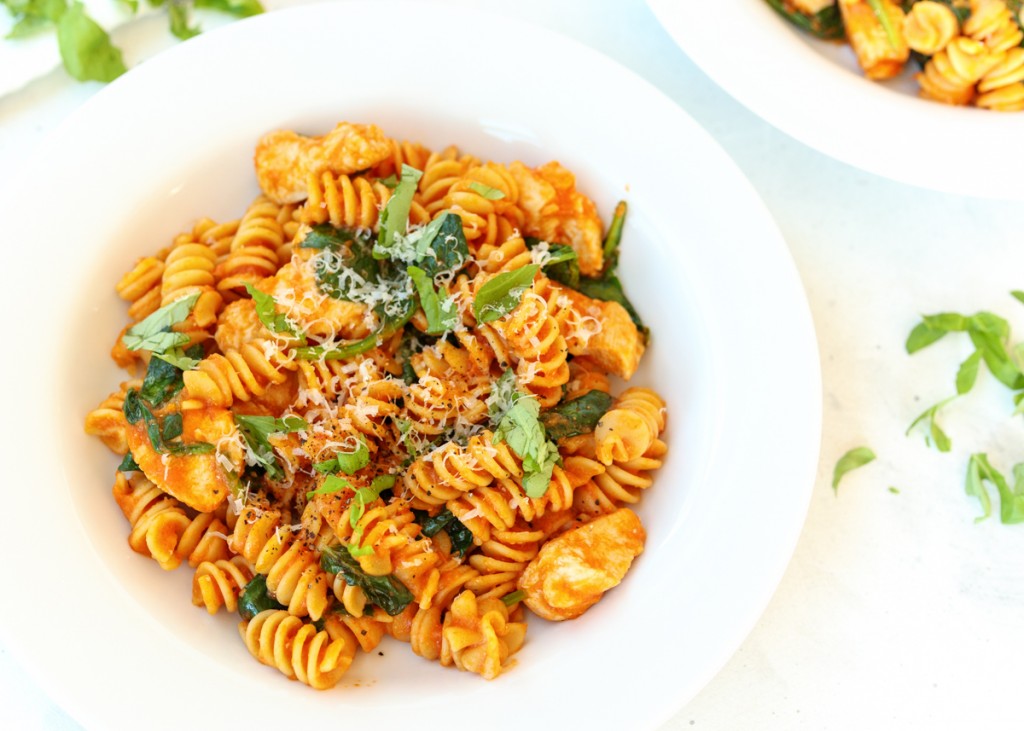 In the meantime, I was so excited to discover the recipe for their fusilli alla vodka with basil and Parmesan on Bon Appetit's website! I decided I wanted to be able to enjoy the meal at home more regularly instead of just once in a while as a treat so I made a few changes to turn the dish into a skinny version. This Skinny Chicken Fusilli Alla Vodka with Basil, Spinach and Parmesan has all the flavors of the classic dish complete with plenty of cheese on top, but I've made a few swaps.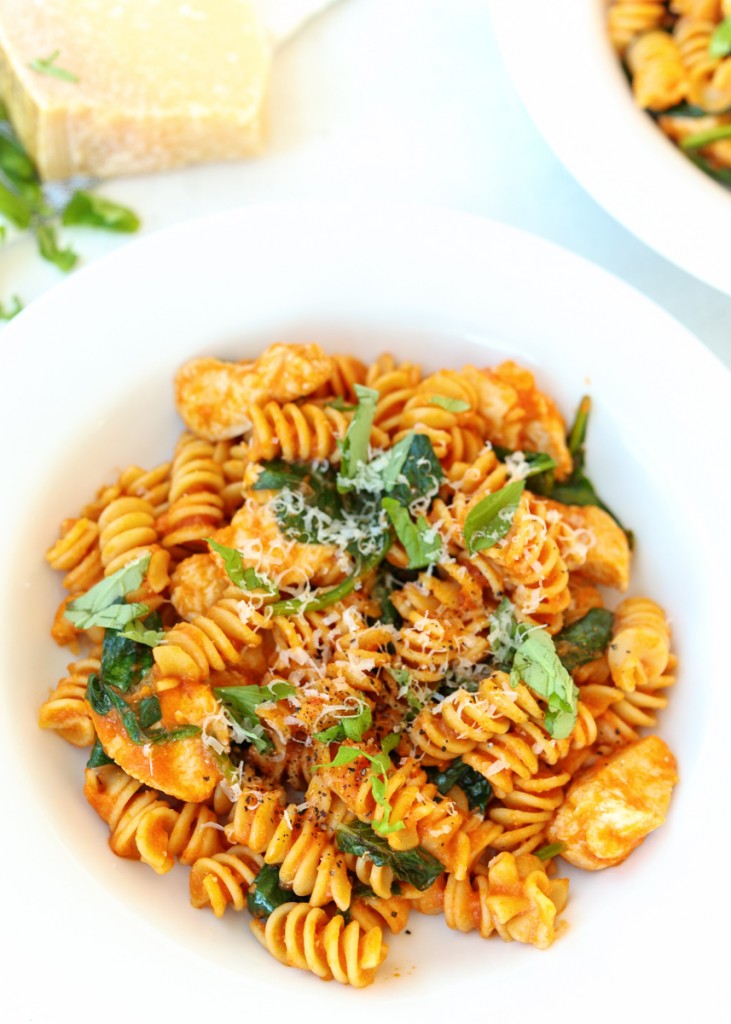 The biggest is that cauliflower puree is being substituted for the heavy cream. As I learned with the sun-dried tomato sauce from the Chicken Schnitzel and Pesto Spaetzle dish, cauliflower puree is a creamy, flavorful and incredibly healthy substitute for heavy cream.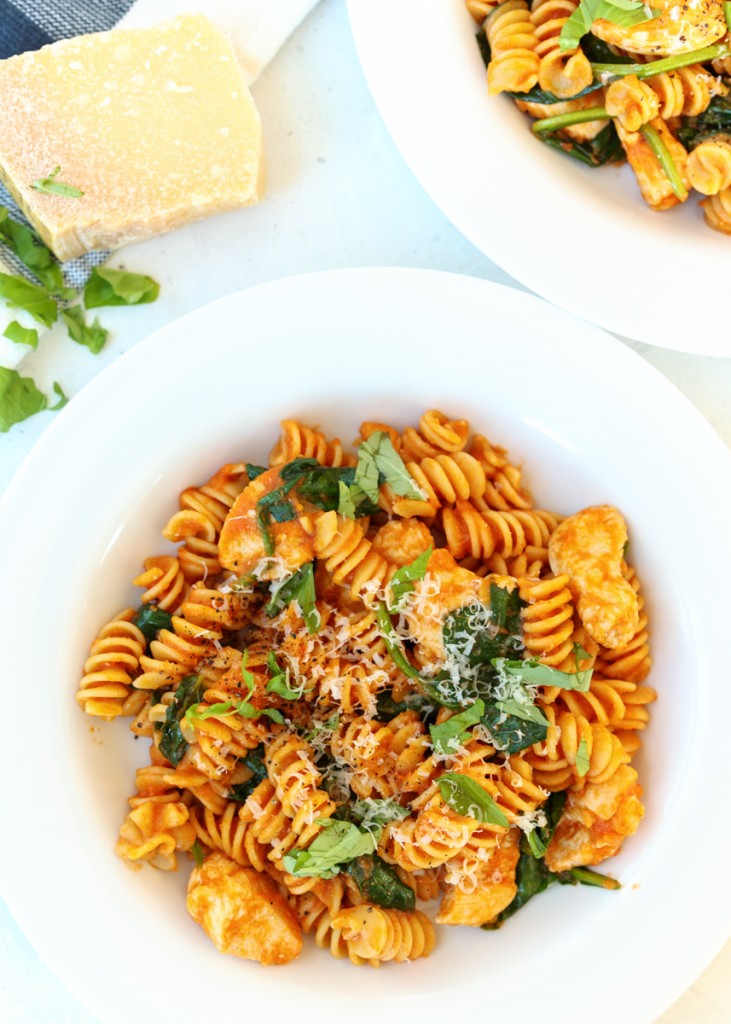 I also reduced the amount of pasta and replaced it with some chicken and spinach. The end result is so delicious that I think Matt and I could eat it for every meal… at least until we get back to LA to eat our weight in the authentic version!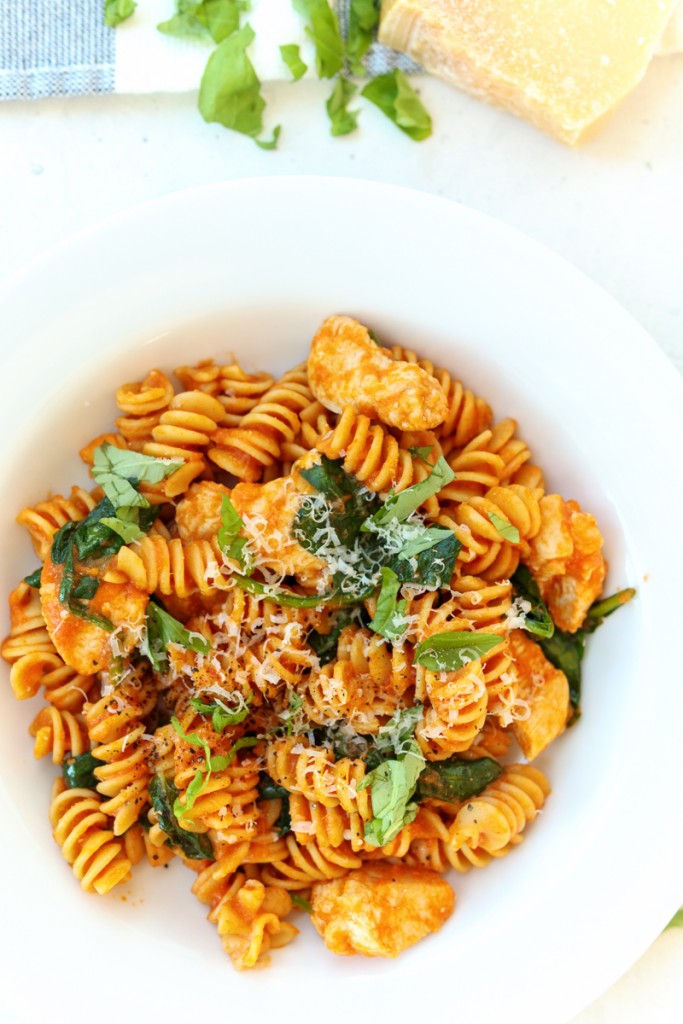 Skinny Chicken Fusilli Alla Vodka with Basil, Spinach and Parmesan
Ingredients
⅔ cup chicken broth, vegetable broth or water
1 cup cauliflower florets, about 7-8 medium-large florets
1 pound boneless skinless chicken breasts, cut into bite size pieces
2 tablespoons olive oil
½ shallot, minced
1 small garlic clove, finely minced
½ cup tomato paste
2 tablespoons vodka
2 cups fresh spinach leaves
1 teaspoon red pepper flakes
8 ounces fusilli
1 tablespoon unsalted butter
1 ounce fresh grated Parmesan, about ¼ cup, plus more for serving
¼ cup chopped fresh basil
Salt and pepper
Cooking spray
Directions
Make the cauliflower puree. Bring the chicken broth, vegetable broth or water to a boil. Add the cauliflower florets, cover and reduce heat to low. Let simmer for 10 minutes. Transfer the cauliflower and liquid to a high-speed blender and puree until smooth. Set aside.
Spray a large skillet with nonstick cooking spray then heat over medium-high heat. Once hot, add the chicken pieces in a single layer and season with salt and pepper. Cook for 5-7 minutes, or until the internal temperature reads 165 degrees F, turning and stirring the chicken in the pan as needed. Remove from the pan and carefully wipe the pan.
Heat the olive oil in the same pan over medium heat. Add the shallot and garlic and cook until softened, about 3-4 minutes, stirring occasionally. Add the tomato paste and cook until the paste starts to caramelize, about 5 minutes, stirring occasionally. Add the vodka and stir constantly until the liquid is mostly evaporated, about 2 minutes. Add the pureed cauliflower, spinach leaves and the red pepper flakes. Stir to combine and let the spinach wilt. Remove the pan from the heat, but leave everything in the pan.
Cook the pasta until al dente, drain and reserve 1 cup of the pasta liquid.
Place the skillet back over medium low heat and add the pasta, ½ cup of the pasta liquid, 1 tablespoon butter and the cooked chicken. Cook and stir until the butter has melted and it has formed a thick sauce. If it is too thick, add some more pasta water. Season with salt and pepper to taste. Divide between 4 bowls and top with the basil and more Parmesan.
Notes
The vodka sauce can be made 5 days in advance. Cover and store in the fridge.
Use any type of pasta you prefer. We used pasta with added protein.
Recipe adapted from

Bon Appetit

.