Turkey Veggie Mushroom Burgers with Goat Cheese and Sautéed Shiitakes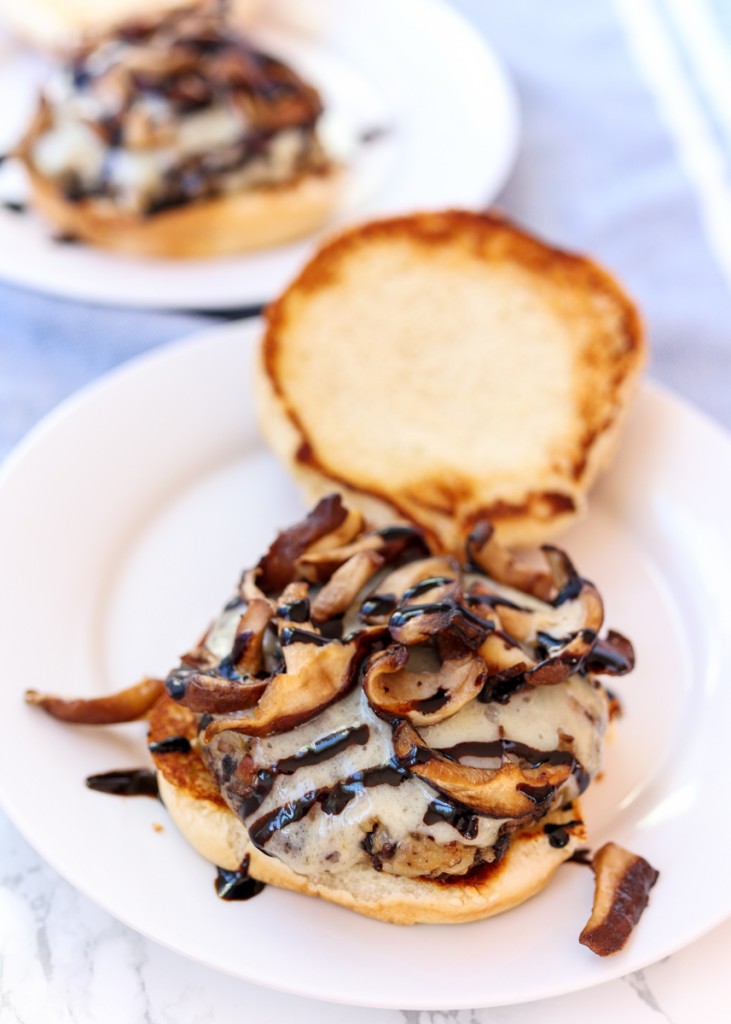 Remember how last week I was writing about how excited I was to finally share some family favorite healthy recipes this month? These Turkey Veggie Mushroom Burgers with Goat Cheese and Sautéed Shiitakes are definitely one of those recipes!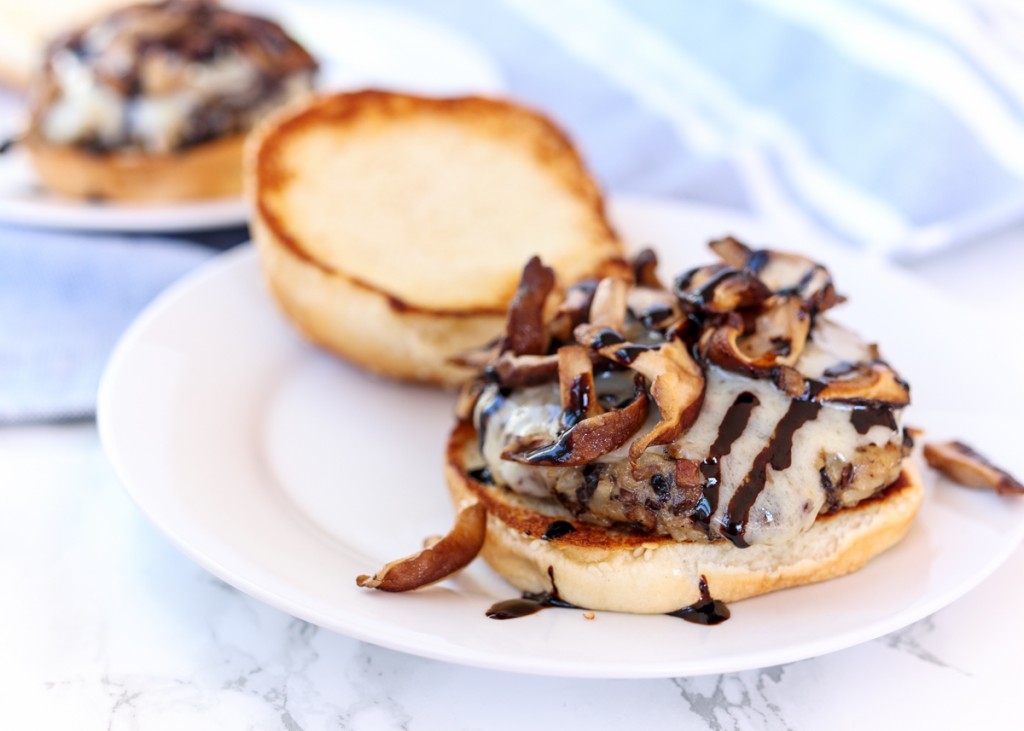 I first made these burgers this past summer after being inspired by a Food52 article about half-veggie half-meat burgers. I like to occasionally reduce the amount of meat at meals for environmental and cost reasons so I made burger patties using ground turkey, sautéed mushrooms, brown rice and quinoa before topping them with goat cheese, sautéed shiitakes and balsamic glaze.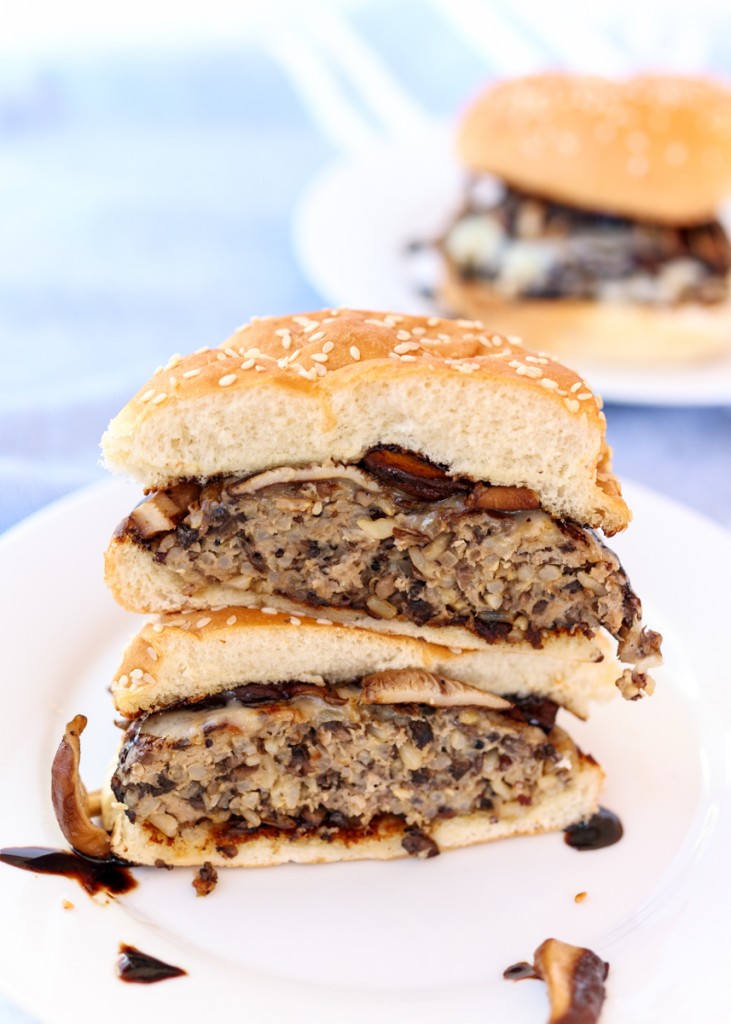 We were so obsessed with these burgers after one bite that I posted my dark dinner photo of them on my Instagram feed, missing bun and all since I had forgotten them at the store! I think I can fairly say that these are the most moist burgers I've ever made, thanks to the mushrooms and grains, which usually is not something said about turkey burgers. They are also one of the most flavor-packed burgers and you could definitely skip the bun if you wanted to since they taste great either way.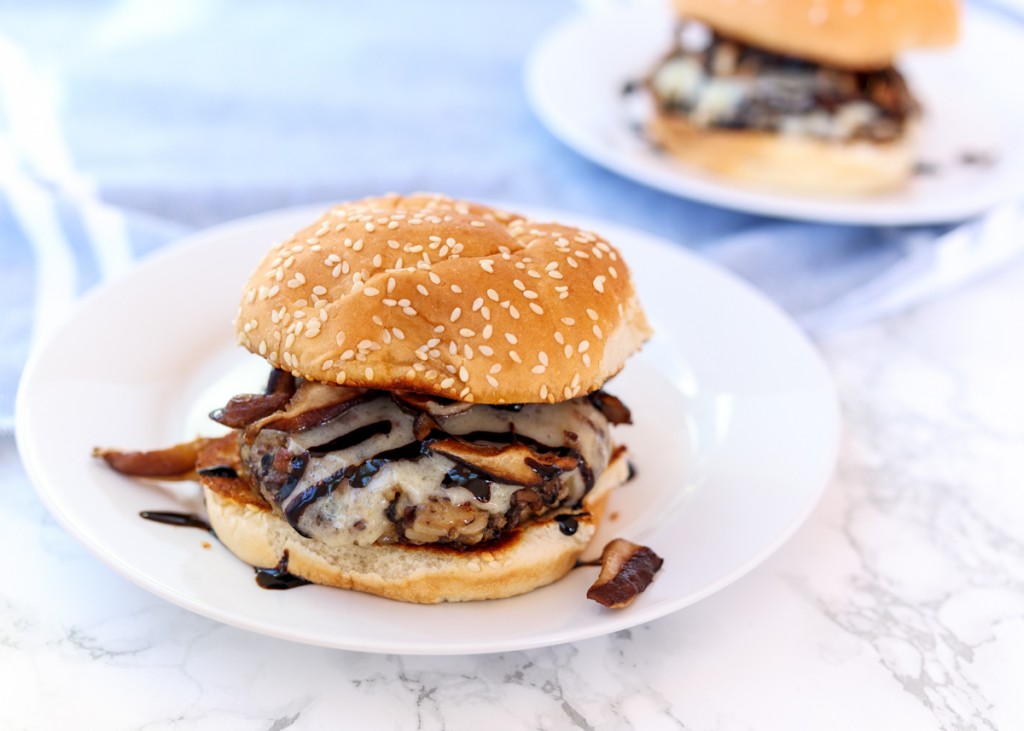 Part of what makes the flavor so good is that I use a Seeds of Change brown rice and quinoa with garlic packet. This isn't sponsored, but as I mentioned in my Sheet Pan Chicken Fajita Bowls post, the brown rice and quinoa is fluffy and tastes awesome. Mix that together with the ground turkey, some sautéed cremini mushrooms, shallot and garlic and you have a winning burger.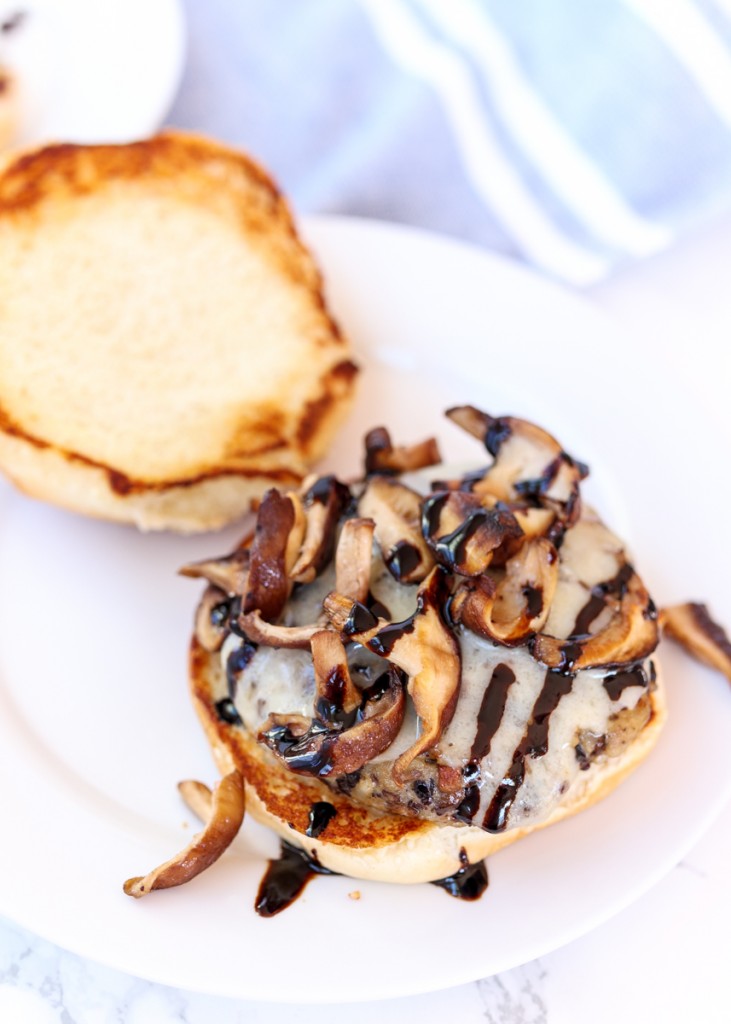 When I make these I like to make a few extras and freeze the uncooked patties for future dinners. I always defrost them before grilling, but you might be able to cook them straight from frozen. I will be sure to try it out next time I freeze some of the patties. I hope you all enjoy these for (almost) Meatless Monday!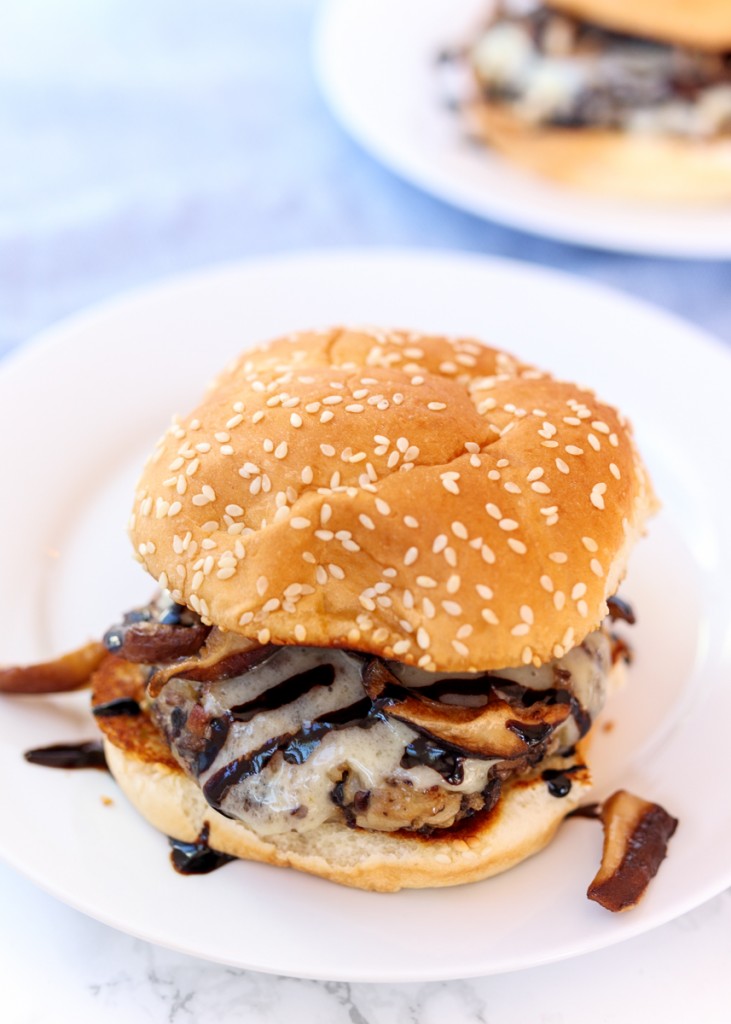 Turkey Veggie Mushroom Burgers with Goat Cheese and Sautéed Shiitakes
Ingredients
3 tablespoons olive oil, divided
10 ounces whole cremini mushrooms, stems removed and finely chopped
1 shallot, minced
1 garlic clove, minced
8 ounces ground turkey
1 cup Seeds of Change Quinoa and Brown Rice
1 tablespoon Dijon mustard
5 ounces sliced shiitakes
4 burger buns, optional
Goat cheese, for topping
Balsamic glaze, for topping
Salt and pepper
Directions
Heat 2 tablespoons of olive oil in a medium skillet over medium-high heat. Add the chopped cremini mushrooms and season with salt and pepper. Sauté for 4 minutes. Add the shallot and garlic, continue to cook for 1-2 minutes. Remove from the heat, put in a medium mixing bowl and let cool.
Place a piece of plastic wrap or wax paper on a dinner sized plate. Once the mushroom mixture has cooled slightly, add the ground turkey, quinoa and brown rice and dijon mustard. Use your hands to combine the mixture, but do not over-mix. Form the mixture into 4 patties and place each patty on the prepared dinner plate. Put the patties in the fridge to firm up for about 10-15 minutes.
Heat your grill or grill pan, being sure to lightly grease the grill pan. Once hot, cook the patties for 7-8 minutes per side, or until they reach an internal temperature of 165 degrees F.
While the burgers are cooking, sauté the shiitake mushrooms. Heat the remaining tablespoon of olive oil in a skillet over medium-high heat. Season with salt and pepper and sauté the mushrooms for 6-8 minutes.
When the burgers are done, place on the buns, if using, then top with the sautéed shiitakes, goat cheese and a drizzle of balsamic glaze.
Some of the links above are affiliate links, which means I may receive a small commission for my referral if you purchase something. This does not affect the retail cost of the item. Thank you for supporting Lemon & Mocha!