Mini Strawberry Balsamic Pizzas with Chicken & Sweet Onions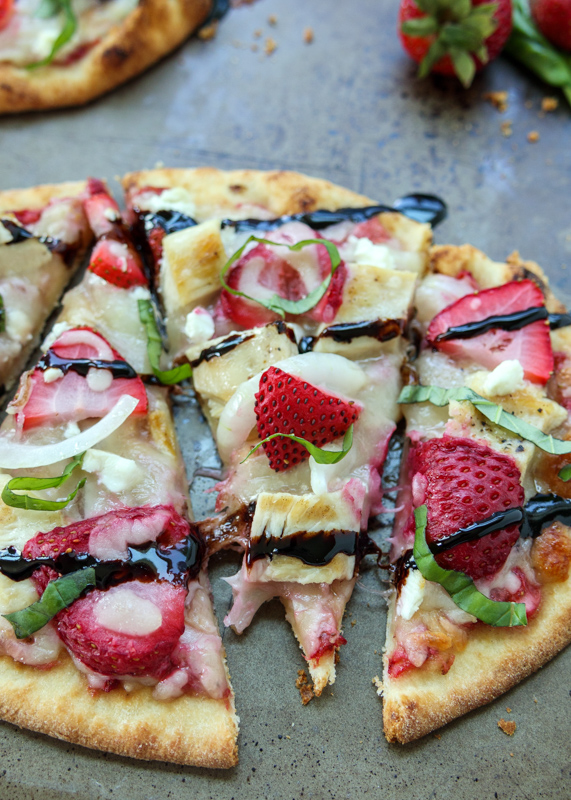 Has anyone else been obsessed with strawberries this season? I got hooked on baking with them after I made the Strawberry Rhubarb Crumble Muffins. That prompted me to bake the Beet Donuts with a Strawberry Rhubarb Brown Butter Glaze and I even made strawberry rhubarb white chocolate chip cookies. The cookies were purely for eating, not blog purposes, but comment below if you want the recipe!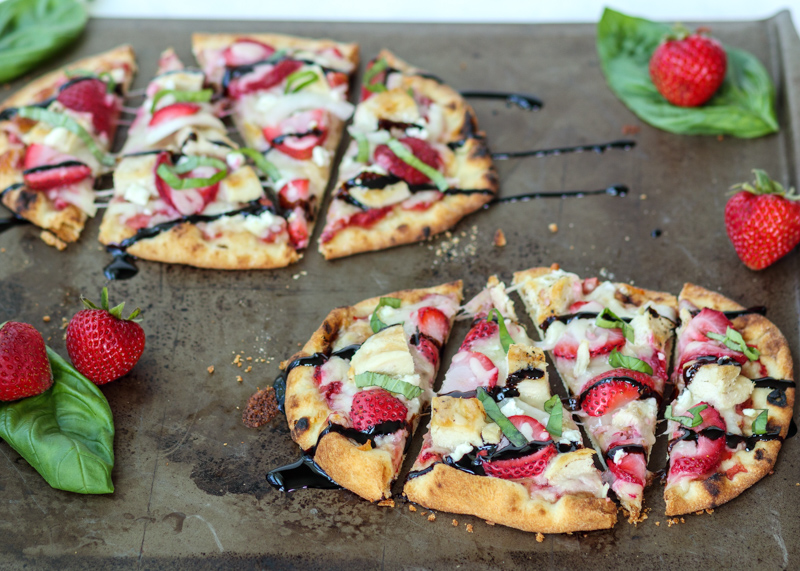 Not to mention the large amounts of fresh strawberries Matt and I have consumed so far this summer. I had not done any savory cooking with them though and that needed to change! Enter these Mini Strawberry Balsamic Pizzas with Chicken and Sweet Onion. To say Matt and I loved these mini flatbread pizzas is an understatement. Matt proclaimed he would be okay eating these naan pizzas every night and I would have to agree.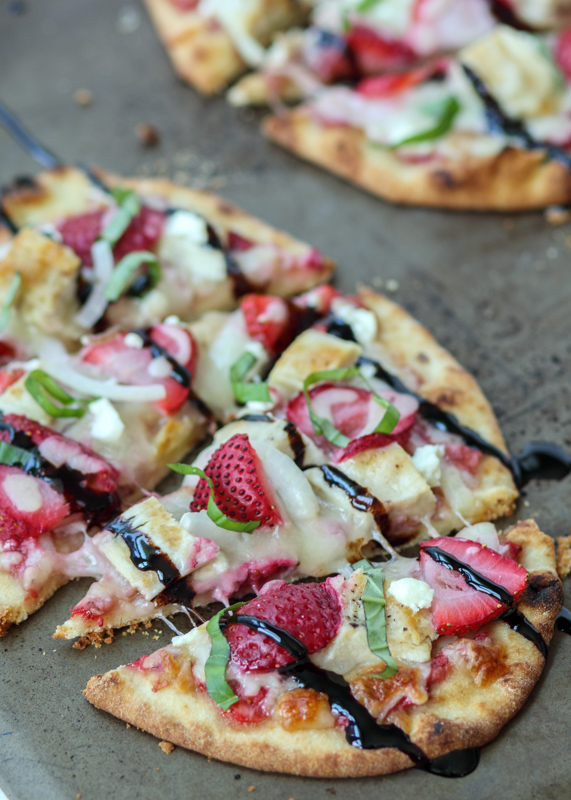 We need to dive into these pizzas layer by layer to truly appreciate how much deliciousness I've snuck in there for you. First, the base is naan flatbread. Naan is similar to pita bread, but softer and fluffier. I like using naan for this recipe because then everyone can have their own little pizzas and all the work of dealing with fresh dough has already been done for you. Easy! If you don't have naan at your store you could always use pitas or pizza dough.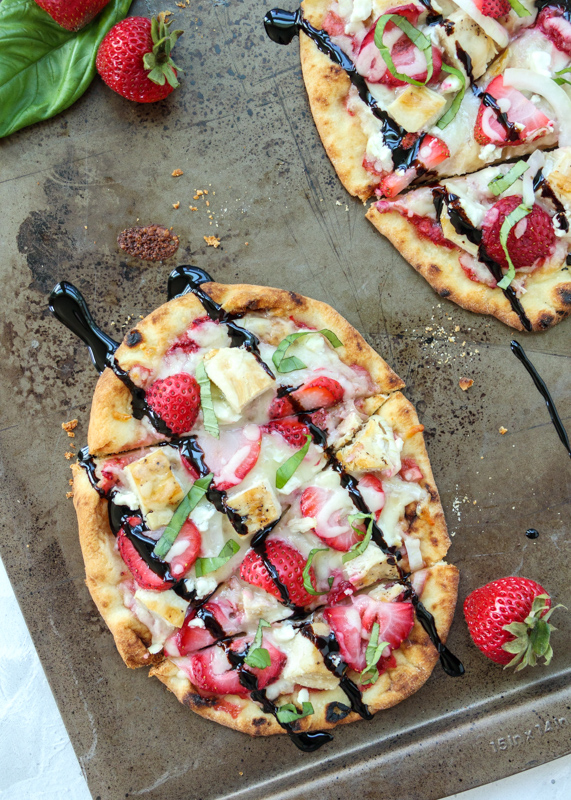 Next, these pizzas don't have marinara sauce, pesto or garlic oil. They have something even better – fresh strawberry balsamic spread! This is the only "cooking" part of the recipe and it couldn't be more simple. Finely chopped strawberries are combined with some honey and balsamic then you let them sit for 15-20 minutes. This is called macerating the berries and letting them sit out with sugar (in our case, honey) releases their juices and softens the strawberries. Once their macerated, you mash them together and ta-da! Strawberry balsamic spread. Look at the strawberry balsamic spread!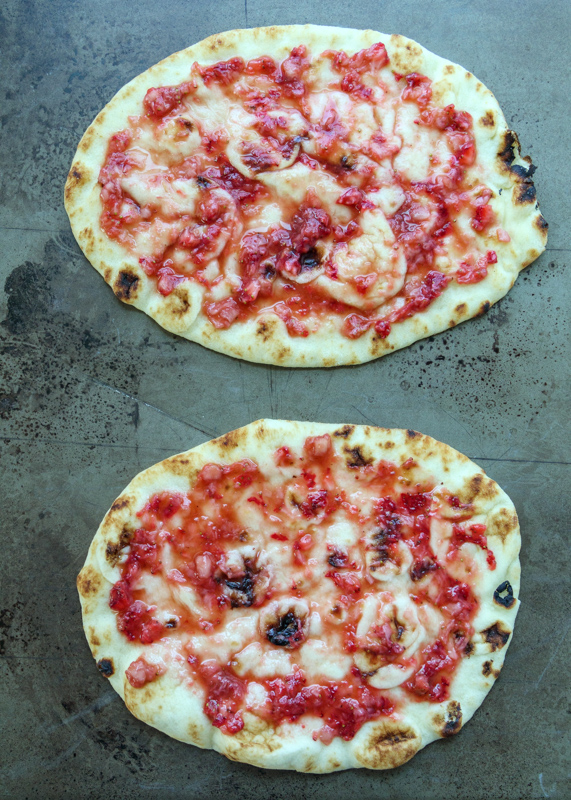 The acidity from the balsamic balances out the sweetness of the berries and honey making it the perfect base for our other toppings. Next up we have chicken and sweet onion. I used grilled chicken, but you could use rotisserie chicken if you prefer. Chicken pairs well with the strawberries and the onions get nicely softened, which mellows their taste, in the oven. Classic mozzarella is the cheese of choice for these pizzas along with just the right amount of goat cheese to add some extra flavor pockets without overpowering the whole pizza.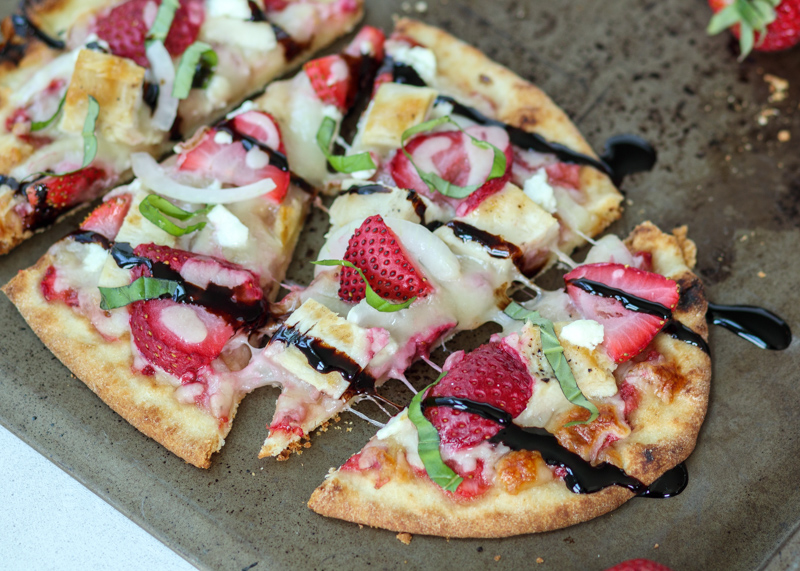 I wanted these pizzas to really scream strawberry so in addition to the sweet and tart strawberry spread, we also have fresh sliced strawberries nestled into the melty mozzarella. Finally, a drizzle of balsamic glaze and sprinkling of fresh basil to finish the pizzas off once they're out of the oven. Even though I just took a long time to break down these pizzas – sorry I'm just so excited! – they are incredibly simple to whip up making them ideal for lazy summer nights. I hope you try these soon and make sure to let me know in the comments below if you try them!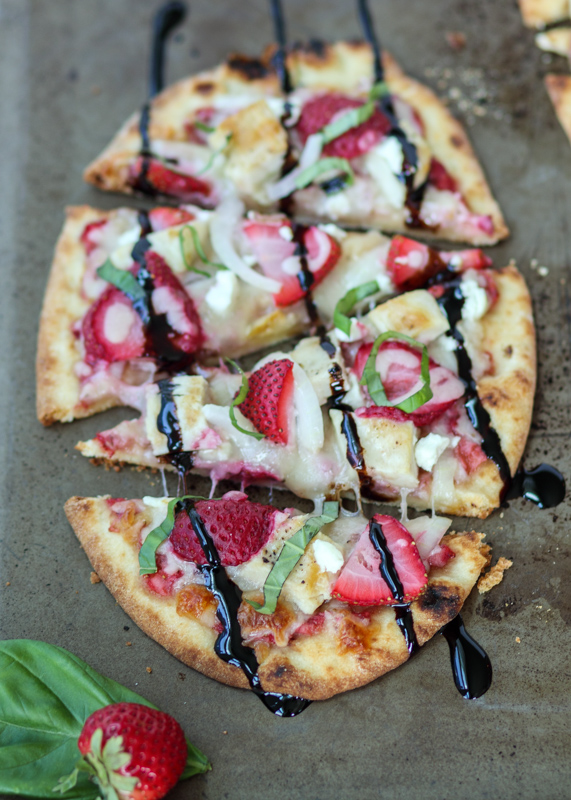 Mini Strawberry Balsamic Pizzas with Chicken & Sweet Onions
Ingredients
¼ cup finely chopped strawberries
1 teaspoon honey
½ teaspoon balsamic vinegar
2 naan flatbreads
½ cup chopped cooked chicken (either grilled or rotisserie)
⅓ small sweet onion, sliced thin
½ cup plus 2 tablespoons shredded mozzarella
½ cup sliced strawberries
1 ounce goat cheese
Chopped basil, for topping
Balsamic glaze, for topping
Directions
Preheat the oven to 400 degrees F.
In a shallow bowl, stir together the chopped strawberries, honey and balsamic vinegar. Let sit for 15-20 minutes to let the strawberries soften and release their juices. Once the strawberries have softened, mash with a potato masher and stir together.
Place the naan flatbreads on a baking sheet. Divide the mashed strawberry topping between the two pizzas. Spread the strawberry mixture out, leaving a small border on each pizza for the crust. Top each pizza with ¼ cup chopped chicken and half of the sliced onion.
Top each pizza with ¼ cup of the shredded mozzarella, sprinkling over the chicken and onion. Then top each pizza with ¼ cup of the sliced strawberries. Crumble the goat cheese over the strawberries, dividing between the two pizzas, and sprinkle on the remaining mozzarella as well. Bake for 10 minutes or until the cheese is melted and the crust is browning.
When the pizzas are out of the oven, top with the chopped basil and balsamic glaze before serving.
Notes
You can find balsamic glaze in the grocery store. If you want to make your own: combine ½ cup good quality balsamic vinegar with 2 tablespoons brown sugar in a small saucepan over medium heat. Stir until the sugar has dissolved. Bring to a boil then reduce heat to low and simmer until the mixture is reduced by half, about 10 minutes. The glaze should be thick and syrupy. Let cool before serving. Store in the fridge in an airtight container for up to 2 weeks.