Chocolate Brownie Walnut Ice Cream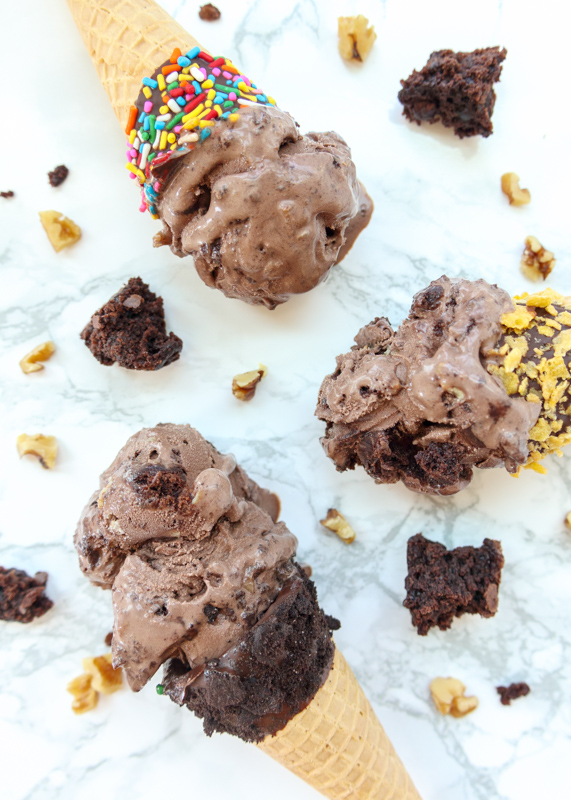 I can't believe it's almost August and I haven't posted a single ice cream recipe this season! I've made ice cream a couple times this summer, but I never got around to photographing them for Lemon & Mocha. So today we are going into full ice cream mode! I am a chocolate person through and through and there's no exception when it comes to ice cream. Chocolate ice cream is delicious on its own, but it's even better if it has more chocolate in it!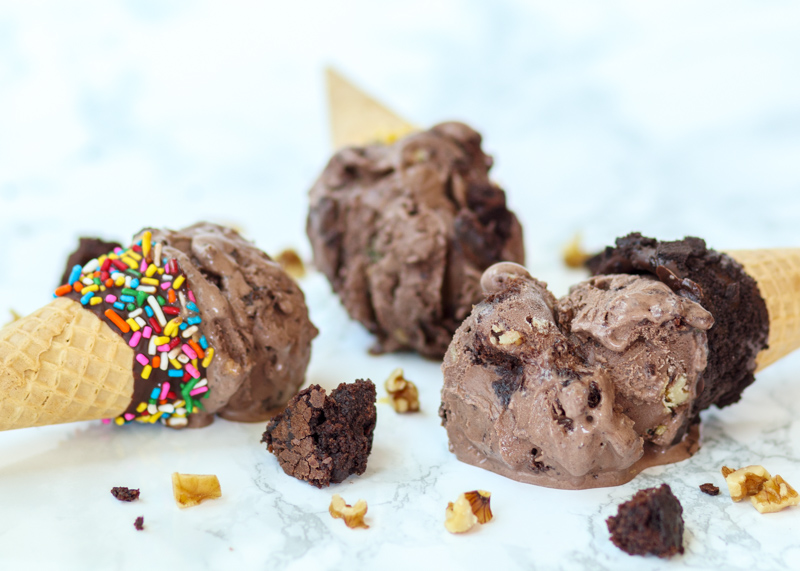 Eating at Coldstone Creamery over the years has let me try basically every type of topping in ice cream so I knew brownie would be a perfect addition. Does anyone else put so many toppings in their Coldstone ice creams that they have to put your creation in the next size bowl because it got so big from all the toppings? I can't be the only topping weirdo out there! Anyways, the brownie adds a chewy and fudge-like texture to the chocolate ice cream. I also love when ice creams have a bit of a crunch so I added in the walnuts as well. My stepmom always makes brownies with walnuts so I was thinking this ice cream is kind of like a play on those brownies. With all my toppings talk, I kept this Chocolate Brownie Walnut Ice Cream fairly simple, but it was still the perfect bite.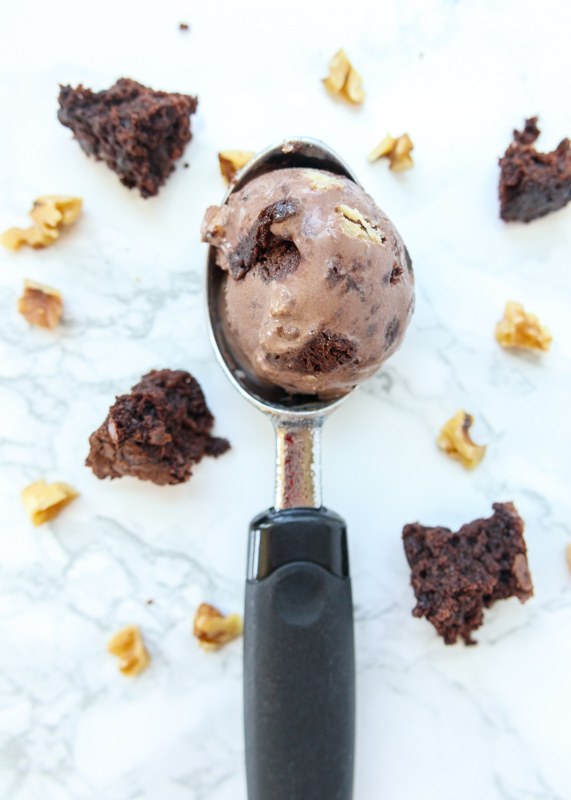 If you want to make this ice cream, but you don't have an ice cream maker I definitely suggest you get one! They are relatively inexpensive (under $50) and I've had mine for over 14 years! This is the updated version of mine. However, if you wanted to make this ice cream, but didn't want to wait for all the steps of a homemade custard based ice cream, you could simply fold brownie chunks and walnuts into your favorite chocolate ice cream! Beat the ice cream in the bowl of a stand mixer to make it softer without getting melty then beat or fold in the brownies and walnuts.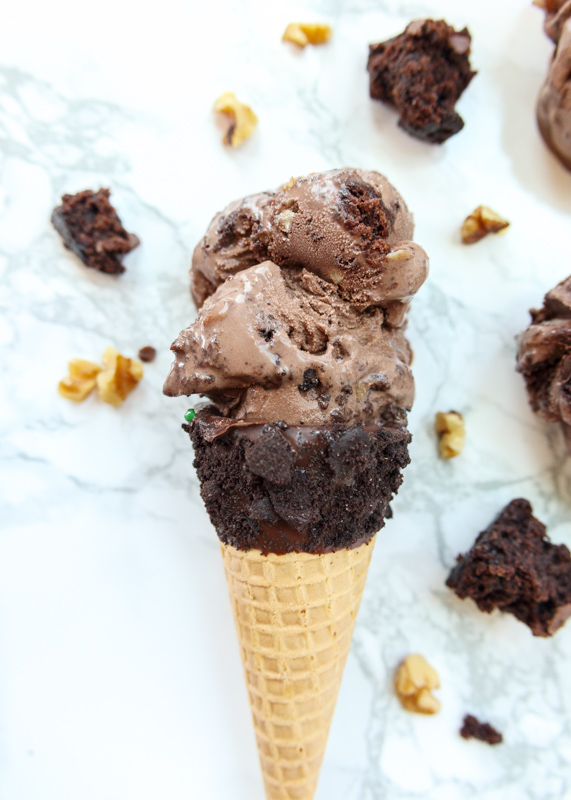 Did you know this is my 10th ice cream post on Lemon & Mocha? Here are my other ice cream posts if you're looking for additional flavors: Honey Ice Cream with Pralined Almond Crumble, Orange-Vanilla Frozen Custard, Browned Butter Peach Ice Cream with a Graham Cracker Crumble, Coffee Ice Cream, Vanilla Bean Ice Cream, Double Chocolate Chip Ice Cream, Peanut Butter Cup Ice Cream, Straciatella Chocolate Hazelnut Gelato and Egg Nog Ice Cream.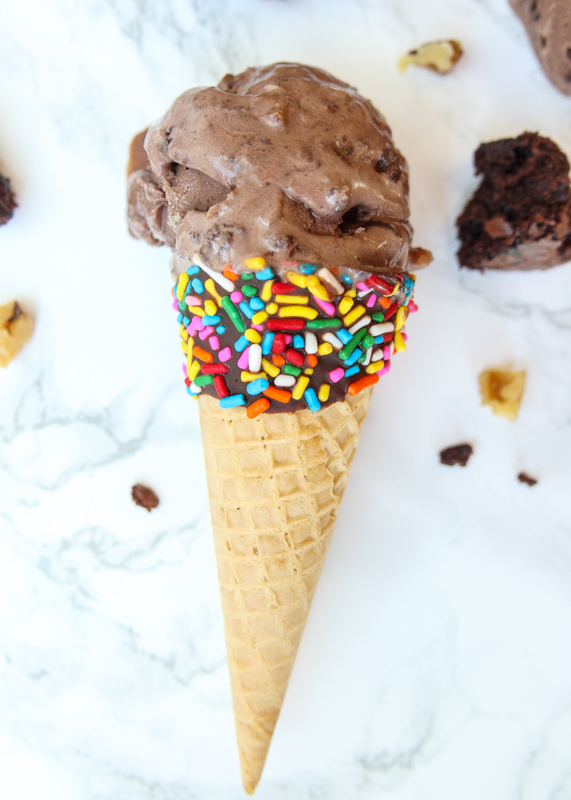 P.S. How adorable are these ice cream cones? I have a fun post going up on Wednesday to show you how to make and customize your own cones. I also cannot wait for you all to see what I use this Chocolate Brownie Walnut Ice Cream for in my Friday post – prepare yourselves to take this chocolately deliciousness to the next level!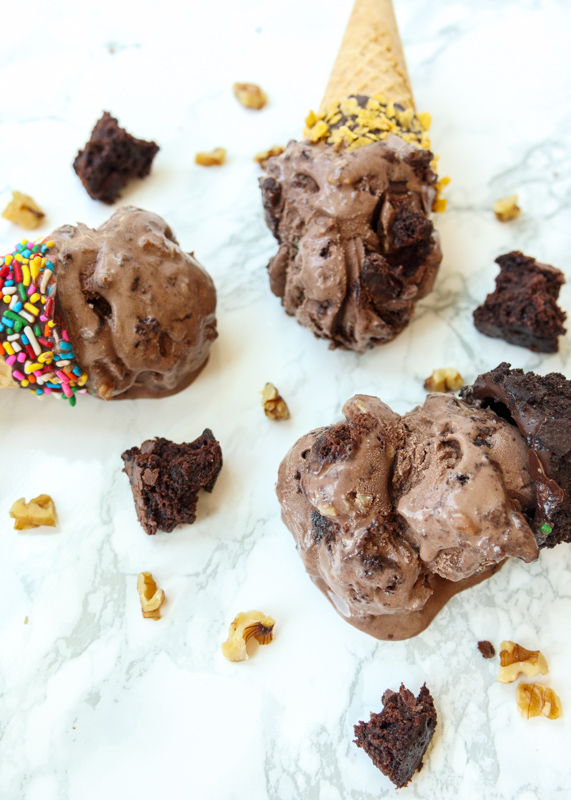 Chocolate Brownie Walnut Ice Cream
Ingredients
2 cups heavy cream, divided
3 tablespoons unsweetened Dutch-process cocoa powder
5 ounces semisweet (or bittersweet) chocolate chips
1 cup whole milk
¾ cup sugar
Pinch of salt
5 large egg yolks
½ teaspoon vanilla extract
⅔ cups chopped walnuts
1⅓ cups brownie pieces
Directions
In a medium saucepan over medium heat warm 1 cup of the cream with the cocoa powder. Whisk until the cocoa is blended then bring to a boil. Once boiling, reduce the heat to simmer for 30 seconds, whisking continuously.
Remove the saucepan from the heat before adding the chopped chocolate and stirring until smooth. Add the remaining cup of cream, stir, then pour the whole mixture into a large bowl. Place a mesh strainer on top of the bowl.
Using the same saucepan combine the milk, sugar and salt over medium heat until warm. In a medium bowl whisk the egg yolks then slowly pour the warm milk mixture into the egg yolks, whisking constantly, to temper the eggs. Pour the milk and egg mixture back into the saucepan. Constantly stir the mixture over medium heat with a heatproof spatula making sure to scrape the bottom and not let any clumps form. Continue stirring until the mixture is thick enough to coat the spatula.
Remove the mixture from the heat and pour it through the mesh strainer into the large bowl with the chocolate mixture. Stir until combined then mix in the vanilla extract.
Insert the bowl into an ice bath and continue stirring until cool.
Chill the mixture in the fridge. Once cold, pour into your ice cream maker following the manufacturer's directions. During the last 5 minutes add the chopped walnuts and brownie pieces. Let firm in the freezer before scooping. If you are using this to make an ice cream pie, you can pour it right from the ice cream maker into your prepared pie crust.
Notes
I find it is easier to cut and incorporate the brownies into the ice cream if they're already cold so I usually refrigerate a couple brownies before chopping them up and mixing them into the ice cream.
I prefer to use Ghiradelli chocolate.
Some of the links above are affiliate links, which means I may receive a small commission for my referral. This does not affect the retail cost of the item. Thank you for supporting Lemon & Mocha!