Browned Butter Peach Ice Cream with a Graham Cracker Crumble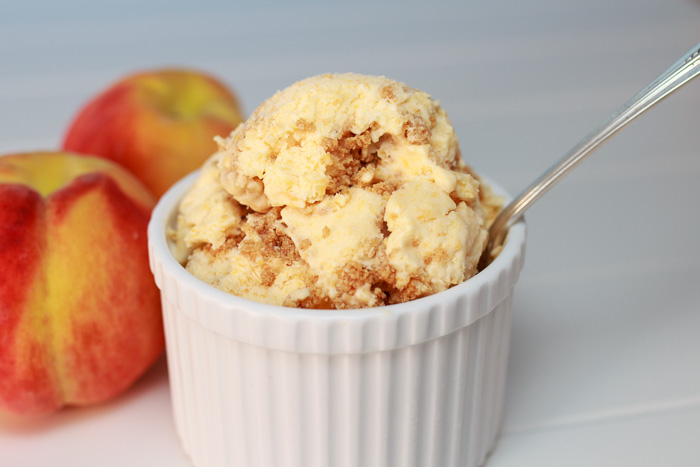 Tuesday's browned butter peach recipe had me inspired to keep experimenting with peaches. I had all these browned butter peaches and thought the only way I could improve upon them was to turn them into ice cream. So I did.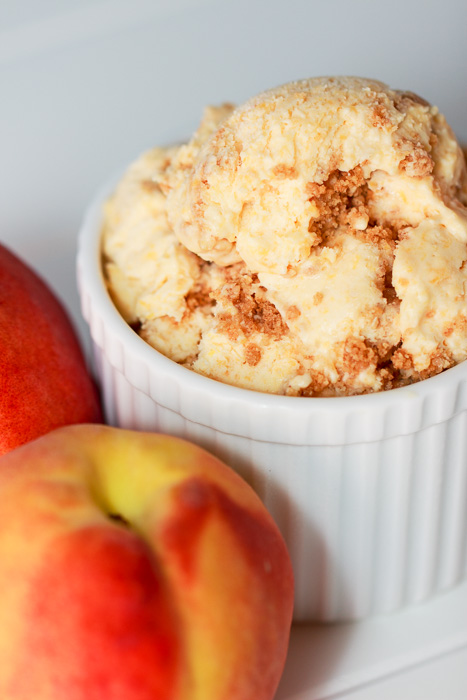 My favorite ice cream cookbook has a peach ice cream recipe, but I'm all about kicking it up a notch. Instead of fresh peaches I decided to use my browned butter peaches to give the ice cream base a richer depth of flavor.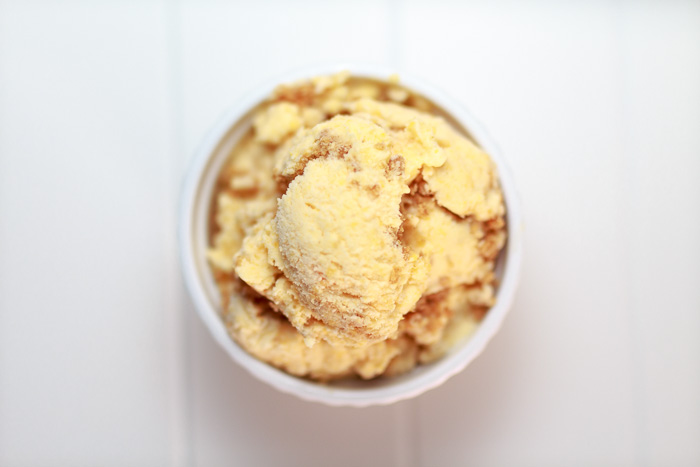 I then decided that browned butter peach ice cream was too simple and was calling for a change of texture. That's where the graham cracker crumble comes into play. This ice cream tastes like a peach crisp dessert in ice cream form.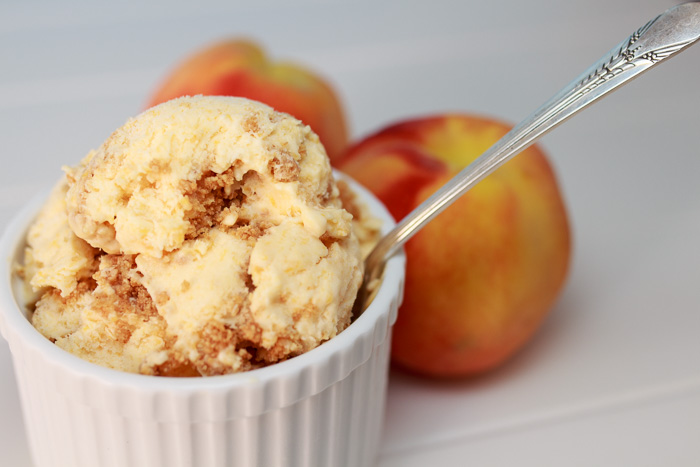 I guess the title of Peach Crisp Ice Cream would have been a lot more concise, but I like to be descriptive. I also didn't want to deceive people because when you think of a crisp dessert you could be thinking about one of two different toppings. There is the rolled oat topping, that I of course am not a fan of with my new oat allergy. Then there is the brown sugar crumble topping. I'm not sure which is more traditional, but this ice cream incorporates the later.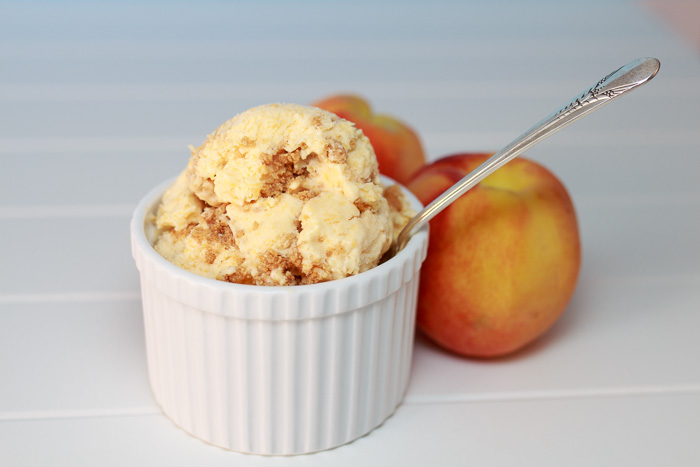 Matt has proclaimed this browned butter peach ice cream with a graham cracker crumble as his favorite homemade ice cream. Maybe it will become your favorite, too!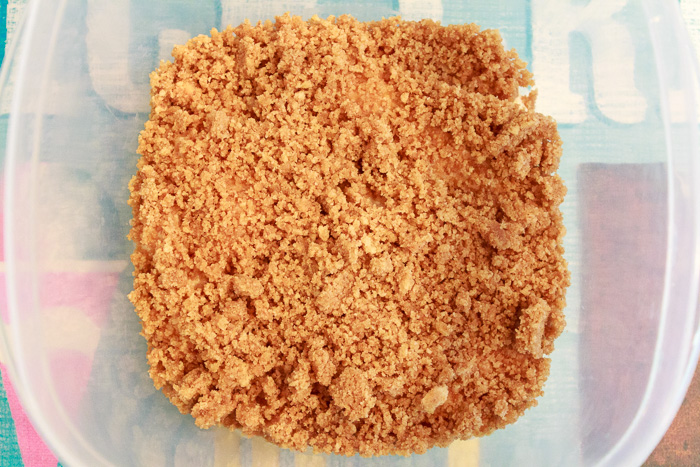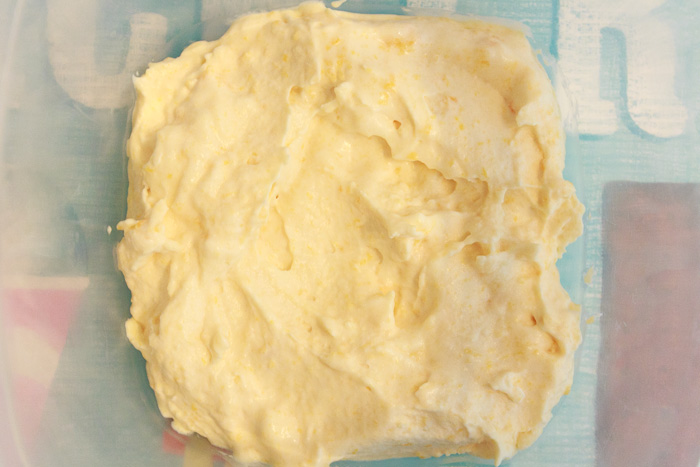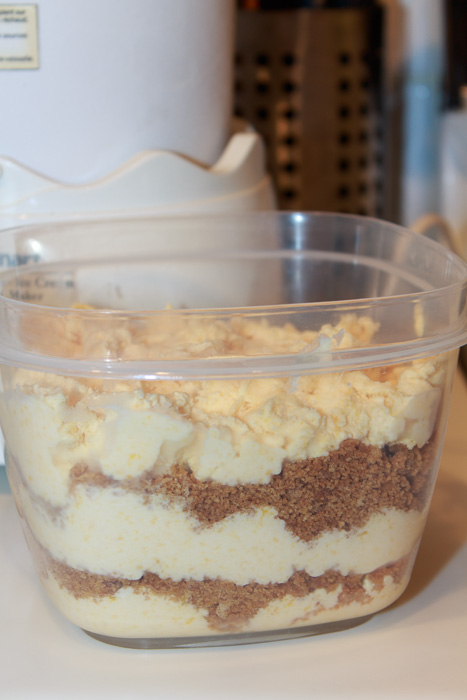 Browned Butter Peach Ice Cream with a Graham Cracker Crumble
Ingredients
5 tablespoons unsalted butter
4 large peaches, peeled and sliced
½ cup sugar
½ cup sour cream
1 cup heavy cream
¼ teaspoon vanilla extract
¼ teaspoon lemon juice
1 sleeve of graham crackers, about 6 ounces, crushed to fine crumbs
8 tablespoons unsalted butter, melted
3 tablespoons sugar
Pinch of salt
Directions
Begin in the process of browning the peaches by melting the butter over medium heat in a medium skillet. Swirl the butter until golden brown and aromatic, about 5 minutes. Add the peach slices and cook until soft, about 8-10 minutes. Make sure to turn stir and flip the peaches over. Add the sugar and stir until the sugar dissolves. Remove the peaches with a slotted spoon and let cool to room temperature.
Add the peaches, sour cream, heavy cream, vanilla and lemon juice to a food processor or blender and puree until mostly smooth.
Completely chill the mixture in the refrigerator. While the mixture is chilling make the crumble. Preheat the oven to 325 degrees F and line a baking sheet with foil. Mix together the graham cracker crumbs, melted butter, sugar and salt until crumbs are formed. Spread the crumbs on the baking sheet then bake until light golden brown, about 10 minutes. Let cool completely.
Once the ice cream mixture is chilled freeze in your ice cream maker according to manufacturer's instructions. Layer the ice cream and the graham cracker crumble and freeze before serving.
Ice cream adapted from

The Perfect Scoop

.
Crumble from

Williams Sonoma
.