Browned Butter Peach Ice Cream with a Graham Cracker Crumble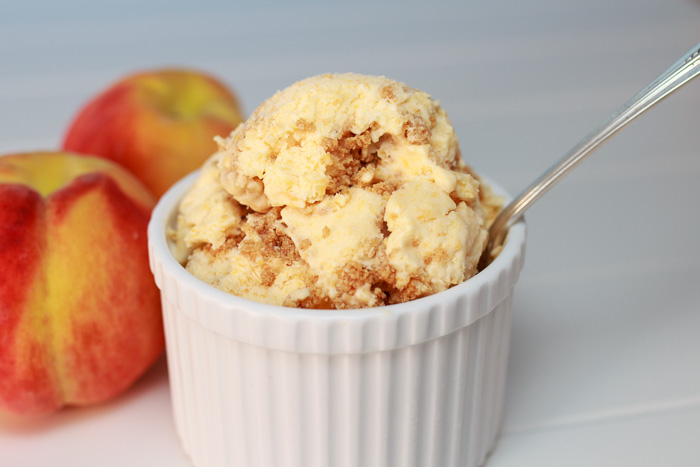 5 tablespoons unsalted butter
4 large peaches, peeled and sliced
½ cup sugar
½ cup sour cream
1 cup heavy cream
¼ teaspoon vanilla extract
¼ teaspoon lemon juice
1 sleeve of graham crackers, about 6 ounces, crushed to fine crumbs
8 tablespoons unsalted butter, melted
3 tablespoons sugar
Pinch of salt
Begin in the process of browning the peaches by melting the butter over medium heat in a medium skillet. Swirl the butter until golden brown and aromatic, about 5 minutes. Add the peach slices and cook until soft, about 8-10 minutes. Make sure to turn stir and flip the peaches over. Add the sugar and stir until the sugar dissolves. Remove the peaches with a slotted spoon and let cool to room temperature.
Add the peaches, sour cream, heavy cream, vanilla and lemon juice to a food processor or blender and puree until mostly smooth.
Completely chill the mixture in the refrigerator. While the mixture is chilling make the crumble. Preheat the oven to 325 degrees F and line a baking sheet with foil. Mix together the graham cracker crumbs, melted butter, sugar and salt until crumbs are formed. Spread the crumbs on the baking sheet then bake until light golden brown, about 10 minutes. Let cool completely.
Once the ice cream mixture is chilled freeze in your ice cream maker according to manufacturer's instructions. Layer the ice cream and the graham cracker crumble and freeze before serving.
Recipe by
Lemon & Mocha
at http://www.lemonandmocha.com/2014/07/10/browned-butter-peach-ice-cream-with-a-graham-cracker-crumble/