Breakfast Sandwiches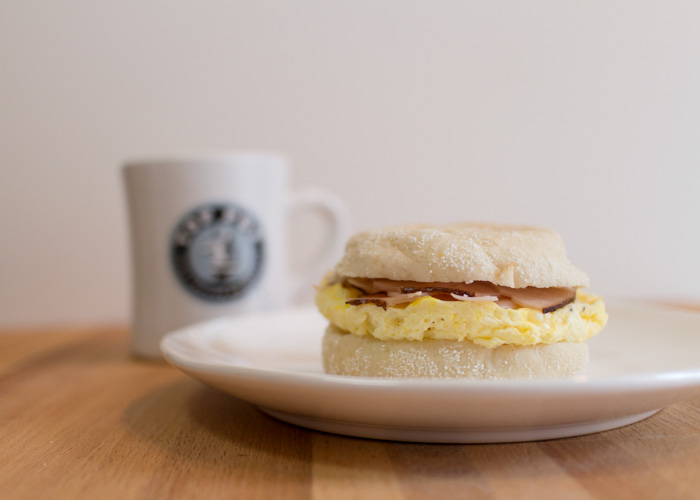 I get excited over everything food related and that includes kitchen gadgets. I've never ranked my kitchen gadgets, but if I had to this nifty thing would definitely be in my top five. What is it, you ask? A round microwave egg cooker! This little contraption costs less than $4 and has revolutionized breakfast in my house. Crack an egg in the cooker. Beat with a little milk, salt and pepper. Close the lid and microwave for one minute. Ta-da! A perfectly cooked fluffy round egg perfectly sized for breakfast sandwiches.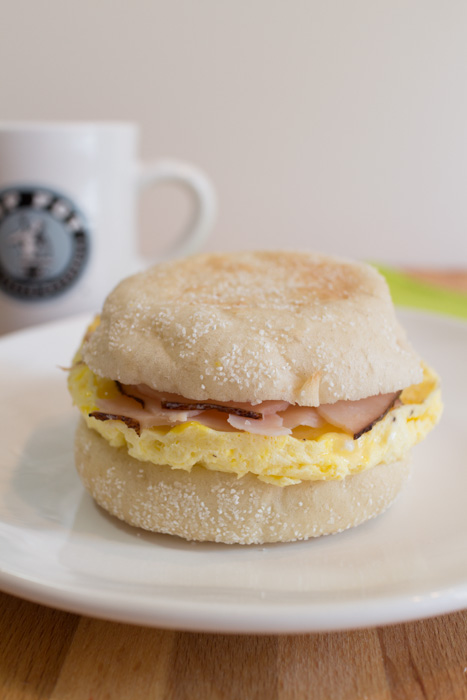 I haven't even gotten to the best part- if you throw in some cheese after it cooks and quickly close the lid again the steam will completely melt the cheese. Yeah, that's right. I'll give you a minute to soak that all in. My Aunt Dottie shared this gadget find with me last summer and I would not be able to count all the egg sandwiches I've made in it over the last year. I talked it up so much that several of my friends have purchased it and are now cooking their own easy egg sandwiches, too.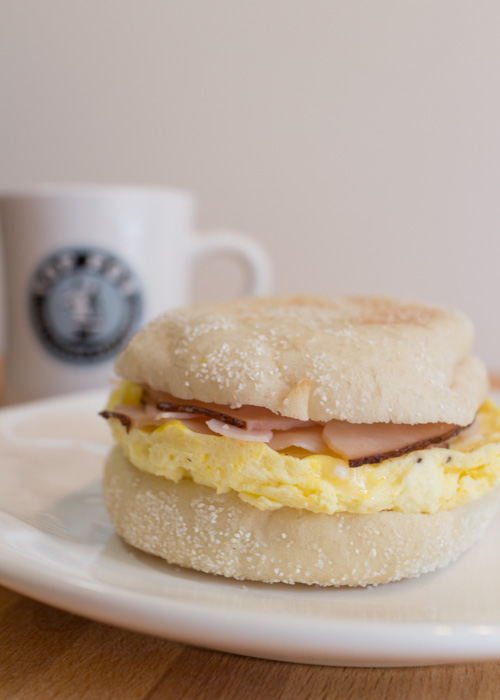 After I made a bunch fresh I started experimenting with freezing them for even quicker weekday breakfasts on the go. I am happy to report that these freeze well and taste good reheated in the microwave. So go ahead and get cooking!
Breakfast Sandwiches
Ingredients
Lightly toasted English muffin
1 slice ham
1 egg
1 tablespoon milk
Salt and pepper
1 thin slice of cheese that melts well, such as cheddar or monterey jack
Directions
Put the English muffins halves down on a clean surface and place the slice of ham on one of the halves. Set aside.
Crack the egg into the microwavable egg cooker or an eight ounce ramekin. Pour in the milk and a little bit of salt and pepper. Lightly beat the egg mixture then microwave for 1 minute.
Carefully remove from the microwave and quickly place the cheese on top of the cooked egg while still in the cooker or ramekin. If in the ramekin place a plate or tupperware lid on top to help keep in the steam that will melt the cheese.
When the cheese is melted, run a spoon around the edge of the cooked egg then remove and place on top of the ham slice. Take the other half of the English muffin and place it on top.
Notes
To freeze the breakfast sandwiches: make sure you very lightly toast the muffins so they don't get hard when you reheat them in the microwave. Let the sandwich cool then tightly wrap in plastic wrap. Place the wrapped sandwiches in a labeled freezer bag before putting in your freezer.
To reheat the frozen breakfast sandwiches: remove from the plastic wrap. Wrap in a paper towel and place on a plate. Microwave for 1 minute, or more if needed.