Chocolate Dipped Ice Cream Cones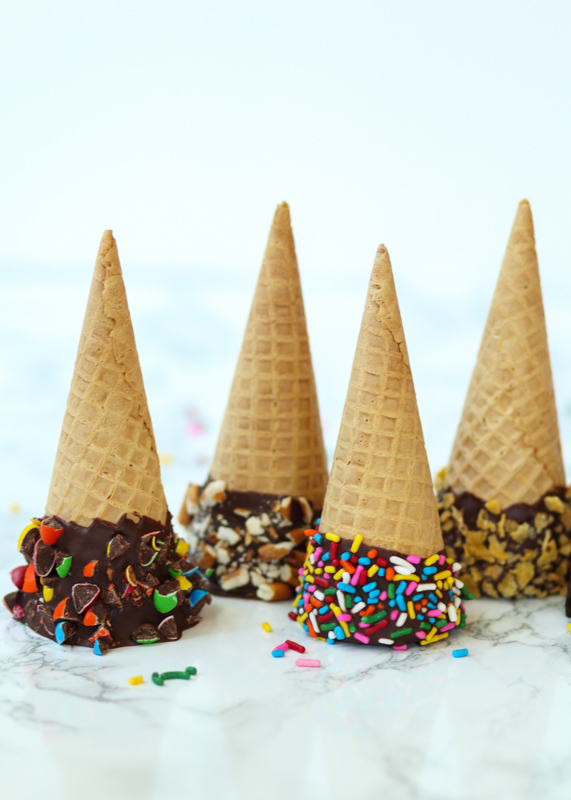 July is National Ice Cream Month so I'm posting ice cream related recipes all this week! I would have posted ice cream recipes all month long, but you got to have balance, right? Also, my freezer is only so big so there's that. Did you check out the outrageous dipped cones I had in Monday's Chocolate Brownie Walnut Ice Cream post? If not, go check it out now!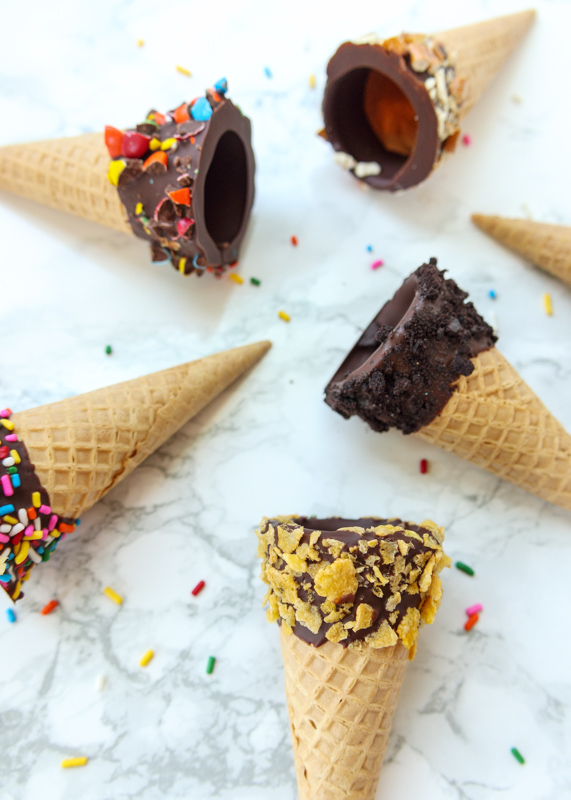 I love getting dipped cones when I go out for ice cream. The problem is usually the only dipped cones are the waffle cones. Those things fit SO much ice cream! So unless I'm feeling super ambitious it's a plain cone for me. Then when I was thinking about ice cream month I realized that I could just make my own epic cones! It is actually so simple that I debated even posting it as a recipe, but they are so adorable how could I not share?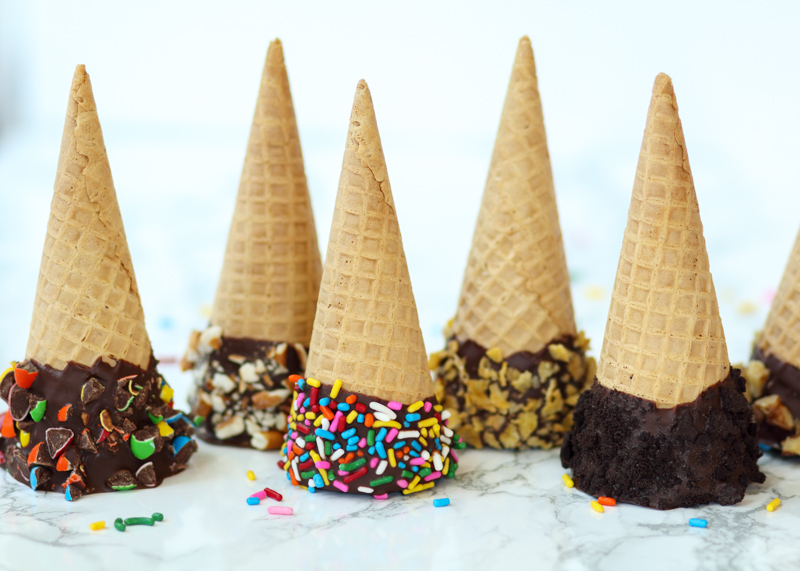 The decoration and topping options are endless, and you all know how I feel about food variation possibilities! I limited myself to just six different varieties with ingredients I already had in my kitchen, but I could have easily kept going. I went with cookie crumbs, walnut pieces (had to pay homage to Monday's post), crushed M&M's, pretzel pieces, cornflakes cereal and of course, sprinkles! You could really do any candy, cereal, nut, cookie, or even salty snack. I'm thinking Reese's Pieces, Fruit Loops, cashews, Chips Ahoy and potato chips – yum!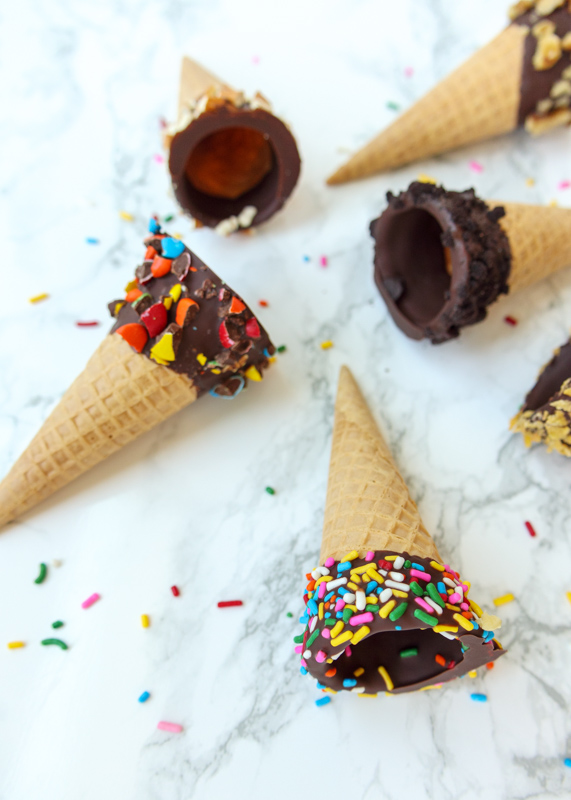 The key, which I learned the hard way, is to keep the pieces small. And I mean very small, like almost crumbs, especially if the items are heavier. See my walnut cone and M&M cone? Those pieces were too big and they started sliding down the chocolate the minute I tried to sprinkle them on. The cookie crumbs and sprinkles worked the best because they were so small and light. That's why I test it though, then you don't have to make my same mistakes and can have yours come out perfectly!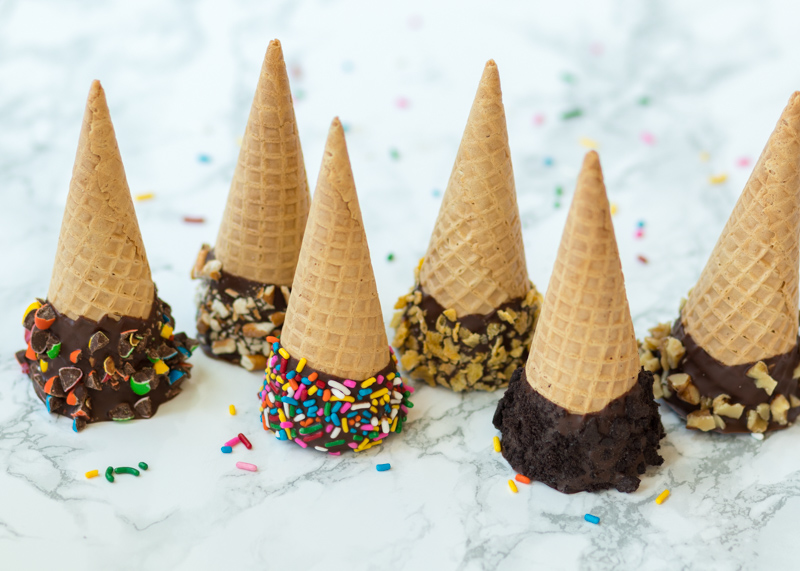 Once you have your toppings picked out and chopped you are ready to melt your chocolate. I like to use my liquid measuring cup because it's microwave safe while also being narrow and deep. A deep and narrow bowl or cup is better because then you can dip your cone deeper without having to use more chocolate. The dipping bowl or cup only needs to be as wide as your cone. I melt the chocolate chips down in the microwave with a little coconut butter to help keep the chocolate shiny and smooth. I used to use vegetable oil, but now I use coconut butter because it's healthier, but feel free to use whichever one you would prefer or already have in your kitchen. Once the chocolate is melted down you can start dipping. Dunk the whole mouth of the cone right into the chocolate then let all the excess drip off. And I do mean all the excess! You have to be a bit patient with it and let it drip, rotating and giving it a few shakes to help the dripping along. If you don't let enough excess drip off then your toppings will be more likely to drip right off your cones.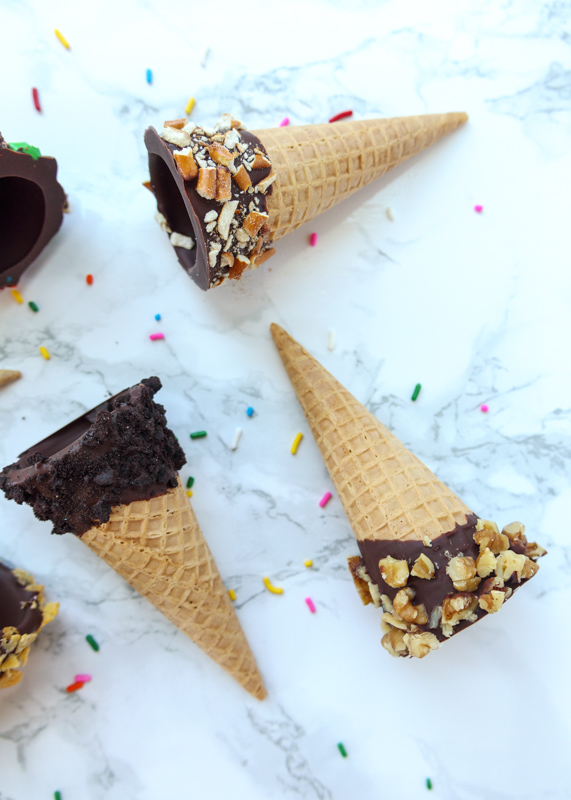 Then, sprinkle all over with the toppings! I would say this is the fun part, but we all know the real fun part is eating them with a scoop (or two) of ice cream! Simply place the topped cones, opening side down, on a wax paper lined small cookie sheet and place in the fridge for twenty minutes. Then time to eat! What toppings would you pick for your chocolate dipped cones?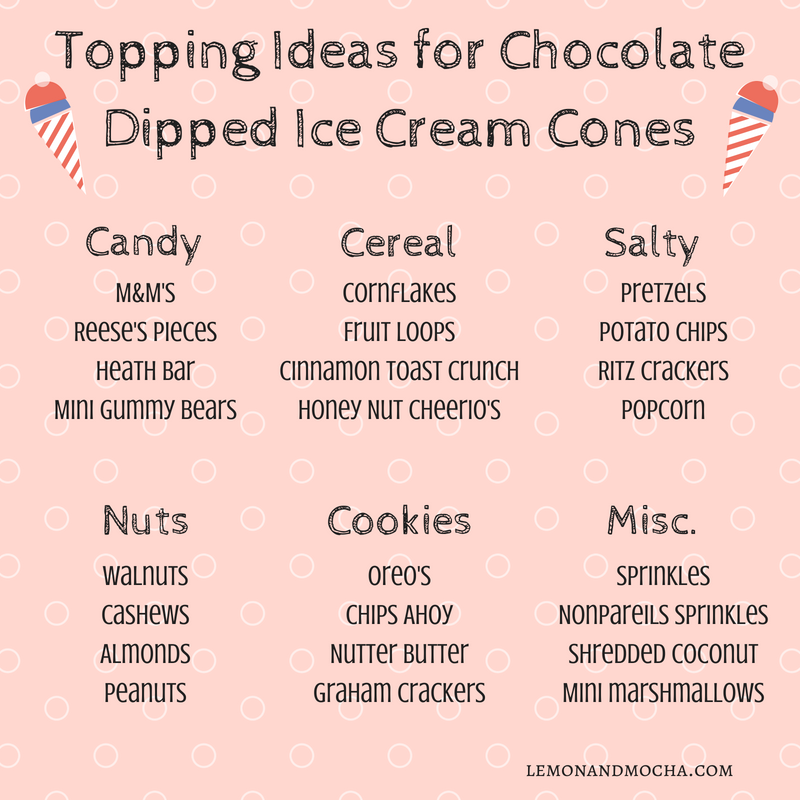 Chocolate Dipped Ice Cream Cones
Ingredients
Toppings for dipping (see above for ideas)
⅔ cup semisweet chocolate chips
1 tablespoon coconut oil
6 sugar cones
Directions
Make sure your toppings are crushed small and are ready to go. Line a small baking sheet or sturdy cutting board with wax paper or parchment paper. Make sure the baking sheet or cutting board you choose will fit in your fridge with the cones upright.
Pour the chocolate chips and the coconut oil in a microwavable liquid measuring cup or a deep and narrow bowl. Microwave for 30 seconds, stir. Microwave at 20 second intervals, stirring after each interval, until the chocolate is smooth and melted. Be sure not to over-heat.
Dip the open end of your cone into the chocolate. I dipped mine about 1½ inches deep. Let the excess chocolate drip off, rotating and lightly shaking your cone. Be patient! Too much excess will lead to runaway toppings. After the excess chocolate is dripped off, sprinkle on your toppings. I held my cone sideways over a bowl and sprinkled the toppings over the chocolate dipped cone. Once you've added your toppings, stand the cone upright, opening faced down, on the prepared baking sheet or cutting board.
Repeat for the remainder of the cones. You may need to tilt the liquid measuring cup as you dip the cones to get enough of the cone dipped. You will have some leftover dipping chocolate. Once all the cones have been dipped and topped, put the baking sheet or cutting board in the fridge for 20 minutes before filling with ice cream and eating. I stored these in the fridge, but if you weren't worried about the chocolate getting melty you could store them at room temperature.
Notes
If you don't have coconut oil or cannot use it for dietary reasons, you can substitute the same amount of vegetable oil