Chocolate Brownie Walnut Ice Cream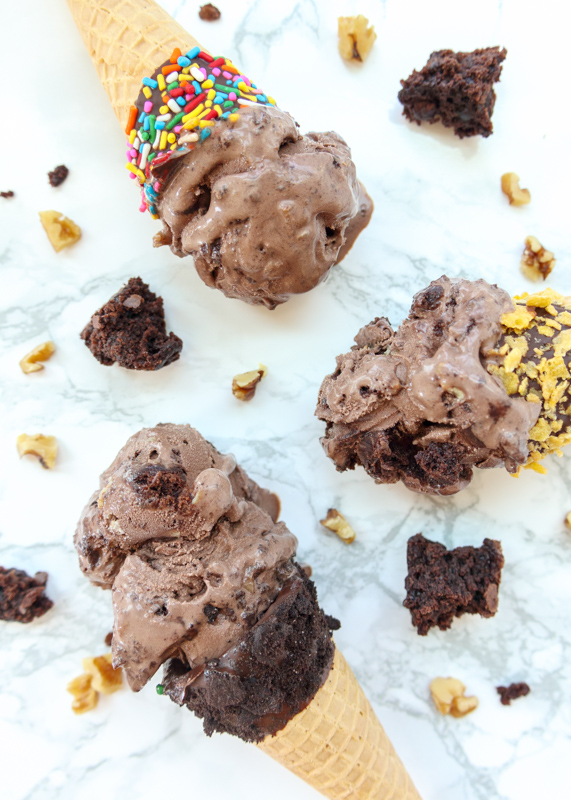 2 cups heavy cream, divided
3 tablespoons unsweetened Dutch-process cocoa powder
5 ounces semisweet (or bittersweet) chocolate chips
1 cup whole milk
¾ cup sugar
Pinch of salt
5 large egg yolks
½ teaspoon vanilla extract
⅔ cups chopped walnuts
1⅓ cups brownie pieces
In a medium saucepan over medium heat warm 1 cup of the cream with the cocoa powder. Whisk until the cocoa is blended then bring to a boil. Once boiling, reduce the heat to simmer for 30 seconds, whisking continuously.
Remove the saucepan from the heat before adding the chopped chocolate and stirring until smooth. Add the remaining cup of cream, stir, then pour the whole mixture into a large bowl. Place a mesh strainer on top of the bowl.
Using the same saucepan combine the milk, sugar and salt over medium heat until warm. In a medium bowl whisk the egg yolks then slowly pour the warm milk mixture into the egg yolks, whisking constantly, to temper the eggs. Pour the milk and egg mixture back into the saucepan. Constantly stir the mixture over medium heat with a heatproof spatula making sure to scrape the bottom and not let any clumps form. Continue stirring until the mixture is thick enough to coat the spatula.
Remove the mixture from the heat and pour it through the mesh strainer into the large bowl with the chocolate mixture. Stir until combined then mix in the vanilla extract.
Insert the bowl into an ice bath and continue stirring until cool.
Chill the mixture in the fridge. Once cold, pour into your ice cream maker following the manufacturer's directions. During the last 5 minutes add the chopped walnuts and brownie pieces. Let firm in the freezer before scooping. If you are using this to make an ice cream pie, you can pour it right from the ice cream maker into your prepared pie crust.
I find it is easier to cut and incorporate the brownies into the ice cream if they're already cold so I usually refrigerate a couple brownies before chopping them up and mixing them into the ice cream.
I prefer to use Ghiradelli chocolate.
Recipe by
Lemon & Mocha
at http://www.lemonandmocha.com/2018/07/23/chocolate-brownie-walnut-ice-cream/