Hoisin Beef Kebobs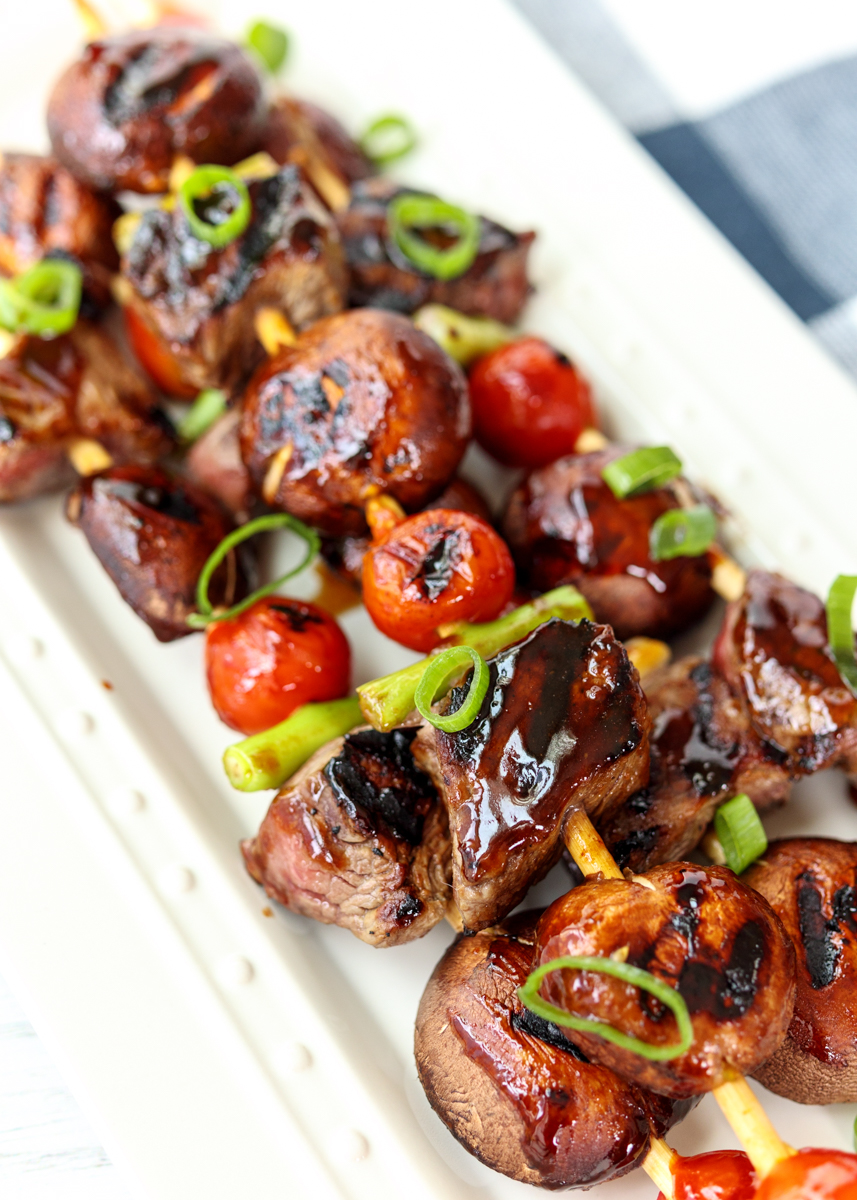 I'm back with another favorite from the simplest healthy cookbook, Cook This, Not That! These Hoisin Beef Kebobs are tender, sweet and savory. Pieces of sirloin steak get alternated with mushrooms, cherry tomatoes and scallions before being glazed in a five ingredient sauce and grilled.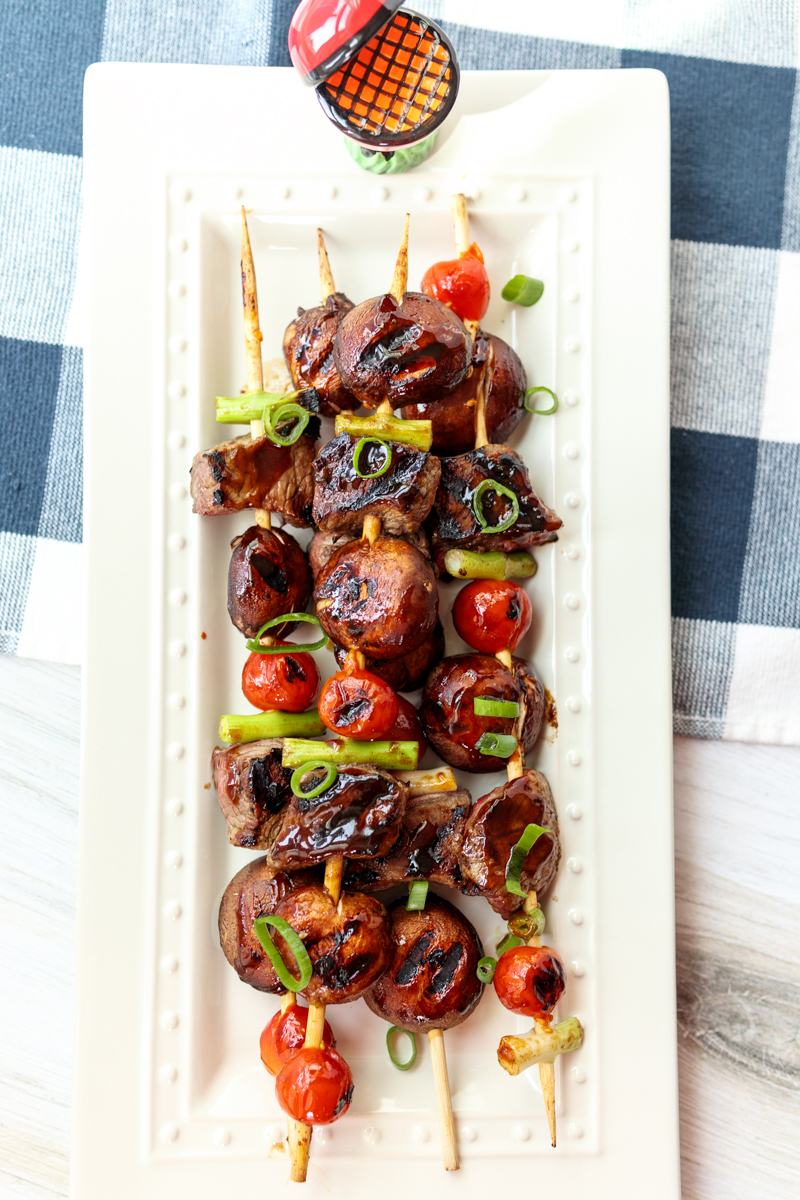 I love that the scallions get nicely charred while the cherry tomatoes burst, which brings the best flavor to the steak. These kebobs are a perfect dinner dish because the vegetables could be swapped out with so many other kinds of vegetables since the sauce is versatile and really would taste delicious with most veggies.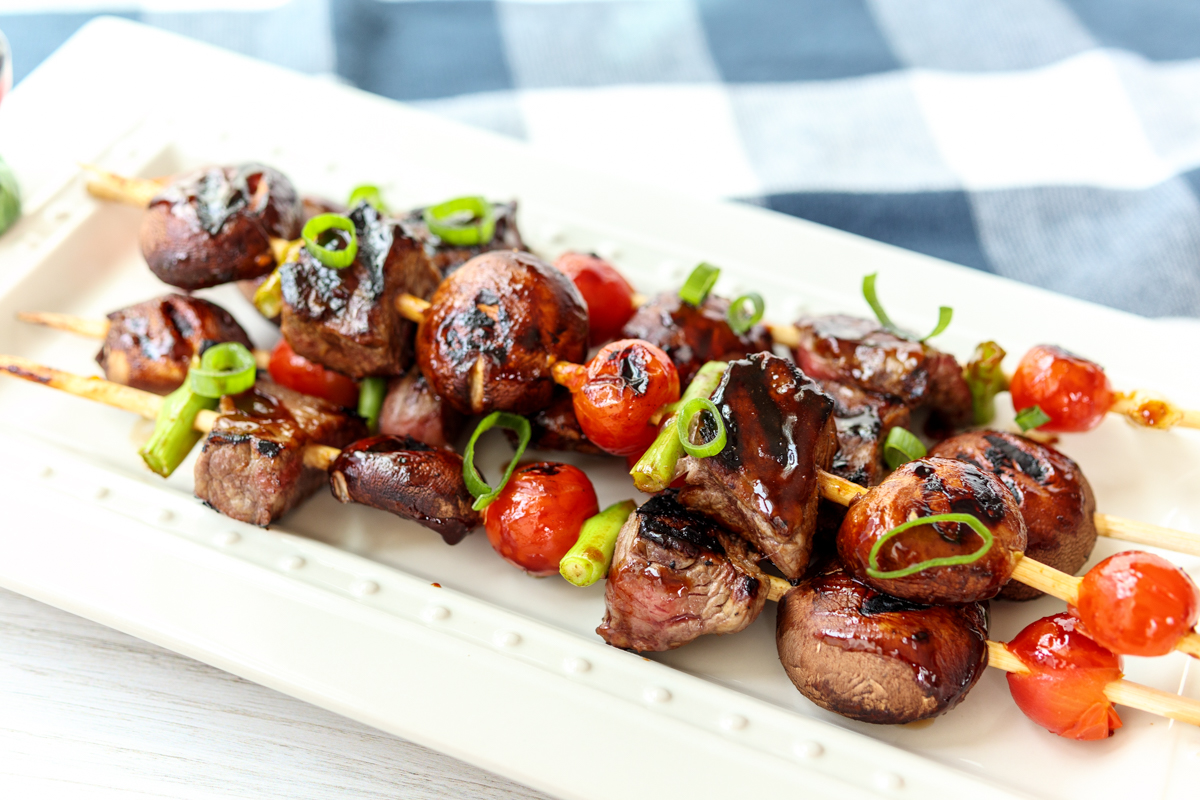 I usually serve these kebobs over rice, but they would also be great served with salad or alongside some more vegetables, like some grilled corn.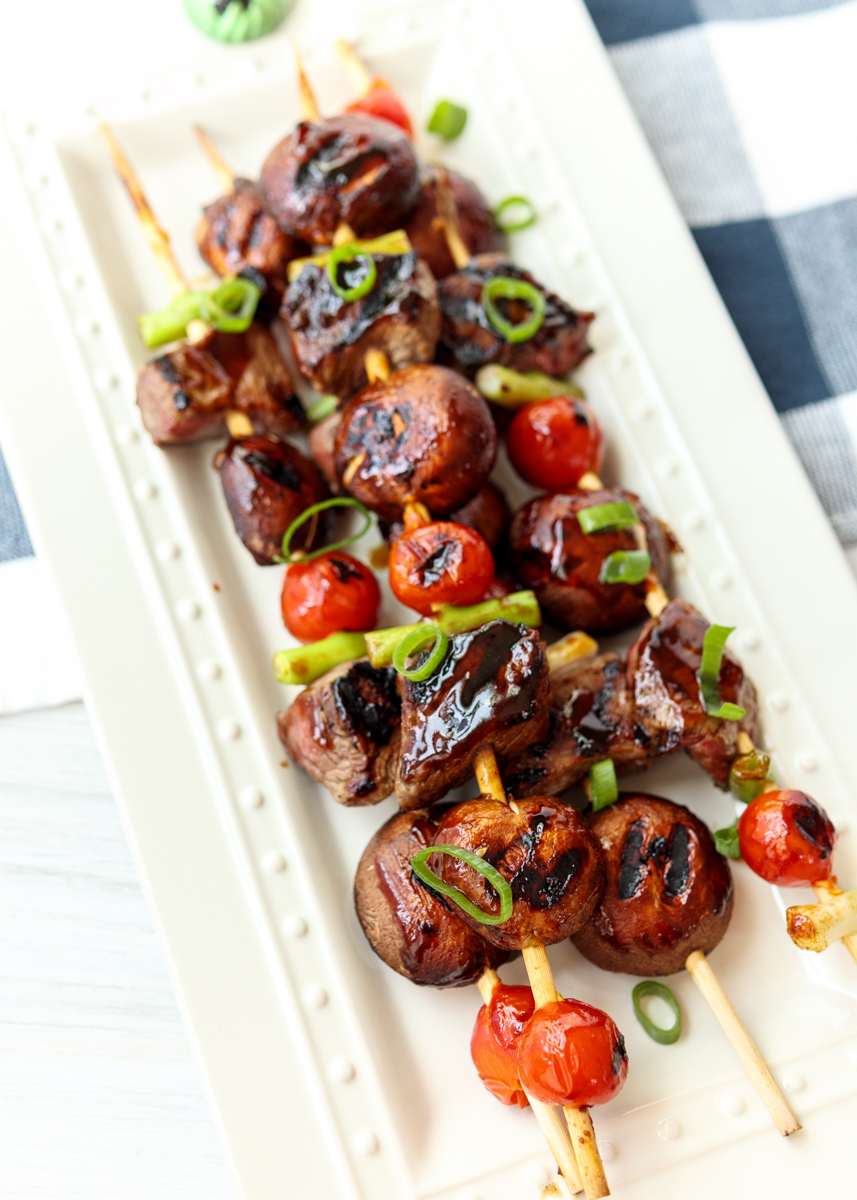 The most important thing to remember when you're making this recipe is that the other vegetables can't be taller than the cuts of steak – and that the cuts of steak need to be equal. Particularly if you are cooking on a grill pan, which is requiring direct heat, if you have one large mushroom or one large piece of beef, that other piece of steak won't get cooked enough since it won't be touching the grill pan. This is less important if you are using an actual grill.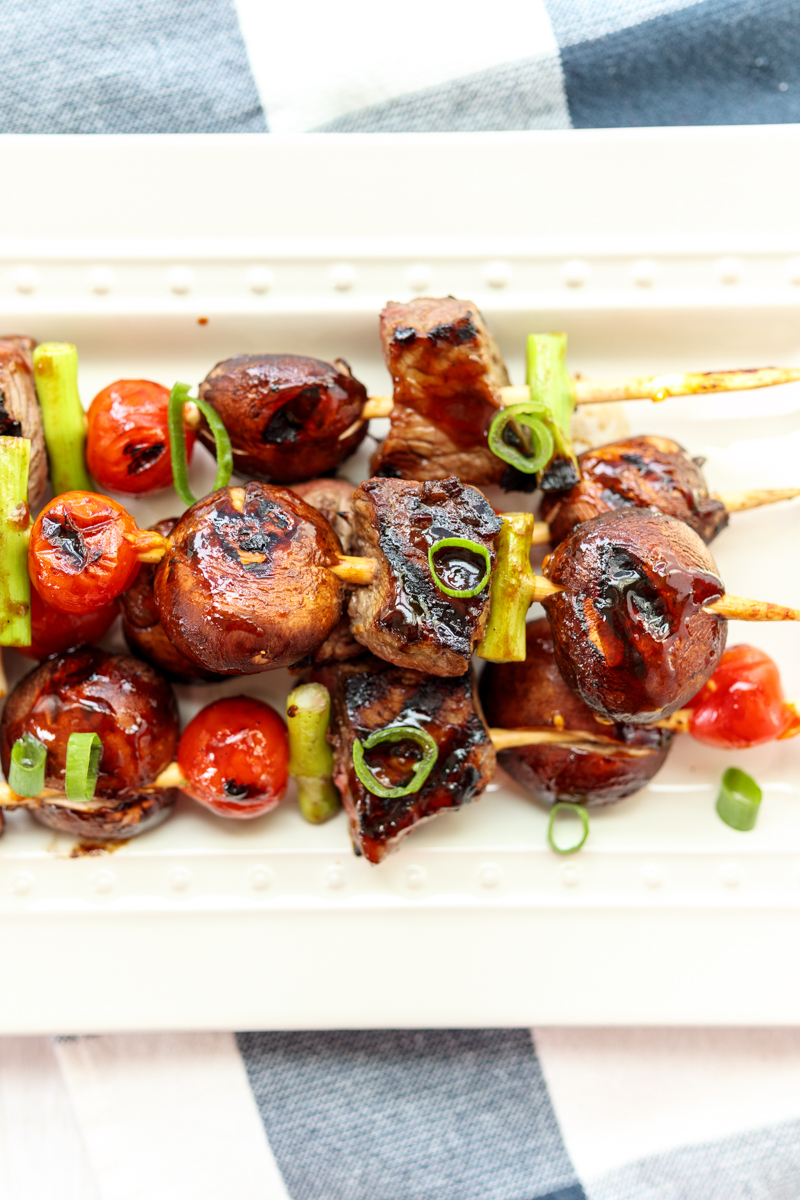 If I'm making these in our grill pan, I actually usually grill the steak and vegetables individually in two batches since our grill pan isn't long enough for the kebob sticks. Either way, Matt and I can't get enough of the juicy bites of steak and glazed veggies!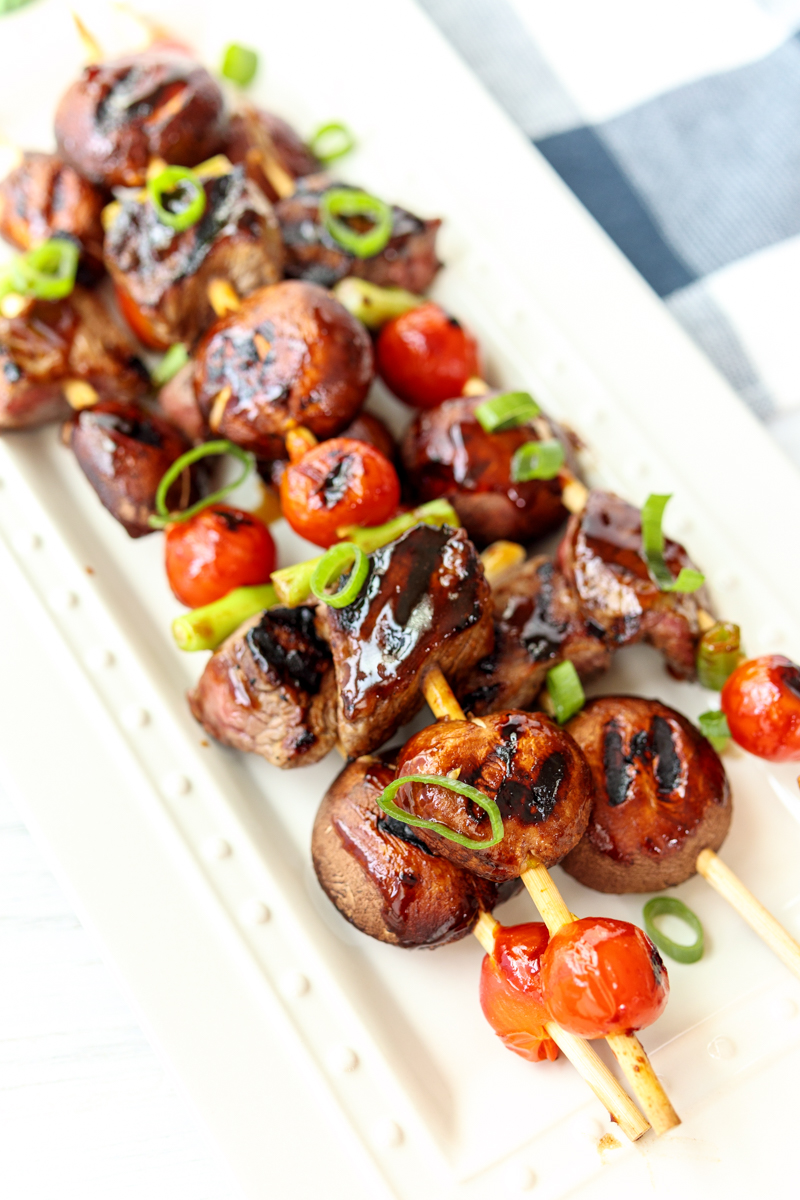 Hoisin Beef Kebobs
Ingredients
2 tablespoons hoisin
1 tablespoon low sodium soy sauce
2 teaspoons toasted sesame oil
1 teaspoon chili sauce (I use Trader Joe's green dragon sauce)
16 ounces sirloin steak, cut into ¾-inch pieces
20 small mushroom caps
20 small cherry tomatoes
8 scallion whites, sliced into ½-inch long pieces
8 skewers (if wood, soaked in water for 5-10 minutes)
Directions
Combine the hoisin, soy sauce, sesame oil and chili sauce. Divide between 2 small bowls and set aside.
Skewer the steak, mushrooms, tomatoes and scallions, alternating between the meat and vegetables. Try to make sure the mushrooms aren't larger than the steak pieces, and if the mushrooms are too big then cut them in half. Also make sure the vegetables aren't pressed against the steak pieces to give the steak enough room to cook.
Using one bowl of the sauce, brush the skewers with sauce and grill for 3-4 minutes per side, basting the other side with sauce before flipping. If you're using a grill pan, lightly brush the pan with vegetable oil before grilling and grill over medium-high heat. Remove from the grill and brush with the sauce from the second reserved bowl before serving.
Recipe from

Cook This, Not That!

.
Some of the links above are affiliate links, which means I may receive a small commission for my referral. This does not affect the retail cost of the item. Thank you for supporting Lemon & Mocha!