Balsamic Roasted Sweet Potatoes with Gorgonzola and Walnuts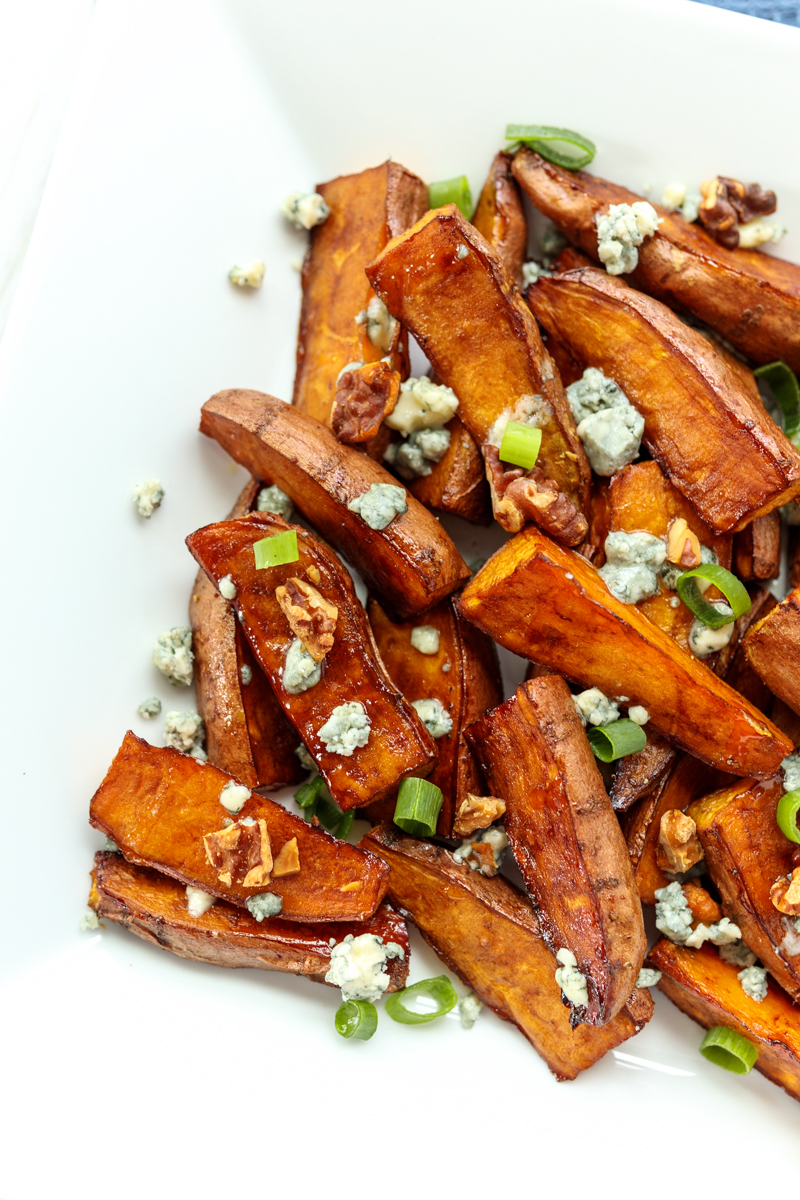 We made it to Friday! Woo hoo! Time to celebrate with these Balsamic Roasted Sweet Potatoes with Gorgonzola and Walnuts.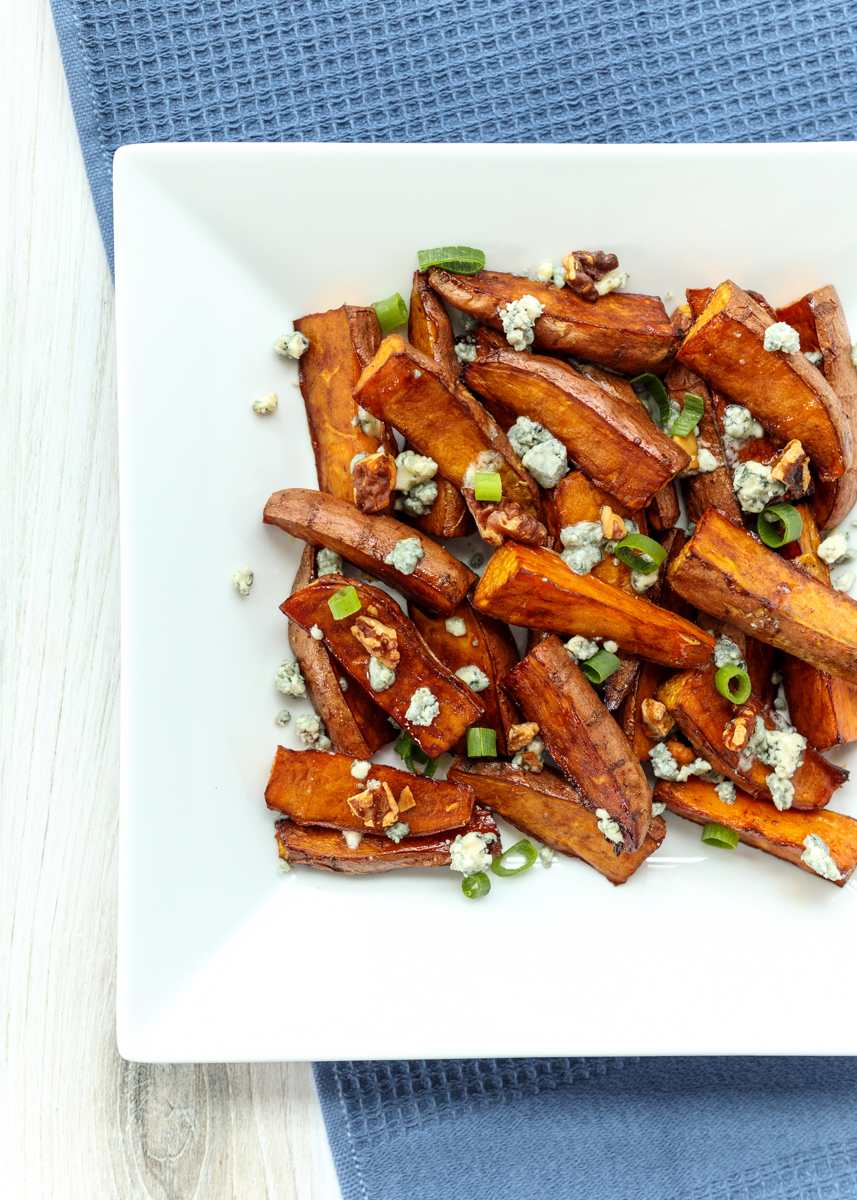 I've written about my large quantity of cookbook recipes I have yet to try, but I can't remember if I've ever mentioned all my recipe binders here before. I have four enormous binders that are filled to the brim with recipes. Most of them contain recipes from magazines although one of them is devoted to recipes I've printed out. And you guessed it – most of them are waiting for me to try them!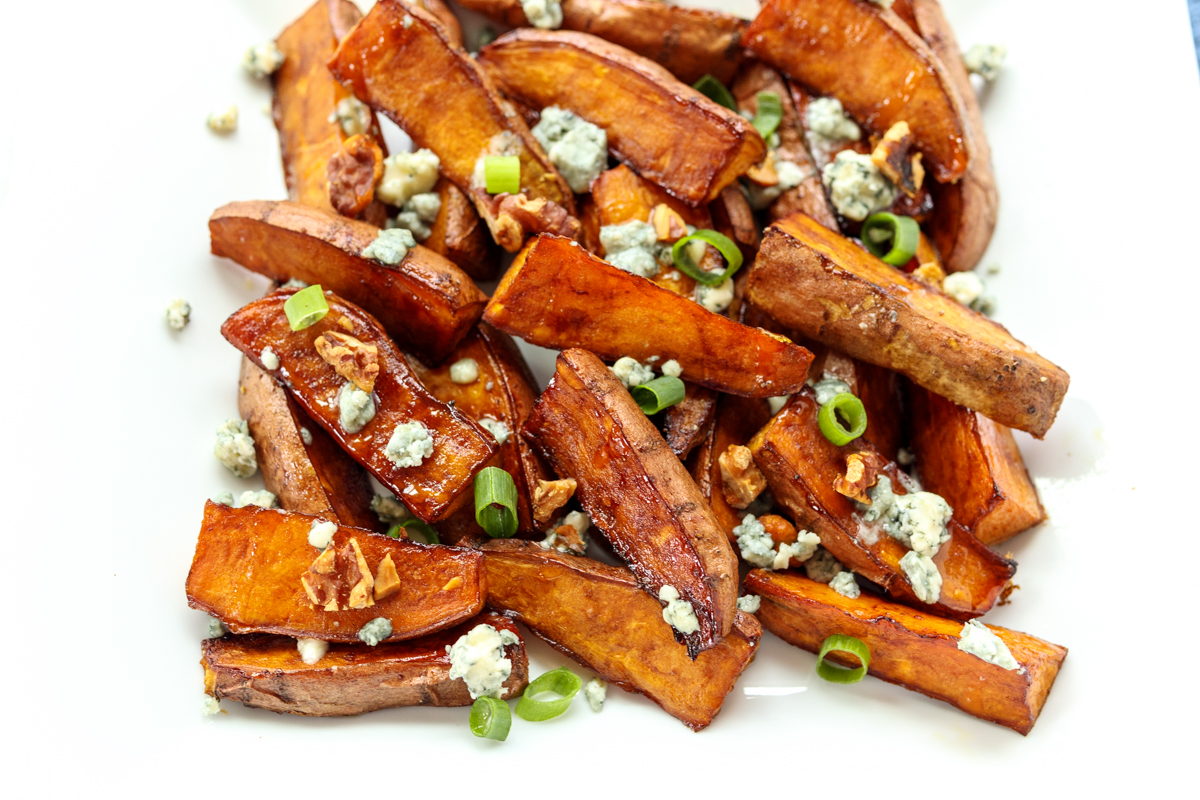 I have a somewhat decent system where once I try one of the recipes if I like it then the recipe will usually end up on Lemon & Mocha so I can recycle the original. Of course, if I don't like it then it immediately gets recycled. This way if I'm able to try some new recipes from the binder every once in a while I'm able to make room for all the new recipes I'm continually trying to shove in them. I figured I was long overdue in turning to my binders for some dinner inspiration. These roasted sweet potatoes from Cuisine at Home immediately caught my eye.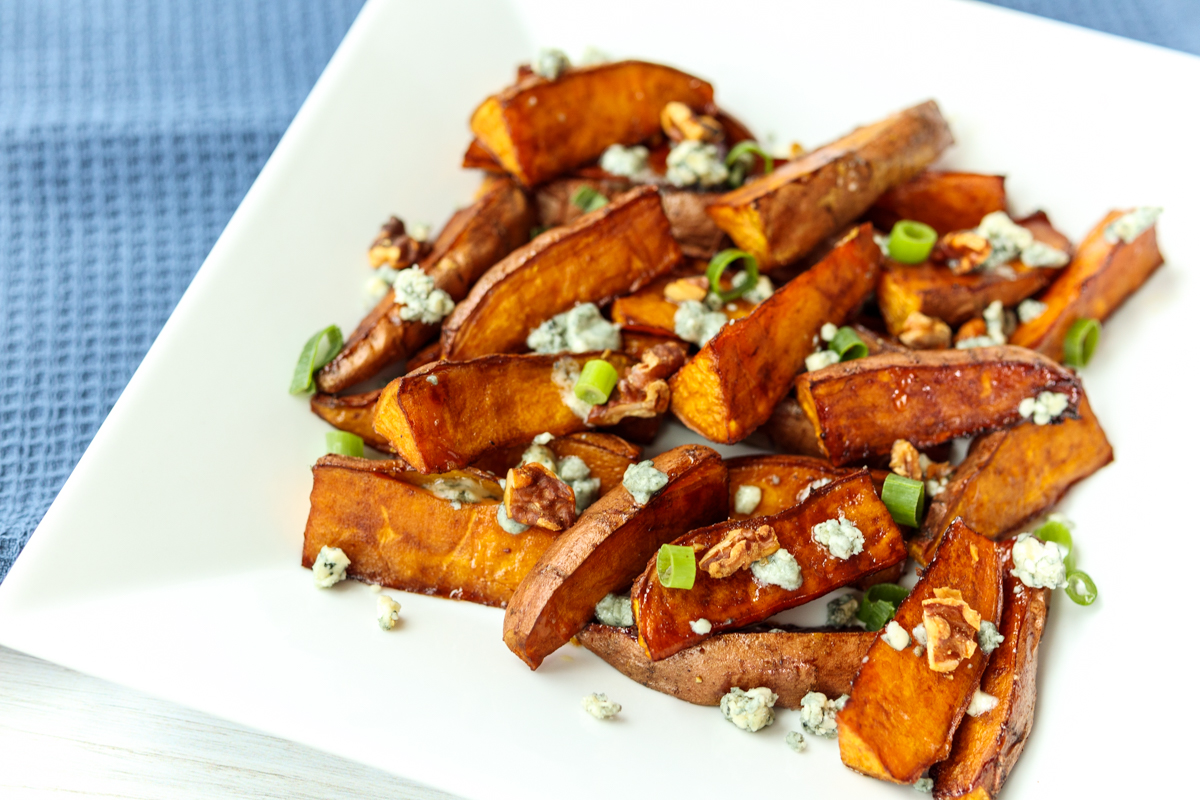 I love sweet potatoes, but I tend to simply roast them as wedges or bake them whole, which can get really boring. This recipe is just as easy, but adds an extra depth of flavor and richness to the potatoes. The sweet potato wedges are tossed in a mixture of olive oil, balsamic vinegar, brown sugar and salt and pepper. The brown sugar creates a subtle sweetness and caramelization, while the balsamic vinegar provides the right amount of acidity.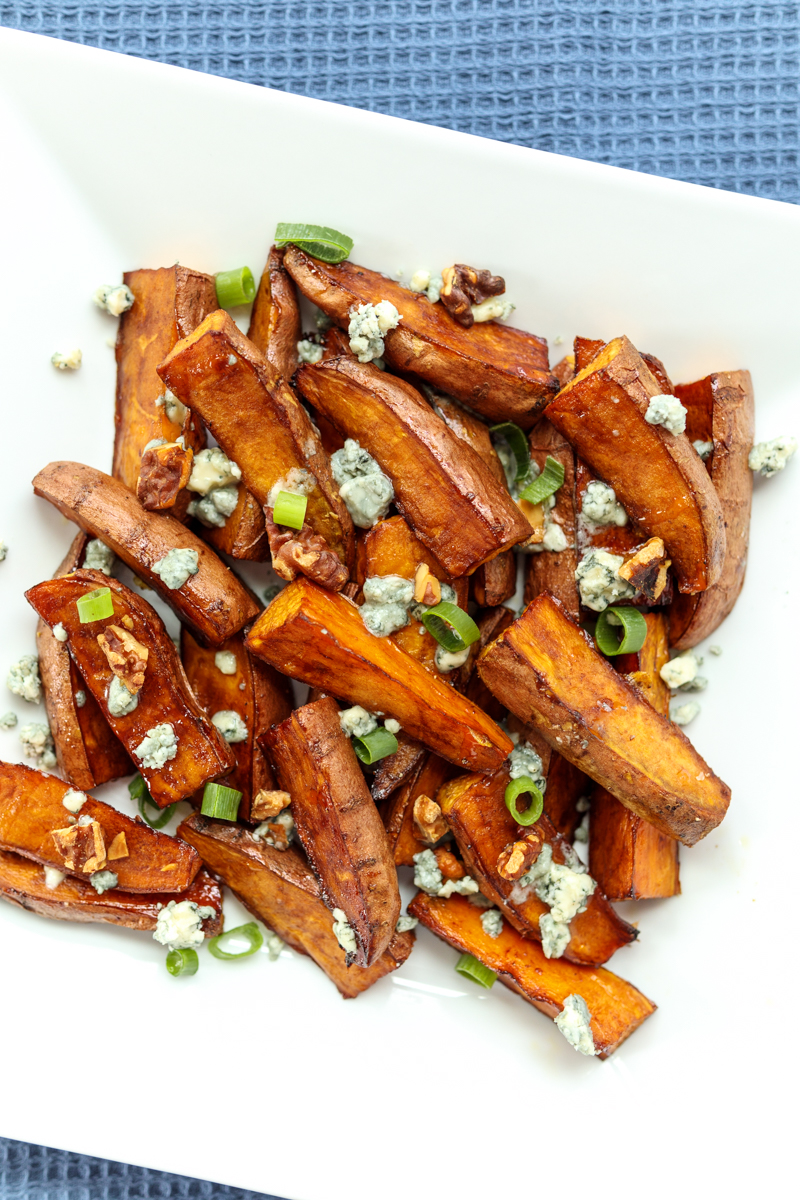 Crunchy toasted walnuts and creamy gorgonzola crumbles get tossed on top as soon as the roasted wedges are out of the oven. I decided to toss half the cheese crumbles on top of the potatoes during the last minute of cooking so that some of them got nicely melted while the others I sprinkled on top after they were out of the oven held their shape more to add an additional textural element to the dish. This works well with blue cheese crumbles as well, which is what I used since that's what was in my fridge. I hope you enjoy this simple and delicious sweet potato recipe!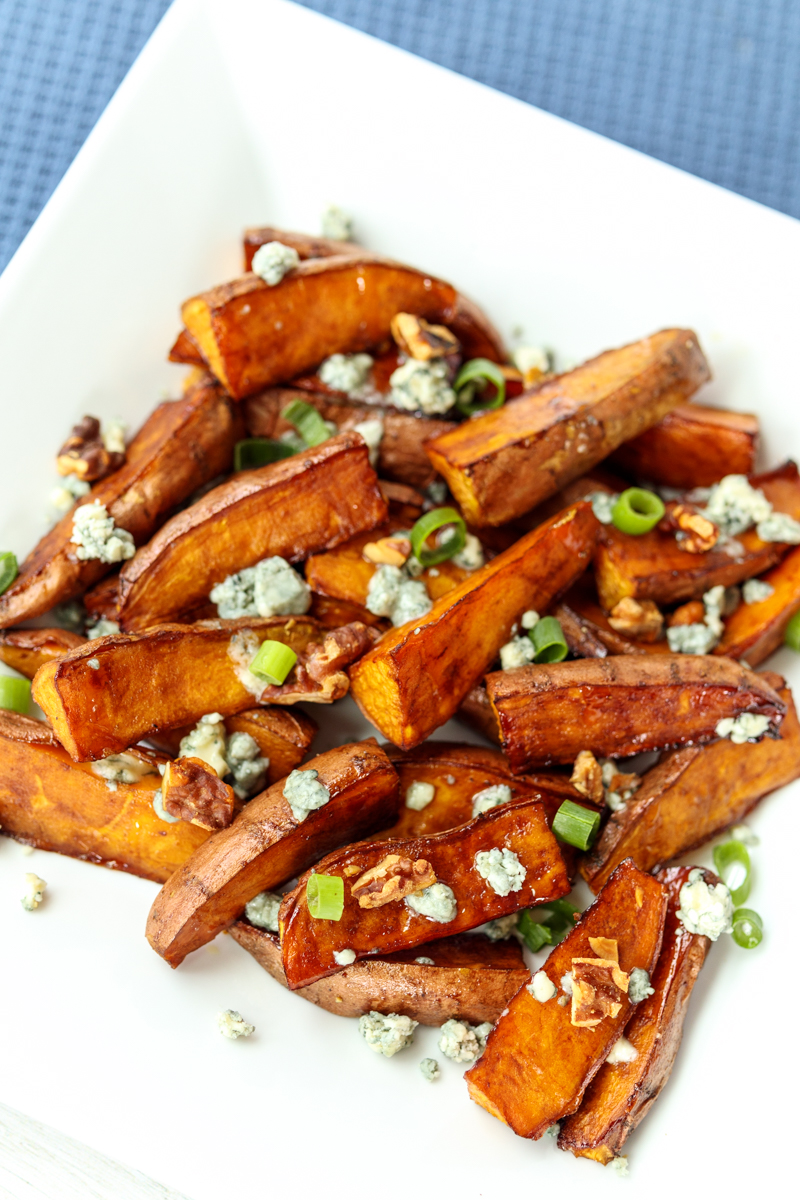 Balsamic Roasted Sweet Potatoes with Gorgonzola and Walnuts
Ingredients
2 tablespoons olive oil
2 tablespoons balsamic vinegar
1½ tablespoons brown sugar
2 sweet potatoes, about 16 ounces total
Salt and pepper
Toasted walnuts, for topping (see note)
Gorgonzola crumbles, for topping
Directions
Preheat the oven to 425 degrees F. Line a baking sheet with nonstick aluminum foil and set aside.
Whisk together the olive oil, balsamic vinegar and brown sugar in large bowl. Set aside.
Cut each sweet potatoes into 16 wedges. First, cut the sweet potato lengthwise. Then cut the sweet potato half into 4 long wedges. Cut each wedge in half to create 8 shorter wedges. Repeat for the other half of the sweet potato then repeat completely for the second sweet potato. Toss the sweet potato wedges in the bowl with the balsamic mixture. Place the wedges in a single layer on the prepared baking sheet then season with salt and pepper.
Bake the sweet potato wedges for 30 minutes, turning halfway through, until they are slightly caramelized and tender. Remove from the oven and immediately top with the toasted walnuts and gorgonzola crumbles before serving.
Notes
To toast walnuts, lay them on a single layer baking sheet and bake for about 5 minutes at 350 degrees F. Watch them carefully as you do not want them to burn and it doesn't take long for them to get toasted.
 Recipe from December 2011 issue of Cuisine at Home
.
Some of the links above are affiliate links, which means I may receive a small commission for my referral. This does not affect the retail cost of the item. Thank you for supporting Lemon & Mocha!