Balsamic Roasted Sweet Potatoes with Gorgonzola and Walnuts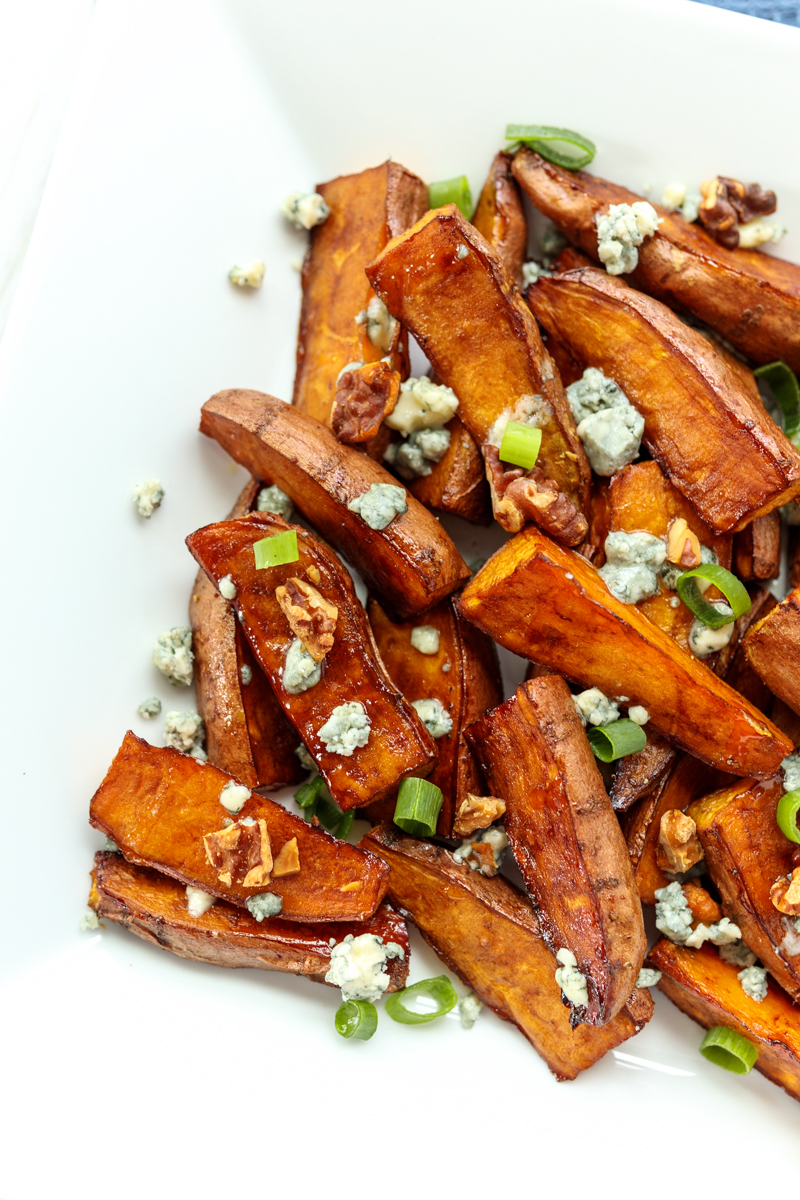 2 tablespoons olive oil
2 tablespoons balsamic vinegar
1½ tablespoons brown sugar
2 sweet potatoes, about 16 ounces total
Salt and pepper
Toasted walnuts, for topping (see note)
Gorgonzola crumbles, for topping
Preheat the oven to 425 degrees F. Line a baking sheet with nonstick aluminum foil and set aside.
Whisk together the olive oil, balsamic vinegar and brown sugar in large bowl. Set aside.
Cut each sweet potatoes into 16 wedges. First, cut the sweet potato lengthwise. Then cut the sweet potato half into 4 long wedges. Cut each wedge in half to create 8 shorter wedges. Repeat for the other half of the sweet potato then repeat completely for the second sweet potato. Toss the sweet potato wedges in the bowl with the balsamic mixture. Place the wedges in a single layer on the prepared baking sheet then season with salt and pepper.
Bake the sweet potato wedges for 30 minutes, turning halfway through, until they are slightly caramelized and tender. Remove from the oven and immediately top with the toasted walnuts and gorgonzola crumbles before serving.
To toast walnuts, lay them on a single layer baking sheet and bake for about 5 minutes at 350 degrees F. Watch them carefully as you do not want them to burn and it doesn't take long for them to get toasted.
Recipe by
Lemon & Mocha
at http://www.lemonandmocha.com/2019/03/29/balsamic-roasted-sweet-potatoes-with-gorgonzola-and-walnuts/