Asian Chicken Meatball Lettuce Wraps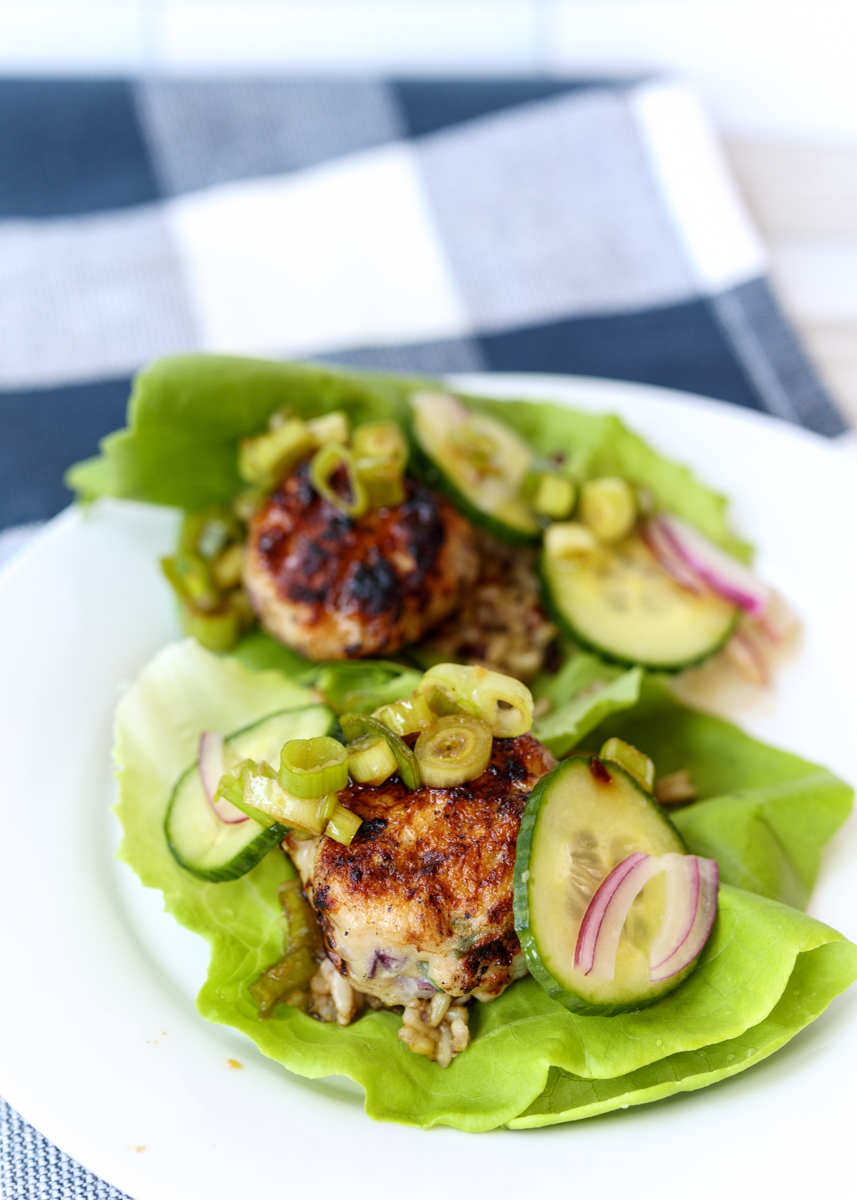 I love a good lettuce wrap, especially when it has fresh and tangy flavors like these Asian Chicken Meatball Lettuce Wraps. Today I'm sharing another healthy dinner recipe with you all, this time from my favorite little cookbook, the Cook This, Not That! cookbook. This is one that I've made sporadically over the years ever since buying that cookbook and every time I make it we talk about how we should have it more often.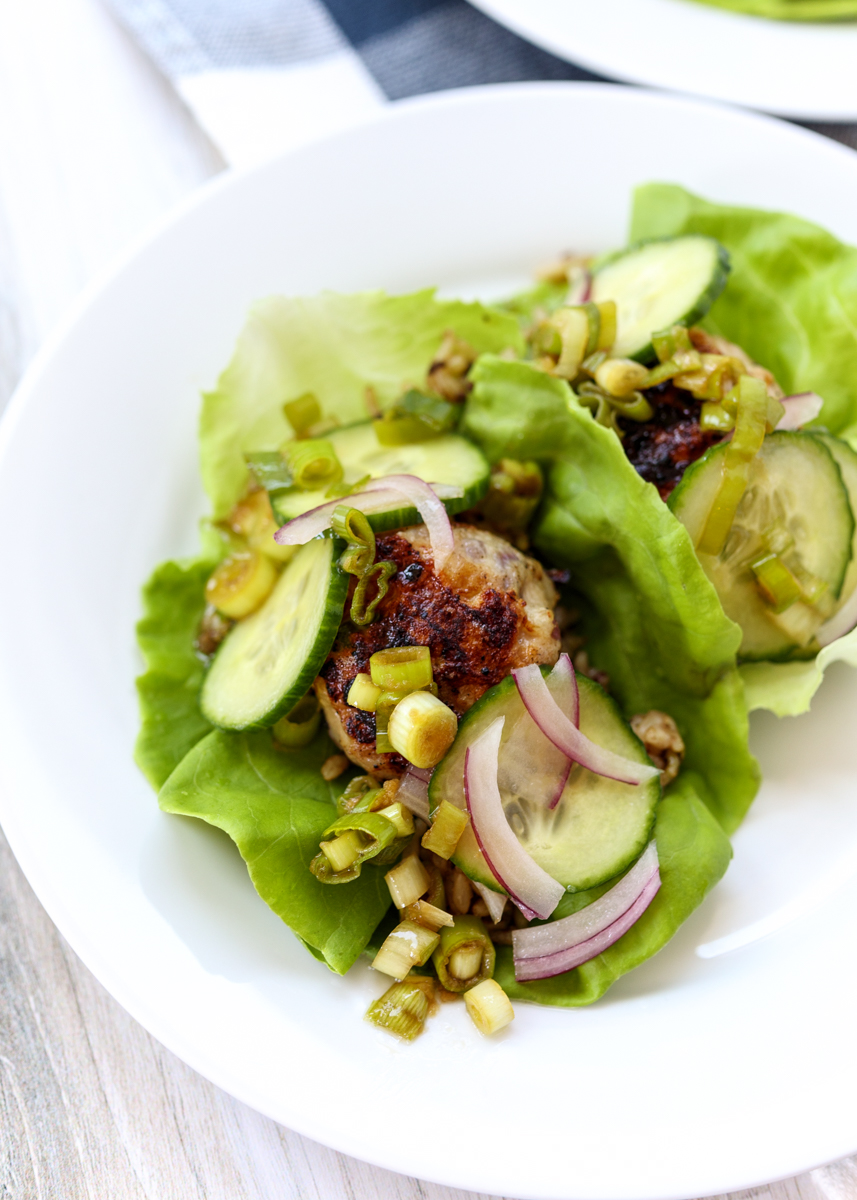 The chicken meatballs only have six ingredients, but they are packed with flavor. You can grill them on a grill or grill pan for a nice char. I've also baked them successfully. Just like with any good lettuce wrap or taco the key to keep you diving back in for more is a layering of flavors. In addition to the grilled chicken meatballs these wraps are also stuffed with a simple pickled cucumber salad and a delicious ginger scallion sauce. I cannot say enough good things about this sauce! I want to drizzle it over all my protein and rice dishes forever.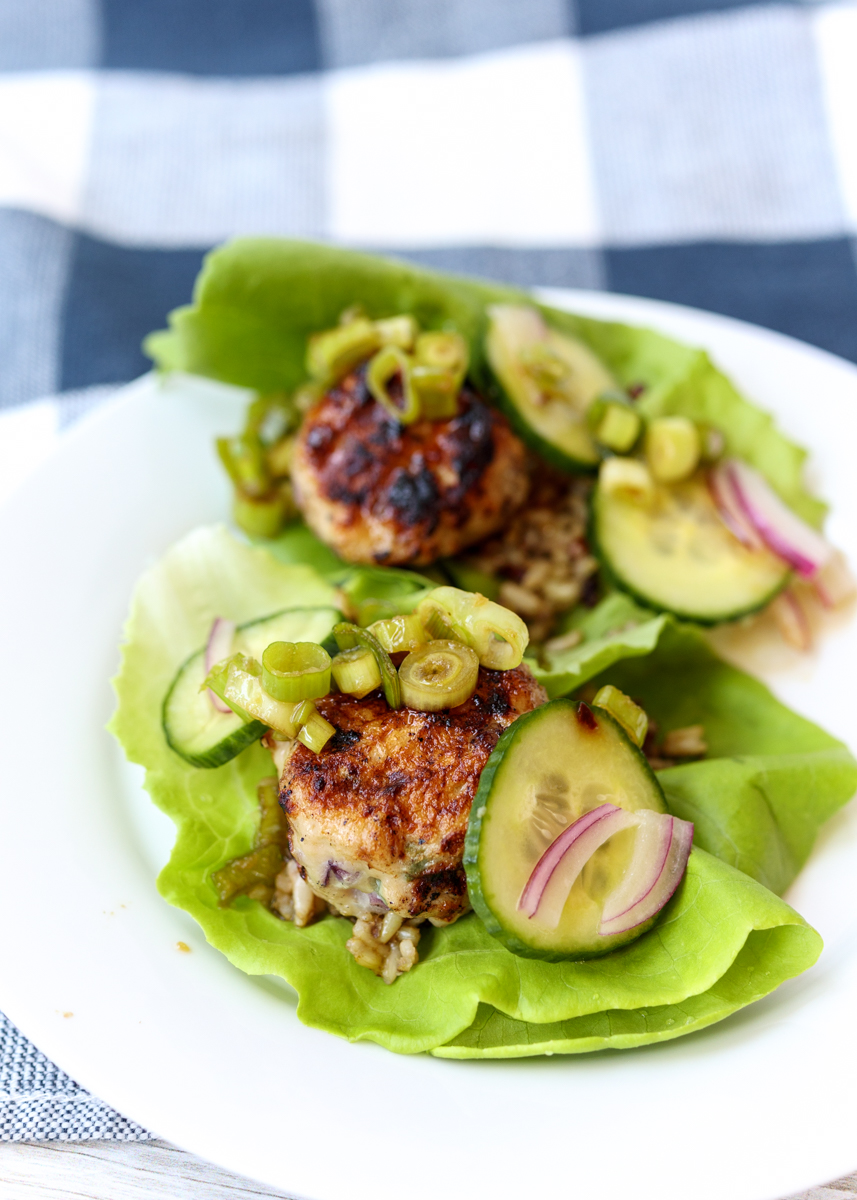 If you don't feel like fussing with the lettuce wraps you could always just serve this as a plated meal over the brown rice, but the lettuce does add some welcome freshness to the dish. Sometimes I have trouble finding ground chicken in the store so I've also made this dish with ground pork, which goes incredibly well with the pickled and ginger flavors. I hope you all enjoy this one!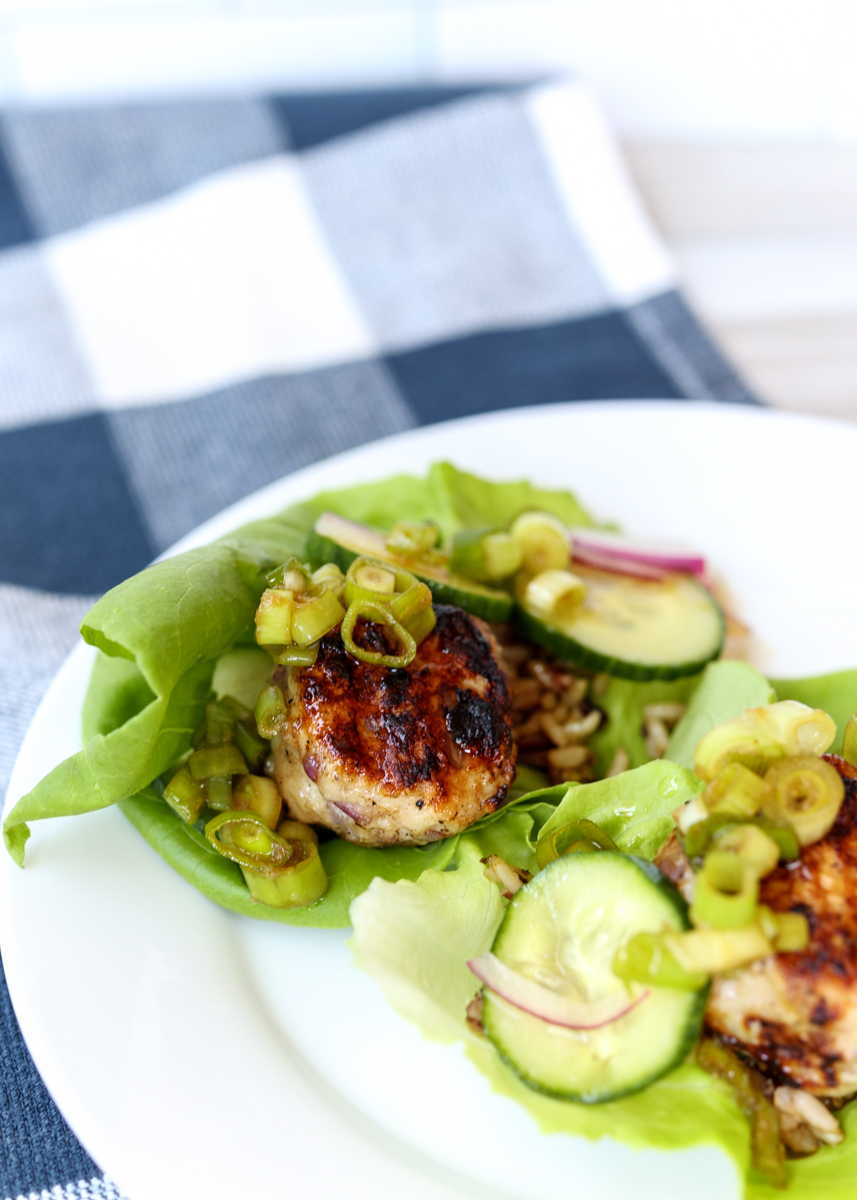 Asian Chicken Meatball Lettuce Wraps
Ingredients
for the pickled cucumber salad
½ large English cucumber, sliced into thin rounds
⅓ small red onion, thinly sliced
1½ teaspoons sesame oil
2 tablespoons rice wine vinegar
1½ teaspoons granulated sugar
½ teaspoon salt
½ teaspoon red chili flakes, optional
for the ginger scallion sauce
6-8 scallions, bottoms removed and thinly sliced
1 tablespoon grated fresh ginger
1 tablespoon low-sodium soy sauce
2 tablespoons vegetable oil
1 tablespoon rice wine vinegar
for the lettuce wraps
1 pound ground chicken or pork
½ red onion, minced
2 cloves garlic, minced
1 tablespoon grated fresh ginger
1 jalapeño pepper, minced (if you don't like spicy food remove all seeds and pith)
2 teaspoons granulated sugar
1 teaspoon salt
Boston lettuce leaves, for serving
Steamed brown rice, for serving
Directions
for the pickled cucumber salad
Combine the cucumber, onion, sesame oil, vinegar, sugar, salt and red pepper flakes (if using) in a mixing bowl. Let sit for at least 15 minutes before serving. Or make ahead as it will keep in the fridge for up to 5 days.
for the ginger scallion sauce
In a small mixing bowl, combine the scallions, ginger, soy sauce, oil and vinegar. Letting the sauce sit in the fridge for 30 minutes before eating will deepen the flavor.
for the lettuce wraps
Preheat a lightly oiled grill pan or grill over medium-high heat. If using a grill you might want to skewer the meatballs to make them easier to turn and cook.
Combine the ground chicken, onion, garlic, ginger, jalapeño, sugar and salt in a large mixing bowl until just combined. Be sure not to over-mix. Divide into 12 evenly sized meatballs. Grill for 4-5 minutes per side until they reach an internal temperature of 165 degrees F. Remove from the heat and use the lettuce to make wraps stuffed with the rice, grilled meatballs, pickled cucumber salad and ginger scallion sauce.
Recipe from

Cook This, Not That!

.
Some of the links above are affiliate links, which means I may receive a small commission for my referral. This does not affect the retail cost of the item. Thank you for supporting Lemon & Mocha!