Asian Chicken Meatball Lettuce Wraps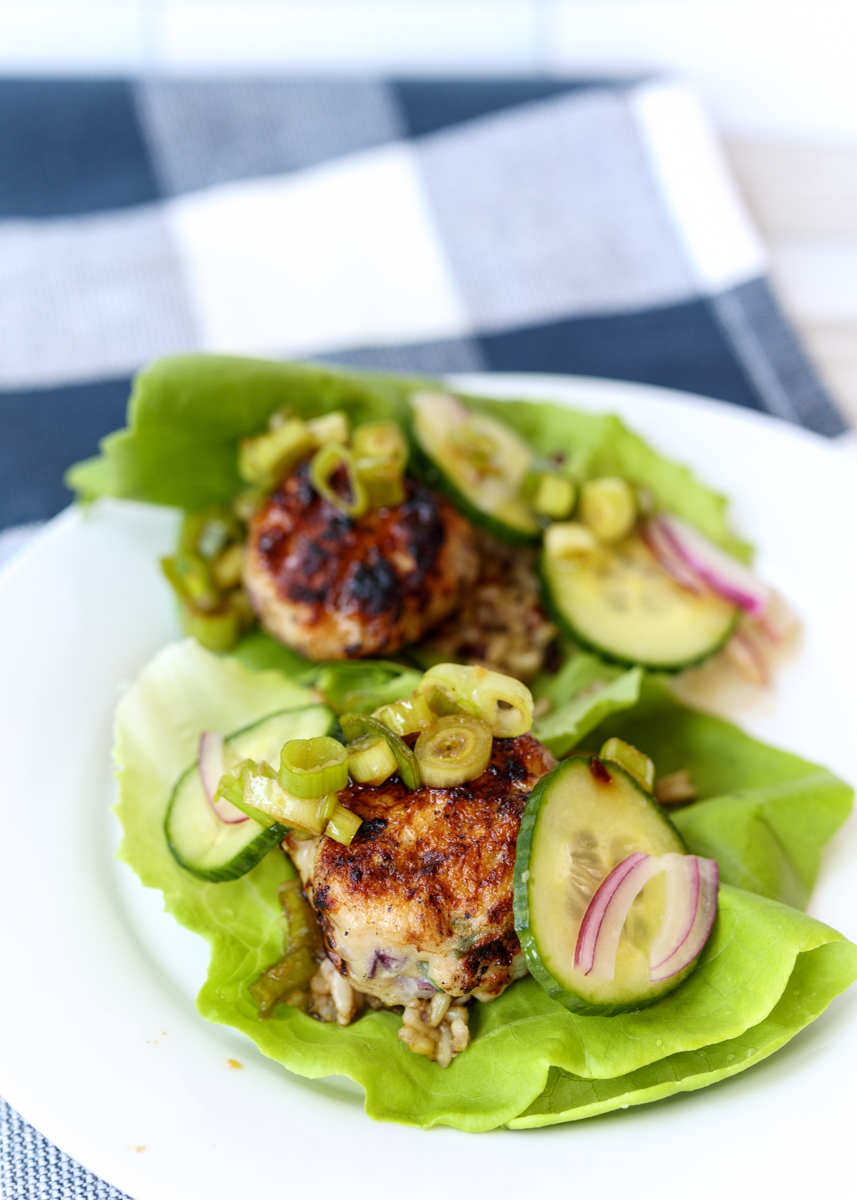 ½ large English cucumber, sliced into thin rounds
⅓ small red onion, thinly sliced
1½ teaspoons sesame oil
2 tablespoons rice wine vinegar
1½ teaspoons granulated sugar
½ teaspoon salt
½ teaspoon red chili flakes, optional
6-8 scallions, bottoms removed and thinly sliced
1 tablespoon grated fresh ginger
1 tablespoon low-sodium soy sauce
2 tablespoons vegetable oil
1 tablespoon rice wine vinegar
1 pound ground chicken or pork
½ red onion, minced
2 cloves garlic, minced
1 tablespoon grated fresh ginger
1 jalapeño pepper, minced (if you don't like spicy food remove all seeds and pith)
2 teaspoons granulated sugar
1 teaspoon salt
Boston lettuce leaves, for serving
Steamed brown rice, for serving
Combine the cucumber, onion, sesame oil, vinegar, sugar, salt and red pepper flakes (if using) in a mixing bowl. Let sit for at least 15 minutes before serving. Or make ahead as it will keep in the fridge for up to 5 days.
In a small mixing bowl, combine the scallions, ginger, soy sauce, oil and vinegar. Letting the sauce sit in the fridge for 30 minutes before eating will deepen the flavor.
Preheat a lightly oiled grill pan or grill over medium-high heat. If using a grill you might want to skewer the meatballs to make them easier to turn and cook.
Combine the ground chicken, onion, garlic, ginger, jalapeño, sugar and salt in a large mixing bowl until just combined. Be sure not to over-mix. Divide into 12 evenly sized meatballs. Grill for 4-5 minutes per side until they reach an internal temperature of 165 degrees F. Remove from the heat and use the lettuce to make wraps stuffed with the rice, grilled meatballs, pickled cucumber salad and ginger scallion sauce.
Recipe by
Lemon & Mocha
at http://www.lemonandmocha.com/2019/09/25/asian-chicken-meatball-lettuce-wraps/