Baked Pesto Turkey Meatballs over Lemon Cauliflower Rice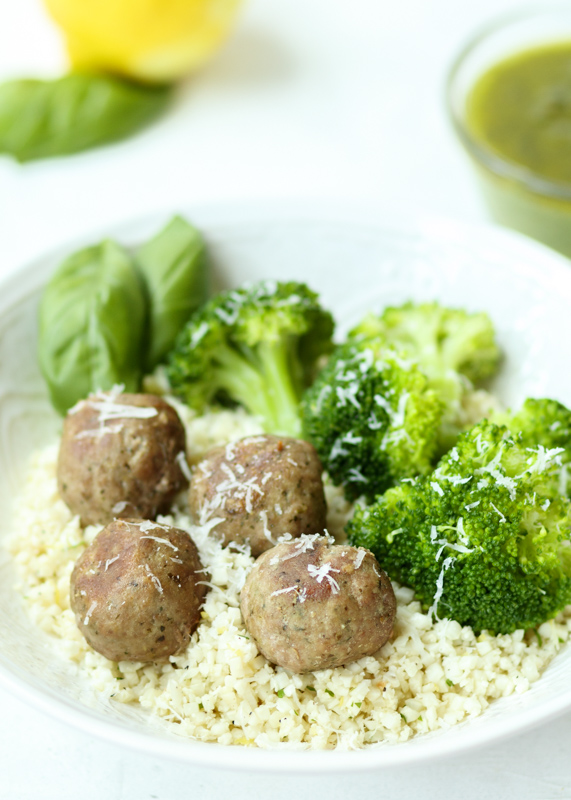 Grab your pesto because you need to make these Pesto Turkey Meatballs as. soon. as. possible! I got the idea for these meatballs from a Hello Fresh box Matt and I got a couple months ago. Usually I already have our meals planned out, but every once and a while we will order one of those meal prep boxes to switch it up. The inspirational meal was pesto turkey burgers. It basically only used pesto to flavor the ground turkey, but I was shocked when the burgers were juicy and so flavorful. I decided to take that concept and create Pesto Turkey Meatballs.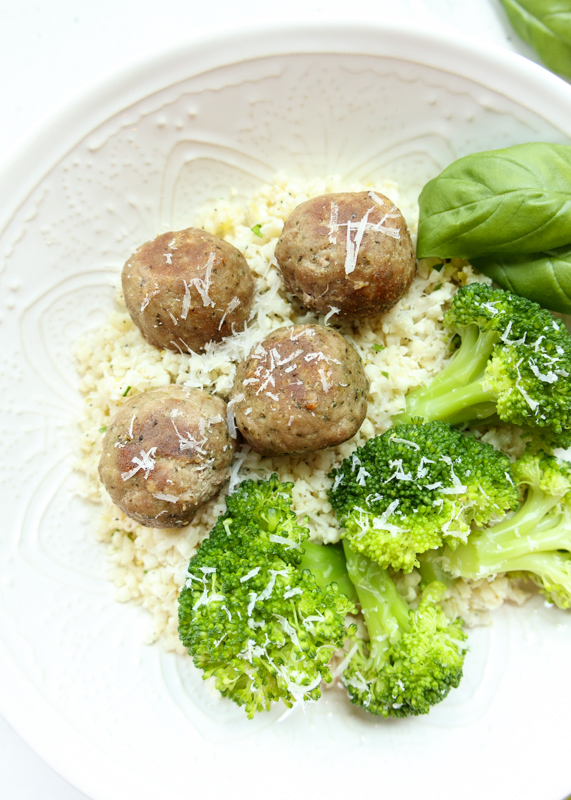 Since I made first these, we've eaten them right from the oven, reheated in the microwave and even baked from frozen. Every time they taste so damn good! Ground turkey can tend to be dry, but the basil pesto keeps the meatballs incredibly moist, while also imparting a strong garlic, herb and Parmesan flavor. I added a little olive oil to the ground turkey mixture because I wanted to make sure they would be moist enough.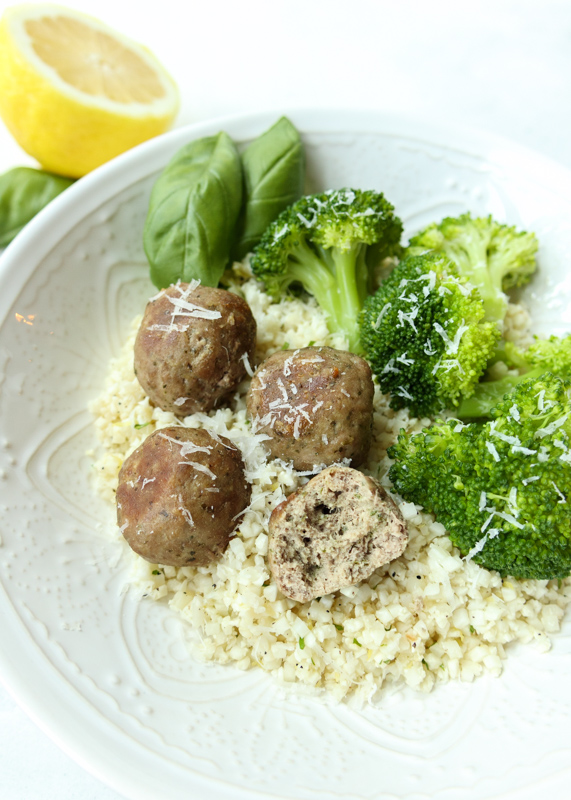 I love that once you make a bunch they are such a quick and easy meal. I included instructions for freezing them in the recipe below. As delicious as these Pesto Turkey Meatballs are, I need to talk about this Lemon Cauliflower Rice. As you all know, I'm obsessed with lemon and it pairs really well with pesto. Remember way back when to the Kale and Walnut Pesto Pasta with Lemon Shrimp?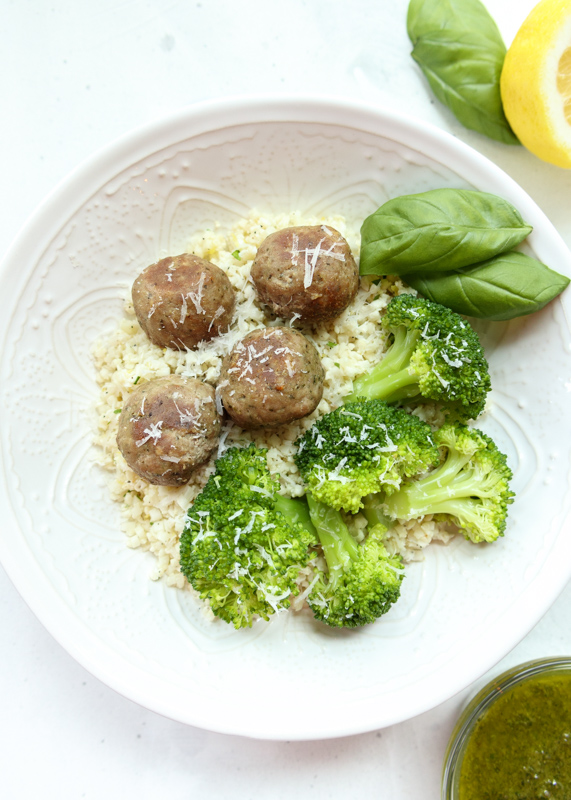 I wanted to keep the meal healthy and veggie-centric so I decided to use cauliflower rice. How awesome is it that you can get frozen or fresh riced cauliflower (and other veggies!) in pretty much every grocery store now? It is such a healthy and fun way to switch up your usual meals. The Lemon Cauliflower Rice is so simple it's ridiculous, but like a super addictive and flavorful ridiculous. You sauté garlic and the riced cauliflower together then stir in lemon zest, lemon juice, salt and pepper. Done!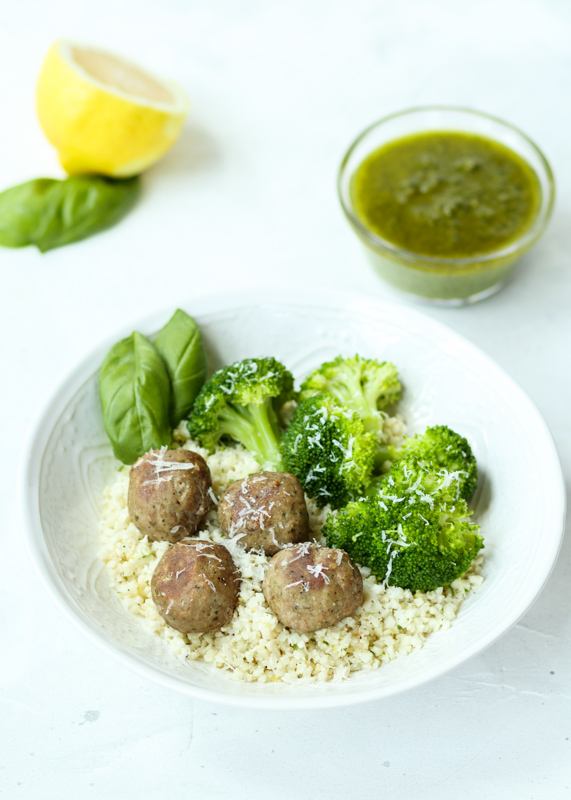 I served these with some steamed broccoli and it was definitely two nights of silent dinner – also known as we didn't say anything because we were too busy stuffing our faces!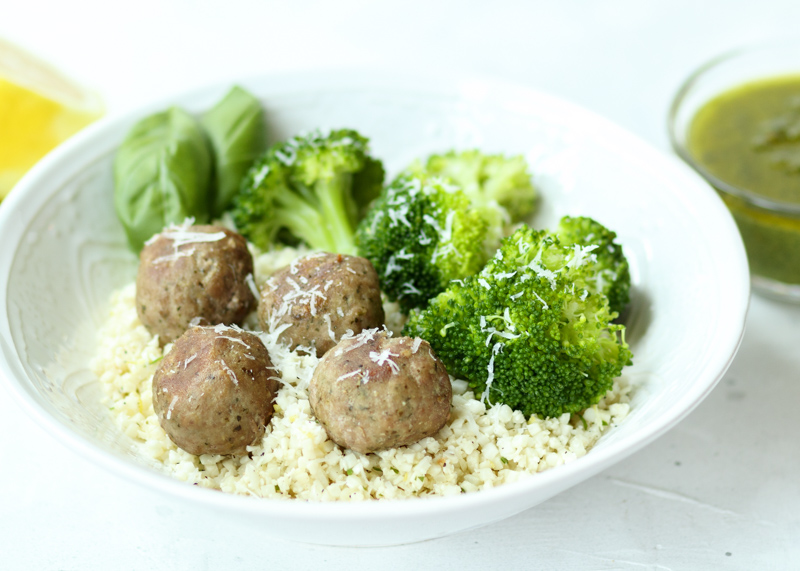 Baked Pesto Turkey Meatballs over Lemon Cauliflower Rice
Ingredients
for the pesto turkey meatballs
16 ounces ground turkey
¼ cup basil pesto
2 tablespoons olive oil
¼ teaspoon salt
¼ teaspoon ground black pepper
for the lemon cauliflower rice
2 cloves garlic
1 tablespoon olive oil
16 ounces riced cauliflower, about 4 cups
½ lemon, zested
1 tablespoon lemon juice
¼ teaspoon salt
¼ teaspoon pepper
Directions
for the pesto turkey meatballs
Preheat the oven to 400 degrees F. Line a baking pan with nonstick aluminum foil or spray with nonstick spray. Set aside.
In a medium mixing bowl, combine the ground turkey, pesto, olive oil, salt and pepper. Try not to over-mix. Form the mixture into 16 meatballs and place on the prepared baking sheet. I like to divide the mixture in the bowl into 4 sections, then make 4 even-sized meatballs out of each section. Bake for 20 minutes or until they reach an internal temperature of 165 degrees F. Serve over the cauliflower rice with steamed broccoli.
for the lemon cauliflower rice
Mince the garlic. Heat the olive oil in a sauté pan over medium-high heat. Add the garlic and sauté until fragrant, about 1 minute. Add the riced cauliflower and cook until almost tender. Add the lemon zest, lemon juice, salt and pepper. Stir to combine and remove from the heat when the cauliflower rice is tender.
Notes
This is what I did to freeze the meatballs. I lined a small baking sheet that would fit in my freezer with wax paper. Then I formed the meatballs and placed them on the prepared baking sheet. Put them in the freezer and leave them in there until they harden then remove and put them all into a freezer bag. I baked them right from frozen and just added a couple minutes onto the baking time. Just temp them and make sure they reach 165 degrees F.
You can use fresh or frozen riced cauliflower for this recipe. I used the Trader Joe's frozen riced cauliflower.