Halloween Monster Turkey Burger Sliders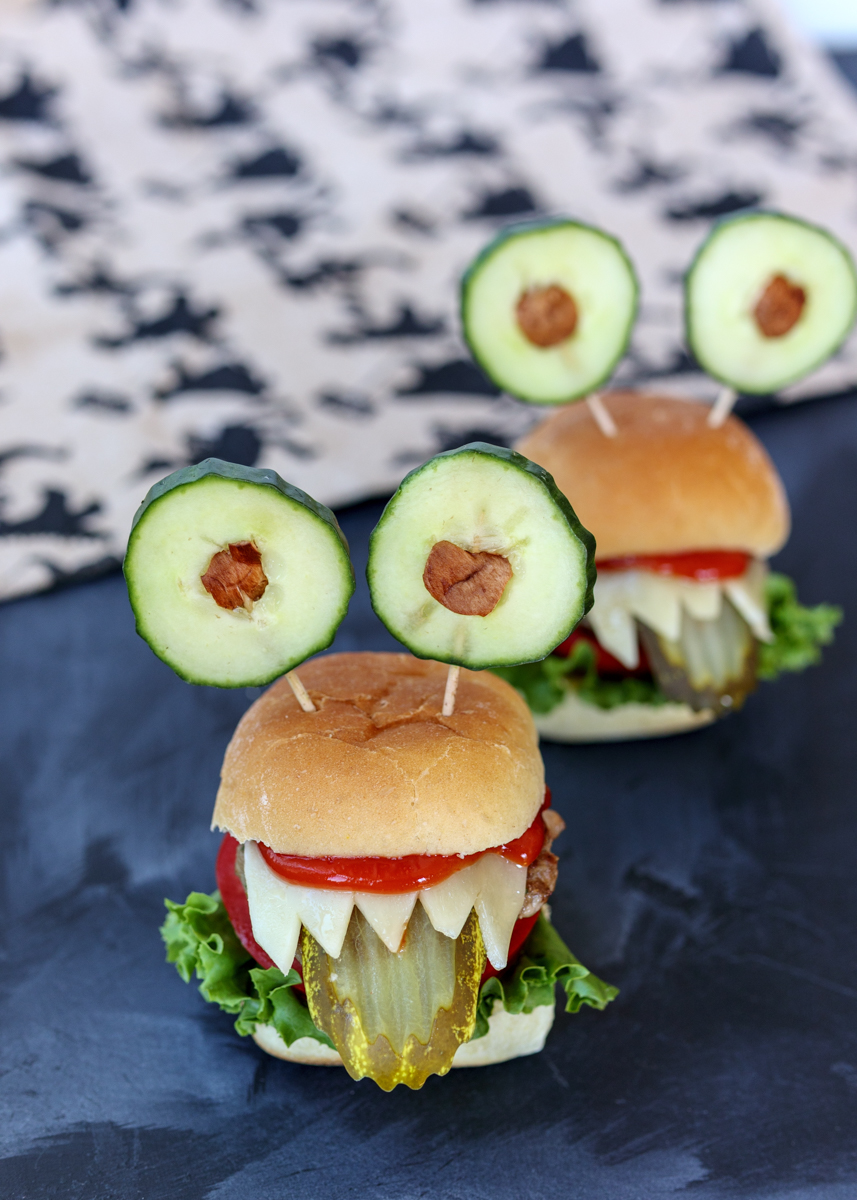 5-6 cremini mushrooms, stems removed, plus more for eyes
½ shallot
3 tablespoons fresh parsley
1 pound ground turkey, 90% lean
2 tablespoons olive oil
1 teaspoon Worcestershire sauce
1 teaspoon salt
¼ teaspoon ground black pepper
1 English cucumber
16 toothpicks
4 slices deli cheddar or American cheese
8 slider buns
8 small pieces of romaine lettuce
8 small slices of tomato
4 pickle sandwich slices, cut in half
Ketchup
Add the cremini mushrooms, shallot and parsley to a food processor. Process until finely chopped. If you don't have a food processor, finely chop by hand.
In a large bowl, combine the mushroom mixture, ground turkey, olive oil, Worcestershire, salt and pepper, being sure not to over-mix. Divide the mixture into 8 even portions and form into slider patties, roughly a little bigger than the size of your slider buns. Let patties set in the fridge, covered, for 30 minutes.
While the patties are in the fridge, prep your monster eyes and cheese teeth. Slice the English cucumber so you have 16 rounds. The slices can be thin, but not so thin that you'll have difficulty securing them with a toothpick. Use extra cremini mushrooms to cut out little circles that will be the center of the eyes. Carve a little round out of the center of an English cucumber slice the size of one of your mushroom eye centers. Stick the mushroom center into the hole in the cucumber and stick a toothpick up through the cucumber and the mushroom piece securing it in place. Repeat for the remaining 15 eyes. For the cheese teeth, cut each slice of cheese in half then cut little teeth points at the edge of each slice. Repeat until you have 8 cheese teeth slices.
Lightly spray a grill pan or nonstick sauté pan with olive oil cooking spray and heat over medium-high heat. Cook the slider patties for 4 minutes on each side, or until they reach an internal temperature of 165 degrees F. Remove from the heat and add a cheese teeth slice to each slider so that the teeth prongs overhang a little.
To assemble a slider, place a piece of lettuce on the bottom slider bun. Top with a tomato slice then the cheese-topped patty. Lift up the cheese a little to tuck the pickle half underneath so it sticks out like a tongue. Top with some ketchup then the top slider bun. Stick two cucumber toothpick eyeballs into the top. Repeat for the remaining sliders.
Recipe by
Lemon & Mocha
at http://www.lemonandmocha.com/2019/10/30/halloween-monster-turkey-burger-sliders/