Chocolate Chip Cookie Butter Cheesecake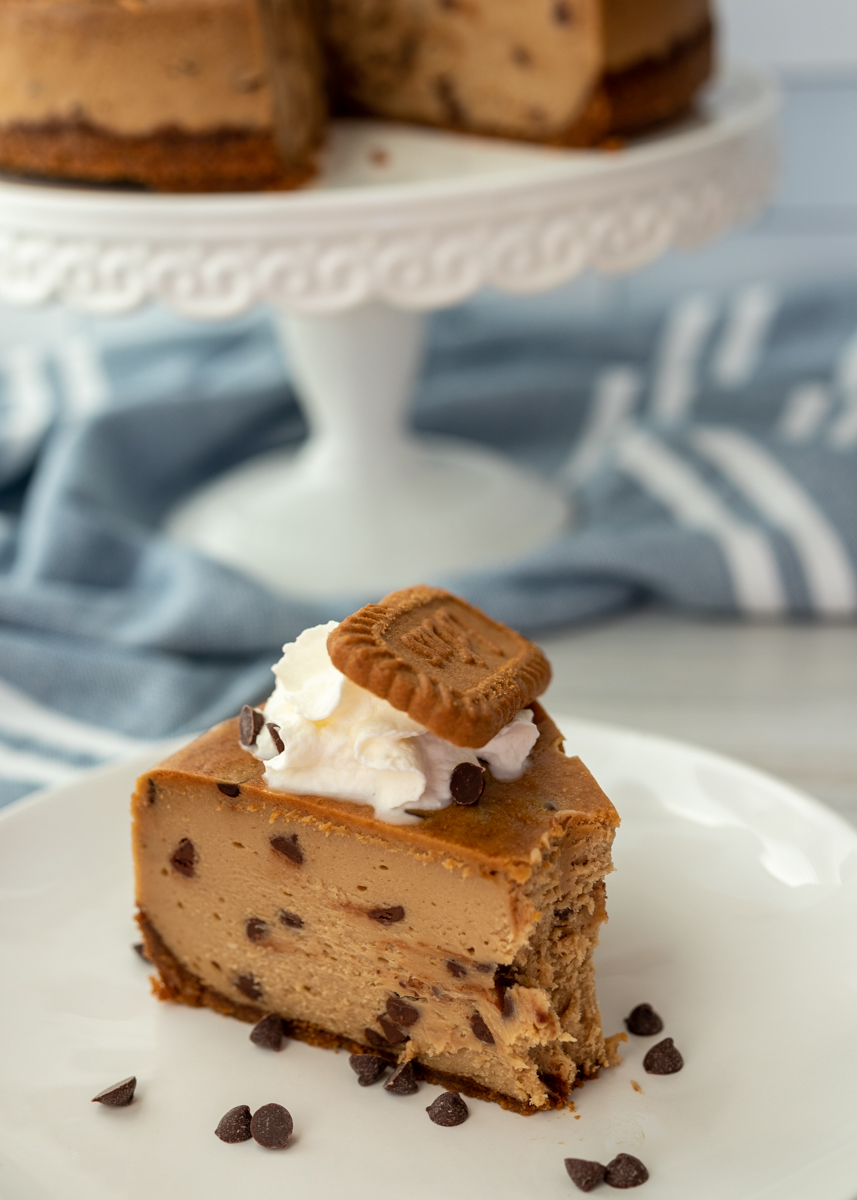 32 biscoff / speculoos cookies (about 1 package of cookies), divided
4 tablespoons unsalted butter, melted
¼ teaspoon salt
2 pounds cream cheese (that's 4 8-ounce packages), room temperature
1½ cups brown sugar
1 cup cookie butter, plus more for topping if desired
2 teaspoons vanilla, divided
1½ cups heavy cream, divided
4 large eggs
1 cup mini semisweet chocolate chips
¼ cup confectioners sugar
Preheat oven to 350 degrees F. Spray a 9-inch springform pan with cooking spray then tightly wrap aluminum foil around the bottom and up the sides. This is to keep the water coming in from the water bath the cheesecake will be sitting in while cooking.
Turn 26 of the speculoos cookies into fine crumbs using a food processor or whacking with a rolling pin. In a medium mixing bowl, combine the cookie crumbs, melted butter and salt until it resembles coarse sand. Pour the mixture into the prepared pan and press it into the bottom and up the sides in an even layer. Bake for 8 minutes then let cool completely.
To make the filling, beat the cream cheese, brown sugar and cookie butter in a large bowl with a hand mixer or in the bowl of a stand mixer with the paddle attachment. Beat on medium speed then increase to medium-high and continue to beat until super smooth, scraping down the sides as needed. Add 1 teaspoon of the vanilla and heavy cream then beat until combined. Add the eggs one at a time, beating until just combined after each addition. Fold in the mini chocolate chips then pour the filling onto the cooled crust.
Reduce oven to 325 degrees F. Place the springform pan on a baking pan then place in the oven. Carefully pour water into the baking pan so the water comes about ½-inch to 1-inch up the side of the springform pan. Bake for 1 hour and 15 minutes to an hour and 30 minutes. It is done when there is a 2-3" wobble in the center. Turn the oven off and crack it open, leaving the cheesecake inside. I usually wedge a wooden spoon in the door to leave it cracked. After the hour, carefully remove from the water bath and place on a cooling rack to cool completely. Once cool, cover with plastic wrap and place in the fridge for at least 6 hours or overnight.
When ready to serve, make the whipped cream. Place the metal mixing bowl or the metal bowl of a stand mixer back in the freezer along with the metal beaters or beater for 5-10 minutes. Remove and add the remaining cup of the heavy cream (make sure your cream is cold), confectioners sugar and the remaining teaspoon of vanilla extract. Beat on medium-high until stiff peaks form. Remove the cheesecake from the springform pan and top with additional cookie butter if desired. Pipe the whipped cream on top then add the remaining 6 cookies and serve.
Recipe by
Lemon & Mocha
at http://www.lemonandmocha.com/2020/01/31/chocolate-chip-cookie-butter-cheesecake/