Christmas Tree Cupcakes
aka Chocolate Cupcakes with Chocolate Almond Ganache Filling and Coconut Buttercream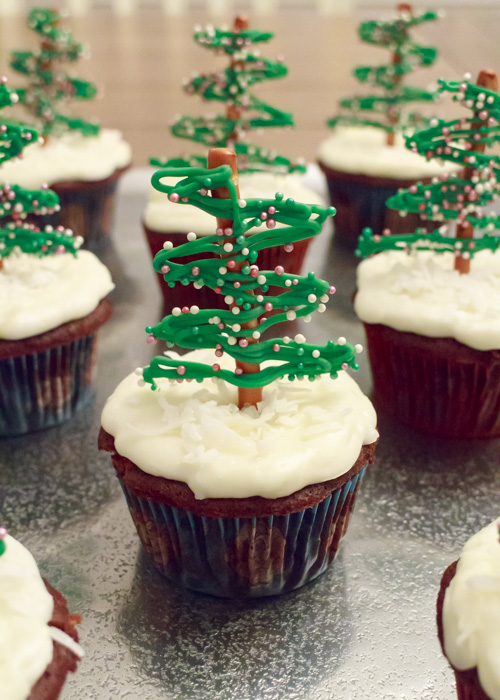 I can't even with these cupcakes! Just look at their adorableness! Now I haven't discussed it much on the blog, but I am not a decorator. I love to bake and I love to cook, which is mostly because I really, really (did I say really?) love to eat. But I do not like trying to make my food look pretty. If it ends up looking nice in the end that's just an added bonus. I do not have the patience for it, although one day I would like to learn how to decorate and style my baked goods and dishes better.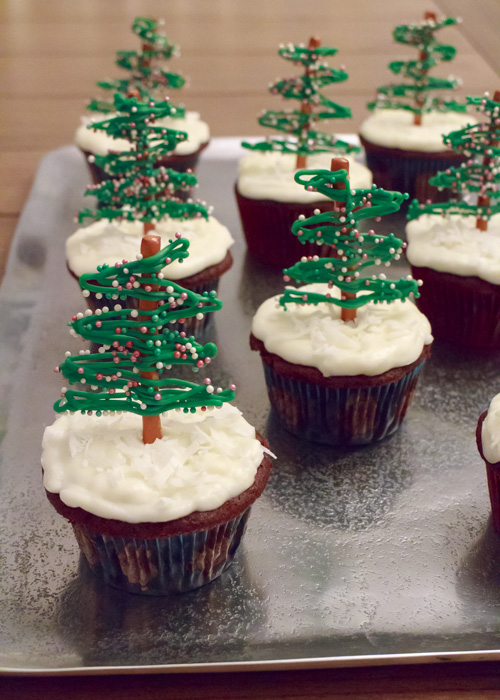 In the meantime, I'm just a regular home baker trying to make the best tasting things I can dream up. Where I'm going with all this is that if I can make these cupcakes look this ridiculously adorable that means you can, too. As long as you're armed with the right ingredients and the right tools then you will be good to go.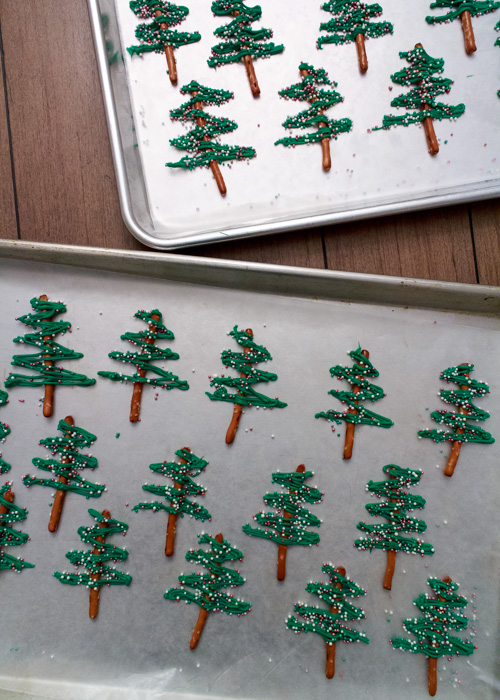 Now, I've been so busy talking about the cute tree decorations that I haven't even gotten to how amazing the cupcake tastes. I am obsessed with my Perfect Chocolate Cupcakes and my Chocolate Ganache so adding almonds and a coconut buttercream seemed like a fitting and delicious enhancement. The texture of the coconut buttercream is light and fluffy, while still being rich enough to stand up to the chocolate cupcake. You can adjust the intensity of the coconut flavoring based on your personal preference. That chocolate almond ganache is its usual swoon-worthy self amped up with chopped almonds to be the perfect molten surprise. Now have a bit of everything all together and yippee! Damn that's good!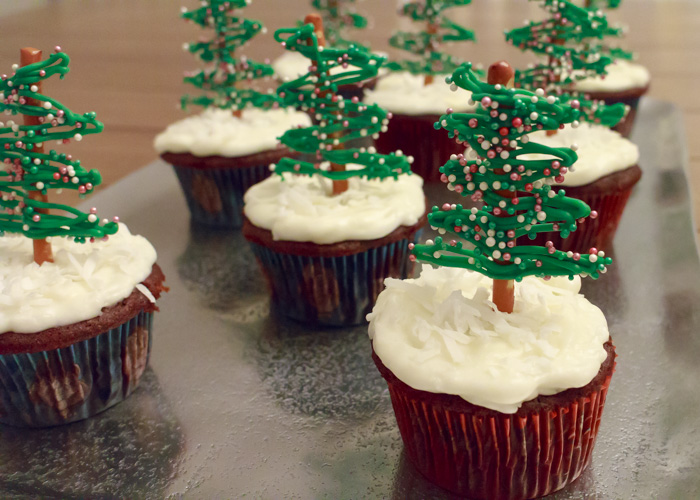 My favorite part about these cupcakes though are the reason I was inspired to make them: they remind me of my Babu. Everyone in my family has ceramic Christmas trees that my grandma painted. I know everyone in my family thinks about Babu everyday, but especially when they turn on their ceramic tree. They are decorated with little colored light "ornaments" and when they light up they remind me of everything that is wonderful and simple about Christmas. They make me think of family and tradition. I'm instantly transported to sitting with Babu at my parent's house and putting in all the little lights while the smell of her cookies comes from the kitchen. Then suddenly we're eating the cookies, making Christmas paper chains, putting ornaments on the tree, then snuggled in her bed reading our favorite Christmas stories. She even let me sing her Christmas carols and anyone who knows how, um, interesting, my singing voice is will know what a saint she was for that.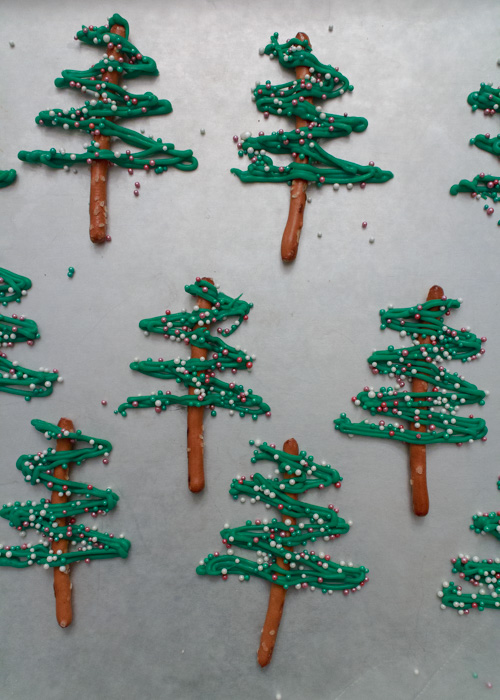 Although I loved, and very much miss, our crazy Christmas mornings with all my aunts, uncles and cousins, one of my favorite Christmas mornings with Babu was when I was older. We were at my parents' house for Christmas morning and since it was just my brother and me, who were both in high school, everyone was sleeping in before present-opening. Babu and I are early risers so the two of us sat by the tree in the still, quiet house and opened a couple of our presents for each other having our very own private mini Christmas morning. It is a memory I will cherish forever. So happy holidays and merry Christmas to all my friends, family and fellow food lovers! Take a moment, or two, throughout all the craziness to enjoy the little things that will mean so much to you for years to come.
Christmas Tree Cupcakes
Ingredients
for the cupcakes
for the chocolate almond ganache
¾ cup heavy cream
1- 12 ounce bag of bittersweet chocolate chips
3 tablespoons unsalted butter, softened
1 cup chopped almonds, more or less depending on preference
for the coconut buttercream
2 sticks unsalted butter, room temperature
6 cups powdered sugar
½ cup milk
1 teaspoon coconut extract
1 cup sweetened shredded coconut, more or less depending on preference
Additional sweetened shredded coconut for decoration
for the tree decorations
24 pretzel sticks
½ bag green candy melts
Nonpareils
Directions
for the cupcakes
Make the Perfect Chocolate Cupcakes according to the instructions then let cool.
for the chocolate almond ganache
Heat the cream over medium heat until steaming, stirring constantly.
Once steaming, remove the cream from the heat. Add the chocolate and stir then let sit for 5 minutes.
Add the butter to the chocolate mixture then stir until smooth. You might have to return to the lowest heat possible while stirring to get it completely smooth.
Add the chopped almonds and stir to combine. Let cool until only slightly warm (I'm not sure if the cooling is completely necessary, but I thought the hot ganache would seep into the cupcake).
for the coconut buttercream
Beat the butter for 3-5 minutes, or until smooth and fluffy, with an electric mixer.
On low speed carefully add the sugar, milk and coconut extract and mix. If the frosting looks too thin slowly add some more powdered sugar, but I didn't need to for this recipe. Add the shredded coconut and stir well to combine.
Spread or pipe a thin layer onto the top of the cupcake. You might find piping easier because of the open hole with the ganache. Top with some shredded coconut for a "snow" effect.
for the tree decorations
Line two baking sheets with wax paper. Use a baking sheet with edges so the nonpareils don't go flying all over your kitchen. Place the pretzel sticks a few inches apart.
Prep a pastry bag with a skinny round tip (I think I used a Wilton round tip #2). Heat the candy melts in a double boiler over medium-low heat, stirring occasionally, until completely melted and smooth. Be sure not to overheat so the chocolate doesn't seize up. Carefully transfer to the pastry bag.
Pipe the chocolate over each pretzel stick in the shape of the a tree. I made single zig-zag lines then went over them two more times. Start up a bit from the base of the pretzel stick so there's room to press the decoration into the cupcake. Do a couple then top with nonpareils or have a sprinkle elf help and sprinkle after you pipe (thanks, Matt!). Let sit at room temperature until firm then carefully pop off the wax paper. To place in the cupcakes I found it easiest to hold and press from the little bit of pretzel at the top - the chocolate is fragile and will break if you press it.
Notes
You can typically find candy melts (sometimes called chocolate or candy wafers) at your local craft store, such as Michaels or A.C. Moore.
This recipe makes enough ganache and buttercream for about 35 cupcakes so you will have leftover unless you make a double batch of cupcakes or reduce the ganache and buttercream recipes.
Chocolate almond ganache adapted from

The Curvy Carrot

.
Coconut buttercream adapted from

Martha Stewart

.
Chocolate tree inspiration from

Just a Taste

.