Ultimate Foodie Weekend in NYC – Where to Eat in NYC Part 1
Last fall Matt and I ventured to New York City to visit my cousin, Sarah, my brother-in-law, Nick, and of course TO EAT ALL THE FOOD. New York City has so many over-the-top food creations and I was dying to check some off my enormous bucket list. I'm not sure what it says about me that my food bucket list is bigger than my actual bucket list… I'm going to go with it means I need to eat more!
Of course there is so much more to explore in the NYC food scene that this is just the tip of the iceberg, but read on for NYC's must try food trends, restaurants and outrageous sweet treats.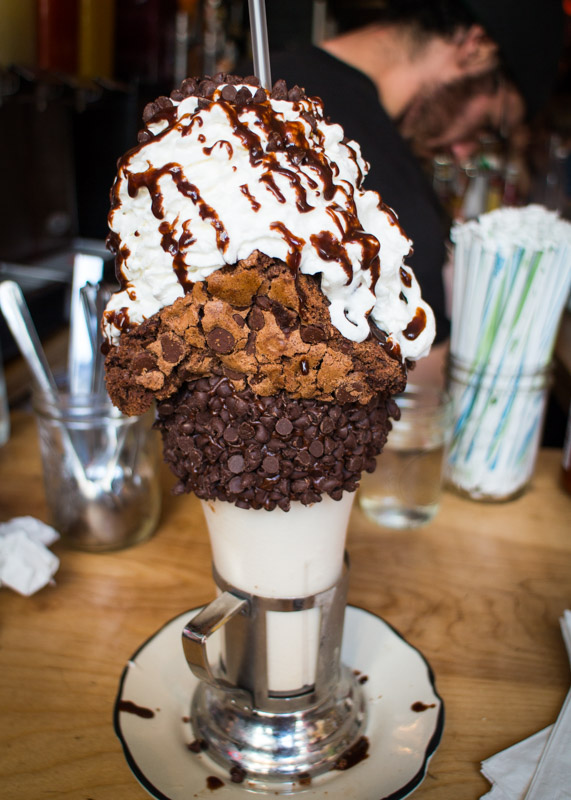 Black Tap NYC
Calling all chocolate lovers! This right here is the Brooklyn Blackout Shake from Black Tap NYC! The milkshake glass has a thick rim of mini chocolate chips nestled into chocolate frosting topped with a chocolate chip brownie, whipped cream and a chocolate drizzle. Black Tap has eight different milkshake flavors and you can substitute any flavor you want to accompany the crazy milkshake topping.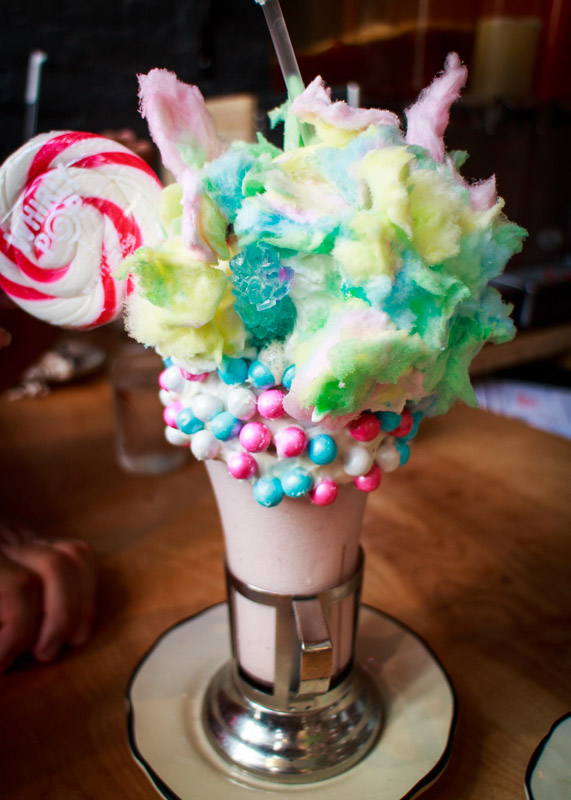 Woah! Yes, my friends, this is a milkshake. Say hello to the Cotton Candy Shake: strawberry milkshake, rock candy, whipped cream, cotton candy and rimmed with colorful chocolate pearls pressed into vanilla frosting. And a lollipop. Obvi. The actual milkshake glass is normal-sized so if you were hungry and just coming for the shakes you could definitely down the whole thing yourself. It will set you back $15 though!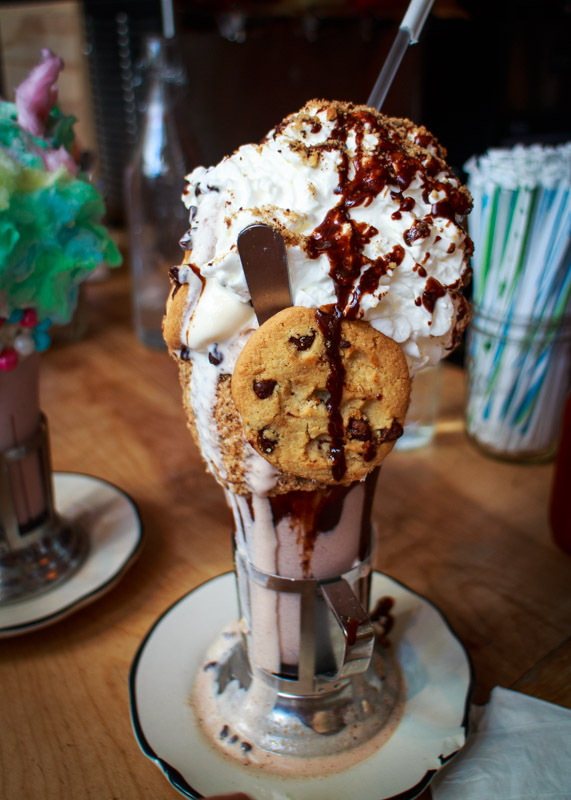 The Cookie Shake! At the recommendation of our waiter we combined the Cookie Shake with the Nutella shake flavor. It's hard to see with all the melting, but cookie crumb coated vanilla frosting make up the rim followed crumbled cookies, chocolate chips, whipped cream and chocolate drizzle. Oh, and an entire cookiewich. Did I forget that part? The melting seen here is what we call the non-sexy ice cream drip, but we love it all the same (for sexy version see here). Also, if it's 90 degrees outside with little to no air conditioning in the restaurant and you order a crazy milkshake expect the whole top to fall off within 1 minute 24 seconds. Good thing Matt was there to catch it like a softball and plop it back on top so I could take this photo!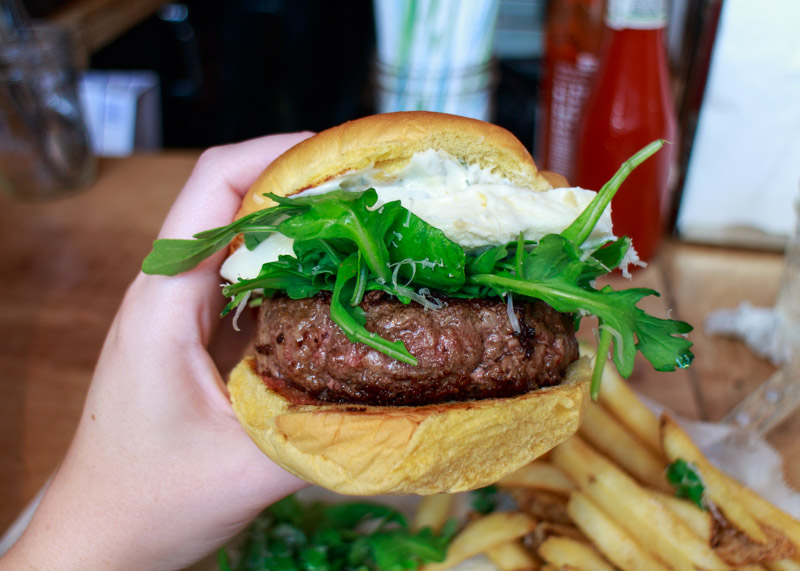 Black Tap has monstrous burgers, fries, onion rings and salads if you're into that sort of thing. Pictured here is a bison burger with fresh mozzarella, pesto mayo, shaved Parmesan and arugula on a potato bun because potato buns are the best buns. I would advise against getting a burger by yourself and following it with a milkshake by yourself unless you have prepped Joey Chestnut style. The general consensus on Black Tap NYC was that all the food was really good, but not the best burgers and milkshakes we've ever had. But we all agreed it was well worth it for the experience (and the Instagram photos). Normally you have to wait 1.5 – 2 hours to get into Black Tap, but if you want to be the first round of people in when they open on weekends at 11am plan to be in line no later than 10:30am. A special shout-out to my Aunt Dottie and Uncle Rob for making sure we got in line on time!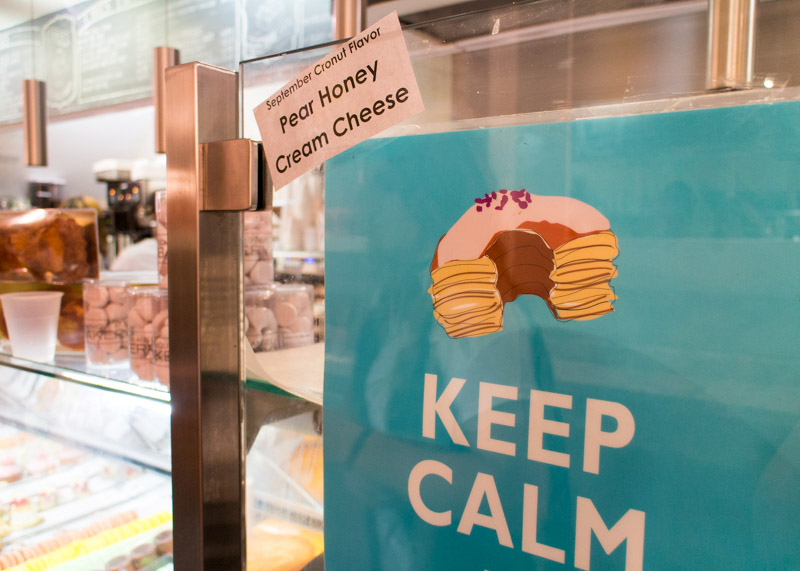 Dominique Ansel Bakery
I finally got to try a Cronut! For those of you who aren't familiar with the Cronut it is a cream-filled cross between a croissant and a doughnut that was launched by Dominique Ansel Bakery in 2013. And no, it is not anything like the croissant doughnut from Dunkin Donuts. Dominque Ansel's Cronut is on a level all of its own and it's trademarked so you know it's legit. A different Cronut flavor is released every month and is unique to each Dominique Ansel bakery (New York City, Tokyo, London, and opening this fall in Los Angeles).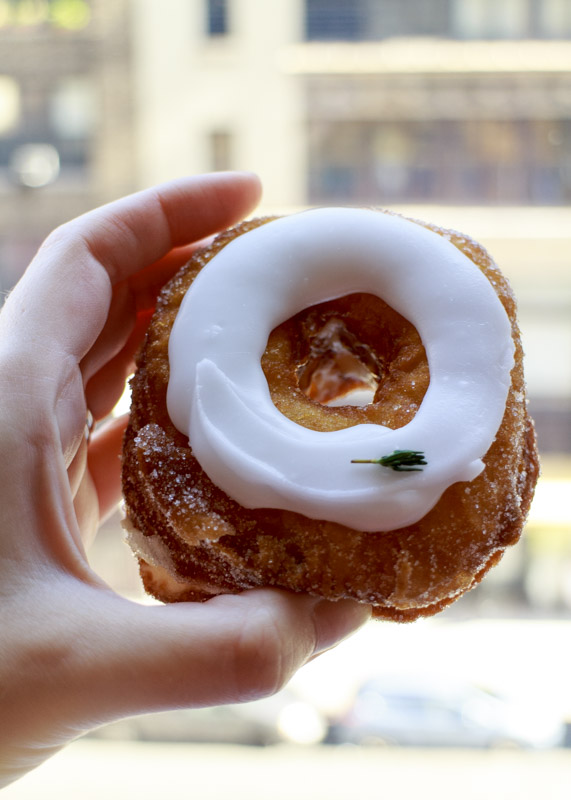 The month's flavor when we were there was Pear Honey Cream Cheese. Not our ideal flavor combination (unlike past flavors, such as Key Lime Young Coconut, Burnt Vanilla Smoked Caramel or Strawberry Balsamic and Mascarpone – swoon!), but the sugar-coated, flaky layer croissant pastry is so delicious. You can pre-order Cronuts from the bakery two weeks in advance so if you live nearby or know you will be visiting NYC you can pick a date and time to grab your Cronuts without bright and early line-waiting. Pre-ordering opens online every Monday at 11am for dates two weeks out. Check out Cronut 101 for more detailed information.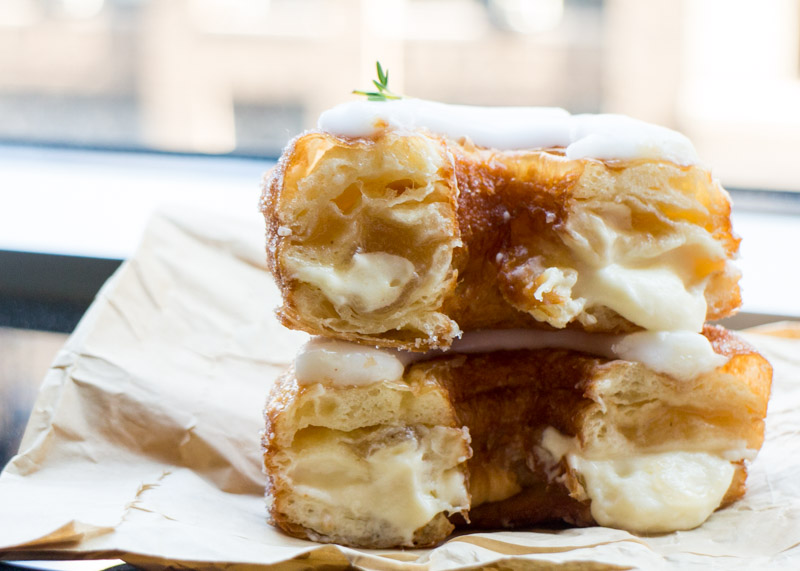 I mean, look at those layers! If your ready to dive in just note that ordering at the bakery is limited to two Cronuts per person; pre-ordering is limited to six Cronuts per order.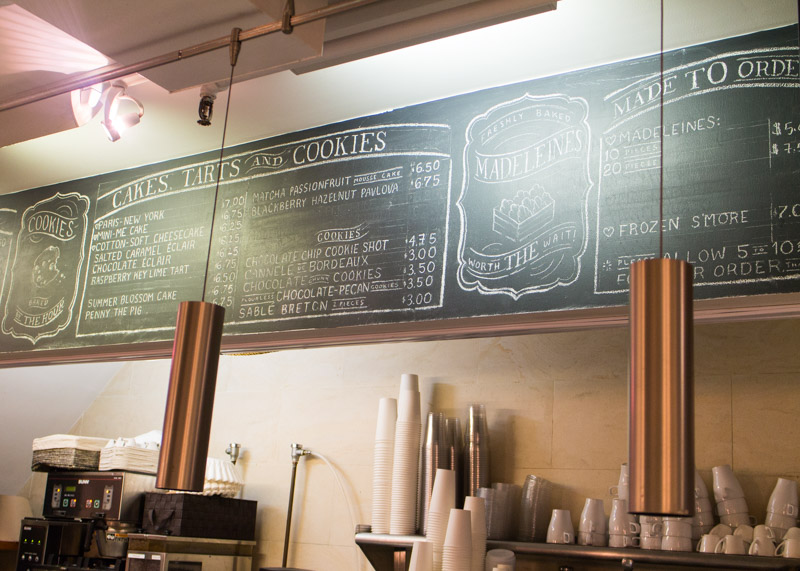 The Dominique Ansel bakery is so much more than just Cronuts. They have pastries, cookies, cakes and cheesecakes in the bakery case, as well as several made to order items. After 3pm you can buy one of their famous cookie shots – a chocolate chip cookie in the shape of a cup that gets filled with milk.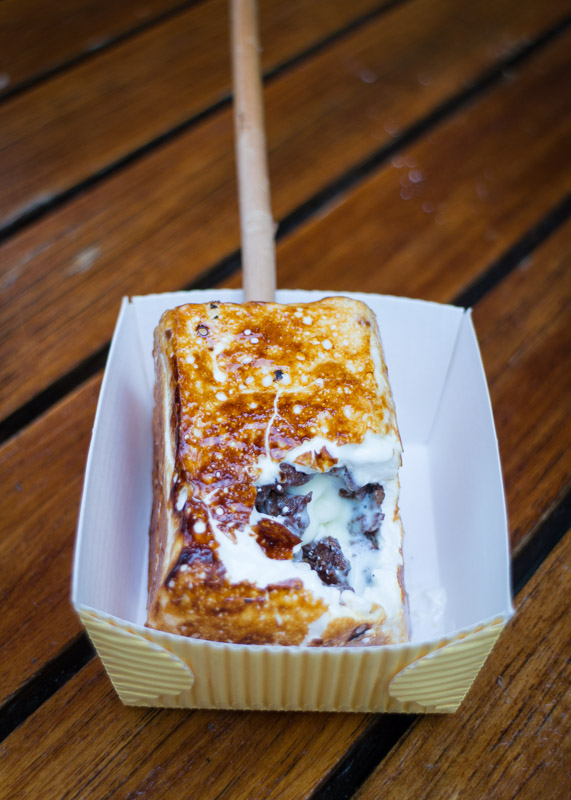 I'm speechless right now. Well not really, but if anything was going to stun me into silence it would be this frozen s'more. Vanilla ice cream is surrounded by chocolate crunchies and then encased in a homemade marshmallow before being torched to order. Amazing! The marshmallow is made with honey instead of sugar to keep its soft texture even after being frozen. If you want to eat your frozen s'more off the stick then eat it right away because once the ice cream melts all bets are off.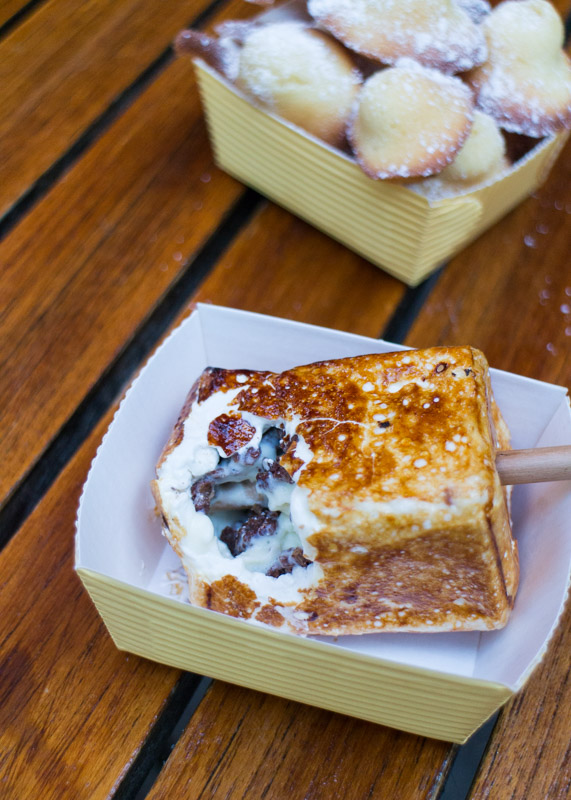 Pictured behind my frozen s'more are the madeleines Matt ordered. Madeleines are little sponge cakes that are light, buttery and highly addictive. Dominique Ansel's did not disappoint and brought us right back to the first week of our honeymoon in Paris. They have the dough made and then bake them to order so they are always fresh out of the oven. Yum!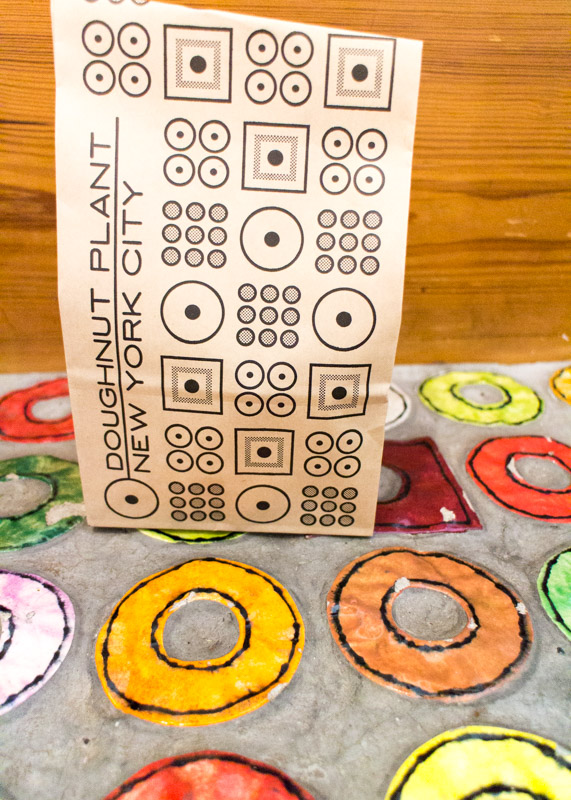 Doughnut Plant
Next up, we have Doughnut Plant! How fun is this doughnut bench they have? Doughnut Plant is full of fun surprises including the doughnut shaped tables, the doughnut door handles and even the disco ball mirrored bathroom – yes that's exactly what it sounds like.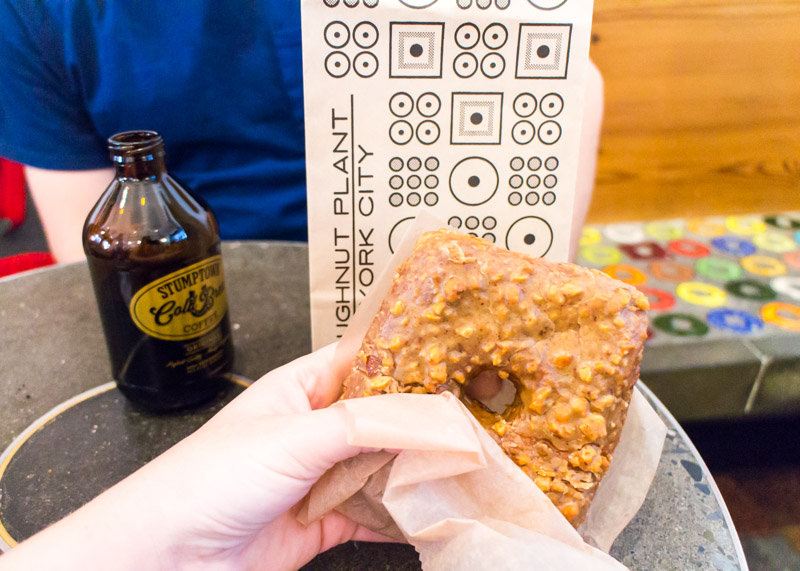 This right here is one of Doughnut Plant's signature doughnuts. A square yeast doughnut filled with blackberry jam topped with chopped peanuts and a peanut butter glaze. It tasted exactly like a peanut butter and jelly sandwich, and I love classic pb&j's so of course I was totally digging this doughnut. The square-filled design allows for a perfect doughnut to filling ratio. This staple doughnut is always on their menu, but many of Doughnut Plant's other flavors rotate seasonally. Check out their website or Instagram for featured doughnut updates.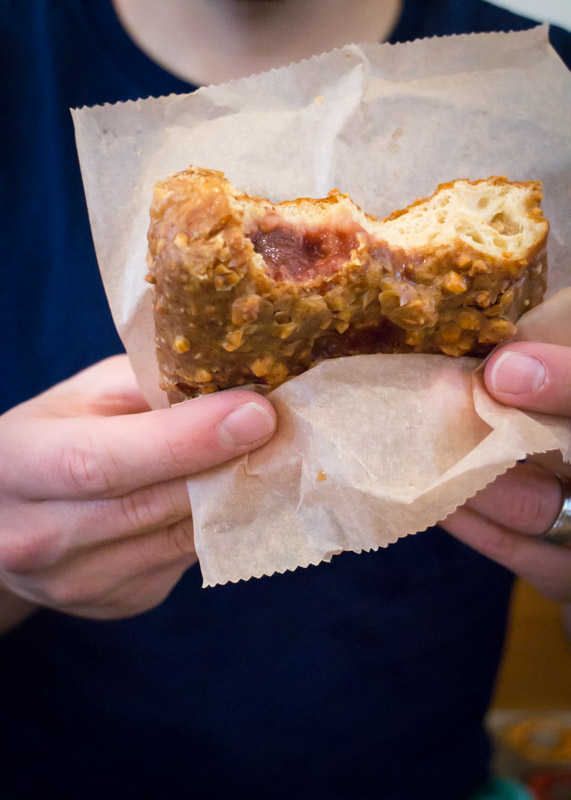 I wish I had another one so I could take a big bite! Doughnut Plant has both cake and yeast doughnuts, however I always tend to gravitate towards yeast ones for their airy and chewy texture. Also, a special thank you to my hand model, Matt, pictured here displaying a freshly nibbled peanut butter and jelly doughnut.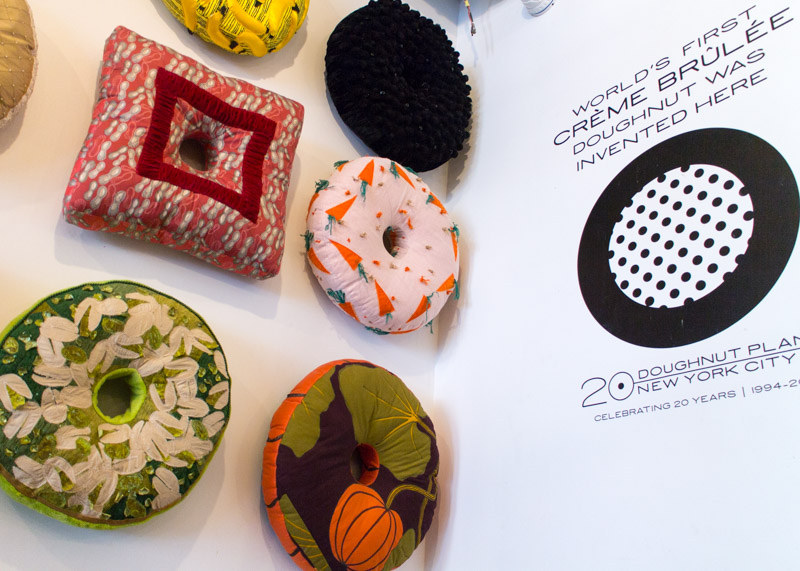 In addition to regular sized doughnuts, Doughnut Plant also has these special items called Doughseeds, which are basically super-sized filled Munchkins. Their most popular is the crème brûlée Doughseed – vanilla bean custard filled huge-mini doughnut topped with caramelized sugar. Unfortunately, we were pretty stuffed from our weekend foodie adventures and were not able to try more flavors, but we will definitely be back.
Be sure to check out part two of my ultimate foodie weekend in NYC later this week! Which spot so far has you most ready to hop in a car, train, plane or subway to go grab a bite?