Babu's Coffee Cake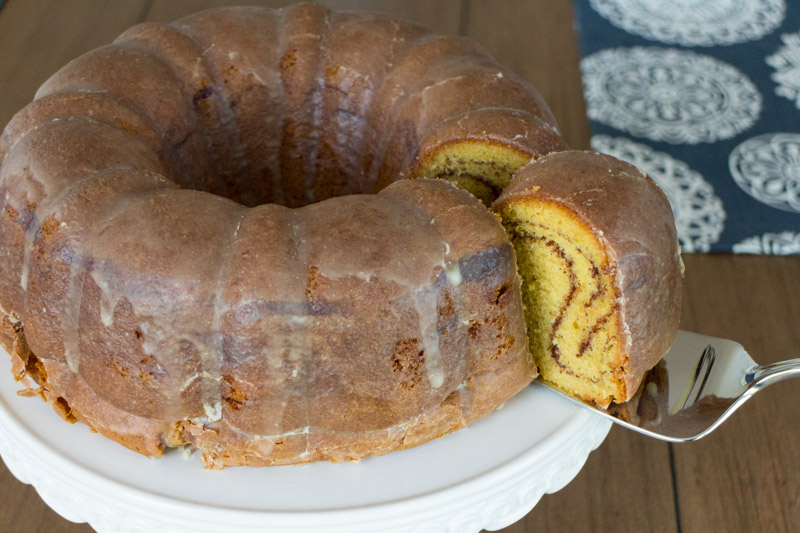 1 Duncan Hines yellow cake mix
1 package instant vanilla pudding (3.4 ounce size)
4 large eggs
¾ cup vegetable oil
¾ cup water
2 teaspoons vanilla extract
¼ cup sugar
2 teaspoons ground cinnamon
1 cup powdered sugar
3 tablespoons milk
1 teaspoon vanilla extract
Preheat the oven to 350 degrees F. Grease a Bundt pan and set aside.
Combine the cake mix, pudding mix, eggs, vegetable oil, water and vanilla extract with a hand mixer or in the bowl of a stand mixer. Mix until well combined.
In a small bowl, combine the sugar and ground cinnamon.
Evenly pour ⅓ of the batter into the prepared Bundt pan. Use a spatula to even the layer. Sprinkle half of the cinnamon sugar mixture evenly over the batter. Repeat with ⅓ of the batter and the remaining cinnamon sugar. Top with the last ⅓ of batter.
Bake for 40-50 minutes, or until a toothpick inserted in the cake comes out clean. Let cool in the pan for 10 minutes then transfer to a cooling rack. Apply the glaze while still warm, but not hot.
Combine the powdered sugar, milk and vanilla extract until smooth. Spoon or pastry brush the glaze over the warm cake.