Chicken Caesar Salad Meatballs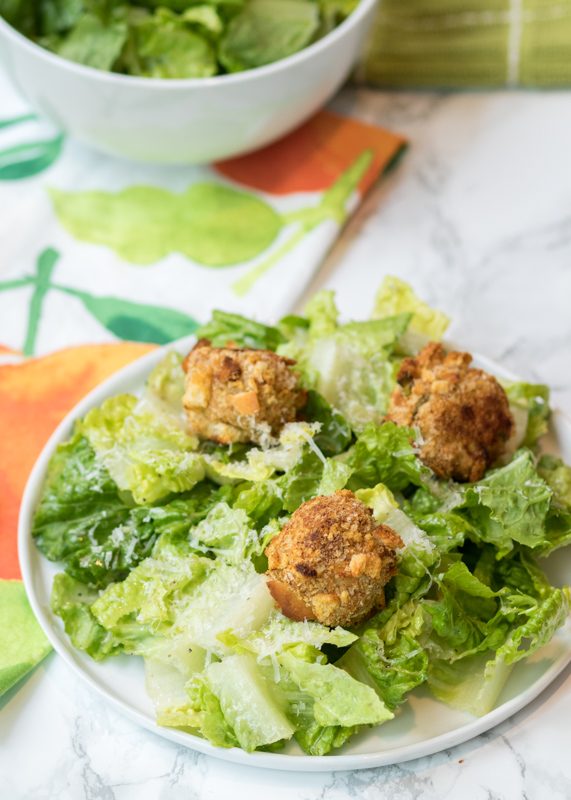 1 lb lean ground chicken
1⅓ cup crushed croutons, divided
⅓ cup grated parmesan cheese
3 tablespoons caesar dressing
2 scallions, sliced
⅛ teaspoon salt
⅛ teaspoon ground black pepper
Romaine lettuce
Caesar dressing
Additional fresh grated Parmesan cheese
Preheat the oven to 400°F. Line a baking sheet with aluminum foil and coat with cooking spray. Set aside. Place 1 cup of the crushed croutons in a small bowl and set aside.
In a large mixing bowl, combine the ground chicken, the remaining ⅓ cup of the crushed croutons, scallions, parmesan cheese, olive oil, salt and pepper, being sure not to overmix.
Divide the meat mixture into 4 sections. Use each section to roll out 3 chicken meatballs. Roll each meatball in the bowl of crushed croutons before placing on the baking sheet. Repeat until you have 12 chicken meatballs. They are big!
Bake the chicken meatballs for 15 minutes. Turn the meatballs over and bake for another 15 minutes.
While the meatballs are cooking, prepare the caesar salad. Cut and wash the lettuce then toss with the caesar dressing and extra parmesan cheese. I usually plan on 4 cups of romaine lettuce per person. The amount of dressing and additional Parmesan is up to you!
When the chicken meatballs are cooked, let them cool for 5-7 minutes before serving on top of the caesar salad.
Recipe by
Lemon & Mocha
at http://www.lemonandmocha.com/2018/06/06/chicken-caesar-salad-meatballs/