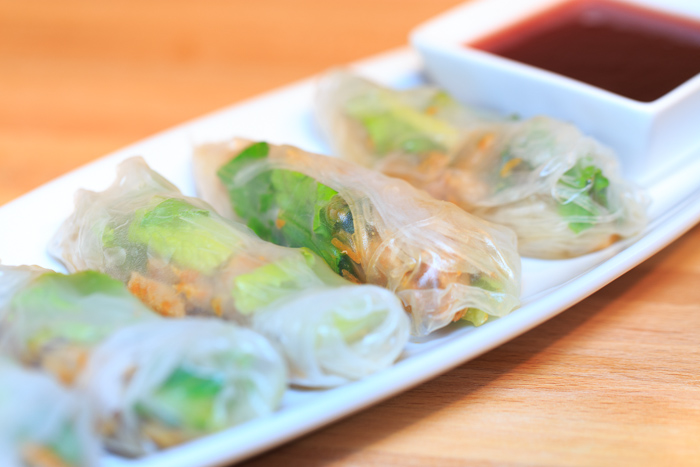 Thanksgiving is tomorrow! Just in case you forgot I figured I would remind you. Although I'm counting down the hours until I can eat until I can't eat anymore, what's even more exciting than actual Thanksgiving day is the day after Thanksgiving. It involves leftovers and I love leftovers. You get to revisit all your favorite dishes from the day before and there's no waiting for everyone to sit down for the big meal. The leftovers are in your fridge waiting for you, calling your name… Unless of course you didn't have Thanksgiving at your house or word got out that you were cooking Monday's mushrooms and unexpected guests ate all your would-be leftovers. Sorry about that.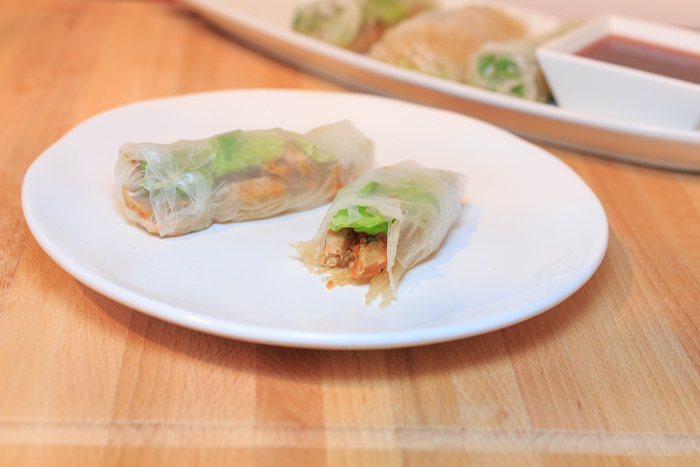 But sometimes after a couple rounds of leftovers your stomach needs a break. All that stuffing, mashed potatoes and pie weigh on you and your body craves something light and refreshing. That's when it is time to reinvent your leftovers. These leftover Thanksgiving turkey fresh rolls are exactly what you will need the day after Thanksgiving. They may look complicated, but I made about eight of these in less than ten minutes. After a long day you don't need something that takes a lot of work.








Soaking the turkey in soy sauce, rice wine vinegar and sesame oil moistens the leftover slices. The cellophane noodles are a light filler and there's no boiling required as they only need to be soaked in warm water. Then you can add whatever vegetables you have sitting in your fridge. Leftover avocado from guacamole? Done. Carrots, lettuce and cucumbers from leftover salad fixings? Done, done and done. I used carrots and lettuce in mine because that was what was in my fridge, but feel free to get creative. The sweet and tangy cranberry dipping sauce compliments the spring rolls well and helps you use up all that leftover cranberry sauce. So when you're running out to the store today for those last minute ingredients make sure to pick up some spring roll wrappers and cellophane noodles. Your stomach will thank you for it, as will your taste buds.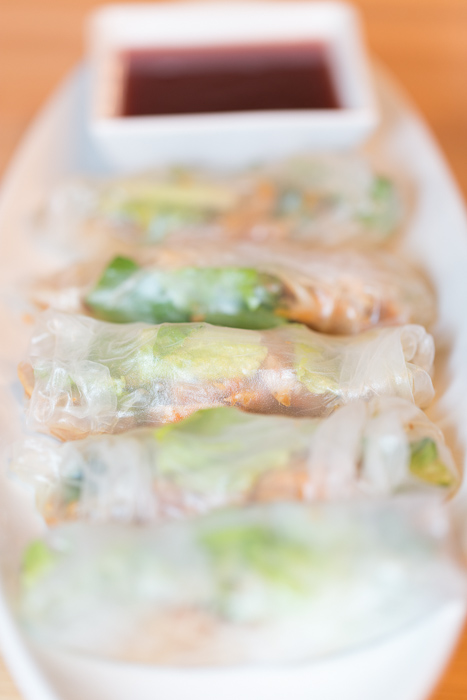 Leftover Thanksgiving Turkey Fresh Rolls with Cranberry Dipping Sauce
Ingredients
for the rolls
2 tablespoons low sodium soy sauce
1 tablespoon rice wine vinegar
¼ teaspoon sesame oil
Pinch of ground ginger
Pinch of garlic powder
1 cup chopped roast turkey
¼ cup grated carrot
½ package cellophane noodles
8 spring roll wrappers
1 cup roughly chopped lettuce leaves
for the sauce
¼ cup cranberry sauce
¼ cup sugar
¼ cup apple cider vinegar
½ teaspoon low sodium soy sauce
Directions
for the rolls
In a small mixing bowl, combine the soy sauce, rice wine vinegar, sesame oil and seasonings. Add the turkey pieces and grated carrot, stir to coat and let soak.
Place the cellophane noodles in a medium mixing bowl. Heat 4 cups of water and pour over the noodles. Let soak for 10 minutes, or until soft. Transfer the noodles to a small bowl with a fork or tongs leaving the water in the medium bowl for the spring roll wrappers. Rip the noodles or cut with kitchen scissors into shorter strands about 1 inch long. It doesn't need to be exact or even.
Take the first spring roll wrapper and submerge it in the warm water the noodles were soaking in. After the wrapper is soft and pliable, about 10 seconds, remove from the water and carefully lay flat on a cutting board or clean counter.
Take a small amount of the noodles and place in a line in the middle of the spring roll wrapper. Add a spoonful of the turkey mixture onto the noodles and a couple pieces of chopped lettuce. Fold the two sides next to the ends of the filling line you created up and over part of the filling. Take the top of the wrapper and pull it over the filling then tuck it under and roll the wrapped filling towards you to finish the roll. It sounds complicated, but once you do one or two you will get the hang of it.
Repeat for the rest of the rolls.
for the sauce
Place the cranberry sauce in a small saucepan over medium heat. Stir and mash the cranberry sauce until mostly smooth.
Whisk in the sugar, vinegar and soy sauce then bring to a boil. Once boiling reduce heat to a simmer for about 10 minutes, or until the sugar has dissolved and the sauce has slightly thickened, whisking frequently. Remove from the heat and serve with the rolls.
Notes
You can use whatever vegetables you have in your fridge as part of the filling. Some ideas include cucumber or avocado cut in 1 inch strips.
Inspiration from

The Pioneer Woman
.
Dipping sauce from

allrecipes.com
.