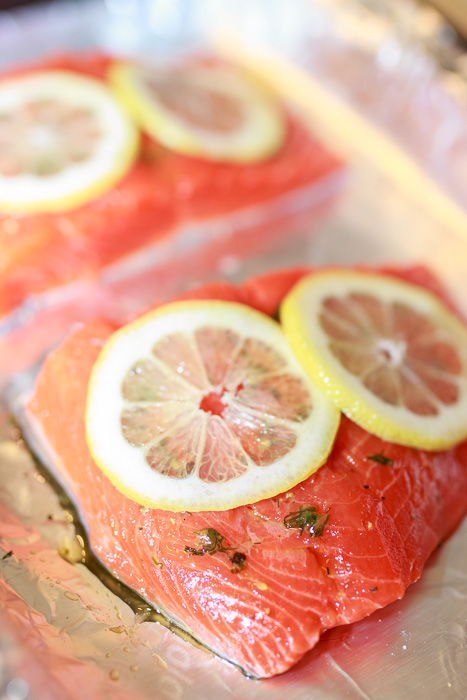 Just as a quick note before we get started here I would like to point out that all the photos in this post are of the uncooked salmon. I was serving this salmon at lunch quite a while back and didn't get to photograph the finished product, but I didn't want you to think this is what the salmon should look like when it is done. Not that you would think that, but you never know.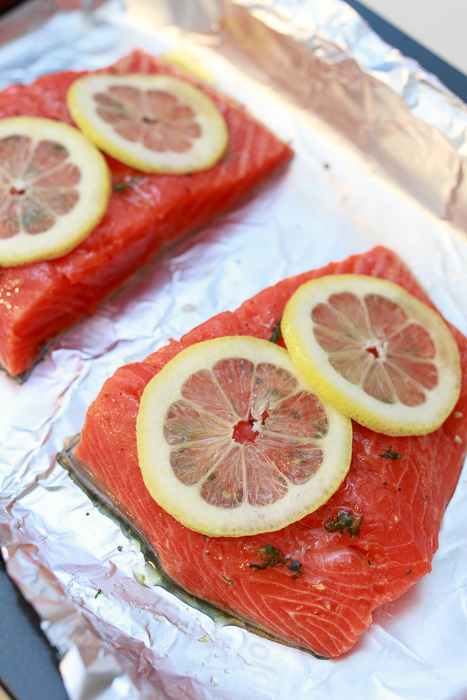 As much as I love grilled salmon there is no grilling salmon in my house. We live in an apartment and do not have the luxury of an outdoor grill so all our grilling is relegated to our single grill pan. No one enjoys the lingering smell of cooked fish in the kitchen and even an odor absorbing splatter screen can't protect the kitchen from grill pan salmon. So oven-cooked salmon it is in my house. Which is fine by me when you have great simple oven-cooked fish recipes like this lemon dill salmon. Dinner can be on the table in twenty minutes with this quick, fresh and healthy salmon dish. I've tried other flavor combinations, but this is my favorite that I always keep making. It may seem weird, but don't be afraid to eat the whole lemon slice on top of the salmon. You slice it so thin that it just adds the right amount of acidity to the fish. Enjoy!
Lemon Dill Salmon
Ingredients
2 4-ounce salmon filets
3 tablespoons olive oil
Salt and pepper
2 teaspoons finely chopped fresh dill
4 very thin slices lemon
Directions
Place the salmon filets in a small baking dish. Drizzle both sides of the salmon filets with the olive oil then season both sides with salt and pepper. Sprinkle the dill evenly on top of the salmon filets then lay the slices of lemon on top. Cover the baking dish and refrigerate for 30 minutes.
Preheat the oven to 350 degrees F.
Bake for 18-20 minutes for until the salmon flakes easily.