Crisp Gnocchi Salad with Shiitakes and Asparagus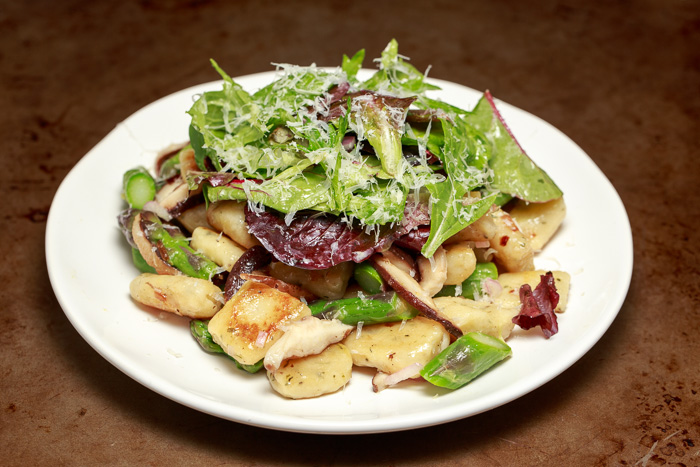 My brother gave me one of the most thoughtful Christmas gifts last year: a copy of this beautiful Tasting Colorado cookbook. Every recipe is a popular dish from a Colorado restaurant, covering everything from fluffy biscuits to local mouthwatering steak. Not only did I wish I could stuff my face into every picture and eat the contents, but I've actually been to a few of the restaurants!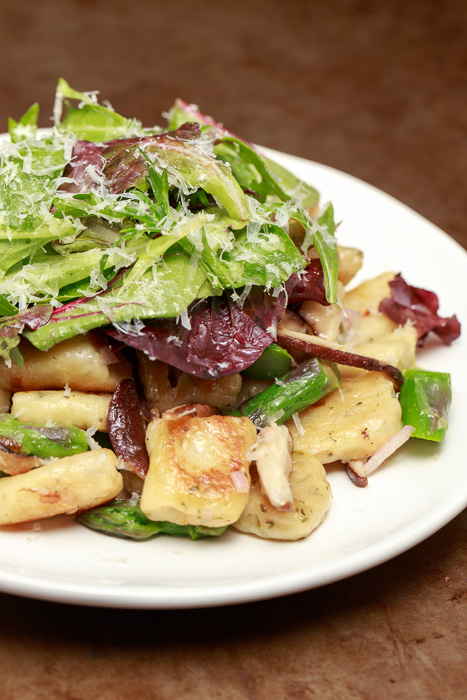 Although he's a Boston native, Colorado stole my brother's heart 10 years ago and he's lived there ever since. I get a chance to visit him once or twice a year and for those of you who have never been add it to your bucket list. It's one of the most beautiful places I've ever visited and I've had some of my favorite dishes there.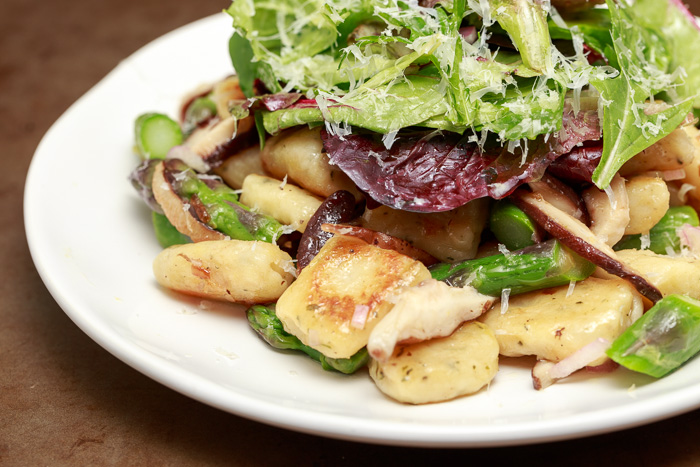 While flipping through the cookbook and mopping drool from my mouth I was so excited to stumble upon this recipe from the restaurant Six89. Six89 closed in 2012 and their gnocchi salad disappeared along with it. Until now.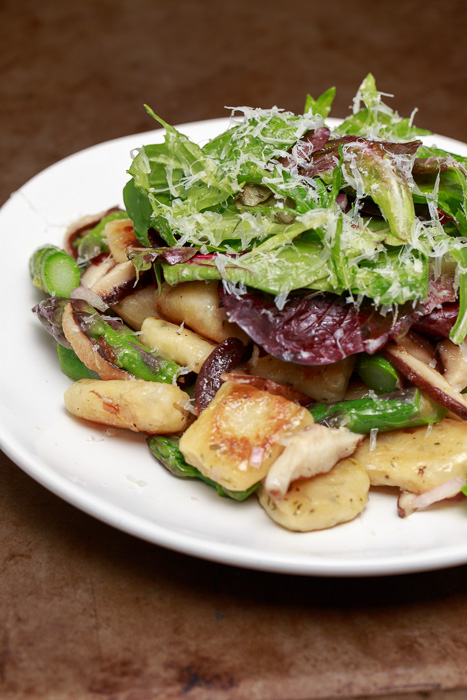 I cannot properly express in words the deliciousness of this dish. The crispy gnocchi together with the savory shiitake mushrooms, asparagus and nutty Parmesan is enough to have you going back for more. But when you add the shallot vinaigrette and leafy greens this meal becomes irresistible.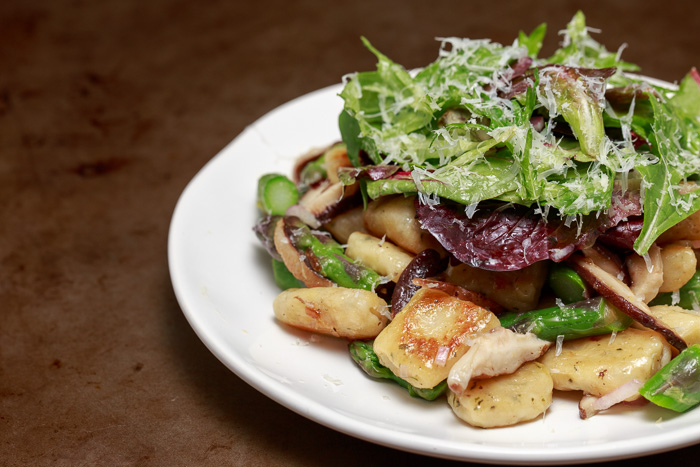 You can certainly use store-bought gnocchi to make this dish, but I highly recommend taking the extra time to tackle homemade gnocchi to experience the full potential of each mouthwatering bite.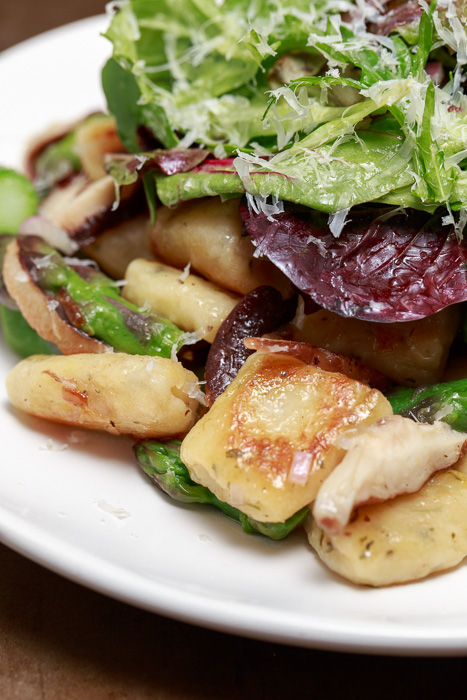 Gnocchi Salad with Shiitakes and Asparagus
Yield:
4 appetizer servings
Ingredients
for the gnocchi
2 cups gnocchi
2 tablespoons olive oil
2 tablespoons butter
2 tablespoons minced shallots
2 cups sliced shiitake mushrooms
2 cups asparagus, blanched and cut into 1" pieces
for the vinaigrette
2 tablespoons minced shallots
1 tablespoon dijon mustard
2 teaspoons dried oregano
2 tablespoons white wine vinegar
¾ cup olive oil
4 cups baby field greens
Salt and pepper
Fresh grated Parmesan, for serving
Directions
Boil the gnocchi in a medium saucepan until they float to the top and are heated through, about 3 minutes. Drain and set aside.
Heat 2 tablespoons butter and 2 tablespoons olive oil in a large skillet over medium-high heat. Pan-fry the gnocchi until crispy and lightly browned.
Reduce the heat to medium then add the shallots and sauté until softened and lightly browned, about 5 minutes, stirring often. Add the mushrooms and sauté for 5 more minutes. Add the asparagus slices and sauté until warmed through then remove from the heat. Season with salt and pepper.
for the vinaigrette
Combine the shallots, mustard, oregano and white wine vinegar. Whisk together well with the olive oil. Season with salt and pepper. Toss the gnocchi with 4 tablespoons of the vinaigrette. Plate the gnocchi.
Toss the baby field greens with some of the vinaigrette and place over the gnocchi. Top each plate with a generous serving of fresh grated Parmesan.
Recipe from

Tasting Colorado:  Favorite Recipes from the Centennial State
.