Gnocchi Salad with Shiitakes and Asparagus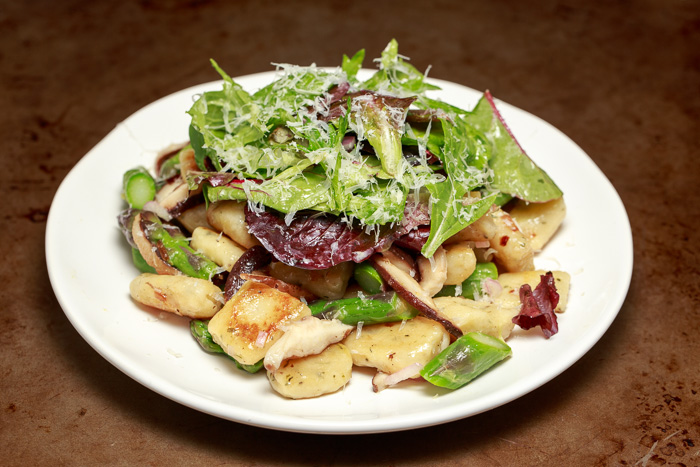 Yield:
4 appetizer servings
2 cups gnocchi
2 tablespoons olive oil
2 tablespoons butter
2 tablespoons minced shallots
2 cups sliced shiitake mushrooms
2 cups asparagus, blanched and cut into 1" pieces
2 tablespoons minced shallots
1 tablespoon dijon mustard
2 teaspoons dried oregano
2 tablespoons white wine vinegar
¾ cup olive oil
4 cups baby field greens
Salt and pepper
Fresh grated Parmesan, for serving
Boil the gnocchi in a medium saucepan until they float to the top and are heated through, about 3 minutes. Drain and set aside.
Heat 2 tablespoons butter and 2 tablespoons olive oil in a large skillet over medium-high heat. Pan-fry the gnocchi until crispy and lightly browned.
Reduce the heat to medium then add the shallots and sauté until softened and lightly browned, about 5 minutes, stirring often. Add the mushrooms and sauté for 5 more minutes. Add the asparagus slices and sauté until warmed through then remove from the heat. Season with salt and pepper.
Combine the shallots, mustard, oregano and white wine vinegar. Whisk together well with the olive oil. Season with salt and pepper. Toss the gnocchi with 4 tablespoons of the vinaigrette. Plate the gnocchi.
Toss the baby field greens with some of the vinaigrette and place over the gnocchi. Top each plate with a generous serving of fresh grated Parmesan.
Recipe by
Lemon & Mocha
at http://www.lemonandmocha.com/2014/05/30/crisp-gnocchi-salad-with-shiitakes-and-asparagus/