Dallas Burger with Barbecue Sauce and Coleslaw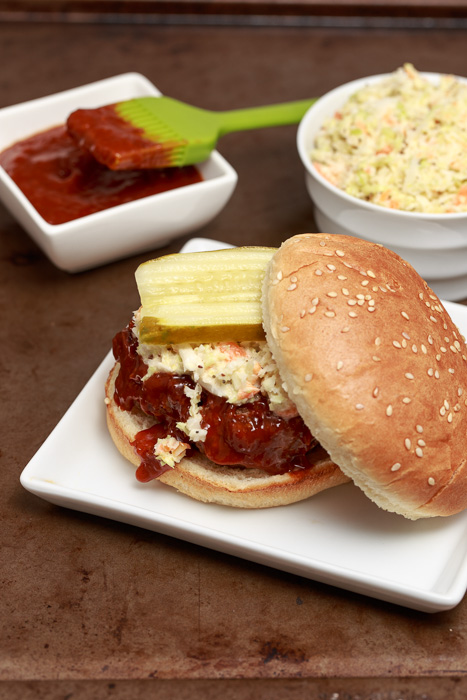 Yield:
4 burgers, 2 cups barbecue sauce
2 tablespoons canola oil
1 Spanish onion, chopped
3 cloves garlic, chopped
1 cup ketchup
1 tablespoon paprika
1 tablespoon dijon mustard
1 tablespoon red wine vinegar
1 tablespoon Worcestershire sauce
1 chipotle chile in adobo, chopped
2 tablespoons dark brown sugar
1 tablespoon honey
1 tablespoon molasses
Salt and pepper
1 teaspoon salt
½ teaspoon pepper
1 pound 80% lean ground beef
2 tablespoons canola oil
4 burger buns
1 cup coleslaw
Dill pickles
Heat the oil in a medium saucepan over medium-high heat. Cook the chopped onion until softened, about 3-4 minutes, stirring occasionally. Add the garlic and cook until fragrant, about 1 minute.
Add ⅓ cup water and the ketchup and stir. Bring to a boil then let simmer for 5 minutes. Add the remaining ingredients, except the salt and pepper, and simmer until thickened, about 10 minutes, stirring occasionally.
Remove from the heat and puree until smooth in a food processor. Season with salt and pepper to taste. Pour into a bowl and let cool to room temperature.
Preheat a grill or grill pan to medium-high heat.
Divide the ground beef into four equal parts and create 4 uniform burgers. Make an impression with your thumb in the middle of each burger patty so it doesn't bulge in the middle when it cooks. Season both sides of the burgers with salt and pepper.
Lightly brush the seasoned patties with the prepared barbecue sauce as they cook and grill until cooked the way you prefer, turning once. For medium cook for 8 minutes total.
Lightly toast the burger buns then top with the cooked patties, some barbecue sauce, coleslaw and dill pickles.
Recipe by
Lemon & Mocha
at http://www.lemonandmocha.com/2014/06/24/dallas-burger-with-barbecue-sauce-and-coleslaw/