Grilled Stuffed Portobello Mushrooms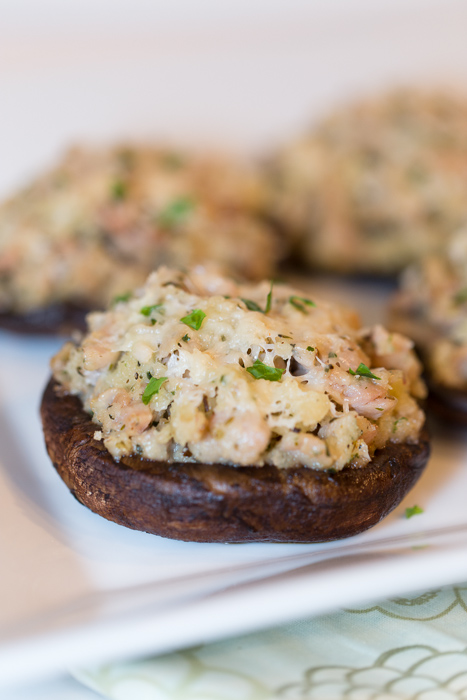 Today is a special day. Partly because I am presenting you with these outrageous stuffed mushrooms just in time for you to make for Thanksgiving, but I'll get to that in a second. It is also my stepmom's birthday. You should be wishing her a happy birthday, buying her presents and even throwing her a party! Because if it was not for her you would not be staring at these tempting, fragrant grilled stuffed portobello mushrooms. In fact, if it wasn't for my stepmom you would probably be reading a blog about chicken fingers, noodles and fish sticks right now, although that does sound rather delicious.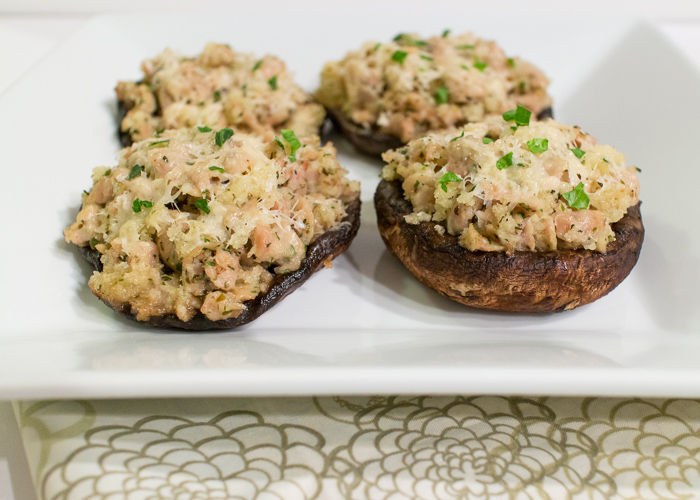 My palate growing up was mostly limited to "kid's food," but my stepmom opened up a whole new world for me. Artichokes, couscous and eggplant, oh my! And mushrooms, thank heavens for the mushrooms. The greatest gift my stepmom has ever given me, aside from love, support and all that good stuff, is the gift of mushrooms. Although she didn't gift them to me in the literal sense, as that would be a little silly and hard to wrap, I had never given mushrooms a second glance until she cooked them for me. And as they say, the rest is history.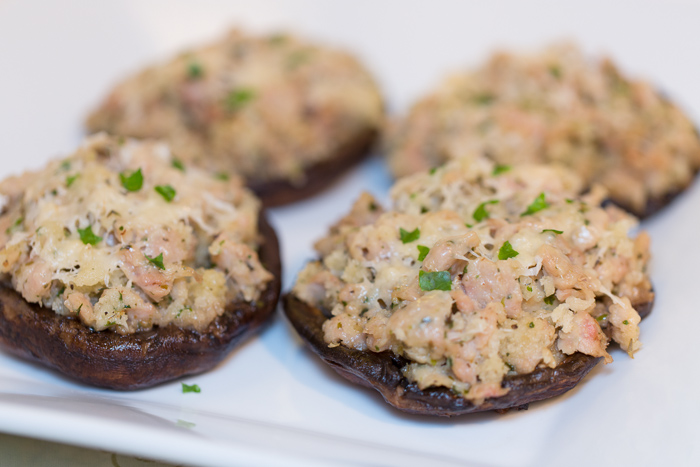 Fast forward to today where these mushrooms sit on your computer screen exploding with juicy sausage bits, creamy marscarpone cheese, nutty Parmesan, crunchy bread crumbs and tantalizing herbs and spices. The mushrooms themselves have been grilled to perfection as they are hearty in taste, but delicate enough in texture to yield to your fork's cut. Are you still with me or did you you already run to your kitchen to start making these? If you haven't, then what are you waiting for?! Perfect as a side dish, main dish or even in place of traditional stuffing for a tasty twist this Thanksgiving, gifting these mushrooms to your guests might result in future spontaneous house calls around dinnertime. Don't say I didn't warn you.

Grilled and Stuffed Portobello Mushrooms
Ingredients
2 tablespoons olive oil
12 ounces turkey or chicken sausage, casings removed
2 cloves garlic, minced
4 ounces marscarpone cheese
2 teaspoons dried parsley flakes
2 teaspoons dried oregano
¾ cup panko bread crumbs
1 cup fresh grated Parmesan
6 large portobello mushrooms, stems removed
Salt and pepper
Directions
Heat the olive oil over medium-high heat in a large skillet. Crumble the sausage and add it to the pan. Cook for 5 minutes, or until cooked through, stirring often.
Add the garlic, cook for 1 minute then remove the pan from the heat.
Add the marscarpone, parsley flakes, oregano, bread crumbs and ½ cup of the Parmesan to the cooked sausage and stir until well combined. Season with salt and pepper.
Heat a grill pan over medium-high heat.
Lightly coat the pan with olive oil or cooking spray then place the mushrooms stem side down on the grill pan. Lightly coat the tops of the mushrooms with olive oil or cooking spray and season with salt and pepper. Cook the mushrooms for 4 minutes.
Turn the mushrooms over and cook them for another 2 minutes.
Carefully fill the mushrooms with the sausage mixture. Top with the remaining Parmesan cheese then tent some tin foil over the pan to help the Parmesan melt. Grill for another 6 minutes then remove from the heat and serve.
Notes
I used fully cooked roasted garlic chicken sausages from Trader Joe's and would highly recommend them for this recipe. If you use them as well follow these adaptations to the recipe above:
*Omit the minced garlic
*There is not a thick casing so you can simply crumble and tear the sausage with the casing intact
*Still complete the first step of the recipe even though they are cooked because it will help brown and warm the sausages
Recipe slightly adapted from

Giada at Home

.