Pumpkin Hummus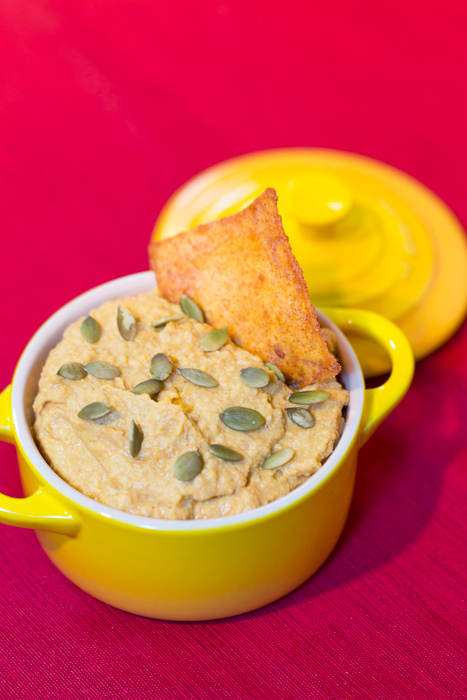 This post was not supposed to be pumpkin hummus. I had other recipes in store for you before this hummus was even a thought. Upon realizing I had yet to post a pumpkin recipe I immediately went out and purchased a can of pumpkin puree. Trial one was some sort of chocolate pumpkin tart, but I never got to the pumpkin portion. Although the chocolate tart shell tasted delicious, it wasn't very… photogenic… so Matt and I happily ate the scrapped tart shells while I moved on to trial two. One skillet pumpkin cornbread later I was staring at a beautiful dish that would have photographed quite nicely, but after one bite I knew it wasn't for Lemon & Mocha. Thankfully I refuse to settle on mediocre dishes and was determined to share some pumpkin tastiness so this smooth and addictive pumpkin hummus was able to find its way to the homepage. The lesson to be had here is try, try, again, if you fall down get back up, no tart shell shall go uneaten, or something like that.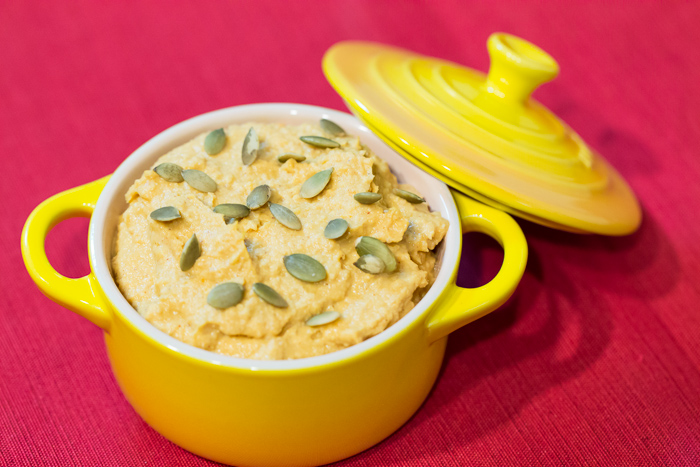 If you are looking for something light to serve before your big Thanksgiving meal next week or you simply would like something tasty to snack on and get you in the fall spirit look no further than this pumpkin hummus. Do you have five minutes and either a food processor or an immersion blender? Then you are five minutes away from savory, creamy, pumpkiny hummusy perfection. The pepita garnish provides a great crunch and nicely compliments the cumin and cinnamon spiced pumpkin flavor. What are pepitas? Well they are just shelled pumpkin seeds. I know you're thinking I'm super smart right now, but don't feel bad, Google taught me that just the other day! I served this hummus with cinnamon sugar pita chips, but any sort of pita chip or cracker will pair well. Another idea is to serve pumpkin hummus and roasted turkey wraps the day after Thanksgiving- now we're talking.

Pumpkin Hummus
Ingredients
One 15-ounce can chickpeas
1 clove garlic
¾ cup pumpkin puree
5 tablespoons tahini paste
5 tablespoons olive oil
3 tablespoons lemon juice
½ teaspoon cumin
¼ teaspoon cinnamon
Salt
Pepitas for garnish
Directions
Drain and rinse the chickpeas to remove the excess salt. Set aside in the strainer to dry.
Puree the chickpeas, pumpkin, tahini, olive oil, lemon juice, cumin and cinnamon in a food processor or with an immersion blender until smooth.
Season with salt to taste. Top with the pepitas before serving.
Recipe adapted from the October 2013 issue of

Food Network Magazine

.