Grilled and Stuffed Portobello Mushrooms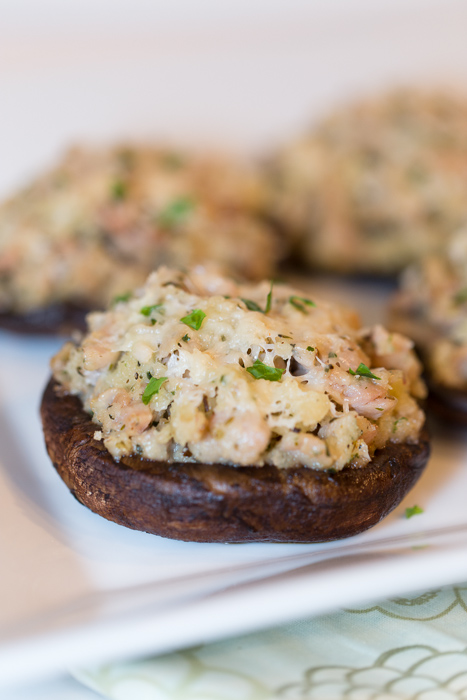 2 tablespoons olive oil
12 ounces turkey or chicken sausage, casings removed
2 cloves garlic, minced
4 ounces marscarpone cheese
2 teaspoons dried parsley flakes
2 teaspoons dried oregano
¾ cup panko bread crumbs
1 cup fresh grated Parmesan
6 large portobello mushrooms, stems removed
Salt and pepper
Heat the olive oil over medium-high heat in a large skillet. Crumble the sausage and add it to the pan. Cook for 5 minutes, or until cooked through, stirring often.
Add the garlic, cook for 1 minute then remove the pan from the heat.
Add the marscarpone, parsley flakes, oregano, bread crumbs and ½ cup of the Parmesan to the cooked sausage and stir until well combined. Season with salt and pepper.
Heat a grill pan over medium-high heat.
Lightly coat the pan with olive oil or cooking spray then place the mushrooms stem side down on the grill pan. Lightly coat the tops of the mushrooms with olive oil or cooking spray and season with salt and pepper. Cook the mushrooms for 4 minutes.
Turn the mushrooms over and cook them for another 2 minutes.
Carefully fill the mushrooms with the sausage mixture. Top with the remaining Parmesan cheese then tent some tin foil over the pan to help the Parmesan melt. Grill for another 6 minutes then remove from the heat and serve.
I used fully cooked roasted garlic chicken sausages from Trader Joe's and would highly recommend them for this recipe. If you use them as well follow these adaptations to the recipe above:
*Omit the minced garlic
*There is not a thick casing so you can simply crumble and tear the sausage with the casing intact
*Still complete the first step of the recipe even though they are cooked because it will help brown and warm the sausages
Recipe by
Lemon & Mocha
at http://www.lemonandmocha.com/2013/11/25/grilled-stuffed-portobello-mushrooms/