Sun-dried Tomato & Kalamata Olive Lemon Pasta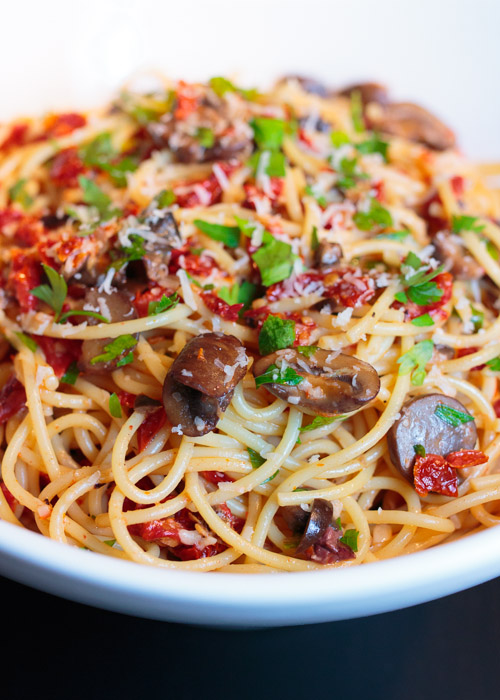 12 ounces thick spaghetti
3 tablespoons olive oil
2 teaspoons minced garlic
1 cup sliced mushrooms
¼ cup kalamata olives, pits removed & chopped
3 tablespoons lemon juice
1 cup chopped sun-dried tomatoes
1 tablespoon lemon zest
⅓ cup fresh grated parmesan, plus more for serving
½ cup fresh chopped parsley
Cook the spaghetti al dente. When draining the cooked pasta, reserve 1 cup of the cooking water.
While the pasta is cooking heat the oil in a large skillet over medium heat. Add the garlic and mushrooms, stirring occasionally.
After 5 minutes, or once the mushrooms look almost browned, add the olives, lemon juice and sun-dried tomatoes. Cook for 3 minutes.
Add the cooked spaghetti, lemon zest and parsley to the skillet. Toss together in the skillet then add ⅓ cup of the reserved water. Add more reserved water if there is not enough sauce to coat the spaghetti.
After pasta is tossed, top with the parmesan.
To serve top with more parmesan if desired.
I use dry-packed sun-dried tomatoes when I make this recipe. If you use oil-packed sun-dried tomatoes instead you may want to reduce the amount of oil in the second step of the recipe.
Recipe by
Lemon & Mocha
at http://www.lemonandmocha.com/2013/10/08/sun-dried-tomato-kalamata-olive-lemon-pasta/