Healthy Creamy Pesto Pasta with Zucchini, Spinach and Sun-dried Tomatoes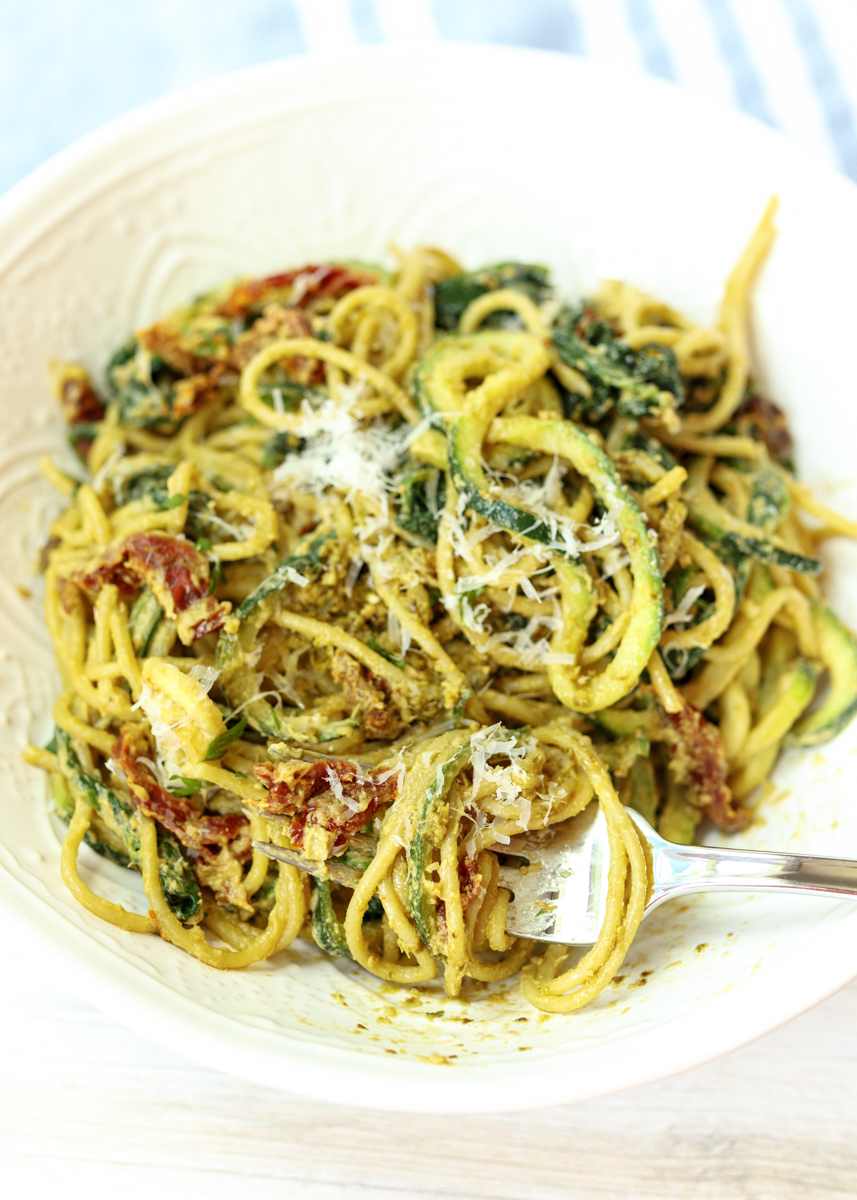 6 ounces spaghetti (I used Barilla Veggie Spaghetti)
1 cup frozen cauliflower florets
⅓ cup pesto
2 tablespoons olive oil
6 ounces fresh spinach
2 zucchinis, noodled; about 2.5 cups
⅔ cup julienned sun-dried tomatoes packed in oil
1 clove garlic, minced
⅓ cup fresh grated Parmesan, plus more for topping
Fresh chopped basil for garnish
Salt and pepper
Boil water for the pasta in a large pot. Once the water is boiling, add the spaghetti and set your timer according to the package instructions (mine was for 9 minutes). When there are 6 minutes left on your timer, add the cauliflower florets. When the timer goes off, drain the pasta and cauliflower, being sure to reserve 2 tablespoons of the cooking liquid. Carefully separate out the cauliflower florets. In a high-speed blender, puree the cooked cauliflower florets, reserved cooking liquid and the pesto until smooth. Alternatively you could puree the cauliflower then just stir it into the pesto if you like the texture of the pesto and don't want it completely smooth.
While the pasta is cooking, heat the olive oil in a large sauté pan over medium-high heat. Add the spinach and cook, stirring occasionally, until almost wilted then add the zucchini noodles and the sun-dried tomatoes. Season with salt and pepper; sauté for 5 minutes. Add the garlic, cook for 30 seconds then remove from the heat.
Add the pesto mixture, the spaghetti and the Parmesan to the sauté pan. Toss to combine. Season with salt and pepper as needed. Serve topped with additional Parmesan and fresh chopped basil.
Recipe by
Lemon & Mocha
at http://www.lemonandmocha.com/2019/06/07/healthy-creamy-pesto-pasta-with-zucchini-spinach-and-sun-dried-tomatoes/