Tropical Kale Salad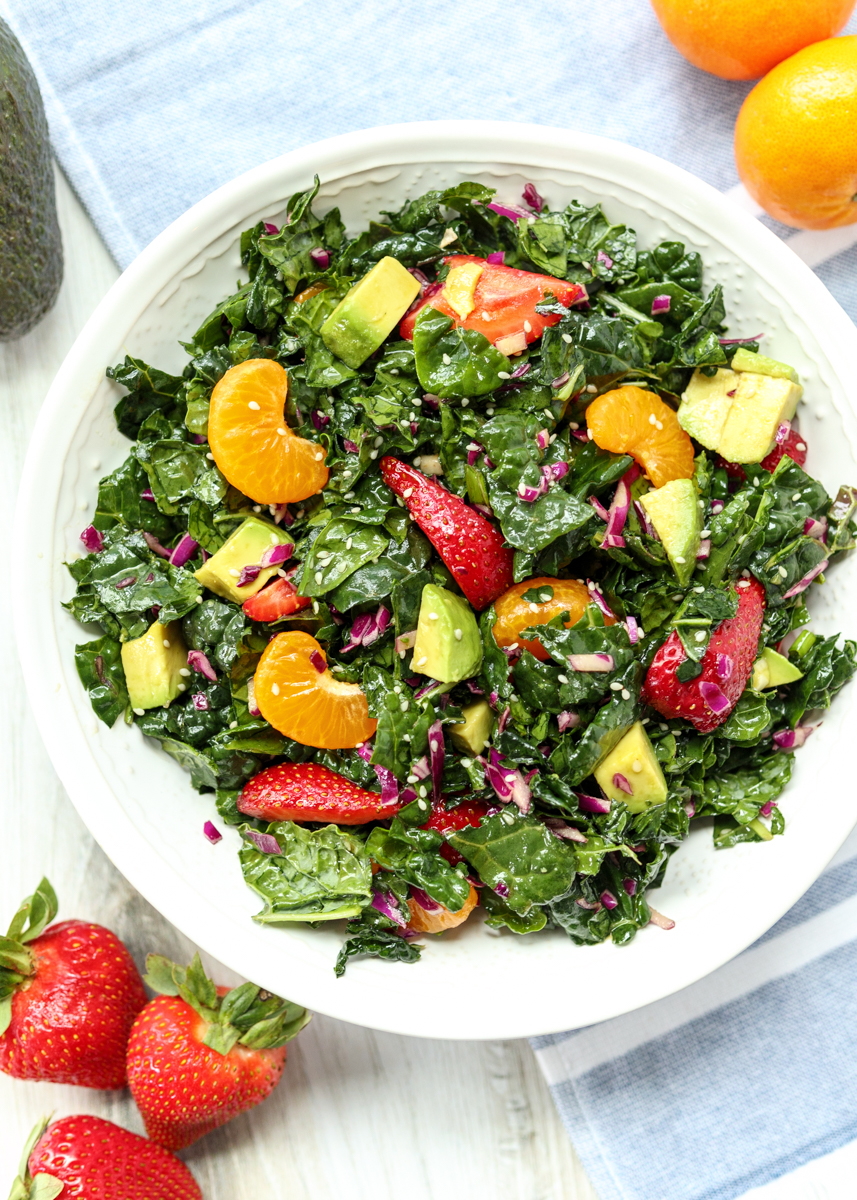 It's taken quite a few years, but I finally have the process down to ensure Matt and I eat healthy homemade dinners. Side note: just because I know what the process is that doesn't always mean it gets put into action! The key for Matt and I is that by the time Matt gets home from work, dinner needs to be already made, already in progress or, if it hasn't been started, then able to be ready in roughly twenty minutes or less. Otherwise we end up ordering takeout or making Annie's mac and cheese or Trader Joe's frozen pizza.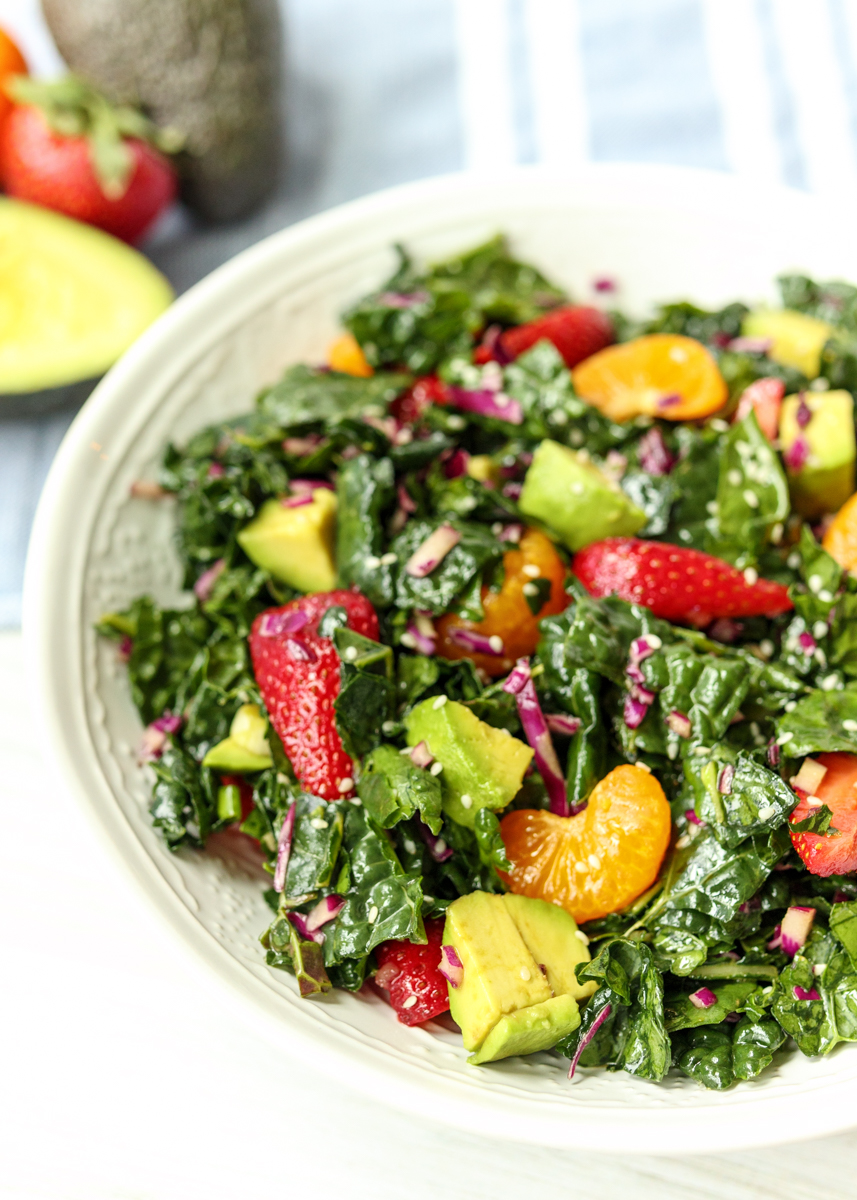 I have no idea exactly why this is the case, but years have proven to me that it is an absolute scientific fact. Part of it might be that we are both always hungry by the time Matt gets home (we eat early, usually around 5:30 – 6:00 PM) and part of it might be that being back together again signals that the relaxing and lazy part of our night can begin. One guaranteed way to make sure we get our vegetables in at dinnertime is to have a kale salad ready.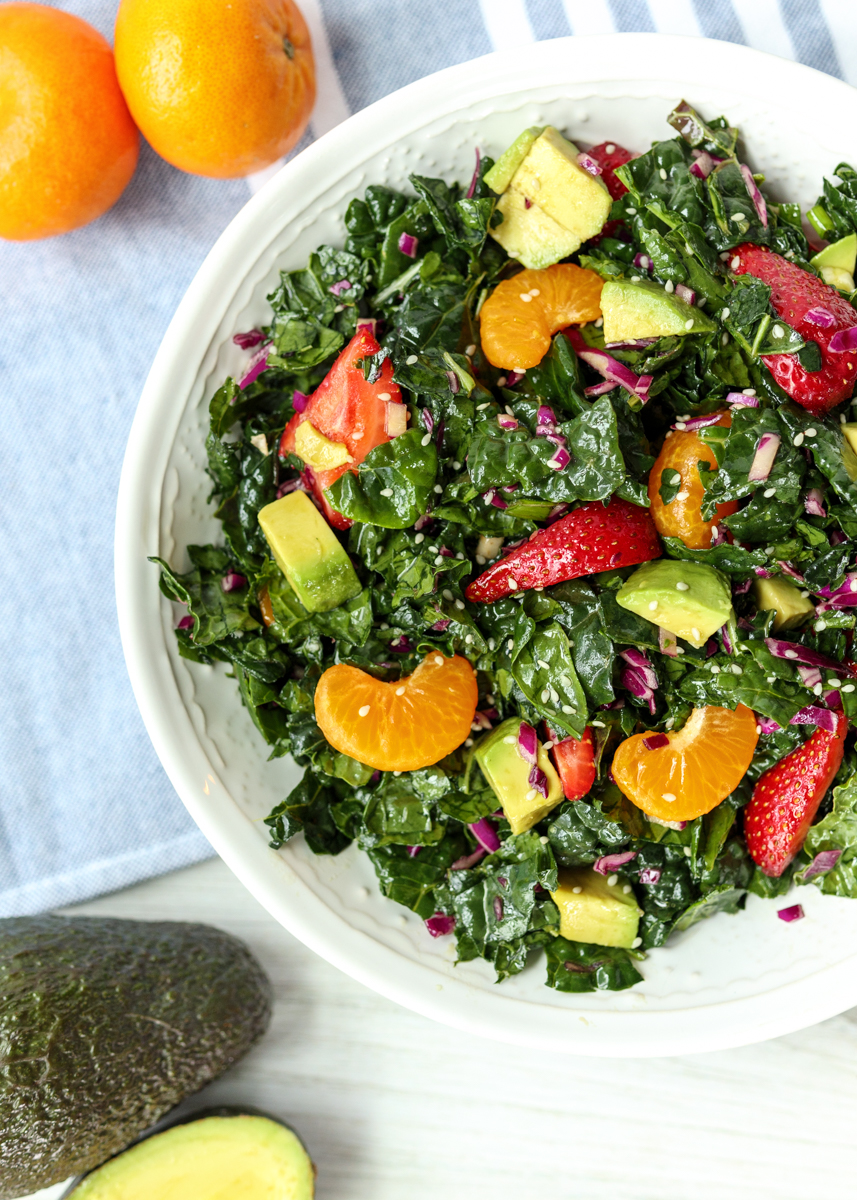 I know some of you aren't kale fans, but Matt and I love it, especially when I've taken the time to massage and soften the kale leaves. All the toppings and dressing are already mixed in so it's as simple as dishing into some bowls and chowing down. I wanted to make a fresh version for summertime and came up with this Tropical Kale Salad. I've added shredded red cabbage, red bell pepper, scallions, avocado, mandarin oranges and strawberries then tossed it with a quick homemade sesame ginger soy dressing.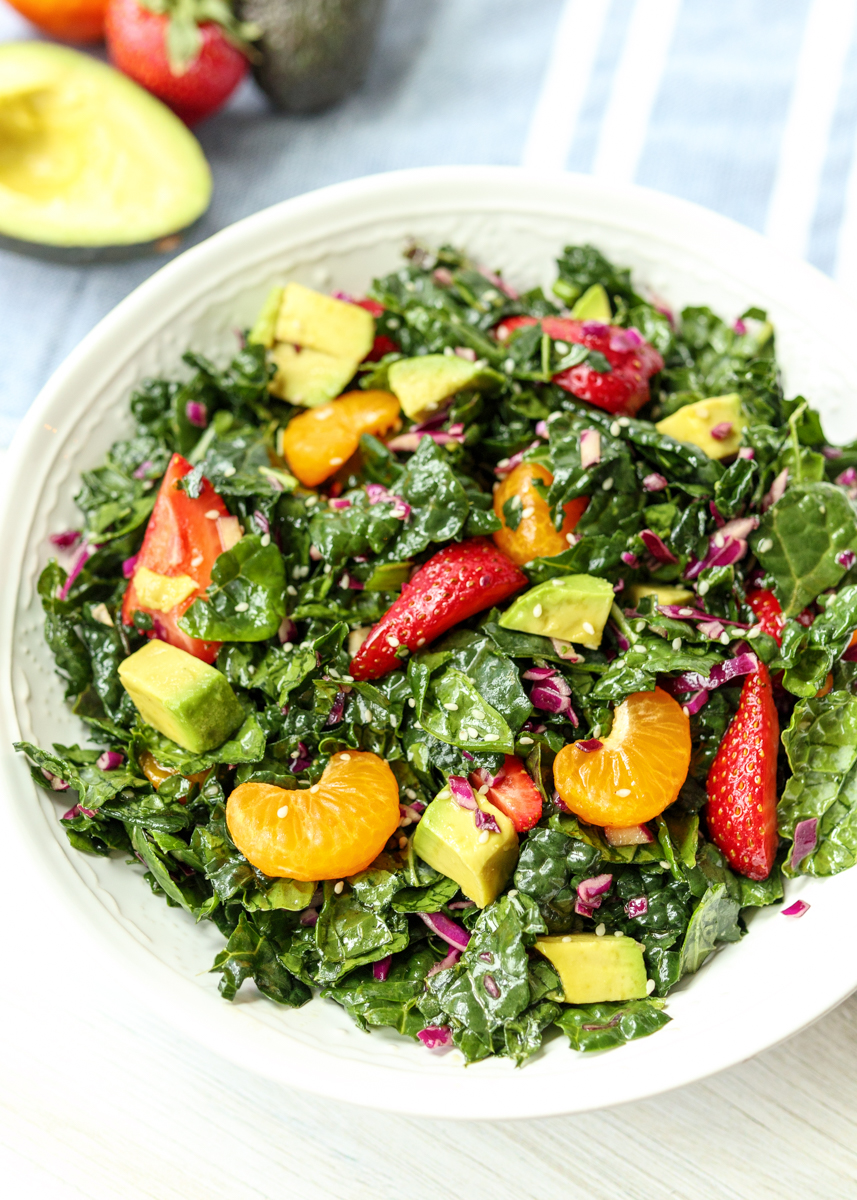 If you don't love kale you could always swap it out for some fresh spinach or lettuce. I love salads with a bit of sweetness to them and the mandarin oranges and strawberries are just right to get those tropical summer vibes. The creaminess of the avocado is a necessary addition; if you are worried about your avocado getting brown you could always wait and add it right before eating.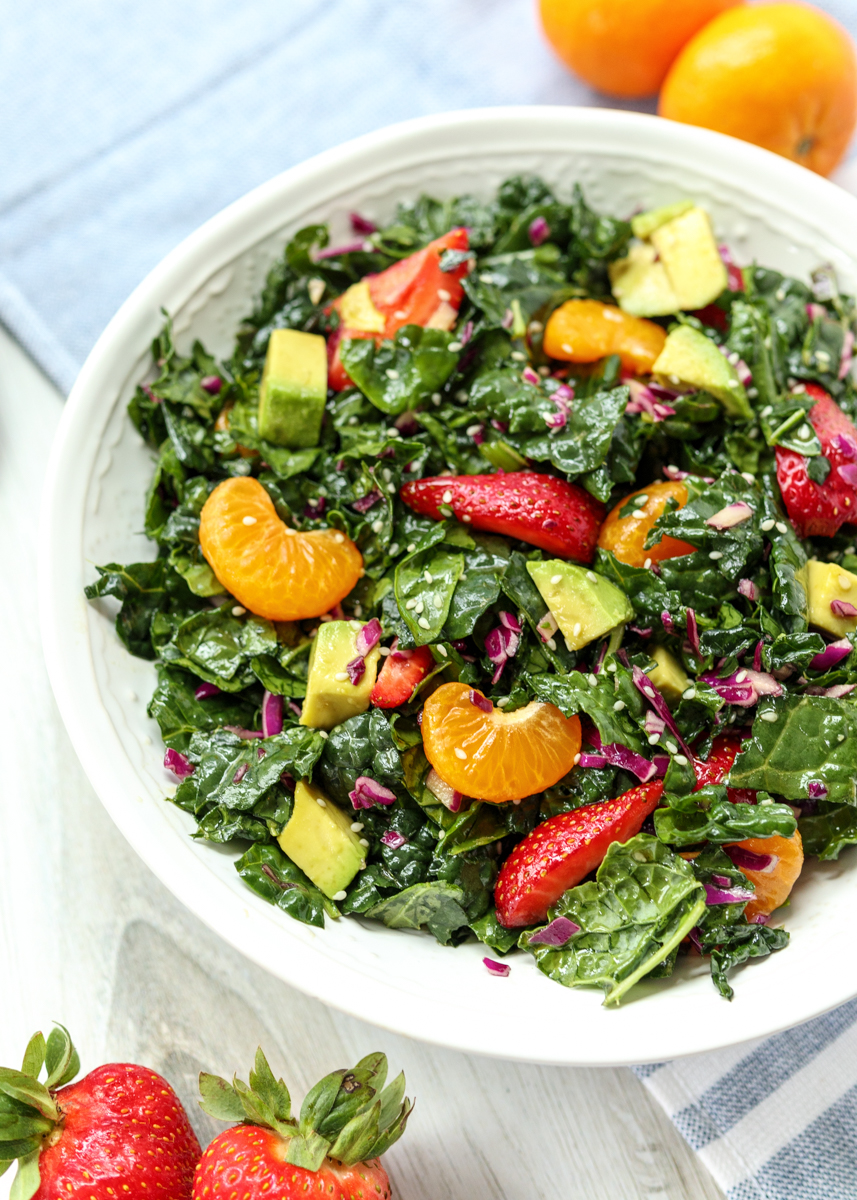 I've never had someone get so excited about me saying I've made a kale salad than Matt, although after writing this I wonder how much to contribute to the taste and how much to contribute to the ease of immediately having something to eat after walking in the door! (I just asked Matt and he said he loves the salad, but that ready-to-go dinner is nice, too – haha!) Do you have any strategies you use for weeknight meals to avoid the takeout trap?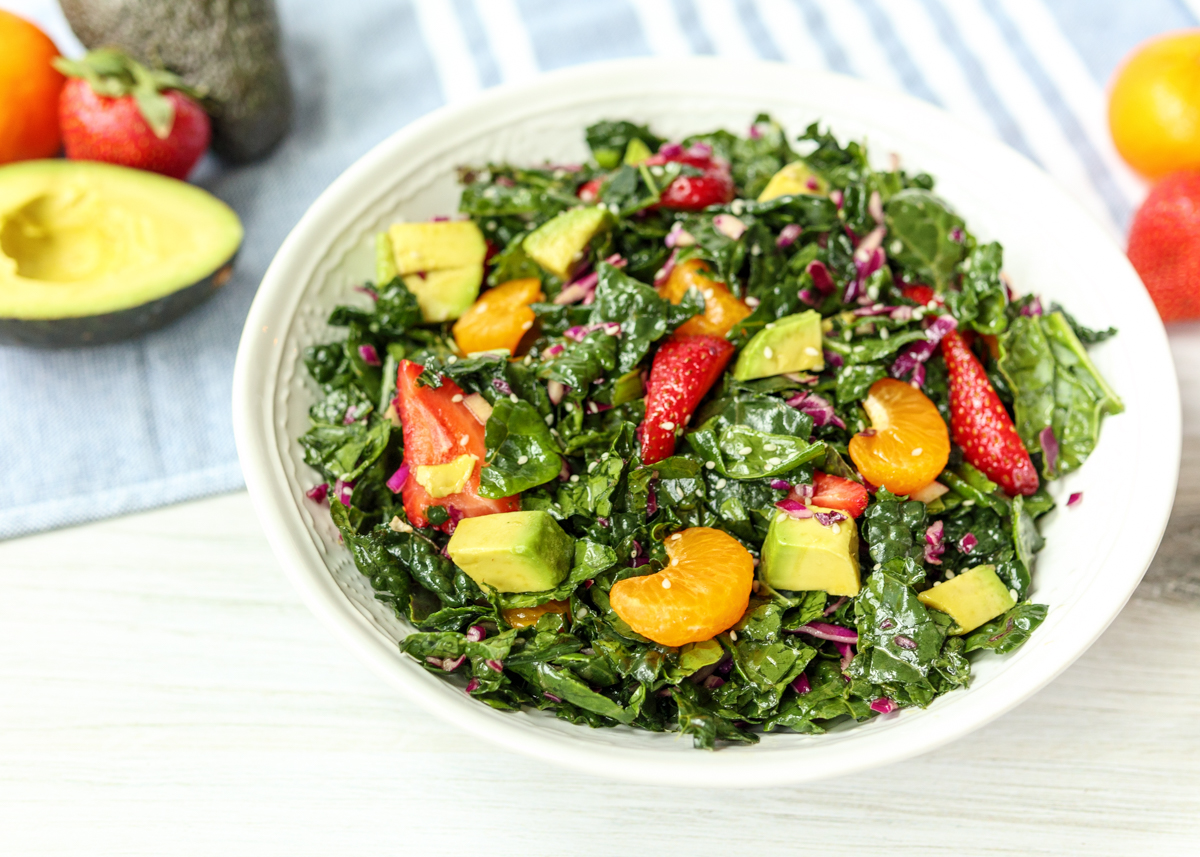 Tropical Kale Salad
Yield:
2 servings as a main dish or 4 servings as a side salad
Ingredients
for the salad
10 ounces kale
¾ cup shredded red cabbage
1 red bell pepper, diced
1 scallion, sliced
½ avocado, diced
2 mandarin oranges, peeled and sectioned
3 large strawberries, hulled and chopped
for the dressing
2 tablespoons rice vinegar
2 tablespoons olive oil
1 tablespoon low sodium soy sauce
1 tablespoon honey
1 teaspoon toasted sesame oil
½ teaspoon sesame seeds
¼ teaspoon fresh grated ginger
Directions
for the salad
Remove all thick ribs and stems; roughly chop. Place in a large mixing bowl. Continue to tear and massage the kale for 5 minutes. To massage the kale scrunch it up with both your hands, release, and scrunch up some more, tossing and tearing as you go. This helps tenderize the kale and reduce its bitterness by breaking down the cellulose structure.
Add the cabbage, bell pepper and scallion. Pour the dressing over top then toss to combine. Add the avocado, oranges and strawberries then gently toss to combine. Top with more sesame seeds if desired.
for the dressing
Whisk together all the ingredients until combined.