Healthy Creamy Pesto Pasta with Zucchini, Spinach and Sun-dried Tomatoes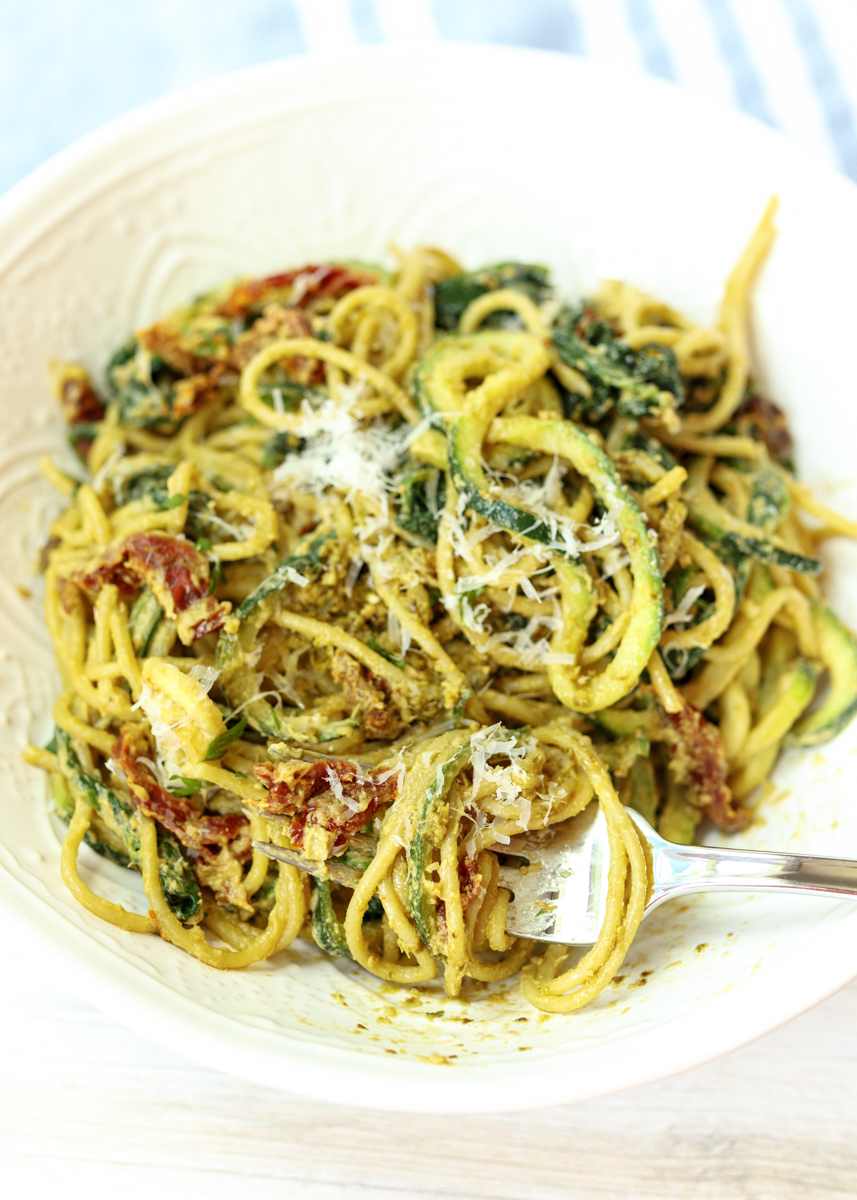 It's hard to know exactly when my pasta obsession began, but it's at least as far back as I can remember. My brother and I used to have noodles with every dinner and we would even stuff it inside pita pockets sometimes. Yes, essentially a noodle sandwich. Yes, we were odd. I think most people tend to love pasta to some degree. I mean, how can you not? It's simple, starchy and satisfying.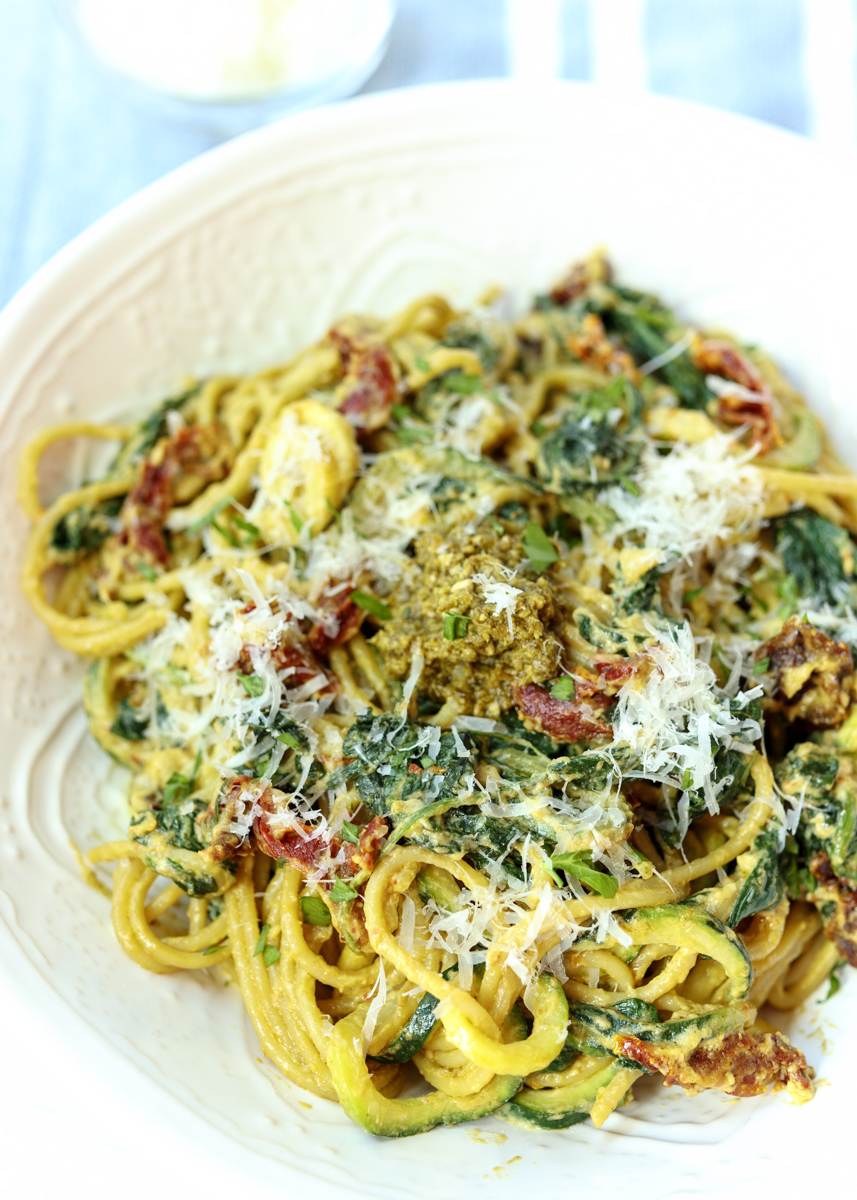 Somewhere down the line I decided pasta was a cheat meal. Matt and I would go weeks without having pasta for dinner. Then this past year, especially while preparing for my healthy January posts, I started thinking a lot about what healthy food means to me and came to the conclusion that I needed to remove the pasta cheat meal mentality. Instead of nixing pasta completely I needed to rebalance my pasta meal. A plate piled high with just spaghetti, marinara and cheese could be replaced with a smaller portion of pasta loaded with veggies. But still cheese. There always has to be cheese.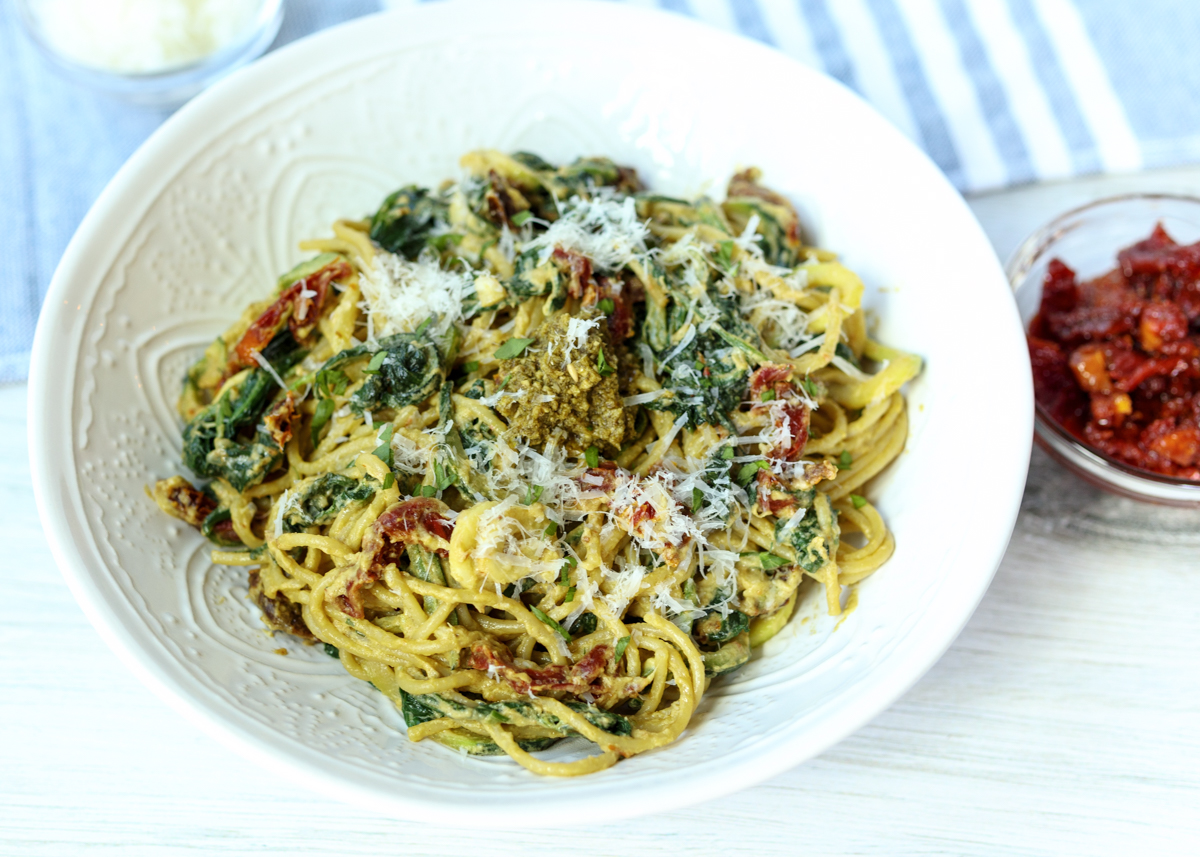 Since then Matt and I have been enjoying weeknight pasta, happily and healthily – at least with what healthy means to me. I now have three favorite healthy pasta hacks, two of which I have shared on Lemon & Mocha before. One is all the different types of alternative pasta on the market. I personally tend not to enjoy whole wheat pasta, but I have gladly embraced rice pasta, red lentil pasta, green bean pasta and, my new favorite, Barilla Veggie Spaghetti. No, this is not sponsored, it just tastes really good and is made with 25% vegetable puree making it slightly better for you than regular spaghetti. That is what I used in this recipe, but you can use any type of spaghetti you prefer.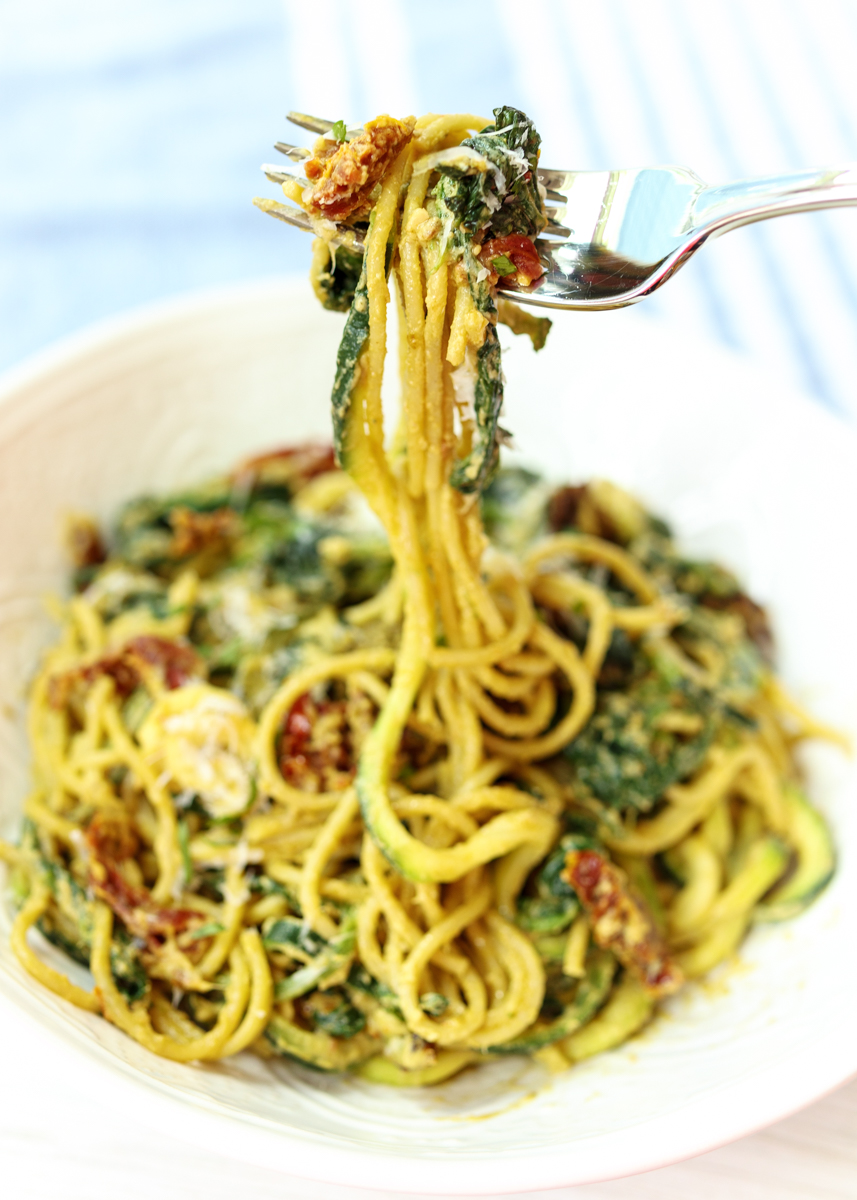 My second hack I want to share is adding cauliflower puree to make pasta sauces creamy. I used this tasty trick in the Skinny Chicken Fusilli Alla Vodka with Basil, Spinach and Parmesan recipe and it works just as well here to create a rich pesto cream sauce without any actual cream. My third healthy pasta tip that I also shared with my Winter Pesto Pasta recipe is swapping out some of the pasta for zucchini noodles.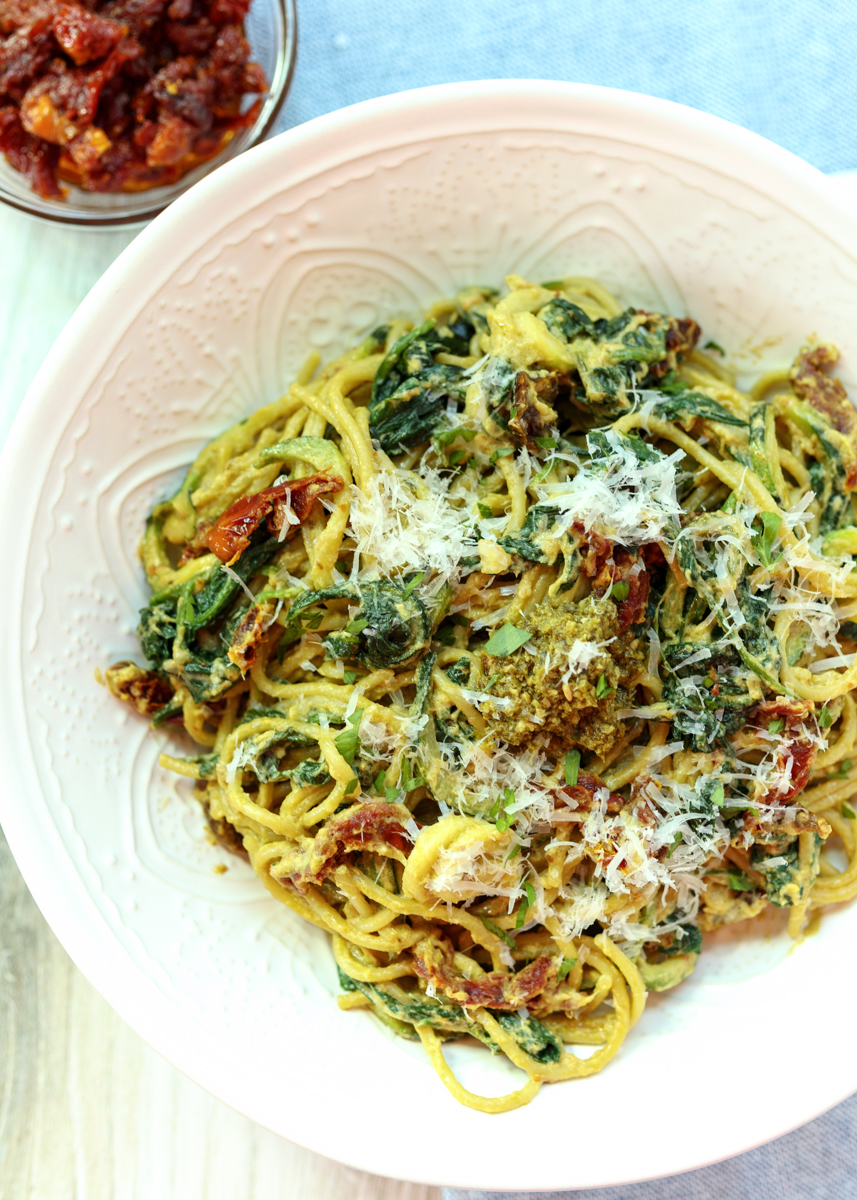 In addition to all those yummy ingredients I've kept it simple with some spinach, sun-dried tomatoes, garlic and of course Parmesan. This healthy creamy pesto pasta comes together really quickly making it a great weeknight meal. Keep it vegetarian or eat with some meatballs or chicken sausage. I hope you enjoy it as much as we do!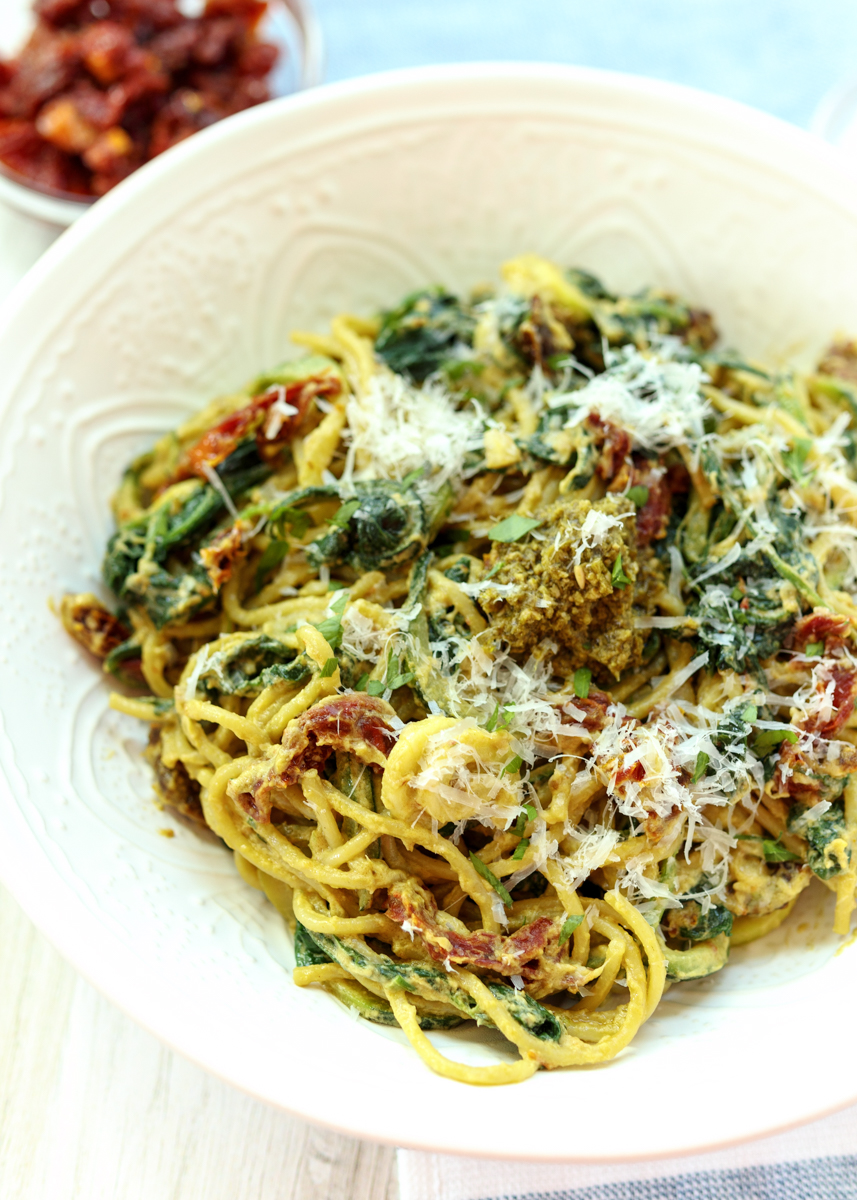 Healthy Creamy Pesto Pasta with Zucchini, Spinach and Sun-dried Tomatoes
Ingredients
6 ounces spaghetti (I used Barilla Veggie Spaghetti)
1 cup frozen cauliflower florets
⅓ cup pesto
2 tablespoons olive oil
6 ounces fresh spinach
2 zucchinis, noodled; about 2.5 cups
⅔ cup julienned sun-dried tomatoes packed in oil
1 clove garlic, minced
⅓ cup fresh grated Parmesan, plus more for topping
Fresh chopped basil for garnish
Salt and pepper
Directions
Boil water for the pasta in a large pot. Once the water is boiling, add the spaghetti and set your timer according to the package instructions (mine was for 9 minutes). When there are 6 minutes left on your timer, add the cauliflower florets. When the timer goes off, drain the pasta and cauliflower, being sure to reserve 2 tablespoons of the cooking liquid. Carefully separate out the cauliflower florets. In a high-speed blender, puree the cooked cauliflower florets, reserved cooking liquid and the pesto until smooth. Alternatively you could puree the cauliflower then just stir it into the pesto if you like the texture of the pesto and don't want it completely smooth.
While the pasta is cooking, heat the olive oil in a large sauté pan over medium-high heat. Add the spinach and cook, stirring occasionally, until almost wilted then add the zucchini noodles and the sun-dried tomatoes. Season with salt and pepper; sauté for 5 minutes. Add the garlic, cook for 30 seconds then remove from the heat.
Add the pesto mixture, the spaghetti and the Parmesan to the sauté pan. Toss to combine. Season with salt and pepper as needed. Serve topped with additional Parmesan and fresh chopped basil.