Strawberry Lemonade Cupcakes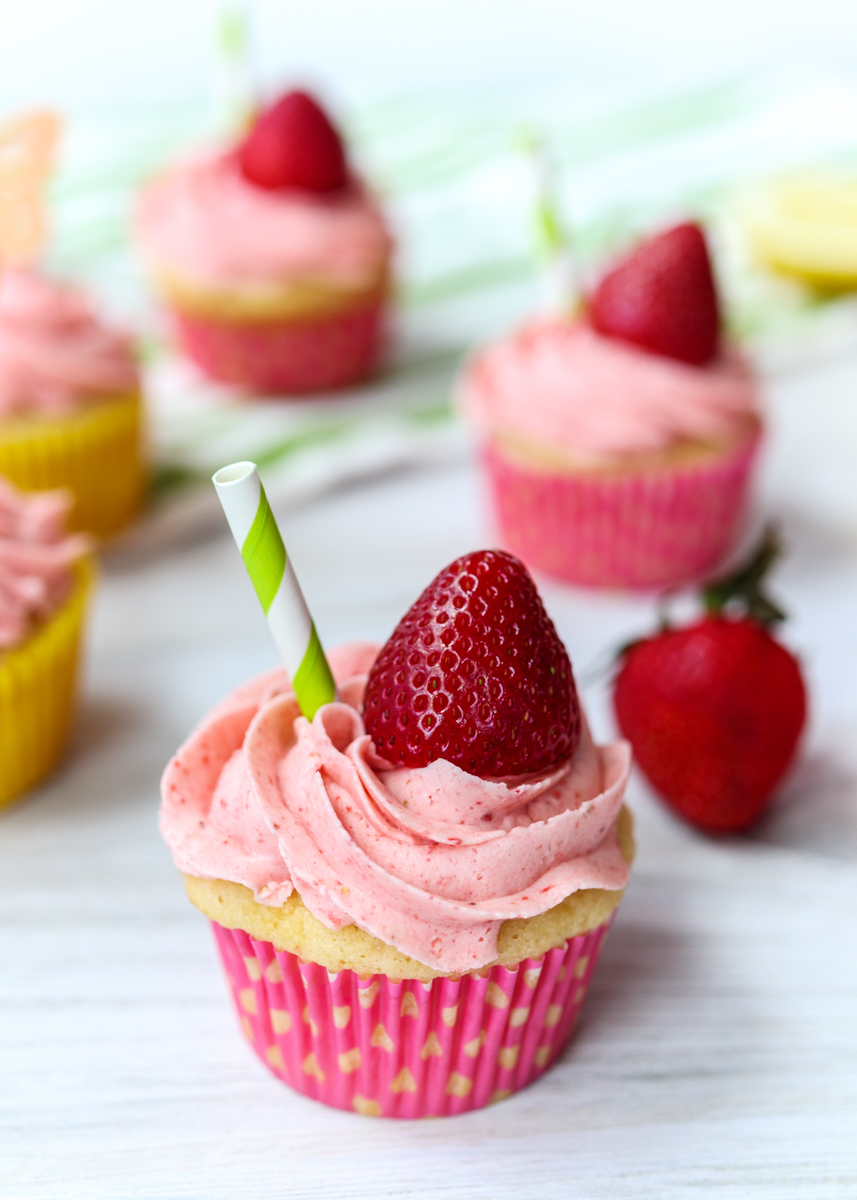 Spring desserts are all about bright flavors and colors so I thought these Strawberry Lemonade Cupcakes would be the perfect fit for these cute spring butterfly cupcake toppers gifted to me by my goddaughter. They are technically strawberry lemon cupcakes, but doesn't strawberry lemonade sound much more fun?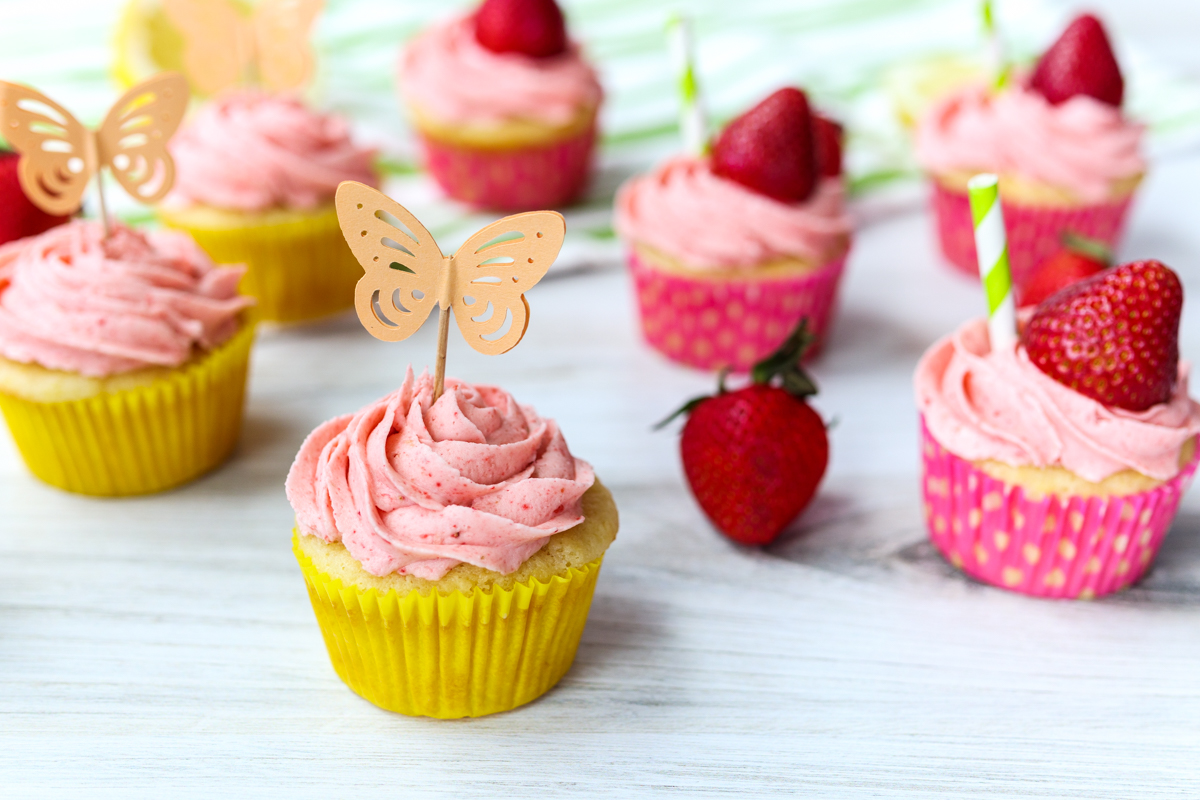 The cupcake is a classic lemon recipe flavored with lemon zest and lemon juice. It's a nice subtle lemon flavor that doesn't overpower the strawberry frosting.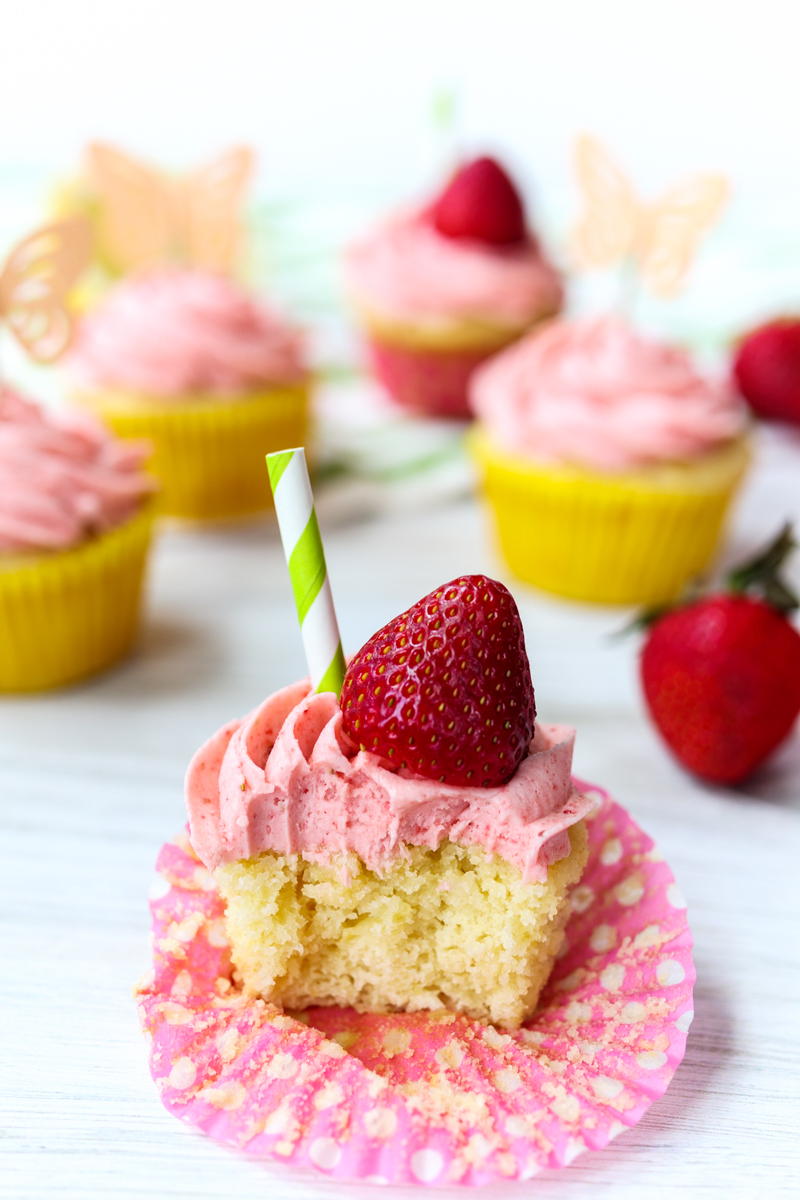 If I was making these lemon cupcakes with a plain vanilla or cream cheese frosting I would add lemon extract to really amp up the lemon flavor since I love it so much, but the strawberry frosting is so good you really don't want a lemon punch from the cupcakes to take away from it.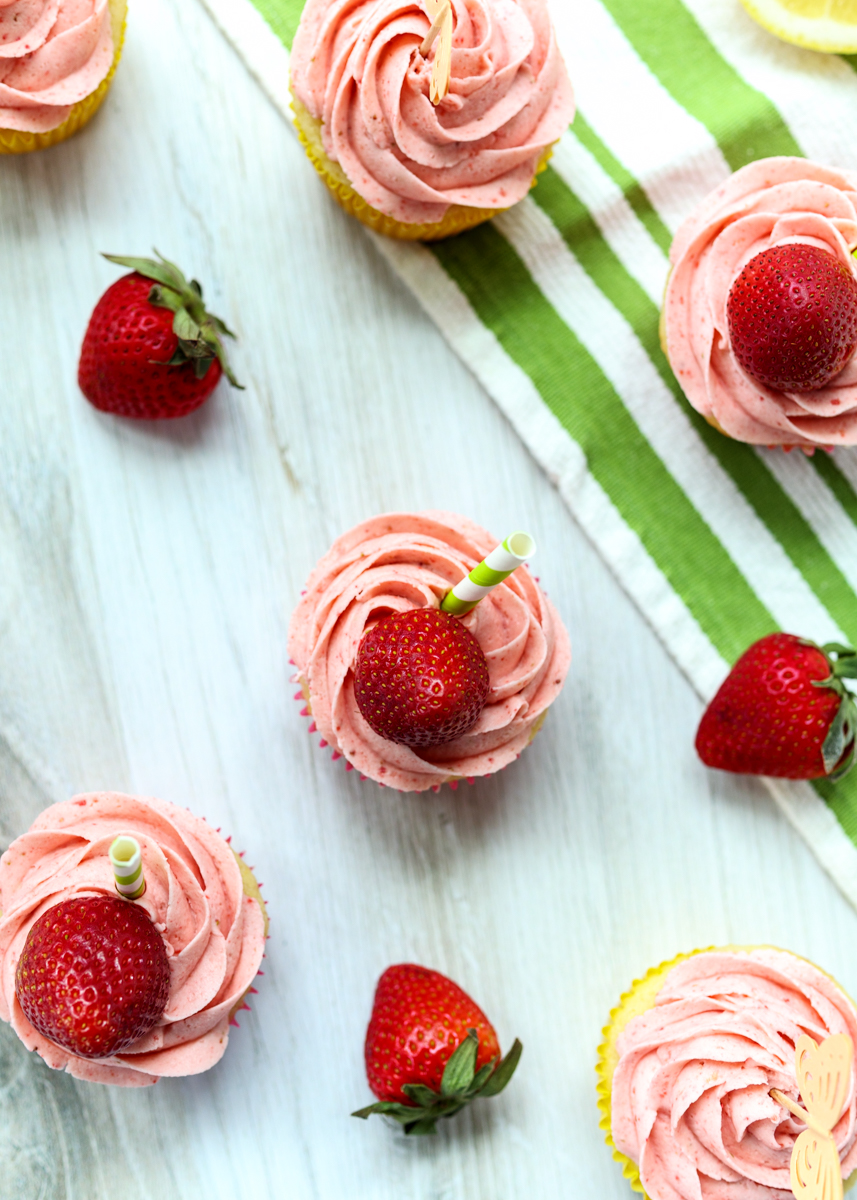 The strawberry frosting is a buttercream frosting flavored with powdered freeze dried strawberries. I took a cue from my Strawberry Chocolate Ganache Cake Balls; using freeze dried strawberries crushed up into a powder is the ultimate way to pack in real strawberry flavor without any of the moisture of fresh strawberries. I've seen freeze dried strawberries in many grocery stores and Trader Joe's and Target definitely stock it.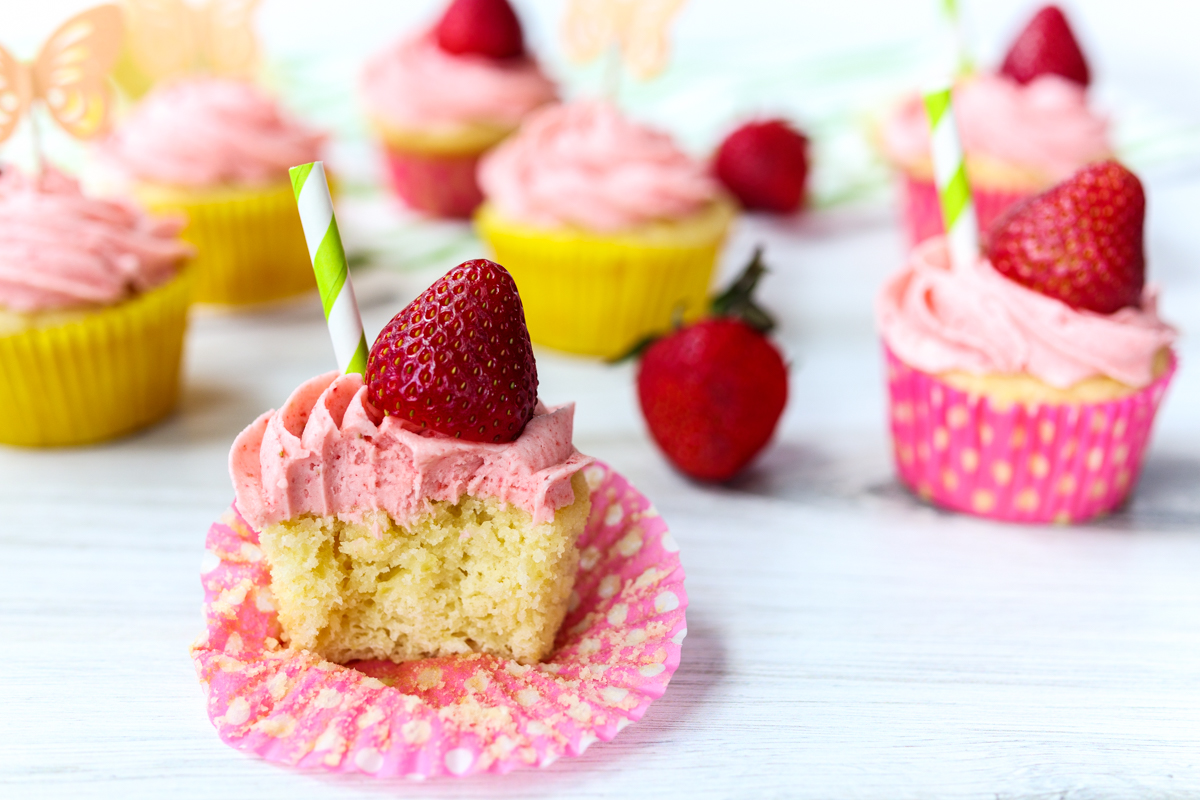 I've used this strawberry frosting on a chocolate cake before and it tasted just as bright and delicious paired with these lemon cupcakes. I hope you enjoy these cupcakes – they went fast in our house!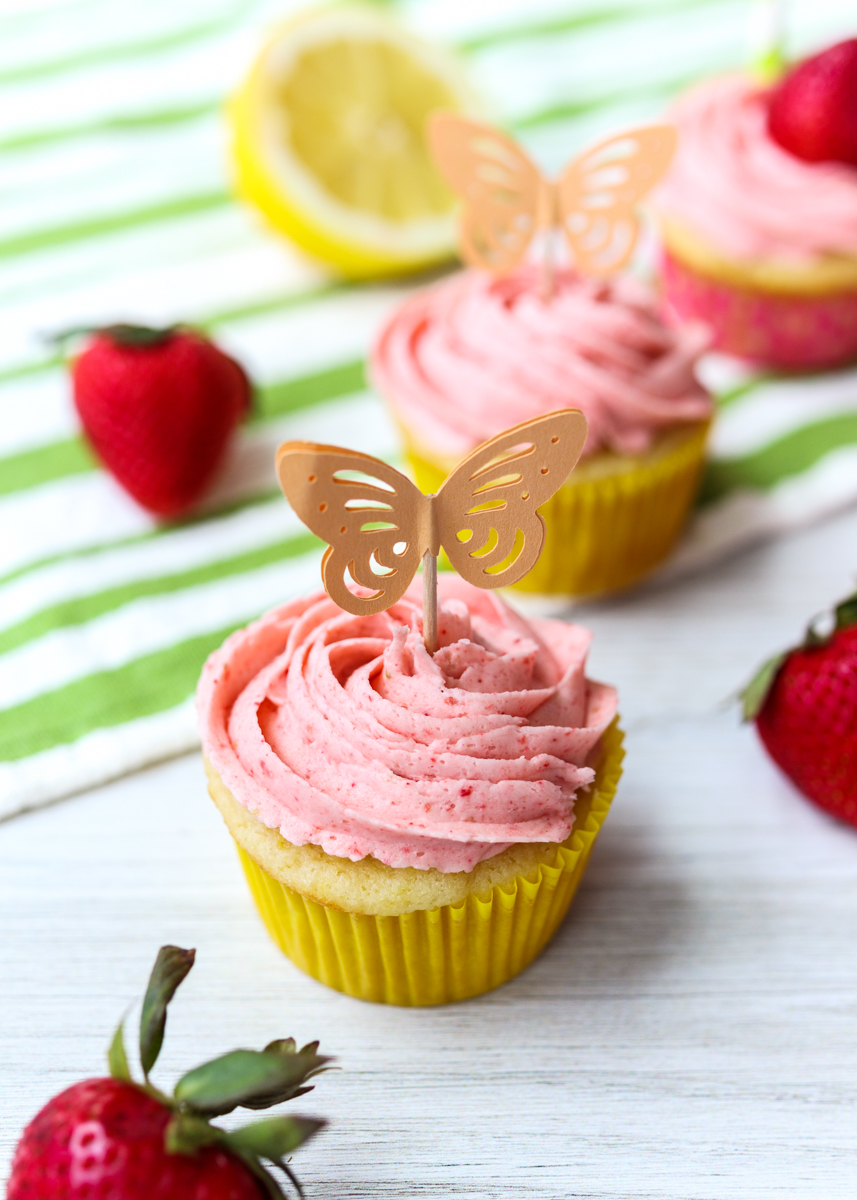 Strawberry Lemonade Cupcakes
Ingredients
for the cupcakes
1 ½ cups all-purpose flour
2 teaspoons baking powder
½ teaspoon salt
½ cup unsalted butter, room temperature
1 cup sugar
2 large eggs, room temperature
1 ½ teaspoon vanilla
½ cup milk
Zest and juice from 2 lemons
for the frosting
½ ounce freeze dried strawberries
1 cup unsalted butter (2 sticks), room temperature
2 ½ cups powdered sugar
Directions
for the cupcakes
Preheat oven to 350 degrees F. Line a cupcake pan with cupcake liners so you have enough for 12 cupcakes.
In a small mixing bowl, sift together the flour, baking powder and salt until combined.
In the bowl of a stand mixer or in a large bowl with a hand mixer, beat the butter and sugar on high until fluffy, about 2 minutes. Add the eggs and vanilla then beat on medium-high until combined. Add the flour mixture while on low until only a few streaks remain. Add the milk, lemon zest and juice then whisk by hand until combined.
Fill the cupcake liners with the batter until ⅔ full. Bake for 18-22 minutes. They are done when a toothpick comes out clean and the tops spring back when you lightly press on them. Remove cupcakes from the pan and cool completely on a wire rack before frosting.
for the frosting
Turn the freeze-dried strawberries into a powder using a food processor or by carefully crushing into a powder in the bag with a rolling pin. Set aside.
In the bowl of a stand mixer or in a large bowl with a hand mixer, beat the butter until soft and fluffy, scraping down the sides as needed. Add the strawberry powder and the powdered sugar, beat on low until combined, scraping down the sides as needed. Frost the cupcakes using a pastry bag fitted with a 1M Wilton tip.
Lemon cupcake recipe from

Sally's Baking Addiction

.