Lemonade Pinwheel Cookies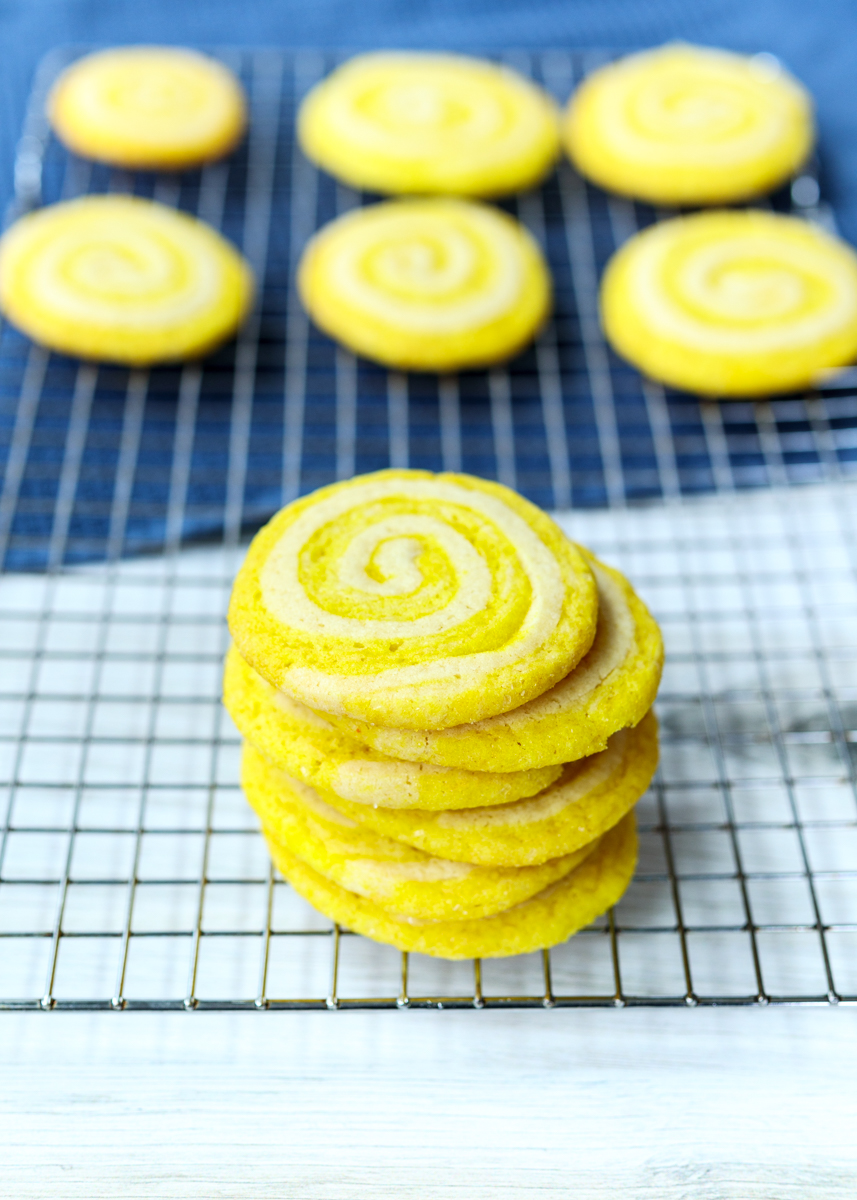 I have a confession that you may or may not have noticed. I skipped the May Food Network Magazine cookies. The May cookies are strawberry french macarons and at first I was intimidated, but excited. French macarons have been on my kitchen bucket list for years now. I bought all the ingredients to make them, read through the recipe (which was my ultimate mistake – always fully read through a recipe before committing to it!)… and just couldn't get psyched up to make them.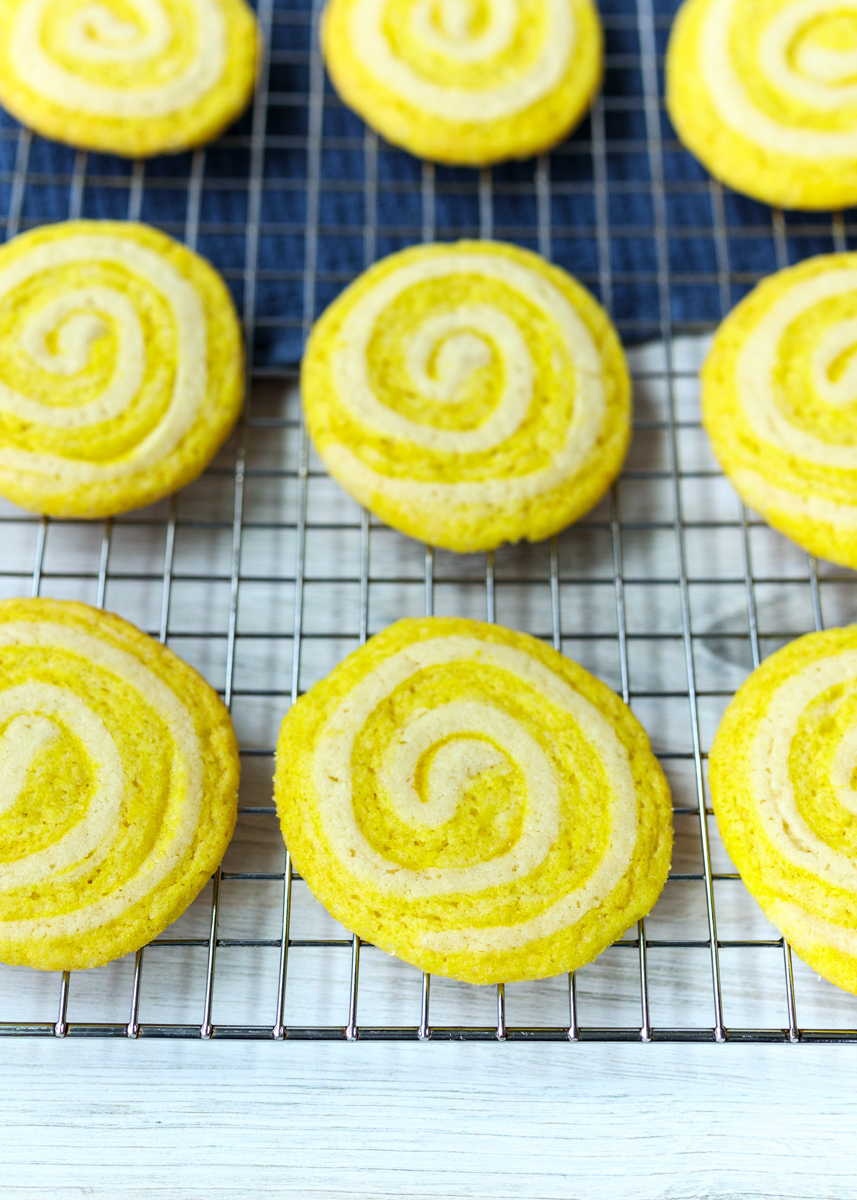 The Food Network Magazine recipe did a few things differently from other recipes I've read and I'll be honest, sometimes the magazine recipes can be really hit or miss. When it came down to it, if I was finally going to make french macarons, something I've been excited about for years, but have never gotten around to, should I really be using a Food Network Magazine recipe with no reviews instead of my trusted cookbook or blogger sources? So, I put everything aside, ate a bunch of strawberries, and decided to move right along to the June cookies.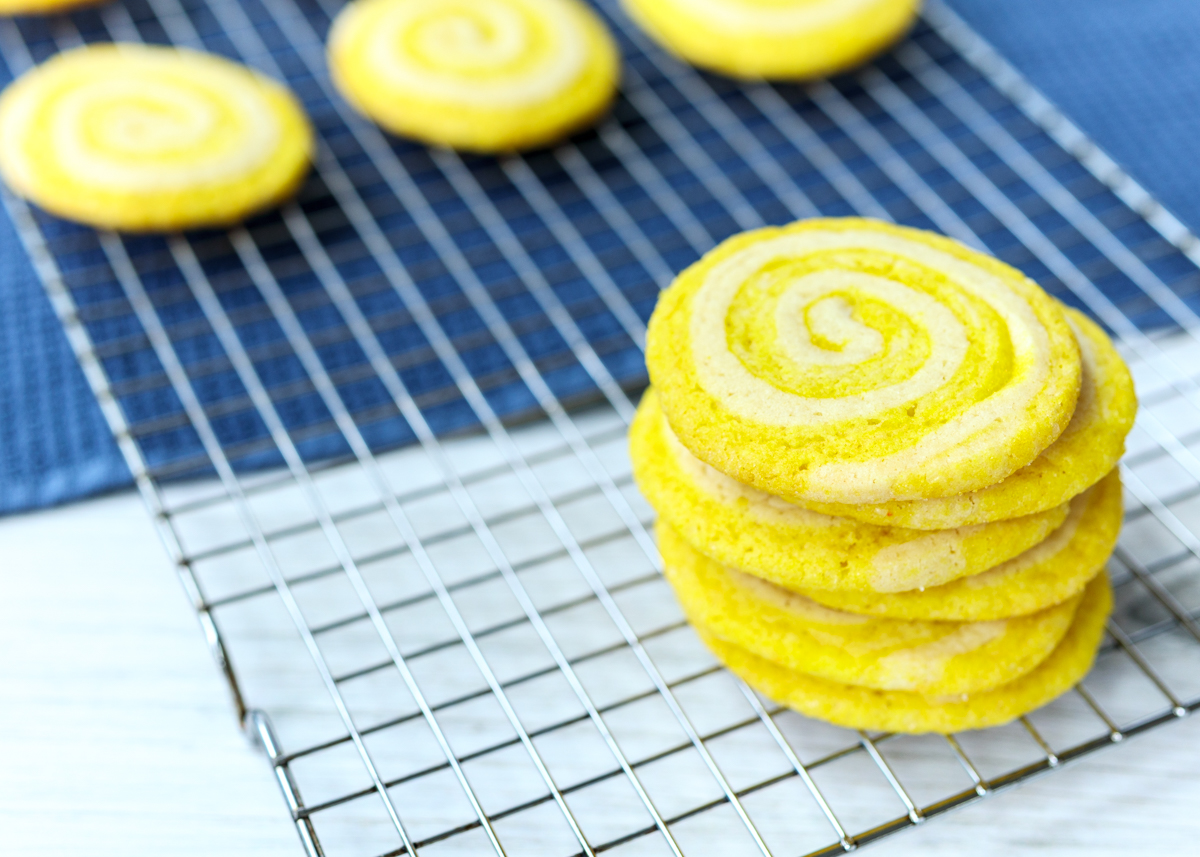 These Lemonade Pinwheel Cookies are definitely not to be skipped! They are chewy and bursting with lemon flavor. A couple weekends ago we had an awesome long family weekend with Matt's parents and brother, Nick, in the Catskills. Nick is a lemon and lime fan so I brought some of these cookies along. They were a definite hit; my mother-in-law, Theresa, even ate some, which is a big deal since she is not usually a dessert person!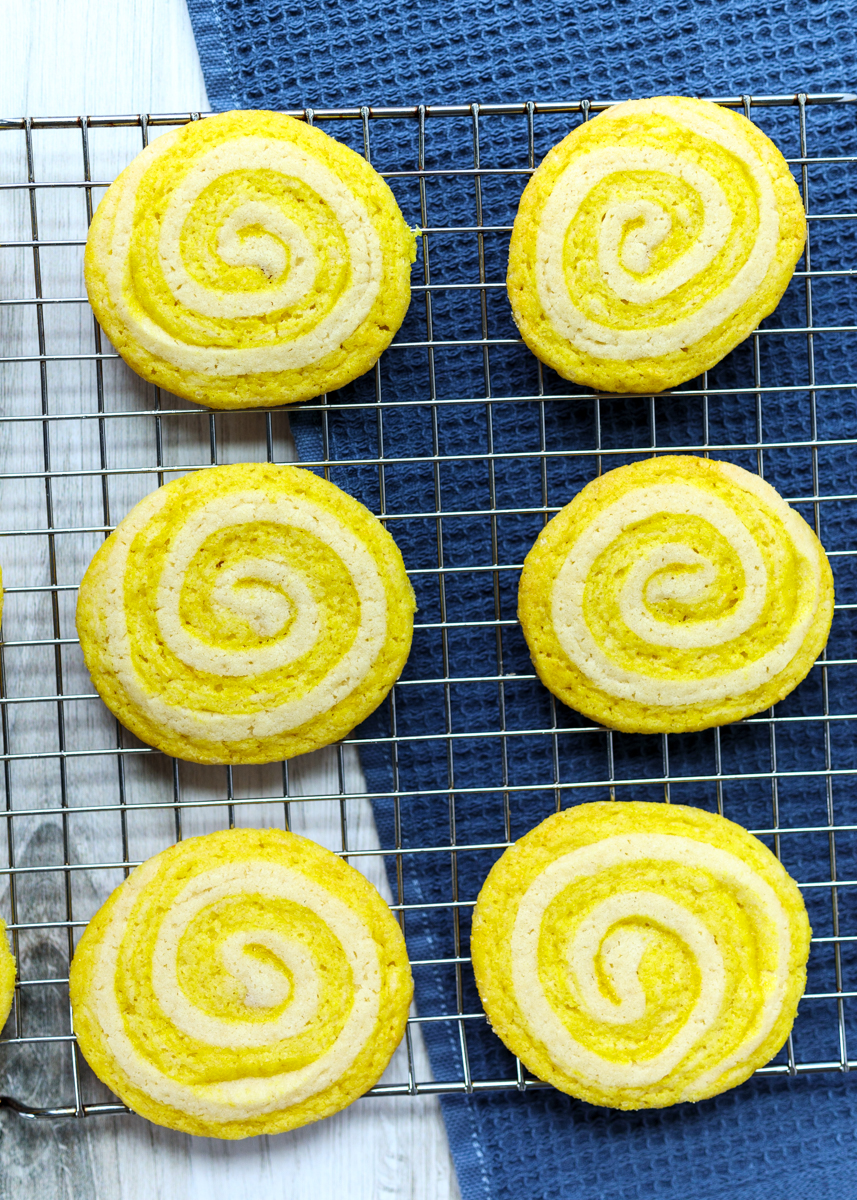 The way you get the pinwheel effect is by laying two sheets of cookie dough on top of one another, rolling them up, then slicing and baking the cookies. The lighter dough is a sugar cookie dough with lemon extract. The yellow layer is that same lemon sugar cookie dough, but with lemon juice, lemon zest and lemon gelatin powder amping up the lemon flavor. There's also a little yellow gel food coloring.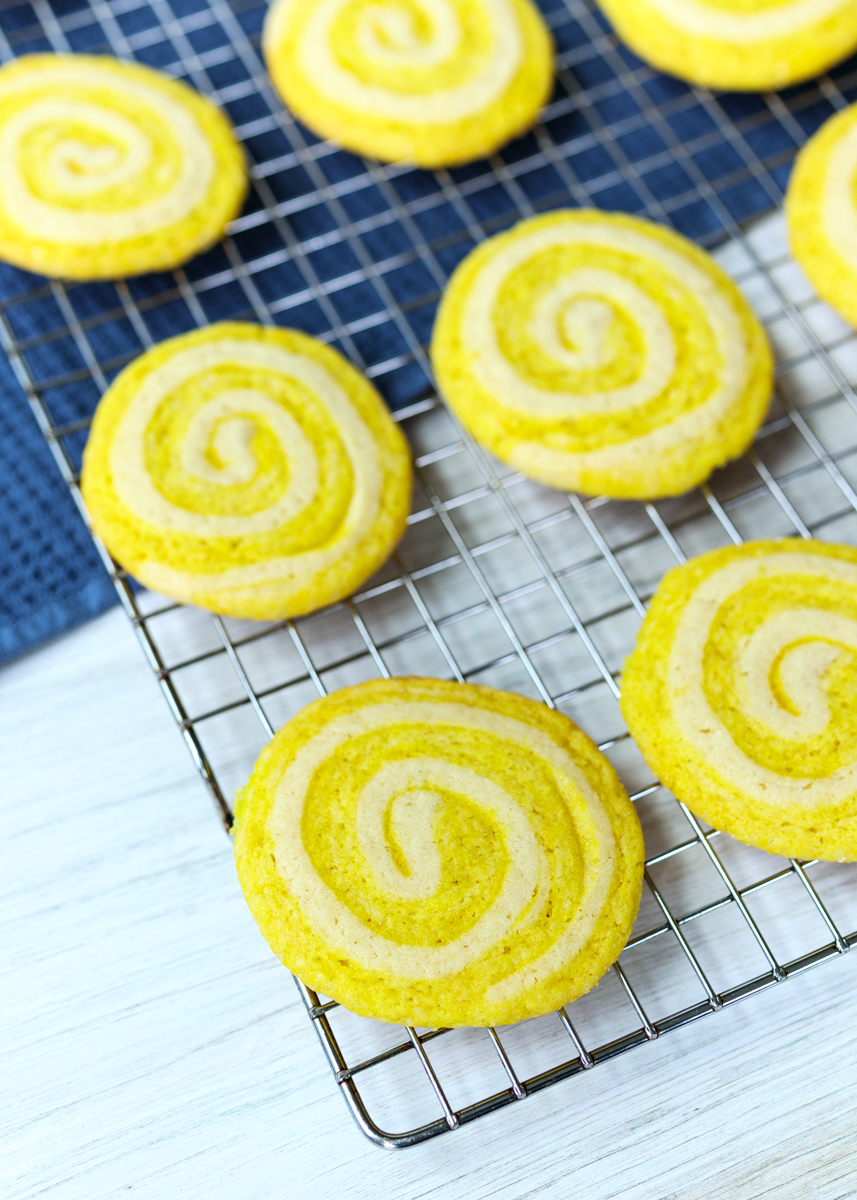 If you like lemon then I promise you will love these cookies! Make sure you read the recipe thoroughly well in advance because there's two separate chilling steps so you most likely will want to give yourself at least two days to make them. Enjoy!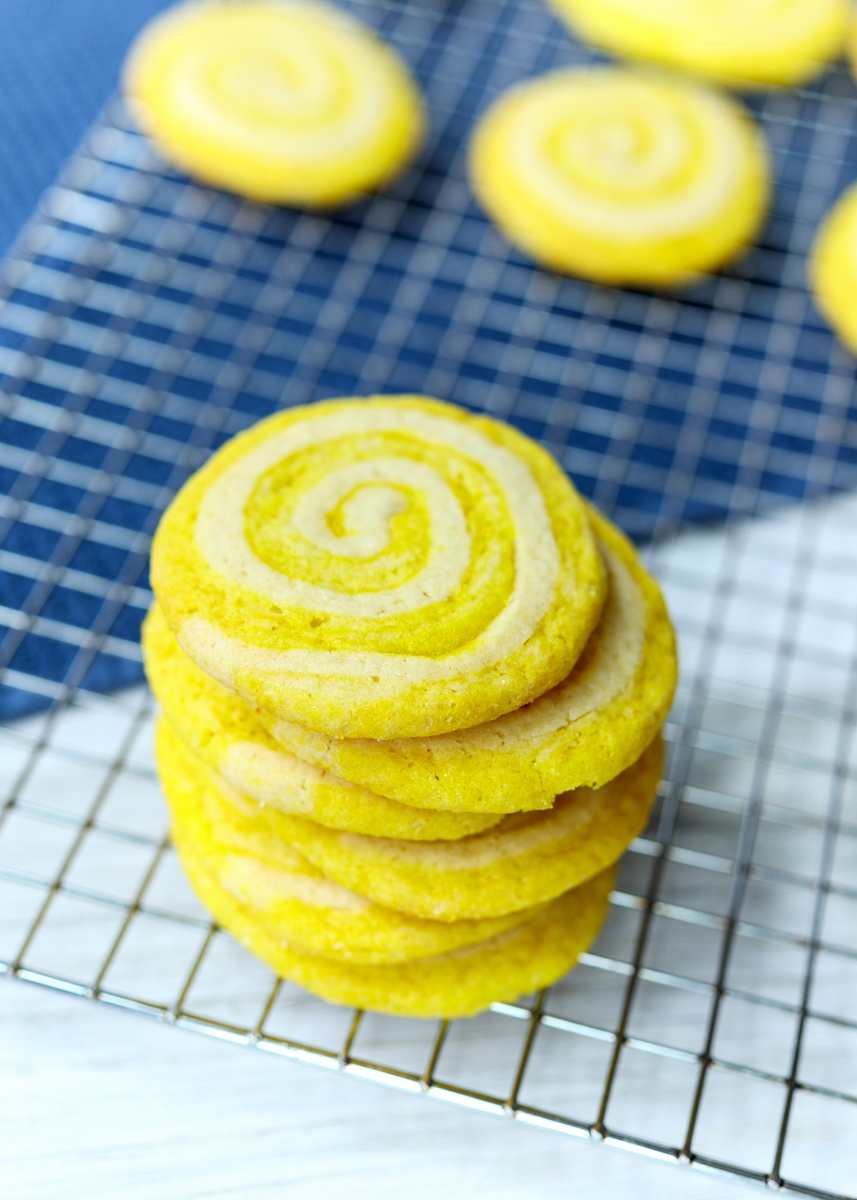 Lemonade Pinwheel Cookies
Ingredients
2 cups all-purpose flour, plus more for dusting
½ teaspoon salt
½ teaspoon baking powder
¼ teaspoon baking soda
12 tablespoons unsalted butter (1½ sticks), room temperature
⅔ cup granulated sugar
1 large egg
½ teaspoon pure vanilla extract
¼ teaspoon pure lemon extract
¼ cup lemon gelatin powder (from one 3-ounce box), divided
Lemon zest from 2 lemons
1 teaspoon lemon juice
½ teaspoon yellow gel food coloring
2 tablespoons yellow sanding sugar, divided
1 tablespoon coarse white sugar
Directions
In a medium bowl, sift together the flour, salt, baking powder and baking soda. In a large bowl with a hand mixer or in the bowl of a stand mixer, beat the butter and sugar on medium-high speed for 3 minutes, or until fluffy. Add the egg, beat, then add the vanilla and lemon extracts and beat, scraping down the sides as needed. Add the flour mixture on a reduced low speed until just combined.
Place half the dough on a large sheet of plastic wrap, flattening the dough into a disk as you wrap it. To the remaining dough, add 2 tablespoons of the gelatin powder, the lemon zest, lemon juice and the gel food coloring. Beat until just combined then wrap that half of the dough in plastic wrap, also shaping into a disk. Refrigerate both disks of dough until firm for at least 2 hours or overnight.
Remove the plain colored dough from the fridge and roll it out into a 10-inch by 11-inch rectangle on a lightly floured. I found it easier to move the dough if I rolled it out on a floured piece of wax paper or plastic wrap. Put aside. Remove the yellow dough from the fridge and repeat the rolling process. Place the yellow dough rectangle on top of the plain colored dough rectangle. Trim the edges then sprinkle 1 tablespoon of the yellow sanding sugar over top. Starting with the long end, tightly roll up the dough to form a log. Wrap the log in plastic wrap then refrigerate until firm for at least 3 hours or overnight.
Preheat the oven to 350 degrees F with the oven racks in the upper and lower thirds of the oven. Line 2 baking sheets with parchment paper and set aside. In a small bowl, combine the remaining 2 tablespoons of gelatin powder, 1 tablespoon yellow sanding sugar and the coarse white sugar. Remove the dough log from the fridge and roll it in the sugar mixture, pressing to help stick. Use a sharp knife to cut the log into ⅜-inch thick slices. Arrange the cookies on the prepared baking sheets. Bake for 15 minutes, or until the cookies are set around the edges, switching the pans halfway though. Let the cookies cool for 5 minutes on the pan then transfer to a wire cooling rack to cool completely.
Notes
Make sure your dough sheets are equal sizes and wrap the dough together tightly when you roll it. The ends of my dough log were all uneven and not very tightly wrapped so I got about 14 or so perfect looking cookies and the rest of my cookies were kind of odd shaped because they were closer to the ends of the dough log.
 Recipe from January/February 2019 issue of Food Network Magazine
.
Some of the links above are affiliate links, which means I may receive a small commission for my referral. This does not affect the retail cost of the item. Thank you for supporting Lemon & Mocha!