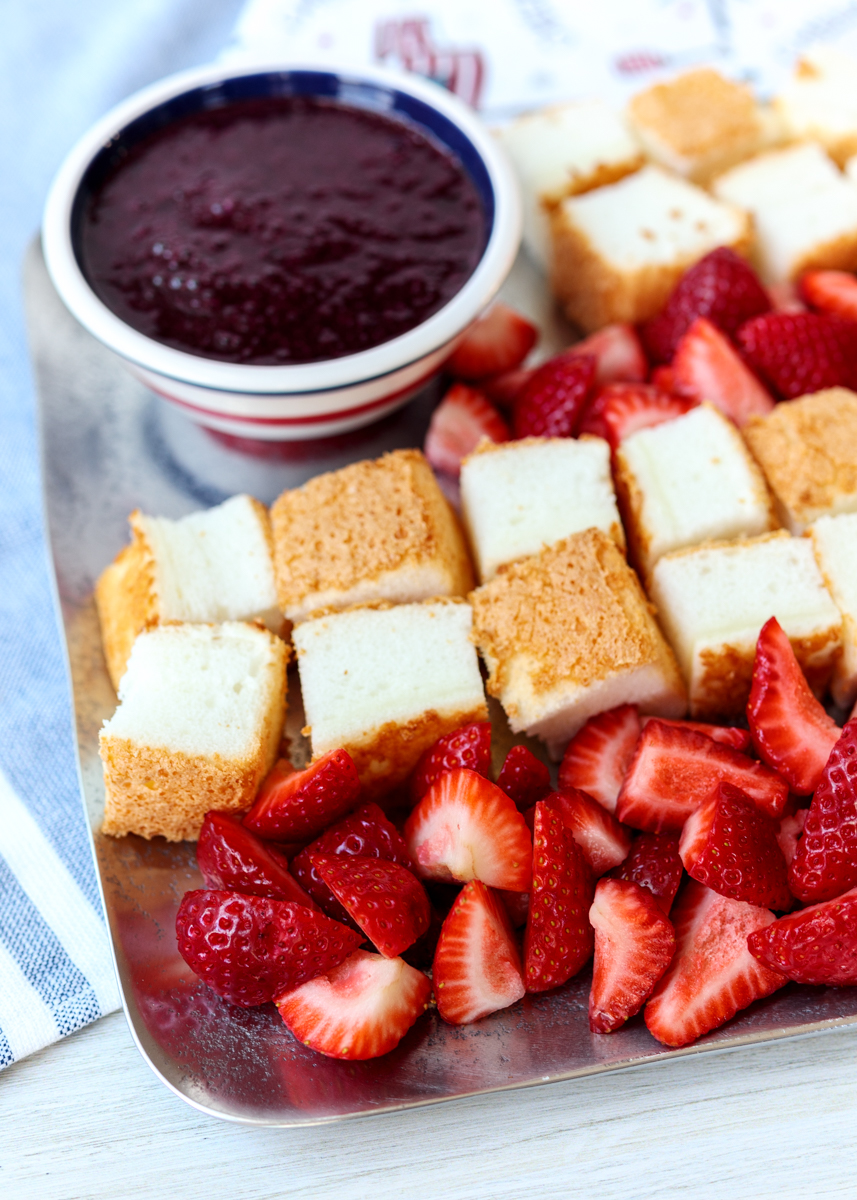 How fun is this Red, White and Blue Angel Food Cake Platter? As I've mentioned in past posts, Babu and I used to make a classic flag sheet cake every Fourth of July. Now my new tradition seems to be coming up with a tasty new alternative every year instead! I really enjoyed putting together last year's Flag Fruit and Dessert Platter and I wanted to do something similar this year.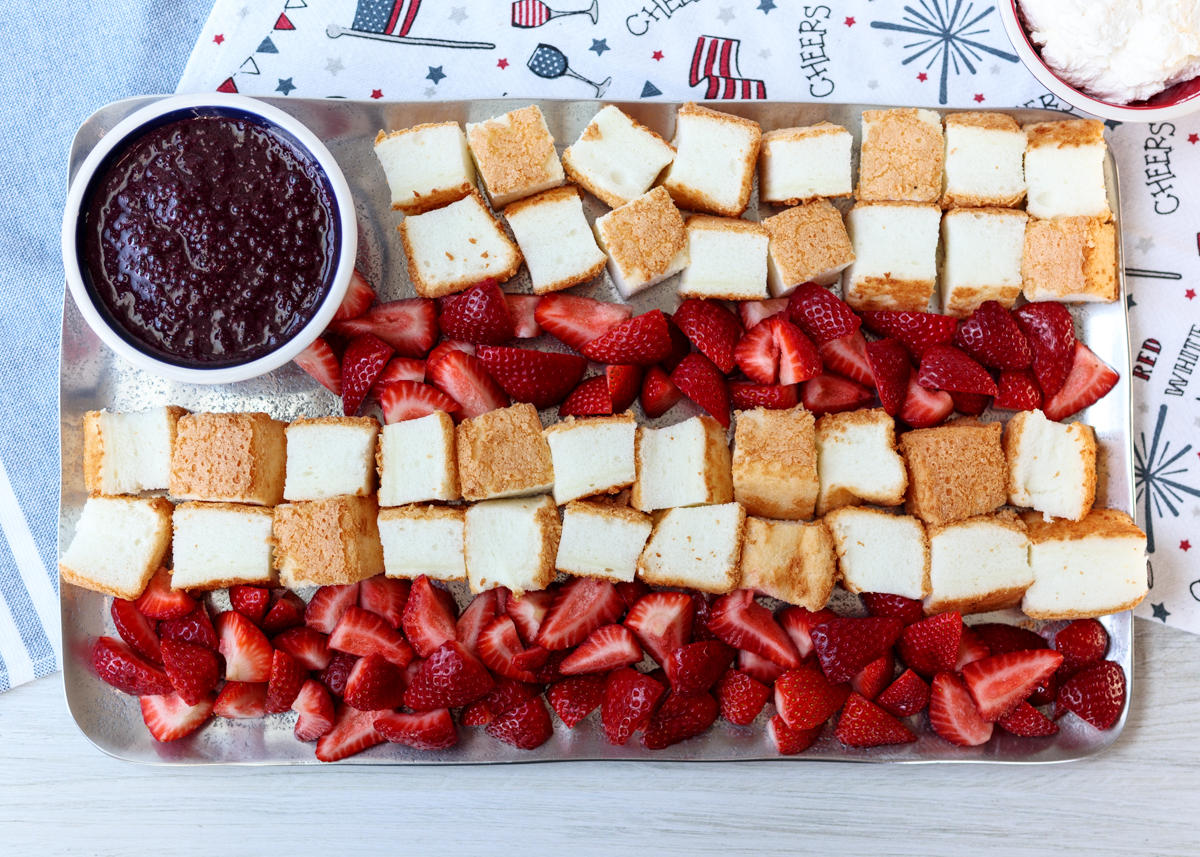 Just like mini appetizer food, dessert boards encourage informal snacking and eating, which is especially welcome during lazy summer barbecue parties. When it's hot out and all the yummy fruits are in season during the summertime I find myself craving fruity desserts. Even better if they're light and refreshing. This red, white and blue platter essentially turns an already simple dessert into a top your own angel food cake bar.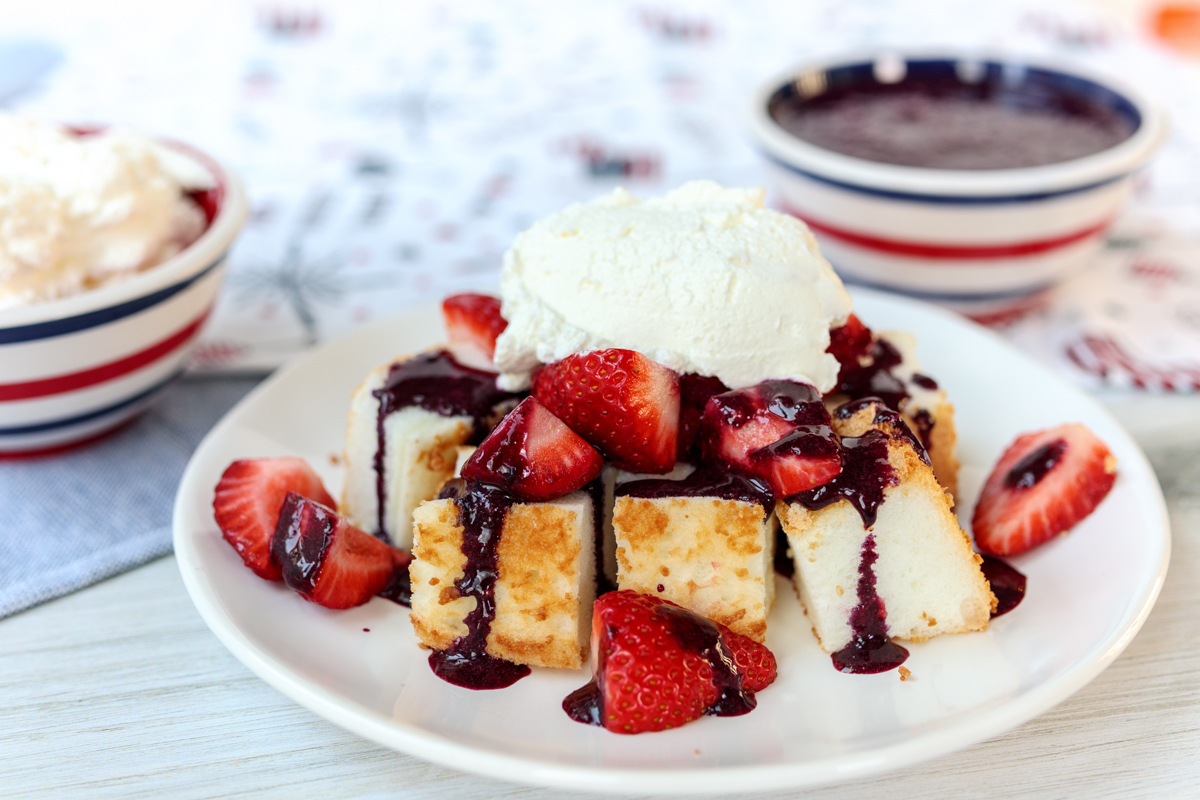 The white stripes consist of chunks of fluffy angel food cake. Buy it at the store, bake it from scratch or use a box mix; totally up to you! I went basic with the red stripes and just layered juicy strawberries. Strawberries, raspberries and pitted fresh cherries are all great choices that would pair well with the angel food cake.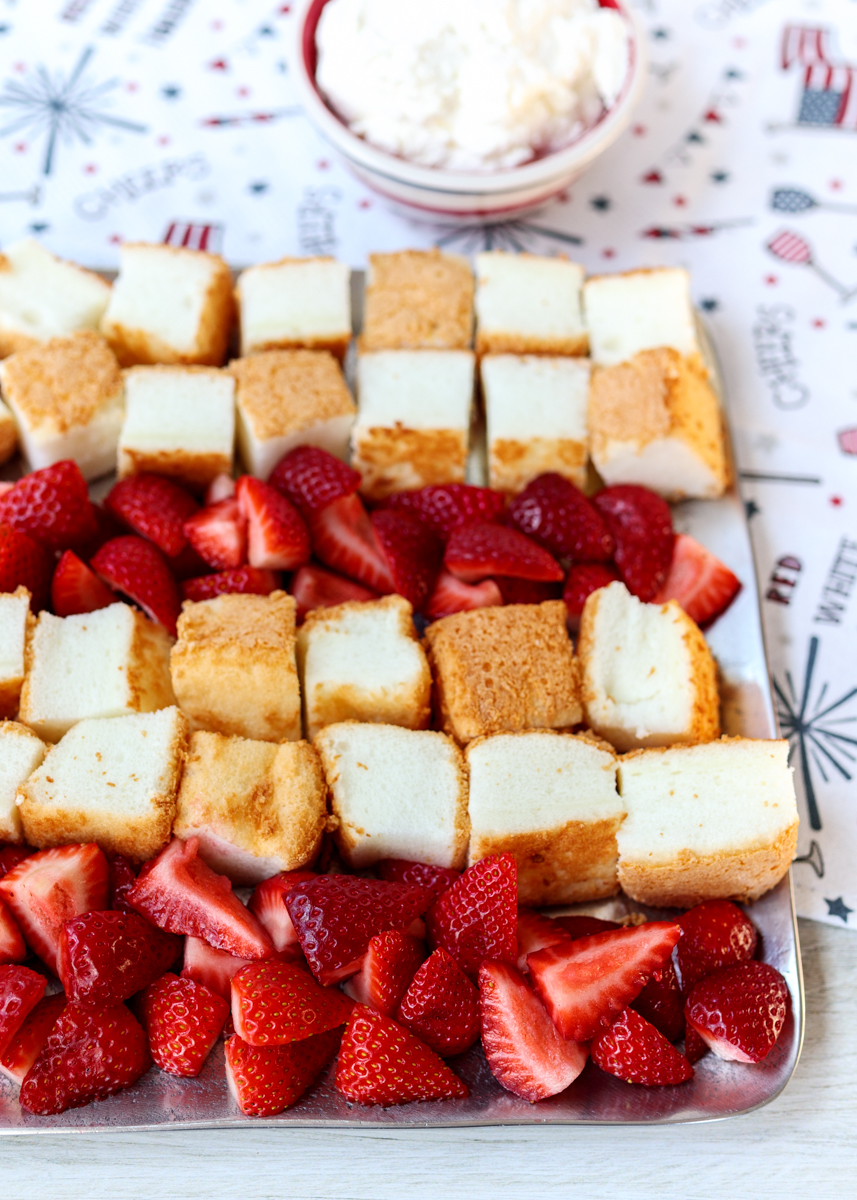 For the blue section of the flag I have a quick sauce made with blueberries. It was my first time making this easy four-ingredient sauce from Barefoot Contessa and it will definitely not be my last. Striking the perfect balance of sweet and tart, the blueberry sauce tastes so good drizzled all over the angel food cake and fresh berries.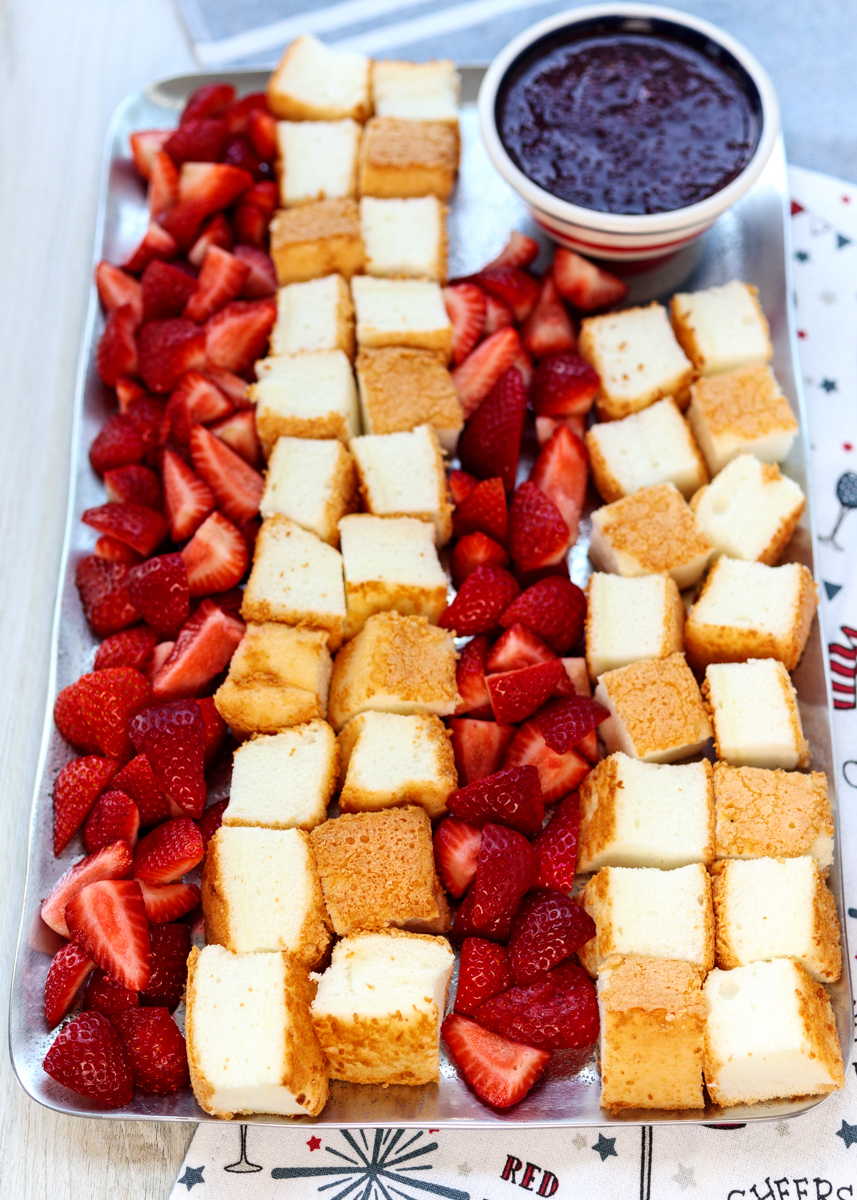 Finally, in a bowl nearby since it doesn't really fit into the flag is some homemade whipped cream because you can't have summer cake and berries without whipped cream! If you're going for all simple this holiday then just break out some Cool Whip. I promise no one will complain. However, if you do take the extra few minutes to make the fresh whipped cream then I also promise you will have some extra rave reviews of your top your own angel food cake bar. Enjoy and have a great holiday!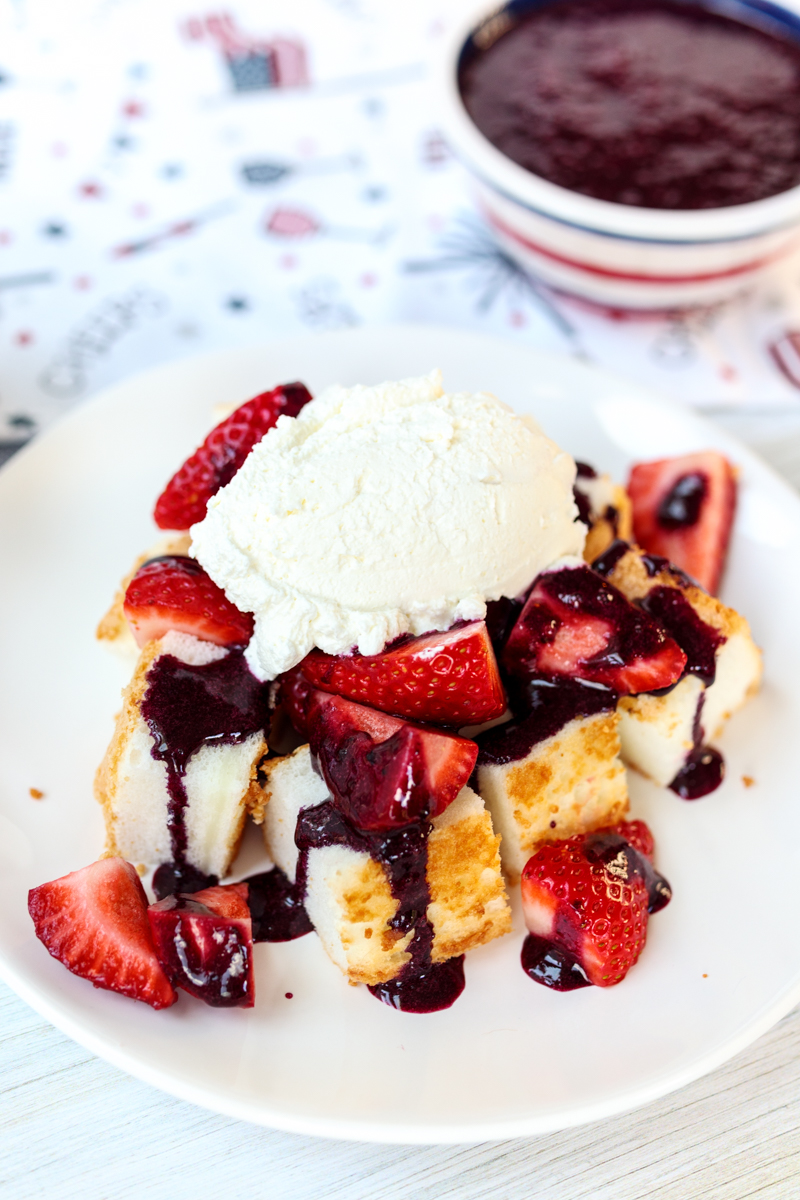 Red, White and Blue Angel Food Cake Platter
Yield:
1 platter; 2 cups blueberry sauce
Ingredients
for the platter
1 angel food cake, cut into cubes
24 ounces strawberries, hulled and quartered
1 cup heavy cream, cold
2 tablespoons granulated sugar
for the blueberry sauce
1½ pints blueberries
½ cup sugar
1 teaspoon vanilla extract
1 tablespoon lemon juice
Directions
for the platter
Arrange the cake cubes on the platter in stripes, leaving room for the strawberries and a bowl filled with blueberry sauce in the upper left corner. Place the strawberries on the platter right before serving.
In a cold metal bowl of a stand mixer or in a large cold metal mixing bowl with a hand mixer, use cold beaters to beat the heavy cream and sugar until stiff peaks form. Keep refrigerated until you're ready to serve it. You can make the whipped cream a day ahead, just store it in the fridge until you're ready to serve then lightly beat with a whisk.
for the blueberry sauce
In a medium saucepan, bring the blueberries, sugar, vanilla, lemon juice and ¼ cup water to a boil. Reduce to a simmer, cover and cook for 15-20 minutes. The sauce should be thickened. Remove from the heat and blend in a blender or with an immersion blender. Alternatively you could strain in a mesh strainer to remove the blueberry chunks. If you prefer the chunks of blueberries in the sauce then you can just leave it as is. Cool to room temperature then store in the fridge until ready to serve.
Notes
I used a box mix and baked it in two square baking pans. I lined the baking pans with parchment paper then made the angel food cake according to the package instructions, baking at 325 degrees (my pans were nonstick) for 35 minutes, or until the tops were dark golden. When they came out of the oven I leaned the pans on their sides and when they were mostly cool I took them out of the pans and cut them into cubes.
Blueberry sauce recipe adapted from

Ina Garten

.