Antipasto Puff Pastry Bites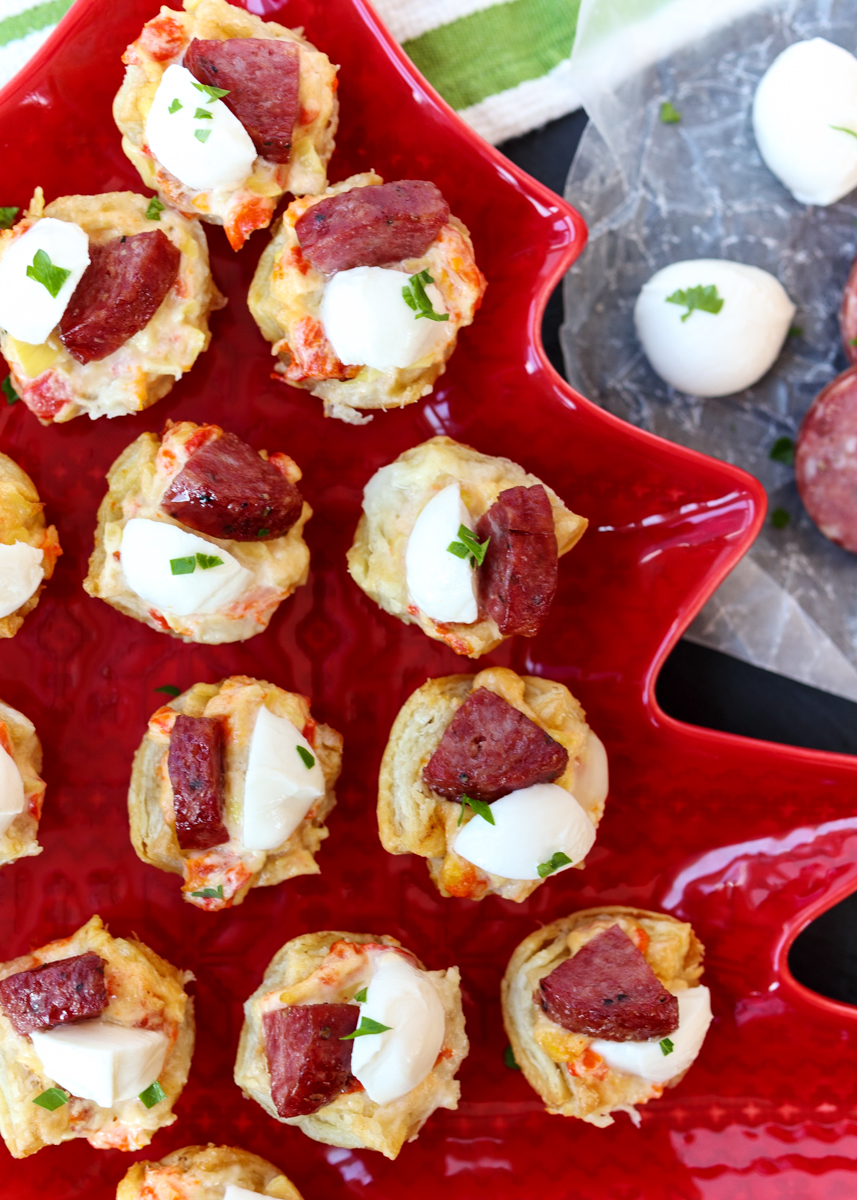 I know I say this all the time, but you need to try these Antipasto Puff Pastry Bites! This perfect party appetizer has all your favorite flavors of antipasto packed into one creamy bite. I love making appetizers with store-bought puff pastry because they look so fancy, but are actually incredibly easy. The puff pastry does all the work resulting in a buttery and flaky vessel for all the antipasto fixings.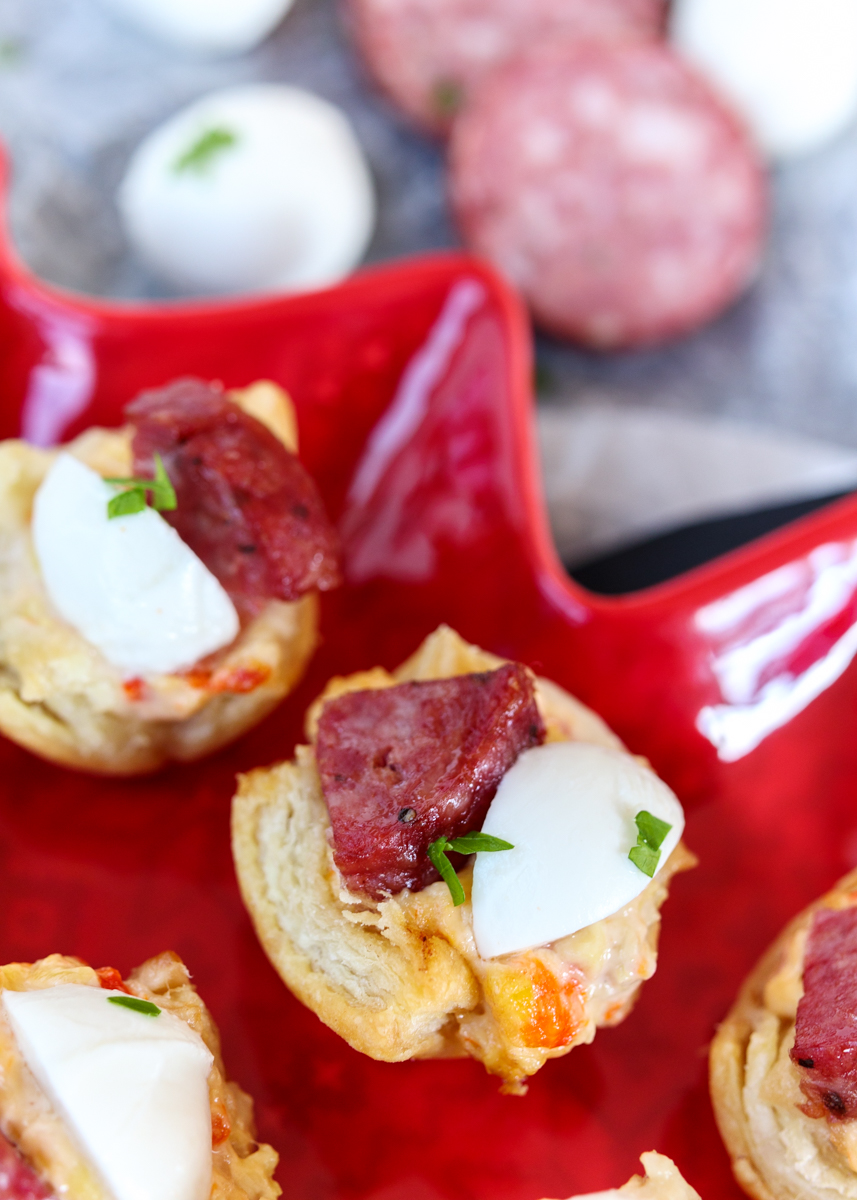 I'm not sure if you can tell from the photos, but these bites are made in a mini muffin pan so they're really small, like a one bite deal. Since we are working with limited space inside these little flaky cups I decided to incorporate the artichokes and roasted red peppers by turning them into a simple artichoke dip. The artichoke hearts and roasted red peppers are chopped up then mixed with some fresh grated Parmesan cheese, garlic powder and a secret ingredient to make the easiest and creamiest artichoke and red pepper dip ever.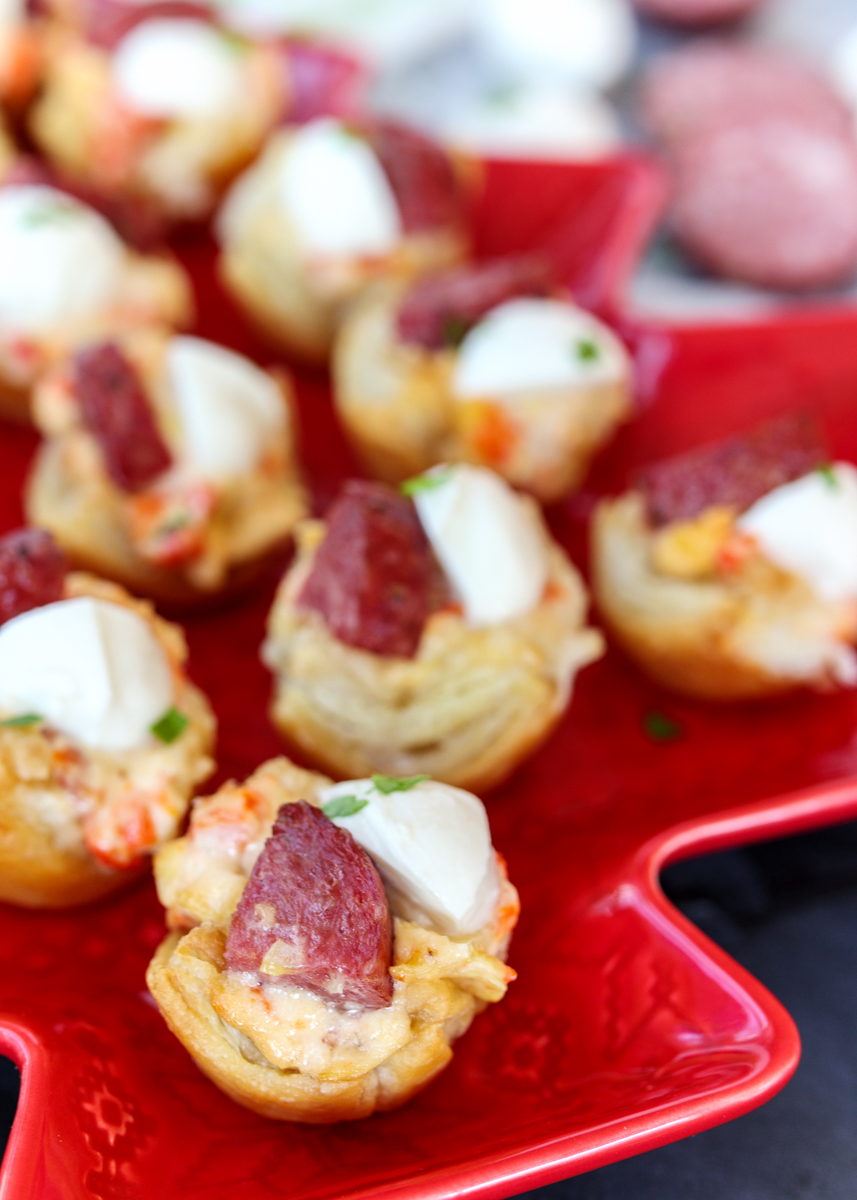 Then on top we have some salami and a mini mozzarella ball to round out our antipasto flavors. You can add in some olives if you like, but Matt and I aren't olive fans so I left those out. Top with some fresh basil or Italian parsley and you've made a delicious twist on a classic antipasto!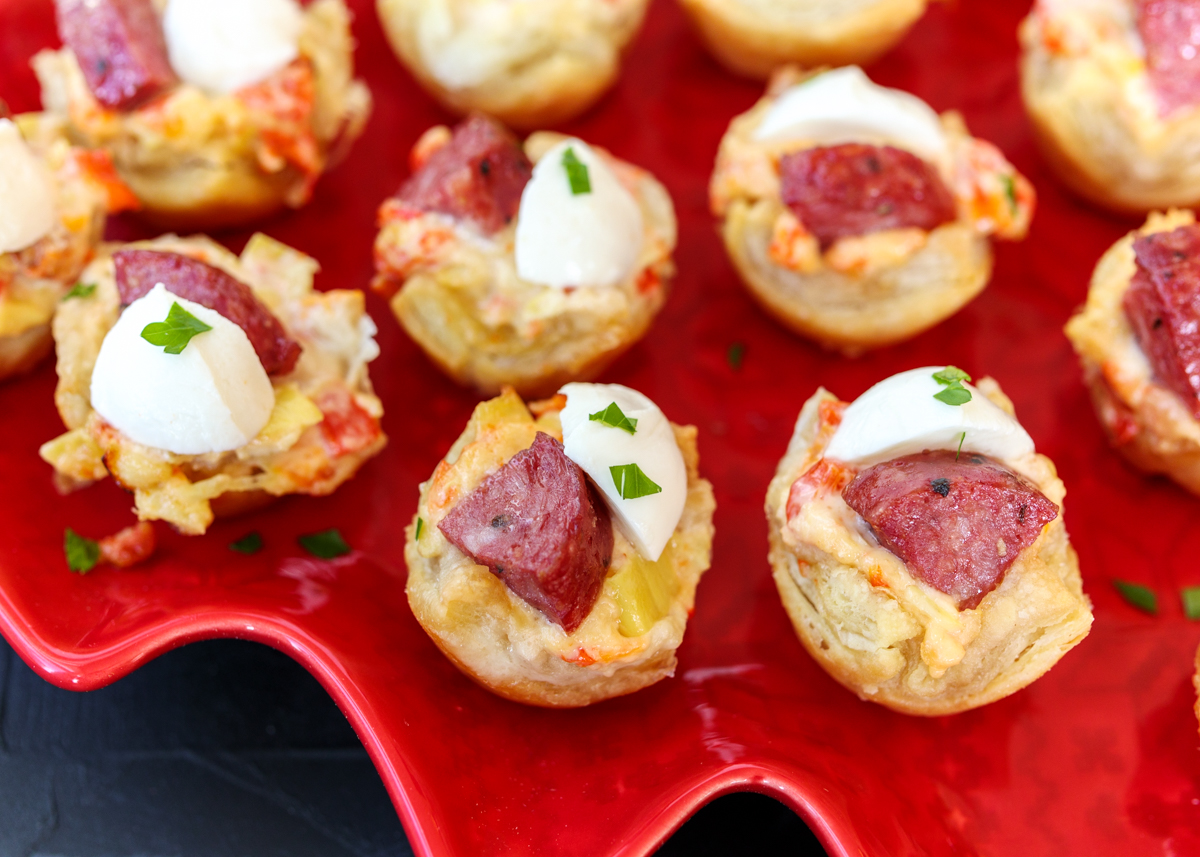 Make sure you read the instructions through and do not put the mozzarella on until they are out of the oven. Mozzarella melts really easily so if you put it in the oven each bite will just be covered in a pool of melted mozzarella. Since we're using fresh mozzarella balls you really want to be able to taste them so we're adding them after the bites are all baked.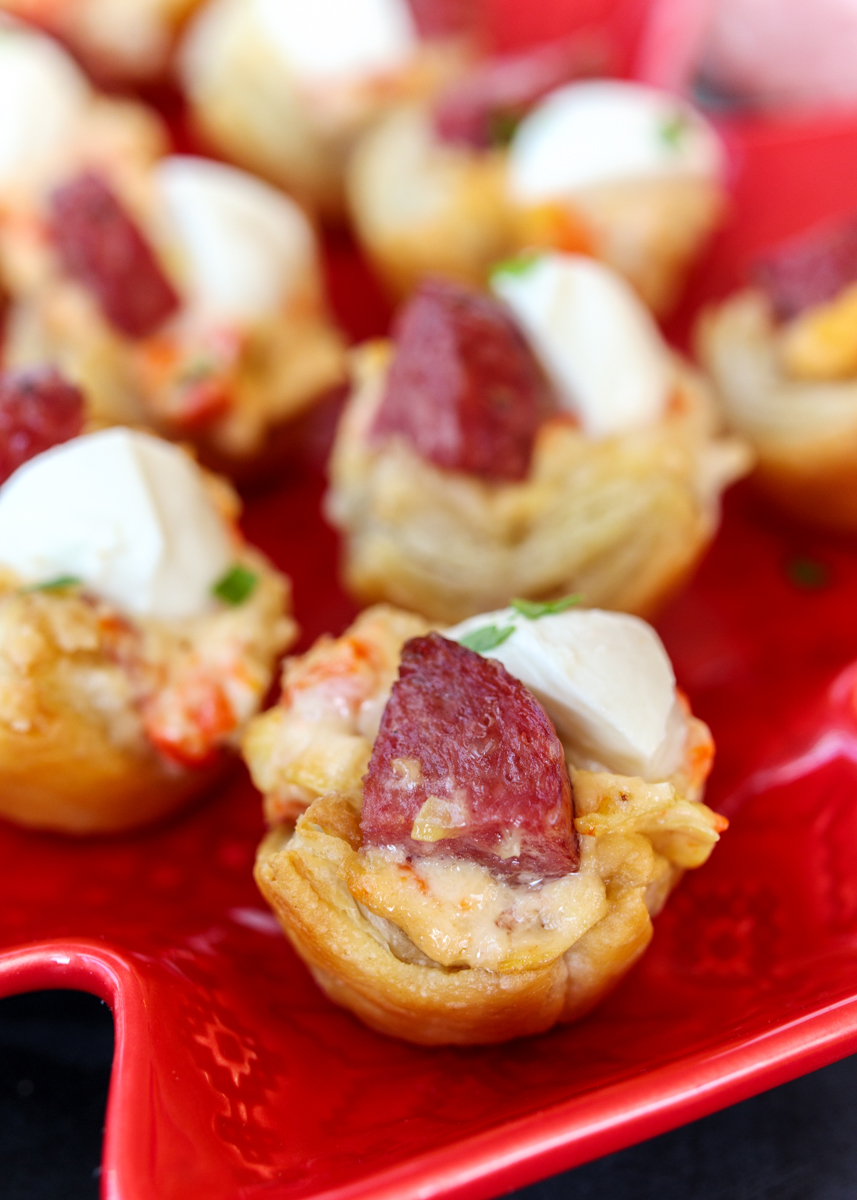 My Crab Dip Puffs recipe is working overtime around here because that, along with my love for antipasto platters, inspired this recipe, too! I hope you all enjoy this one!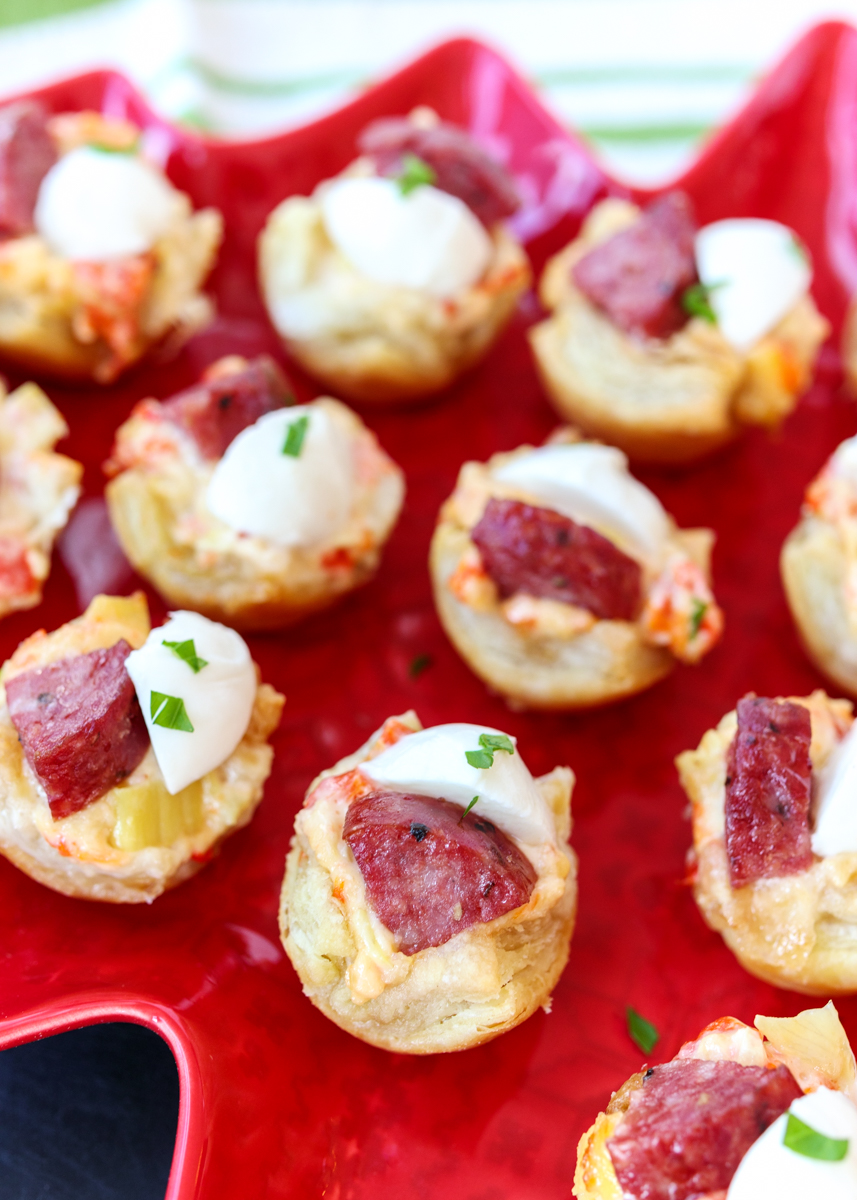 Antipasto Puff Pastry Bites
Ingredients
1 sheet puff pastry, defrosted, but still cold
3 artichoke hearts, rinsed, drained and chopped
⅓ cup roasted red peppers, chopped
⅓ cup Hellman's real mayonnaise
½ cup grated Parmesan cheese
½ teaspoon garlic powder
Salt and pepper to taste
5 ounces hard salami
6 ciliegine size mini fresh mozzarella balls
Chopped fresh basil or parsley for serving, optional
Directions
Preheat the oven to 400 degrees F. Lightly spray a mini muffin pan with cooking spray and set aside.
On a lightly floured surface unfold the puff pastry sheet. Roll into a rectangle about 10" by 15". Cut the rectangle of puff pastry into 24 squares. Press each square into a cup of the prepared mini muffin pan. Bake for 10 minutes then remove from the oven.
While the puffy pastry bites are in the oven, mix together the chopped artichokes, chopped roasted red peppers, mayonnaise, Parmesan and garlic powder. Season with salt and pepper to taste. Cut the salami into 6 thick rounds then cut each round into quarters.
When the puff pastry comes out of the oven, gently press a spoon into the middle of each bite to lightly deflate the middle and make room for the artichoke dip. Spoon the artichoke dip into the puff pastry bites, about a teaspoon per bite. Keep dividing the dip among the bites until all the dip has been used up. Add a piece of salami to the top of each bite, but off to the side to leave room for the mozzarella. Return to the oven for another 10 minutes.
While the bites are in the oven, cut each mozzarella ball into quarters. When the bites come out of the oven let them cool slightly then use a spoon to help you remove them from the pan and place on a platter. Top each bite with a quartered mozzarella ball and the fresh basil or parsley, if using. Serve hot.
Notes
If you want to roast your own red peppers, preheat your oven to 400 degrees F. Spray a pan or line with nonstick aluminum foil and roast a whole red bell pepper for 20 minutes. Flip the pepper then roast for another 20 minutes. When it's cool enough to handle, peel off the skin and discard along with the stem and seeds.