Crab Dip Puffs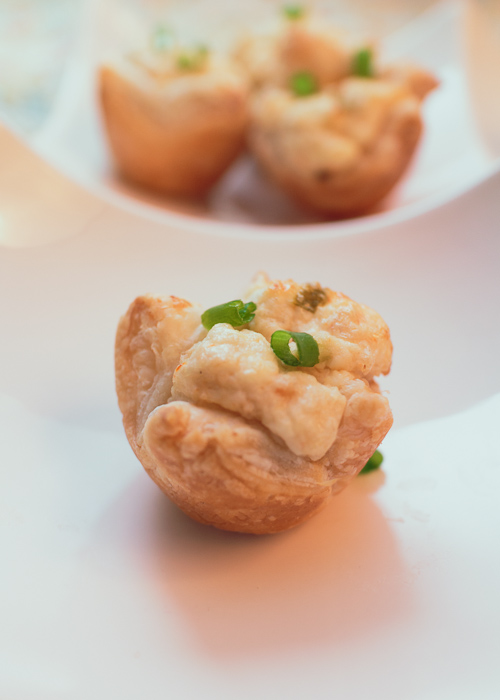 It seems as though New Year's Eve menus are just classier versions of Christmas meals. Since it's only a few days later all the same winter and holiday flavors are still relevant. But you want to look festive ringing in the new year so you bust out the champagne flutes, 2014 flashing glasses and the kazoos. See? Classy. I'm here to help you take your regular tasty traditions to the next level. Introducing flaky and creamy crab dip puffs.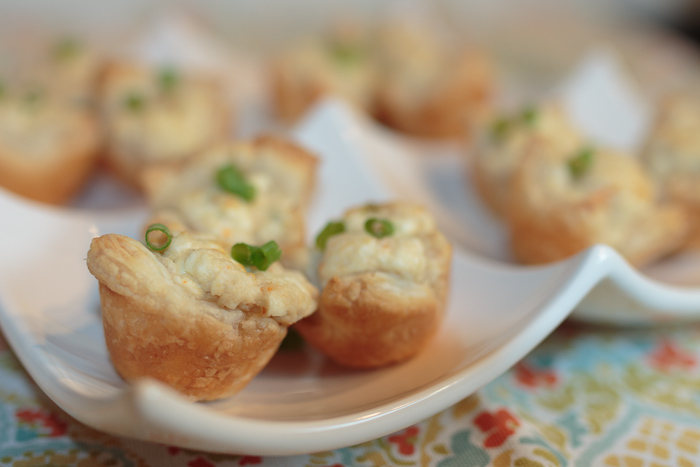 The original cheesy and addictive crab dip has been elevated to proper New Year's Eve fanciness. Serve these for any party or gathering and your guests will be both impressed and satisfied. The best part is that they don't have to know how simple it all was. Squares of pre-made puff pastry are pressed into a muffin tin before being topped with a quick one-bowl dip.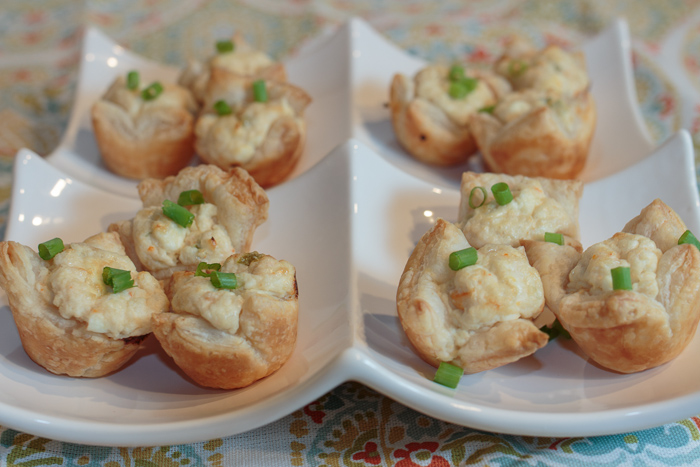 The little squares of puff pastry serve as a vessels for the dip and provide a perfect flaky and buttery complement. Topped with chopped scallions for some nice color, crunch and enhanced flavor, everyone will be going back for thirds and fourths. The crab dip puffs can also be made ahead, frozen and reheated in the oven giving you less to do and more time to hang with your guests. So at your next gathering get fancy with these simple delicious crab dip puffs and remember, pinkies up!

Crab Dip Puffs
Ingredients
8 ounces cream cheese, softened
½ cup light sour cream
8 ounces lump crab
1 tablespoon mayonnaise
1 teaspoon Old Bay seasoning
½ teaspoon garlic powder
½ teaspoon onion powder
½ cup shredded sharp cheddar cheese
1 package puff pastry (2 sheets), thawed
1 green onion, chopped
Directions
Preheat the oven to 400 degrees F. Lightly spray a mini muffin pan with cooking spray and set aside.
In a medium mixing bowl combine the cream cheese, sour cream, crab, mayonnaise and seasonings. Set aside.
On a lightly floured surface unfold the first puff pastry sheet. Roll into a rectangle about 10" by 15".
Cut the rectangle of puff pastry into 24 squares. Press each square into a cup of the prepared mini muffin pan. Bake for 10 minutes then remove from the oven.
Spoon a small tablespoon of the prepared crab dip into each puff pastry cup then top with half of the reserved cheddar cheese. Return to the oven for another 10 minutes.
Repeat with the remaining puff pastry sheet, crab dip and cheddar cheese.
Remove from the pan and top with the chopped green onions. Serve hot.
Notes
To reheat frozen crab dip puffs place on a baking sheet in a 350 degree F oven for 10 minutes or until hot.
Recipe adapted from

Pepperidge Farms
.