Broccoli, Grape and Pecan Pasta Salad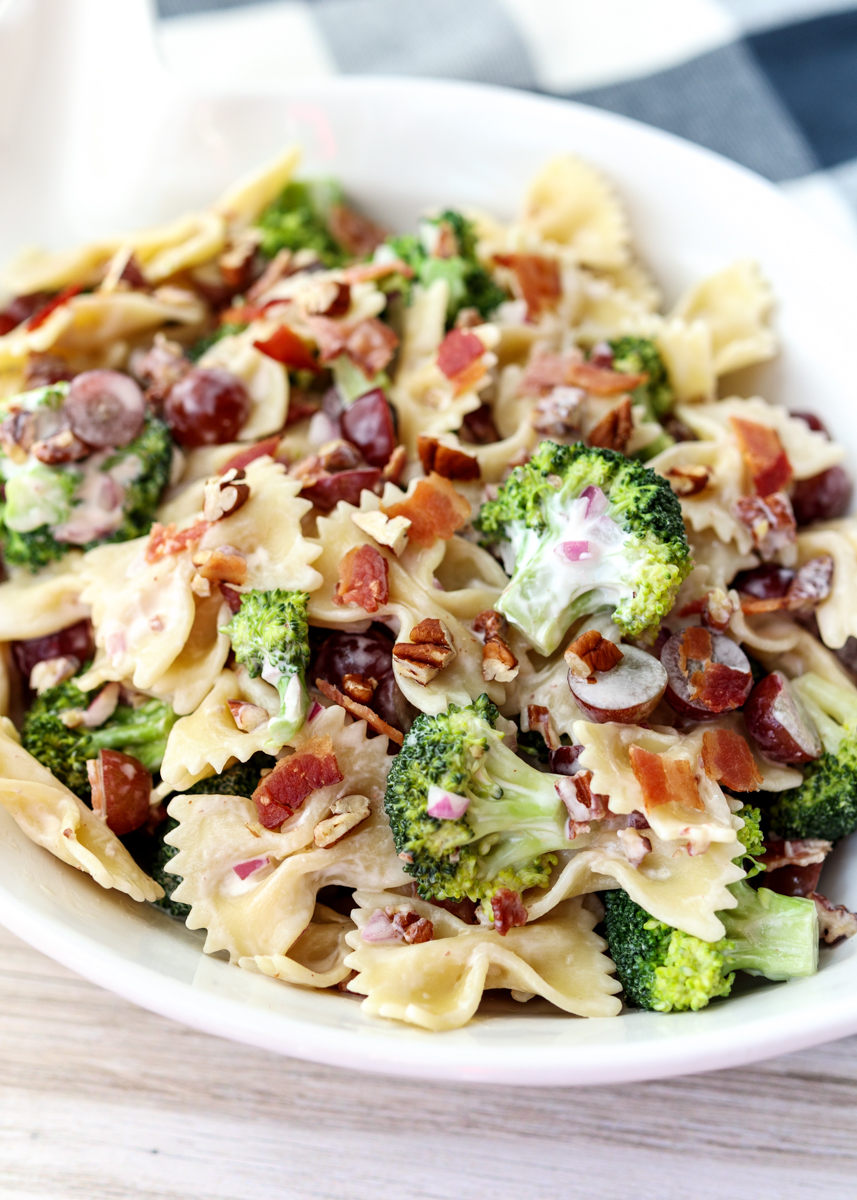 1 cup chopped pecans
1 pound fresh broccoli florets
8 ounces farfalle pasta
½ cup mayonnaise
½ cup nonfat plain Greek yogurt
¼ cup agave (or sugar), see note
⅓ cup diced red onion
⅓ cup red wine vinegar
1 teaspoon salt
2 cups red grapes, halved
8 slices cooked bacon, crumbled
Preheat the oven to 350 degrees F. Toast the pecans by baking for 5 minutes, shaking the pan once while baking. Set aside to cool.
Bring a large pot of water to a boil. Meanwhile, fill a large mixing bowl with cold water and ice. Blanche the broccoli florets by boiling them for 30 seconds, removing the florets with a slotted spoon to the ice bath, then drain until completely dry. After removing the broccoli florets from the boiling water, add the farfalle pasta and cook until al dente. Drain until completely dry.
In a large mixing bowl or serving dish, combine the blanched and dry broccoli florets, the cooked and dry farfalle pasta, mayonnaise, Greek yogurt, sugar, red onion, red wine vinegar and salt. Let chill for at least 3 hours. When ready to serve, toss with the toasted pecans, grapes and crumbled bacon.
Start with ¼ cup then increase up to ⅓ cup depending on taste preference.
Recipe by
Lemon & Mocha
at http://www.lemonandmocha.com/2019/06/21/broccoli-grape-and-pecan-pasta-salad/