Summer Roasted Veggie Pesto Pasta Salad with Burrata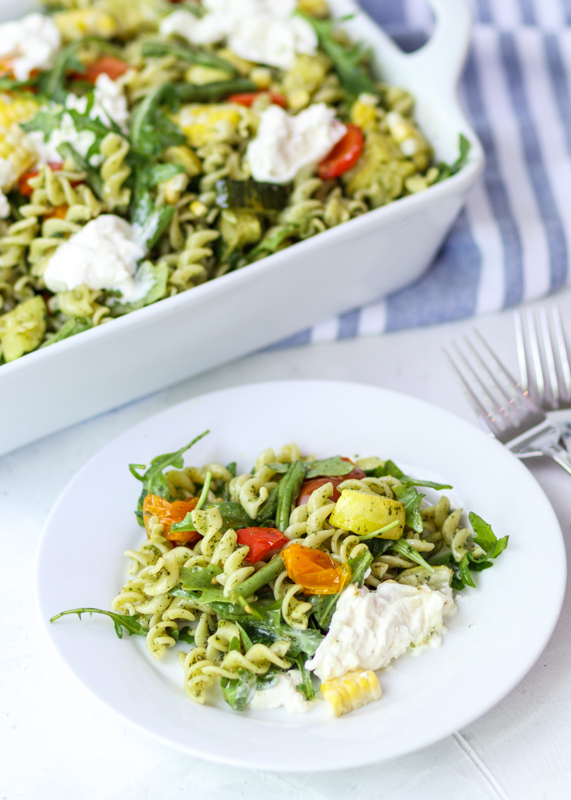 I'm starting my 4th of July recipe posts early so that you can have lots of delicious backyard barbecue inspiration ready to go. Also, summer barbecue season is in full swing and is it really a barbecue if there isn't pasta salad? I love cooking seasonally so I wanted to pack as many seasonal veggies as I could into this Summer Roasted Veggie Pesto Pasta Salad with Burrata. We have red bell peppers, yellow squash, zucchini, cherry tomatoes, green beans, corn and arugula – like I said, all the veggies!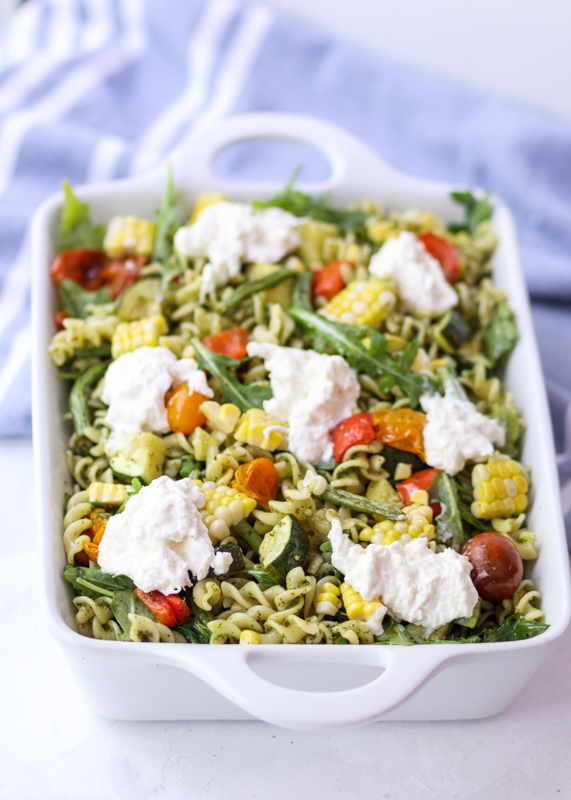 The best part is that all the vegetables, except the arugula, are roasted, which concentrates their flavor and sweetness. It also gives them a nice caramelization taking your pasta salad to the next level. And if you want to be at the top level then you have to toss your pasta salad with a lemony pesto and creamy burrata cheese! How amazing does that sound? If you've never had burrata it's basically mozzarella's cooler sibling and is soft on the inside. You can find in the grocery store near the fresh mozzarella, but if you can't find any you could substitute fresh mozzarella or even goat cheese.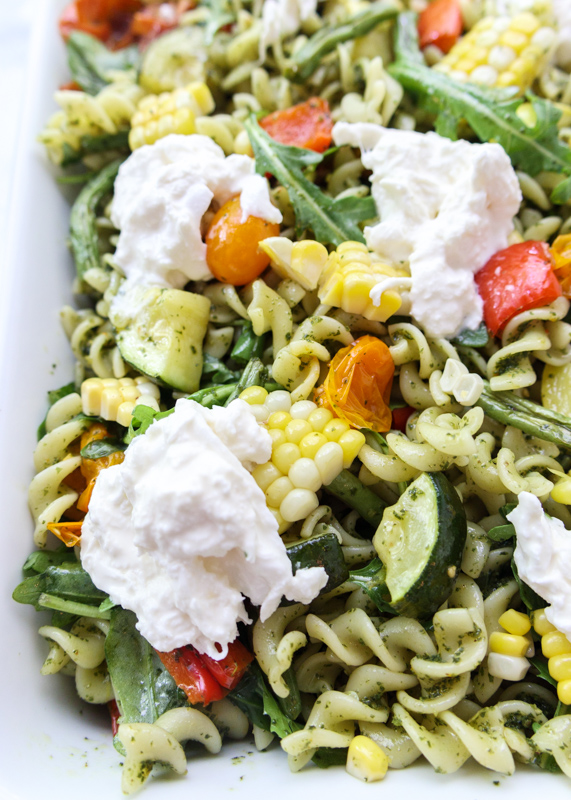 Pasta salads tend to either fall in the creamy macaroni category or the Italian dressing camp, so I love switching it up and using the pesto to dress and flavor the pasta and veggies. I tried to keep this as simple as possible by roasting everything at the same temperature for the same amount of time.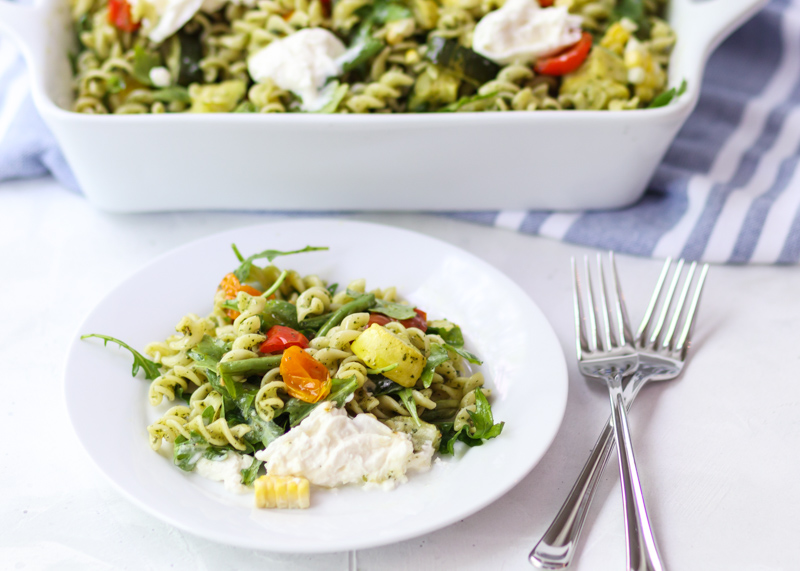 While making this recipe I also discovered my new favorite way to make corn! I love grilled corn, but it takes a fair amount of prep work, while boiling corn seems to take forever and doesn't add any flavor. Baking corn is the way to go! I shucked the corn, lightly drizzled with olive oil, seasoned with salt and pepper then wrapped in aluminum foil before popping in the oven along with the other vegetables. The corn came out tender and full of flavor.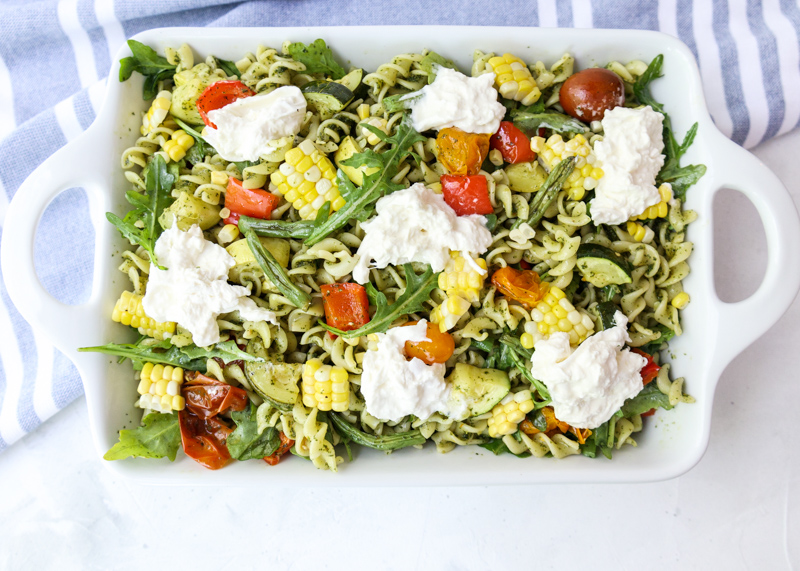 If you are looking for other pasta salad ideas, Diane's Orzo Pasta Salad is another favorite of mine! How do you like your pasta salad? Are you team creamy macaroni, team Italian dressing, or something completely different?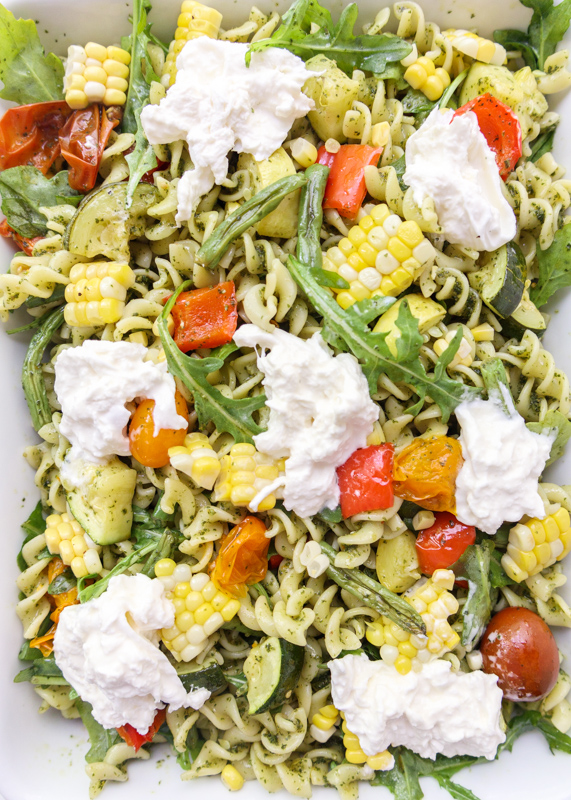 Summer Roasted Veggie Pesto Pasta Salad with Burrata
Ingredients
1 pound short pasta
1 red pepper
1 yellow squash
1 zucchini
1 cup grape or cherry tomatoes
1 cup halved green beans
1 ear corn
2 cups arugula
¾ cup pesto
⅓ cup olive oil
½ lemon, zested and juiced
¼ teaspoon salt
Fresh ground pepper
6 ounces burrata
Directions
Preheat the oven to 400 degrees F.
Prep the veggies. Cut the red pepper into a large dice. Cut thick rounds of the yellow squash and zucchini then quarter. Place the cut red pepper, cut yellow squash, cut zucchini, tomatoes and cut green beans on a full sheet pan (18"x 26") then lightly drizzle with olive oil. Toss to coat then season with salt and pepper. Spread out the veggies so they aren't overlapped or on top of each other. Remove the husk and silk from the ear of corn. Get a piece of aluminum foil large enough to wrap the corn in then place the ear of corn in the center slightly turning up the edges. Lightly drizzle with olive oil then season with salt and pepper. Tightly wrap the ear of corn. Place the baking sheet and the wrapped corn on the middle rack of your oven and let cook for 25 minutes, or until the veggies are nicely roasted. Set aside.
While the vegetables are roasted, boil the pasta to al dente according to the package instructions. Once cooked, rinse with cold water and strain. Once cooled slightly and dry, put in a large mixing bowl. When the cooked vegetables have slightly cooled add them to the mixing bowl, using a sharp knife to carefully cut the kernels of corn off the ear.
In a small bowl, whisk together together the pesto, olive oil, lemon zest and juice, salt and some fresh ground pepper. Pour over the pasta and the vegetables. Stir to combine. Taste and adjust salt and pepper according to taste. Place in the serving dish. Top with the burrata, breaking off chunks to spread on top.